Review: The Who: 50 and still fabulous in Anaheim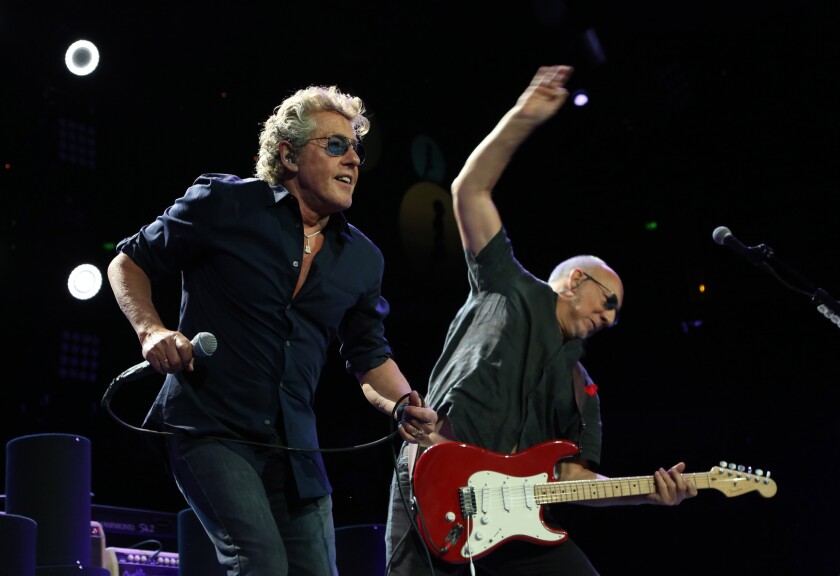 The Who was forced to postpone a big chunk of the band's 2015 tour, but the culprit wasn't one of the stereotypical rock 'n' roll reasons such as rehab, run-ins with the law or internal drama.
Instead, a very real-world case of viral meningitis took lead singer Roger Daltrey out of action for a while.
As time goes by, it's more health issues than lifestyle excesses that can sideline touring rock musicians, but in the case of the band that once sang to the world "Hope I die before I get old," advancing years may be limiting physical activity on stage but it isn't putting a damper on their passion for what they do.
Daltrey, 72, is now fully recovered and the band has belatedly resumed its 50th anniversary tour, fittingly titled The Who Hits 50! The good news is that these kids are still all right, albeit older and grayer.
Daltrey proved himself in fine form Sunday at the Honda Center in Anaheim en route to the L.A. tour stop Wednesday at Staples Center. That's saying a lot, given that the demands the Who's body of work on Daltrey's vocal cords probably surpasses that of Mick Jagger, one of rock's other prototype lead singers.
With so much of the Who's catalog built around the emotive roar he let loose upon the world in his 20s, Daltrey has fewer ballads to fall back on in his golden years than just about any other erstwhile rock 'n' roll frontman/sex symbol.
Yet both he and the Who's lead guitarist and songwriter Pete Townshend seemed pumped to show off their vitality throughout a two-hour, 22-song set that, as the tour's moniker suggests, is built around the cornerstone songs from its extensive catalog.
In other words, all killer, no filler.
Even before the music began, The Who Hits 50! show took an engaging stroll down memory lane with images and text on the video screens highlighting the band's history, customized to each tour stop.
On Sunday, key visits to Orange County in years past scrolled by, including details of the Who's first visit to the U.S. in 1967, and its stop at the Anaheim Convention Center, where the foursome was second-billed to another British Invasion act: Herman's Hermits.
Daltrey and Townshend are backed, as they have been for years, by bassist Pino Palladino, who stepped in shortly after John Entwistle died in 2002 at 57, and drummer Zak Starkey, Ringo Starr's son, who took over behind the drum kit in 1994, 16 years after the death of Keith Moon, his godfather, in 1978.
The touring group is filled out by four additional musicians, including Townshend's younger brother Simon Townshend, who provided the full rock orchestral forces Townshend often employed in the band's increasingly ambitious and sophisticated recordings during its original incarnation.
Sunday's show opened with "Who Are You," Daltrey displaying from the get-go the testosterone-laced rock growl that made him a prototype of the classic-rock singer.
His once-flowing mane of curly blond locks may now be trimmed more neatly, but he convincingly belted that song's baiting query of "Who the [heck] are you?" in establishing a tone of ageless defiance and confidence from the outset.
Townshend also was a joy to watch, at 71 careening over his portion of the stage like a pinball on its manic journey, his right hand sweeping through the air with the signature windmill stroke of his ever-responsive electric guitar.
Arena rock isn't a dead language yet. Here are ten of today's biggest arena rock acts.
(Clockwise: Craig Wallace Chapman, Robert Gauthier, Michael Robinson Chavez / Los Angeles Times)
Bruce Springsteen & the E Street Band perform at the Los Angeles Memorial Sports Arena on April 26, 2012.
(Jason Merritt / WireImage)
Muse performs at the Staples Center on Jan 23, 2013.
(Genaro Molina / Los Angeles Times)
U2 performs at the San Diego Sports Arena on March 28, 2005.
(Gina Ferazzi / Los Angeles Times)
Mick Jagger on stage during the Rolling Stones' performance at the Staples Center on May 3, 2013.
(Jay L. Clendenin / Los Angeles Times)
Roger Daltrey, left, and Pete Townshend of the Who perform at Madison Square Garden on March 3, 2016, in New York City.
(Theo Wargo / Getty Images)
Dave Grohl of the Foo Fighters performs at the Lanxess Arena on Aug. 23, 2011, in Cologne, Germany.
(Peter Wafzig / Getty Images)
Brian Johnson, left, and Angus Young of AC/DC perform at the Pond of Anaheim on Feb. 13, 1996.
(Craig Wallace Chapman / Los Angeles Times)
Paul McCartney peforms at the Oakland Arena on April 1, 2002.
(Ken Hively / Los Angeles Times)
Eddie Vedder of Pearl Jam performs at the L.A. Sports Arena on Nov. 23, 2013.
(Lawrence K. Ho / Los Angeles Times)
Stevie Nicks, Mick Fleetwood, center, and Lindsey Buckingham of Fleetwood Mac perform at the Honda Center in Anaheim on May 23, 2009.
(Francine Orr / Los Angeles Times)
The show proceeded with linked sets from the early years ("The Kids Are Alright," "I Can See For Miles," "My Generation"), from rock operas "Tommy" ("The Acid Queen," "Sparks," "See Me, Feel Me," "Pinball Wizard") and "Quadrophenia" ("5:15," "I'm One," "The Rock," "Love, Reign O'er Me") and two chunks from "Who's Next" ("Behind Blue Eyes" and "Bargain," and then, to close the show, "Baba O'Riley" and "Won't Get Fooled Again").
------------
For The Record
An earlier version of this post listed "I Can't Explain" among the early songs The Who performed. That number was not on the Anaheim set list.
------------
It provided a generous overview of the Rock and Roll Hall of Fame band's potent songbook, a retrospective with the tone of a well-earned victory lap. Starkey and Palladino largely hew close to the defining contributions of Moon and Entwistle, whose images were generously woven into archival film footage projected on video screens behind the stage and flanking it above on each side
If there was a moment that felt more immediately relevant than warmly nostalgic it was the pairing from "Quadrophenia" of "The Rock" and "Love, Reign O'er Me."
Daltrey introduced "The Rock" as a personal favorite — intriguing in that a singer was singling out one of his group's instrumentals — and then moved to the sidelines as Townshend and company went through its extended musical journey, amplified visually with footage of major news events over the last 50 years.
Cumulatively the scenes from the Vietnam War and political protests that accompanied it on both sides of the Atlantic Ocean, various world leaders, Third World famine, the Sept. 11 and more recent Paris terrorist attacks evoked the question of whether humankind will ever overcome its violent impulses.
That led directly into "Love, Reign O'er Me," Townshend's poignant appeal to humanity's higher nature, which Daltrey delivered with anguished yearning, rendering it every bit as relevant to 2016 as it was in 1973 or any of the intervening years.
And those "Oldchella" jabs that are being directed at the Who and other participants in the Desert Trip classic-rock blowout concerts in Indio this fall?
As if to prove he's not remotely thin-skinned about touring again at age 71, Townshend, who was barely out of his teens when he wrote "Hope I die before I get old," told the near-capacity crowd at one point, "If any of you listen to these songs and don't know why you know them, it's because your great-grandparents listened to them."
Indeed, there was nothing doddering about his or Daltrey's performances. At 72, Daltrey athletically whipped his microphone around at the end of its cord through the show — try that with wireless technology — and displayed no shortage of breath or dynamic range over the course of the evening.
And yeah, he still summoned the explosive "Yeeeaahhh!" scream for the finale of "Won't Get Fooled Again," one of the defining expressions of exultation and liberation in all of rock history.
In the context of the impending summit meeting in which the Who will participate with fellow Rock and Roll Hall of Fame inductees Bob Dylan, The Rolling Stones, Paul McCartney, Neil Young and Roger Waters, Sunday's performance could be interpreted as these rock veterans' way of saying, "Bring it on!"
Follow @RandyLewis2 on Twitter
For more on Classic Rock, join us on Facebook.
ALSO:
Review: Bob Dylan returns to the Great American Songbook in 'Fallen Angels'
Tom Petty and Mudcrutch will play Midnight Mission benefit shows May 23 and 24
The Monkees celebrate 50th anniversary by teaming with modern pop luminaries for a new album
---
Inside the business of entertainment
The Wide Shot brings you news, analysis and insights on everything from streaming wars to production — and what it all means for the future.
You may occasionally receive promotional content from the Los Angeles Times.