Review: Meet Thom Yorke, uneasy rock star turned potential Oscar nominee
Pop Music Critic
Thom Yorke's idea of an Oscar campaign? Call it the direct approach.
"Can you, like, vote for me?" he asked Wednesday night at the Orpheum Theatre, where Radiohead's frontman played the first of two concerts just days after the Academy of Motion Picture Arts and Sciences revealed that he was on a shortlist of potential Academy Award nominees.
Saying he figured the capacity crowd contained at least a couple of academy members, Yorke then performed a song from what he called "the only soundtrack I've done": his spooky but handsome music for Luca Guadagnino's "Suspiria."
The possible Oscar nod in the original song category is part of a growing recognition of Yorke and his band by the show-business establishment. At the most recent Academy Awards, in March, Radiohead guitarist Jonny Greenwood was nominated for the original score prize for his music from "Phantom Thread."
And last week, the Rock & Roll Hall of Fame announced that Radiohead would be inducted next year along with Def Leppard and Stevie Nicks — an unlikely turn of events, perhaps, for a group that famously responded to the acclaim for its 1997 neo-prog-rock landmark "OK Computer" by doing away with electric guitars for its next album, 2000's "Kid A."
Yet this canonizing effort hasn't exactly softened Yorke's proud iconoclasm.
With the singer stationed for much of the night behind a bank of electronic equipment, Wednesday's gig — one of the final dates of a belated U.S. tour behind his 2014 solo album, "Tomorrow's Modern Boxes" — emphasized the cerebral tinkerer over the dramatic rock god that can still make audiences swoon.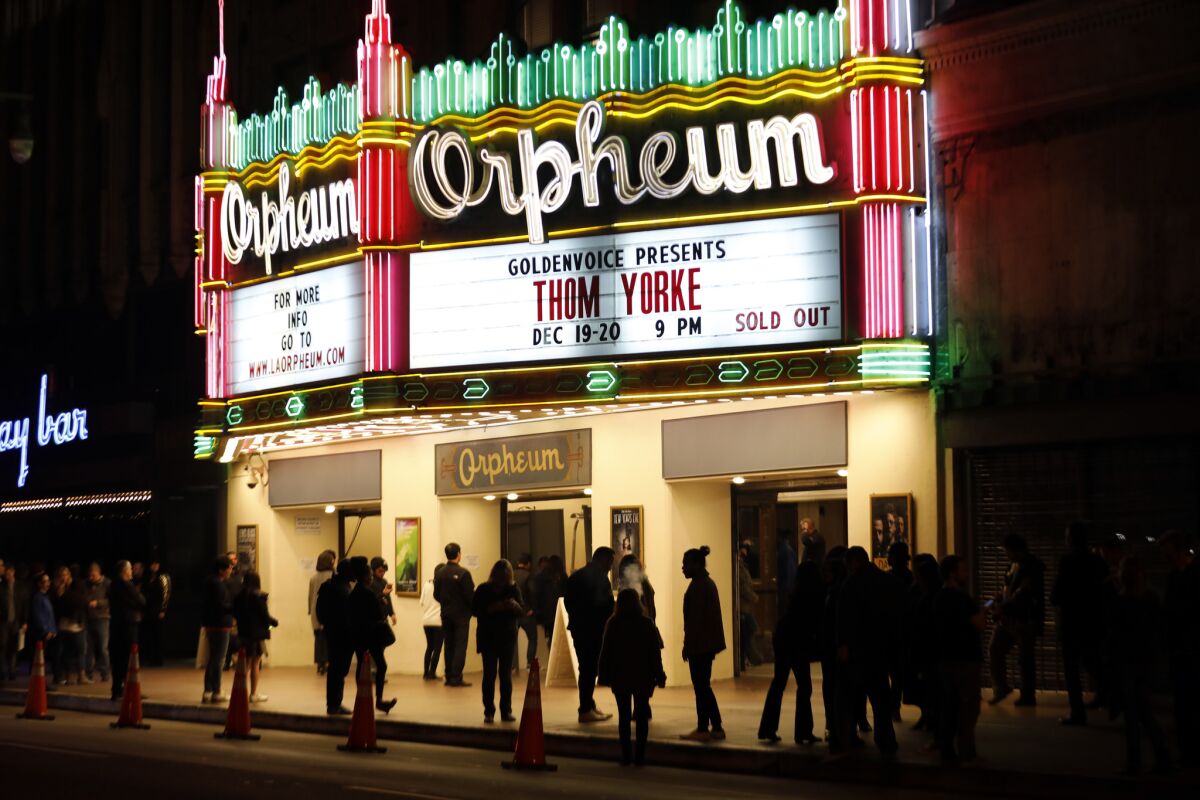 Accompanied by Radiohead producer Nigel Godrich (who manned another digital workstation) and visual artist Tarik Barri (who fed intricate graphics to several large screens), Yorke burrowed deep into the dark, throbbing grooves of tracks like "Truth Ray" and "A Brain in a Bottle."
Occasionally, he picked up a guitar or bass, as in a funky version of "Black Swan," from his first solo album, "The Eraser," from 2006; here, rather endearingly, he looked like an eager 10th grader getting his first big showcase with the high school jazz band.
But much of the performance, with Yorke's vocals low in the mix (and the man himself largely in shadow), resisted neat song structures or clear melodic hooks; this was dense, intricate dance music designed to get lost in, not to tell some personal story.
"I'm blowing myself away," Yorke sang in the pulsating "Nose Grows Some," and that lyric felt like a good indication of his mindset.
The temperature onstage shifted slightly near the end of the show, when Yorke brought out bassist Flea and drummer Joey Waronker, two of his bandmates from his side project Atoms for Peace, to play his song by that same name.
Shimmying his hips as he floated his signature falsetto over Flea's propulsive bass line, Yorke in this moment finally put across some of the rock-star energy he'd been downplaying all night.
And then there was his Oscar pitch, delivered during a second encore shortly before midnight. But if Yorke's very pretty rendition of "Unmade," which he sang by himself behind a keyboard, made him sound like a classic balladeer ready for his close-up, it's worth noting something he didn't mention himself.
"Unmade" isn't actually the tune from "Suspiria" that academy voters singled out. That would be "Suspirium," with which Yorke has finished other shows on this tour, according to published set lists.
But not this one.
ALSO
Mikael Wood's best albums of 2018: Searching for glimmers in the sprawl
Review: Childish Gambino says he's done touring. First he played the Forum
Kacey Musgraves envisioned her Grammy-nominated 'Golden Hour' as a 'beautiful hiding place'
Get our L.A. Goes Out newsletter, with the week's best events, to help you explore and experience our city.
You may occasionally receive promotional content from the Los Angeles Times.