Jonny Greenwood on the romance and sincerity of his score for 'Phantom Thread'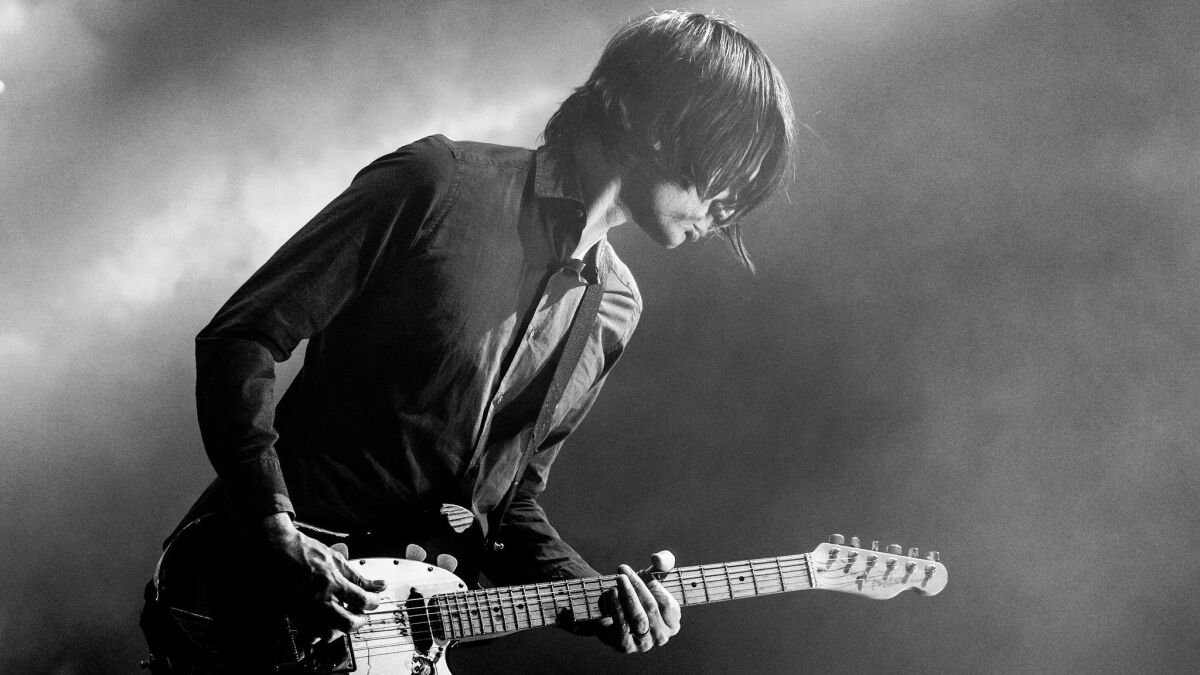 Pop Music Critic
As a member of Radiohead, Jonny Greenwood has ample reason to feel secure in his musical know-how.
The adventurous British band, perhaps the most obsessively followed in modern rock, became a trending topic Wednesday morning on Twitter when disappointed fans went online to lament not being fast enough to score tickets for Radiohead's upcoming summer tour.
But in his other guise — as a composer of movie music — Greenwood hardly views himself as an expert.
"There's so much to learn," he said recently by phone from his home in Oxford. "I feel like one of those characters you see in films — the person standing in front of an enormous bookcase, feeling like they'll never catch up."
In fact, he's learning quickly, as his remarkable score for Paul Thomas Anderson's "Phantom Thread" clearly demonstrates.
Full of swelling melodies set against lush string arrangements, the music represents a surprising — and credible — turn toward classic Hollywood convention from a composer known for taking a more experimental approach.
And now, just like some of movie music's biggest names, Greenwood, 46, has been nominated for an Academy Award, his first, for original score.
His work from "Phantom Thread," about the complicated relationship between an exacting fashion designer and his headstrong muse, will compete against music by Hollywood veterans such as John Williams ("Star Wars: The Last Jedi") and Hans Zimmer ("Dunkirk") at the Oscars ceremony on March 4.
The film — which is up for five additional Oscars, including best picture — marks Greenwood's latest collaboration with Anderson after earlier scores for "There Will Be Blood," "The Master" and "Inherent Vice."
But where those projects showcased Greenwood's interest in dissonant textures and jabbing rhythms, "Phantom Thread" offers the kind of hummable themes that once heightened emotions in movies from the 1940s and '50s.
Greenwood said that was the result in part of the movie's setting: postwar London, where Reynolds Woodcock (played by Daniel Day-Lewis) makes hand-sewn gowns for English society's upper crust.
"The music had to fit the period being depicted," the composer said. "It couldn't burst the bubble of London in the '50s."
Yet Greenwood was also determined to match the old-fashioned sentiment that "Phantom Thread" explores as Woodcock courts Alma (Vicky Krieps), a young woman he meets in a restaurant and who soon moves into his elegant Fitzrovia townhouse.
In an email, Anderson argued that Greenwood's "swooning" compositions (several of which recall Debussy's supple "Clair de lune") are actually what give "Phantom Thread" much of its romantic thrust.
The music, which accompanies a great deal of the on-screen action, prevents the movie from feeling "too interior, too claustrophobic, too English drawing room," the director said.
"These are all bad things to fight against."
They're also qualities that regularly turn up in Radiohead's dark and squirmy music, which can often seem suspicious of beauty, as though prettiness were a government plot meant to lull hapless listeners into submission.
Anderson pushed back on that notion, pointing to the "deeply felt" emotion in Radiohead songs like "Nude" and "Harry Patch (In Memory Of)," the latter of which he described as "certainly one of the most moving, tender pieces of music you'll ever hear."
Yet Greenwood acknowledged that his music for "Phantom Thread" does perhaps reflect a degree of "sincerity" not found in a portrait of skepticism such as Radiohead's "Paranoid Android" or "Everything in Its Right Place."
"If this was even vaguely ironic or tongue-in-cheek, everything would be lost," he said.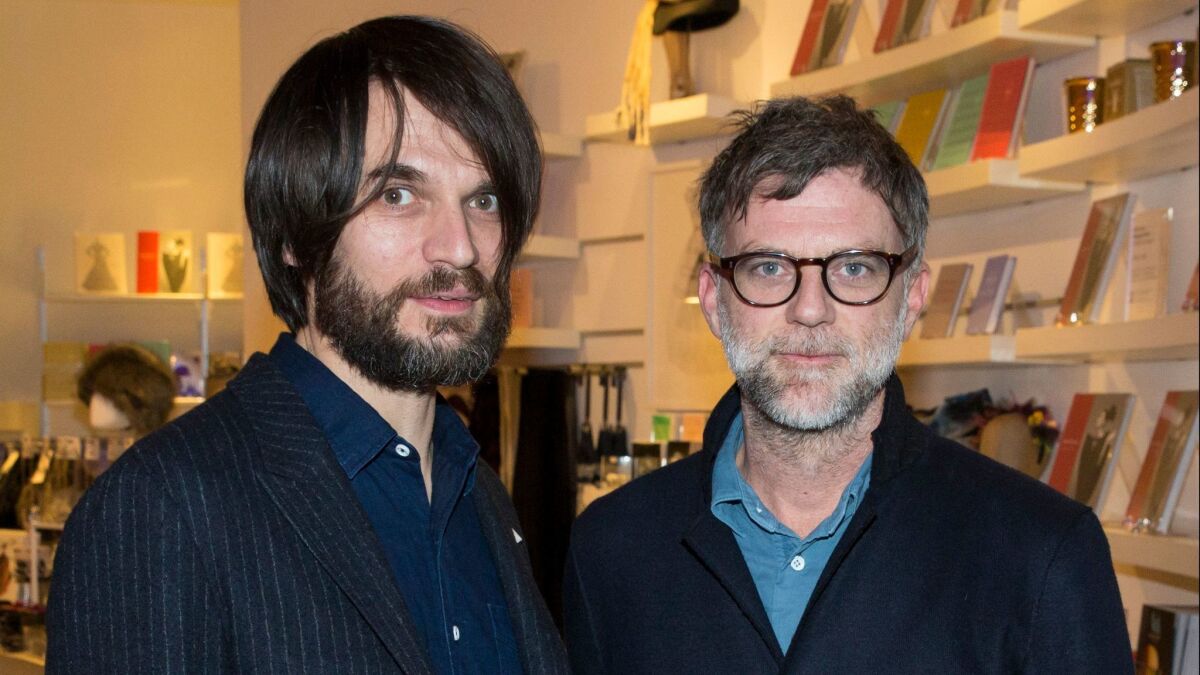 For sonic guidance, Anderson had Greenwood think about Nelson Riddle's vintage music, especially Riddle's score for Stanley Kubrick's "Lolita" and his work with jazz pianist Oscar Peterson.
Asked what he got out of his study, Greenwood said he was inspired by "the clarity of the ideas" in Riddle's arrangements and the way they "support a song so well."
"I've got his book on my desk right in front of me while we're talking," he added, referring to the late musician's "Arranged by Nelson Riddle," a combination memoir and how-to published shortly before his death in 1985.
"Big picture of him holding his chin on the front," Greenwood continued. "I showed the book to Paul once and he said I had to send him a photo of myself holding my chin."
The director also advised his collaborator to look at David Lean's 1949 film "The Passionate Friends," with a score by Richard Addinsell.
"It's got that thing of the strings being very passionate but then constantly disappearing and having just a few solo wind instruments," Greenwood said. "And it's changing in tempo all the time; it's not rigid at all. That was a huge influence — thinking, 'How can we do this without a click track so that the tempo is always moving?'
"It's a big, physical thing, an orchestra, and the goal was to re-create that feeling you get when you see a live orchestra in a concert hall."
To record the score, Greenwood employed the Royal Philharmonic Orchestra and the London Contemporary Orchestra, along with soloists including pianist Katherine Tinker. (Greenwood himself can be heard playing piano in the passages where Anderson grew attached to the way Greenwood was playing in the iPhone demo recordings he sent the director during production.)
On March 2, Greenwood's music will be performed live to accompany two screenings of "Phantom Thread" at downtown's Theatre at Ace Hotel — an experience the composer is looking forward to attending after a similar event last month at London's Royal Festival Hall.
"The sound of mass strings, it's been kind of cheapened in popular culture," he said. "But it can be an overwhelming thing to stand in front of these instruments and hear them playing together.
"Even when we record this stuff, there's usually a glass wall between us and the orchestra in the studio. But with this everyone's in the same room together.
"To get your ears in there — that's the real magical moment."
Twitter: @mikaelwood
ALSO
Sufjan Stevens captured the essence of 'Call Me by Your Name' before he even saw the film
Kendrick Lamar's gripping 'Black Panther' soundtrack joins a tradition of black movie music
'Phantom Thread's' Paul Thomas Anderson on the Valley, daydreaming and the movie he's writing with his 8-year-old
---
Get our L.A. Goes Out newsletter, with the week's best events, to help you explore and experience our city.
You may occasionally receive promotional content from the Los Angeles Times.