Female songwriters and producers remain 'vastly outnumbered,' says USC study of music industry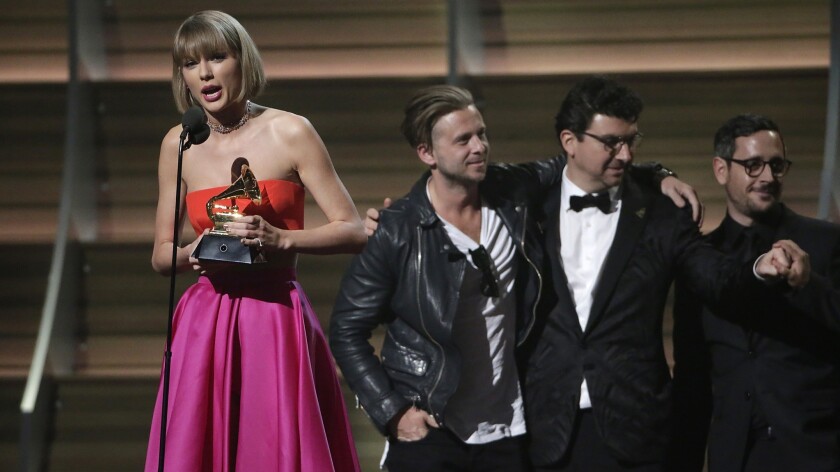 How difficult is it to break into music production and popular songwriting if you're not a dude? And once the studio session begins, what goes on?
A wide-ranging study released Tuesday by USC's Annenberg Inclusion Initiative doesn't mince words when it comes to women in the music business.
"They're isolated. They're dismissed. They're objectified," says "Inclusion in the Recording Studio?" coauthor Dr. Katherine Pieper, adding that the challenges for women have "profound impact on when they work and what happens when they do work."
The study examined the gender and ethnicity of artists, producers and songwriters across seven years and 700 popular songs on the Billboard Hot 100 year-end charts. It also tallied the gender of Grammy nominees in the major categories (as well as producer of the year) across seven years.
Combining data analysis and interviews with 75 women in the music business, the study's authors identify "a matrix of issues that women must navigate" in order to compete.
Among its findings: Female songwriters and producers were "vastly outnumbered" by their male counterparts on Billboard's Hot 100 chart. Across seven years, a mere 12% of songwriters who breached the year end chart were female.
On average, more than 87% of those penning popular tunes were male songwriters, and just 10 male songwriters were responsible for 23% of the 700 most popular songs from 2012 to 2018.
At the Grammys, women have fared strongest in the best new artist category, claiming 41.1% of the nominations, whereas female artists have only accounted for 6.6% of the album of the year nods.
Worse, in the five Grammy categories analyzed by the study — song of the year, record of the year, album of the year, best new artist and producer of the year — 89.6% of the nominees were male for the examined period.
The picture inside the recording studios was even more stark. As with the year prior, female producers were credited on only 2% of 400 Hot 100 songs. The authors note that the number "translates into a gender ratio of 47 males to every one female" — and that only four women of color were represented.
For women seeking to make a life through song, the barriers to entry and success remain daunting, whether they're seeking entry-level internships, songwriting credits or Grammy nominations.
"The inescapable conclusion from this report is that the major impediment confronting women is the very way the industry views their gender," writes lead author Dr. Stacy L. Smith, founder and director of the Annenberg Inclusion Initiative. The study, coauthored with Pieper and Marc Choueiti, reaffirms conclusions of the team's 2018 Annenberg report, which also documented vast gender disparities in the music business.
Its publication comes less than a week after the Recording Academy — whose president, Neil Portnow, sparked ire in 2018 when he was quoted as saying that women in the business needed to "step up" to succeed — announced an inclusion initiative aimed at addressing gender disparity among the Academy's membership.
"The music industry is at a crossroads and progress won't happen on its own," said Tina Tchen, an attorney who chairs the Recording Academy's task force on inclusion and diversity, in a statement accompanying the Academy's announcement. "There is no magic bullet to shift a status quo that has existed for centuries, but we see this initiative as an important step."
The Academy has a lot of catching up to do, if the Annenberg study is any guide. Smith says the results "illuminated for us just what a difficult culture that environment is to work in if someone is a female." She added, "It suggests that a culture shift needs to happen quickly for females to thrive in this space."
Pieper said that for this study, "the mission was to better understand why" gender inequity remained so prevalent across the survey period. Interviews were key: "We're hearing about how seriously women are taken by their colleagues, by the industry itself — how often they're valued for their bodies versus their talent and contributions." She also described interviews that yielded information about "the stereotypes people hold about technical competencies, and what the environment in the recording studio is like for women."
There was some good news, Pieper said, and it came through what she described as "a major uptick in terms of women of color on the charts."
Specifically, she noted, 73% of all women who charted were women of color. She said the number was especially impressive compared with representation in fields such as television, film and digital storytelling, where the numbers for women of color, according to Pieper, "are very problematic."
In music, she and her peers see "a very different story."
For tips, records, snapshots and stories on Los Angeles music culture, follow Randall Roberts on Twitter and Instagram: @liledit. Email: randall.roberts@latimes.com.
---
The complete guide to home viewing
Get Screen Gab for weekly recommendations, analysis, interviews and irreverent discussion of the TV and streaming movies everyone's talking about.
You may occasionally receive promotional content from the Los Angeles Times.