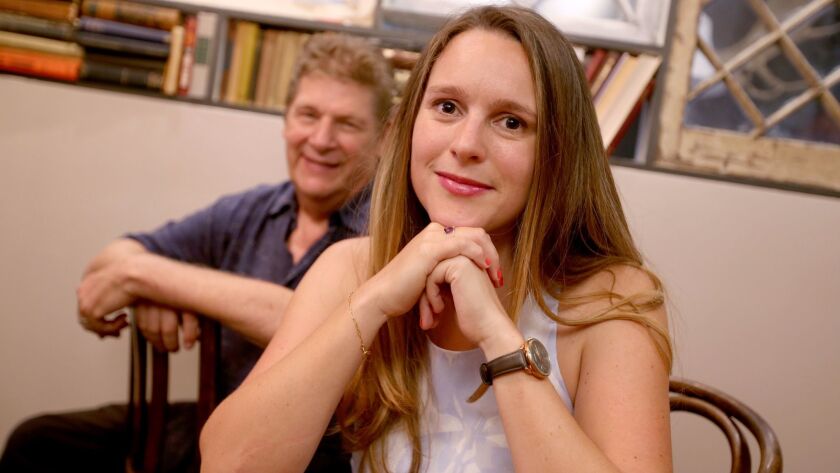 When Victoria Meyer was summoned by one of her bosses at La Cañada Flintridge's Jet Propulsion Laboratory a couple of years ago, she assumed it was for some puzzle related to her daily work poring over satellite imagery for information to better understand issues of climate change and deforestation.
As things turned out, it was a problem from another world entirely.
"He said, 'My boss has a friend who is a music producer who is looking for someone to help write a song in French,' " said the woman, a France native, who simply goes by Victoria on "Joueuse," a new EP with five songs that revisit the 1960s French subgenre of pop music known as yé-yé.
See the most-read stories in Entertainment this hour »
It's an effervescent, insistently melodic sound that sprouted in response to Beatlemania — the genre's name (pronounced "yay-yay") derives from the French rendering of "Yeah, yeah, yeah" — and American pop of that time, specifically girl groups such as the Shirelles, the Chiffons and the Shangri-Las.
That friend who was scouting for a potential translator and writing partner was veteran producer, songwriter and multi-instrumentalist Andy Paley, who briefly had a power-pop duo in the 1970s with his brother, Jonathan: the Paley Brothers.
"I've always loved the sound of classic pop music, and love making records with that sound," he said during a recent interview in Pasadena over lunch, seated next to Victoria.
She said his invitation piqued her innate curiosity. "Sure, I like challenges, I like new things — it could be fun," she said as if making the shift from environmental scientist at JPL to songwriter was as easy as falling off an asteroid. "I said yes right away, and that same night I met with Andy, and we pretty much wrote the first song that night."
For Paley, who also has produced records for Brian Wilson, Madonna, the Ramones, Jonathan Richman and Debbie Harry as well as music for the 2005 "SpongeBob SquarePants: The Yellow Album" collection, it wasn't as if he were expecting Victoria to help him forge a George and Ira Gershwin or Richard Rogers-Lorenz Hart-like team to craft elegantly sophisticated pop songs.
"Yé-yé songs are pretty simple," he said, unable to resist the elephant-in-the-room quip at hand. "It's not rocket science."
"Andy made it really fun and easy for me," Victoria said. "He told me, 'Yé-yé music just has to be fun, it doesn't have to have any deep meaning.' That made it easier for me."
At their first session in 2015, they quickly came up with a song and soon had a couple more echoing the vibe of such first wave yé-yé progenitors such as Sylvie Vartan, Francoise Hardy and France Gall as well as male counterparts including Johnny Hallyday and Serge Gainsbourg.
That's when Paley, now 64, broached the next element their project would need: a singer for the newly minted songs.
"He asked me, 'Can you sing?'" she said, replicating the head toss and quizzical expression she recalls giving him originally. But Paley loved the direct quality of her vocals on demo versions they created as a test run.
"This isn't a sound where you want an Aretha — and I love Aretha," he said. "It doesn't call for a Whitney Houston."
On the EP, which is available on iTunes and at CD Baby, Paley framed her endearingly unfussy vocals with vintage-sounding textures in songs that traverse the dramatic twists and turns of les histoires de coeur — affairs of the heart.
"C'est un Tombeur (He's a Player)" is the acerbic response of a woman whose lover likes to play the field. But she's not fooled: "He thinks he is mysterious and cooler than James Dean/ But I can see clearly through his game." The lyrics are set to a twangy surf rock-meets-spy movie track that would be right at home in a mid-1960s Peter Sellers comedy.
"Feuille d'automne (Autumn leaves)" conjures a dreamier vibe in a wispy reflection about a romantic partner who promises more than he can deliver. "The October breeze is blowing on our tree that turned orange."
Then "Suis le Soleil (Follow the Sun)" evokes an irresistible Motown-steeped garage rock dance groove as Victoria yearns to leave all troubles at home and head to the beach — the Grande Plage in Biarritz, to be exact.
Although Victoria, 30, is much too young to have lived through the first wave of yé-yé, she says that music still holds sway in her home country, which she left to move to California more than a decade ago. She relocated to Southern California to study at UCLA, where she landed an internship that led to her full-time position at JPL.
She's relishing the moonlighting facet of working with Paley, which has been sporadic while she completed PhD studies in environmental science. Now they hope to continue writing and recording, gathering enough songs for a full album, although neither expressed much interest in translating the recordings into a live show.
Paley thinks the songs will find homes in film or television placements, and some have already been licensed. Primarily, the whole enterprise has been un travail d'amour — a labor of love — for both.
And the tale of a veteran music industry exec who finds an artistic collaborator working at one of the world's leading scientific research institutions to help revive a niche form of pop music? Well, that's something that could happen only in La-La Land.
Follow @RandyLewis2 on Twitter.com
For Classic Rock coverage, join us on Facebook
---