William Shatner boldly explores another strange new world: holiday music
Who'd have guessed more than 50 years ago when actor William Shatner brought Capt. James T. Kirk so vividly to life and helped turn "Star Trek" into a cultural touchstone that the show's famous "final frontier" might turn out to be … Christmas music?
We kid you not: The veteran actor, 87, has just released an album of Yuletide classics: "Shatner Claus—The Christmas Album," for which he's joined by a galaxy of pop, rock, country and other stars of contemporary music. Proto-punk rocker Iggy Pop, folk-pop queen Judy Collins, country singer-songwriter-guitarist Brad Paisley, Jethro Tull flutist Ian Anderson, prog-rock keyboard wiz Rick Wakeman and ZZ Top guitar hero Billy Gibbons are among the baker's dozen guest collaborators.
"Every song—good or bad—has my interpretation with the desire to bend it a little, or fulfill more fully its original desire," Shatner said.
That's his way of pointing out that, rather than simply stepping into a studio and reciting lyrics over prepared backing tracks to seasonal favorites such as "Jingle Bells," "Feliz Navidad," "White Christmas" and "Winter Wonderland," Shatner worked closely with album producers Adam Hamilton and Jurgen Engler in applying his vision of how each number ought to play out.
"Jingle Bells," for instance, which starts the album at a breakneck pace as Shatner almost hyperventilates as he relays the song's lyric.
I'm looking at this album as the culmination of this [longtime] yearning to make music and to try to do it the only way I know how.
— William Shatner
RELATED: This year's essential Christmas albums ranked, from 'Shatner Claus' to the irresistible JD McPherson »
""How do you do 'Jingle Bells' differently?" he said. "I thought, 'What happens if the horses are running off?' There are two guys on the sled and the horses are running off.' I've been on runoff horses, and you don't stop them—you just guide them. So for my version, the horses take off. When he listened back initially, I said 'That's not quite right. Let's put [the sound of] some hoof beats on it."
The result is in keeping with his previous cult-classic recordings featuring his often hyper-dramatic style of spoken-word recitation. Those date back to his 1968 debut album "Transformed Man," which included his camp-classic renditions of Bob Dylan's "Mr. Tambourine Man" and the Beatles' "Lucy in the Sky with Diamonds." In recent years he's also recorded collaborations with indie rock singer-songwriter Ben Folds ("Has Been" in 2004) and the prog-rock effort "Ponder the Mystery" in 2013.
"This album reflects my continuing desire to fuse words and music, because I can't sustain a note," he said, a musical limitation that aligns him with non-singing actors who've taken on musical projects including Rex Harrison ("My Fair Lady"), Robert Preston ("The Music Man"), Richard Burton and Richard Harris ("Camelot").
"I'm looking at this album as the culmination of this [longtime] yearning to make music and to try to do it the only way I know how," Shatner said.
His partners on each track help up the musical content—Paisley adding his felt electric guitar work to their version of "Blue Christmas," Gibbons doing likewise on "Rudolph the Red-Nosed Reindeer" and Collins singing sweetly against him for "White Christmas."
The diversity of those collaborators shows the reach of his ever-expanding fan base.
"It's the highest compliment possible when somebody will take their precious time and lend their talents to a track, a song I'm trying to do," he said. "I've been emotionally moved by these talents that have said, 'I'll give you something more precious than money—my time.'"
For many of the guests, however, it's simply an opportunity to work with one of their heroes.
"This project came about when Bill came to see me at Staples Center earlier this year, or maybe it was in Anaheim," Paisley, 46, said in a separate interview. "He got on the [tour] bus and says [slipping into his impression of Shatner's signature style of speed, full of dramatic pauses]: 'Brad….how…are you? I have a …. Christmas project and I….want to see if…."
"I was like, 'Yes—great!' He suggested doing 'Blue Christmas' and I said 'Perfect. Whatever you want, I'm in," Paisley said. "Whatever he wanted, I knew it's going to be cool, it's going to be fun. There's no bigger fan of Bill Shatner than me.
"Bill is one of the biggest inspirations to me on how to live your life that I've ever met, or ever will," Paisley said. "He is constantly moving. Sharks never sleep—they're always in motion. He is that. With him, it's one thing after another. If it's not a paintball film [the 2002 low-budget feature 'Spplat (CQ) Attack'], it's the Priceline thing [TV ad campaign], or skydiving or motorcycle riding. He exhausts me. It's an amazing thing to watch."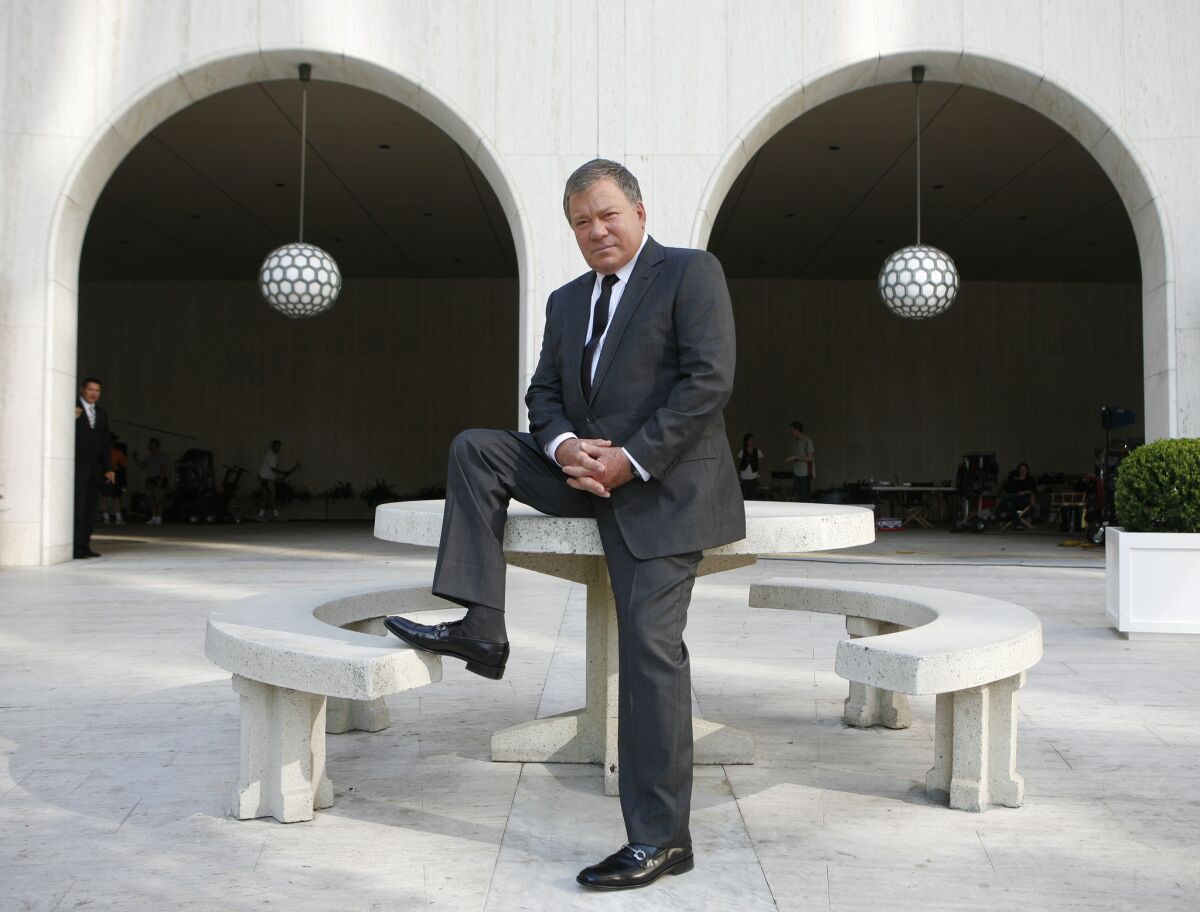 Another noteworthy facet of "Shatner Claus" is that it adds the veteran of TV, film and stage to a long line of celebrated Jewish performers who have tried their hands at Christmas music.
That roster may well begin with songwriter Irving Berlin, who wrote "White Christmas," the biggest-selling Christmas song of all time thanks to Bing Crosby's signature recording, as well as performers such as Barbra Streisand, Neil Diamond, Mel Torme, Barry Manilow and Neil Sedaka.
An easy way around the mixing of faith-based messages would be to stick with secular holiday songs. But Shatner also has included Christmas-centric carols including "O Come, O Come Emmanuel," "The Little Drummer Boy" and "Silent Night."
"I'm totally aware of the religious implications of Christmas and I honor it," he said. "I didn't want to fly in the face of that in any way, so I tried to fulfill the religious component of the songs as fully as possible."
Besides, the Christmas season and traditions are something he was intimately familiar with growing up in Montreal.
"In the province of Quebec, and Montreal specifically, a large percentage of the population is Catholic and very religious. So at this time of year the city is very dressed up. Christmas trees are everywhere, you have the lights and the music and a very festive atmosphere. It's extraordinary. I can't think of any place more fulfilled in that way.
In his own family, Shatner said, "We indulged in that — the Christmas presents, the trees out front. And a big part of the celebration of what Christmas is supposed to be: the peace, the equanimity, the friendship. The expression of it at that time of year, we were all involved in that. The specifics of Jesus and the manger — not; but everything else: the festive part of that, the philosophical part of it was celebrated by our family."
The song he considers to be the album's centerpiece is a new one, "One For You, One For Me," which sets to music a poem written by Blades Anthony, a U.S. military veteran who served in Afghanistan, and wrote poetry about his experiences there.
"That poem anchors the album," Shatner said. "I met Blades Anthony, a veteran who had been very disturbed by a battle he was involved in in Afghanistan. He showed by a sheaf of poems about the tragedy of that battle. I asked him to write m a Christmas poem, and he came up with 'One for You, One for me, about all the soldiers in Afghanistan wondering what Christmas is like for the people back home.
I took it to them [Hamilton and Engler] and said 'Let's put music to this.' It took quite a few changes from me as listener and director: 'There's not enough military feeling here, not enough pathos in that part.' The music evolved from me as an actor and director."
The idea that Christmas music might represent for him the final frontier of which he spoke in such sober tones back when "Star Trek" visited TV screens on a weekly basis made him chuckle. But as Paisley noted, he continues to go boldly where no iconic Star Fleet captains have gone before.
"I'm going to work with Adam on a blues album," he said. "I'm trying to meet up with several of the rankling blues [musicians], and even if they don't want to be part of the album, I want them at least talk to me about the blues. We all know it comes from the church and from the black experience.
"I understand the feelings of anguish, of sorrow and pain, and I know how to express that, but I haven't done it in this form as yet. It's a challenge to take on this great medium that has such a range of performs from B.B. King, Aretha Franklin and all these others. Rock 'n' roll has blues numbers in it, heavy metal too. I want to include all that."
We can almost hear it now, in Shatner's inimitable voice: "I….woke up this…morning….got myself…a beer!"
Follow @RandyLewis2 on Twitter.com
For Classic Rock coverage, join us on Facebook
---
Your essential guide to the arts in L.A.
Get Carolina A. Miranda's weekly newsletter for what's happening, plus openings, critics' picks and more.
You may occasionally receive promotional content from the Los Angeles Times.