Rapper Nipsey Hussle helps beloved Mid-City roller rink World on Wheels get rolling again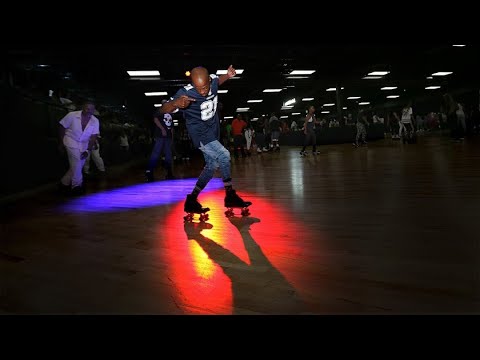 Skaters traverse the floor of World on Wheels in 2017, after the rink had reopened after a four-year closure.
In the '80s and '90s in L.A., if you were a teenager, World on Wheels was the hottest club in town.
The Mid-City roller rink was famous for its "7 to 7" lock-in parties, where parents could drop off kids for a 12-hour binge of roller skating and safe socializing. Top local musicians would funnel new releases to DJs there and see how their tracks worked in the crowd. And just as important, it was some upbeat neutral turf for kids near gang-scarred South L.A. at a time it was desperately needed.
Now, after a thorough renovation and an investment from one of the city's top rappers, a landmark of L.A. teen life is ready to roll again. World on Wheels officially reopened its doors July 19.
"It's bigger than skating, it's about creating a culture," said Tommy Karas, the nightlife impresario overseeing the renovation. "I take it seriously — you're in a position to influence thousands of kids."
For decades, the venue was a focal point for kids creating and discovering L.A.'s blended sounds of hip-hop, funk and disco. DJs from the old-school hip-hop radio station KDAY-FM used to spin there; Snoop Dogg lovingly cited the venue in his 2011 single "The Way Life Used to Be," as did Dilated Peoples in their its song "World on Wheels." And L.A. Dream Team, a pioneering West Coast hip-hop duo, sang there in the 1980s.
For many L.A. musicians now coming of age, it was a formative experience in their musical and social lives.
"In middle school, it was the place to be. In L.A., you have to grow up fast, and this was one place kids could go to have a party and be safe," said Nipsey Hussle, the rapper whose investment group S.C. Capitol Ventures helped finance the refurbishment.
Hussle, in his early 30s, grew up in the nearby Crenshaw district, and World on Wheels was a sanctuary to hear the local music that would later define his own sound.
"DJ Quik, Suga Free, Snoop Dogg — these were records you could skate to," he said. "People would make a record and go, 'Oh, that's for the rink.' You'd have your club record, your radio record and your rink record."
The venue, which opened on Halloween 1981, was damaged in the L.A. riots in 1992, though it quickly reopened. When it closed again in 2013, however, its future was uncertain. At the time, its owner, AMF Bowling Centers, had filed for bankruptcy, and Young Management Co., the investment group that bought the property, hinted that it was looking for family sit-down restaurants, health clubs or movie theaters to fill the space.
Was the original World on Wheels important to your youth? Share your memories on Facebook or in the comments below »
Though the few remaining places like Moonlight Rollerway in Glendale are popular, they're not at the center of L.A. music culture like World on Wheels was.
The building badly needed refurbishment. Local activists encouraged Councilman Herb Wesson's efforts to help find a buyer who understood the rink's legacy (and perhaps develop it into a community center), none took on the risk of a full renovation until Karas.
"It was a nightmare. Hundreds of people had looked at buying it and said no," Karas said. "I knew it would test my patience and it did. But there was such history to it, everyone knew the place and I saw their passion."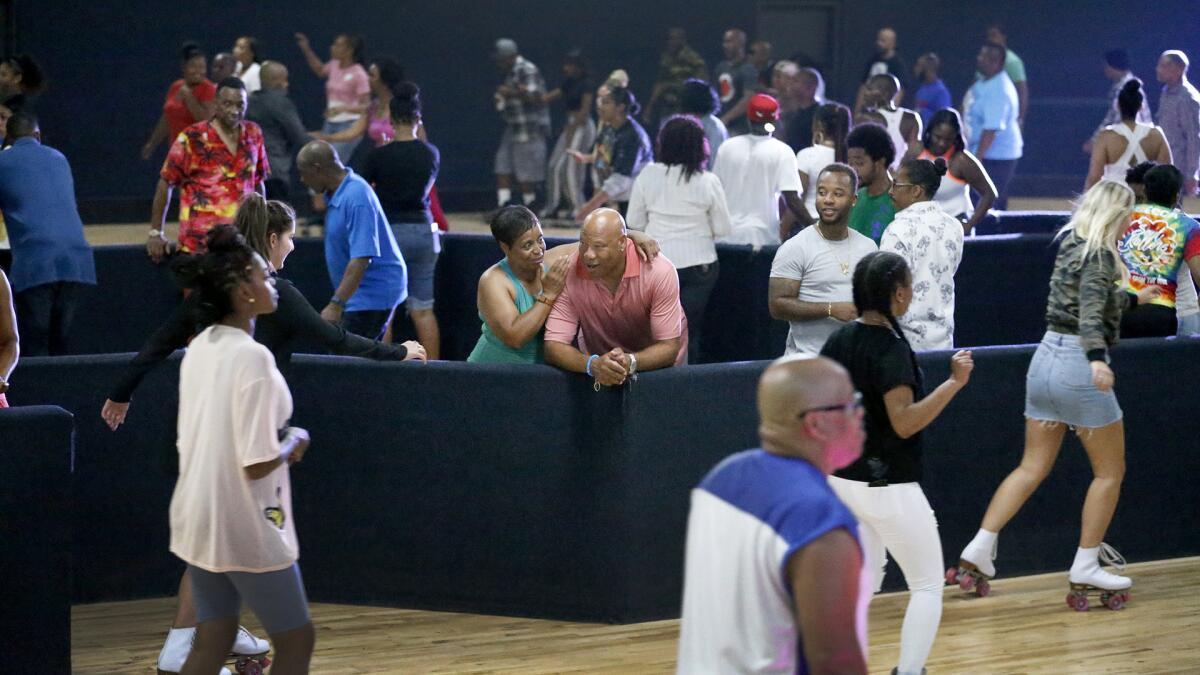 Karas' nightclubs in cities like Chicago, Las Vegas and L.A. are a far cry from a plucky roller rink. His bars like Playhouse in Hollywood are known for high-end bottle service and sets from radio-star rappers.
But he said that, for him, "I've always been in nightlife, but I'm not a nightlife guy. Fairs, carnivals — I never grew out of that phase." And for someone looking to renovate the space, deep contacts in L.A. hip-hop could help prove their good intentions.
"It goes right to the roots. All the best DJs, break dancers, KDAY, they all came through because music was part of the culture of skating," he said.
The new venue could restore some of that old sheen. The rink feels a bit like a nightclub — low leather couches and gray wood trim; a high-end sound system flecked by neon-light fans in the roof.
But the sense of innocence is still there: much of the top level is full of classic arcade games, and there's a cafeteria serving more refined takes on classic party snacks. For older crowds, there are gospel, oldies and throwback hip-hop theme nights as well.
On a balmy recent Wednesday night, Oliver Taylor from the Crenshaw district came to skate with his 20-year-old son. Taylor frequented the venue in its first incarnation, and he was glad to have it back for a new generation.
"It was a place where kids could hang out and enjoy life," Taylor said. "It's an outlet to do something different, and they need it."
Across the rink, 17-year-old Ariana Wafer was all smiles after a few laps around the floor. She was in town visiting from Fresno and already pined for a spot like this back in the San Joaquin Valley.
"This is pretty cool, I like the music and the vibe," she said. "It really gives a culture here, we could use a place like this in Fresno."
Given L.A.'s diverse young population, it may yet again return to the center of the scene. Tyler the Creator's popular Flog Gnaw Carnival, which is held in the fall at Exposition Park, shows that cheeky county fair-style fun pairs well with serious music; and plenty of L.A. artists like Hussle are making funk-infused records that would sound awesome on skates (though Karas said he doesn't plan to bring back the all-night "7 to 7" parties).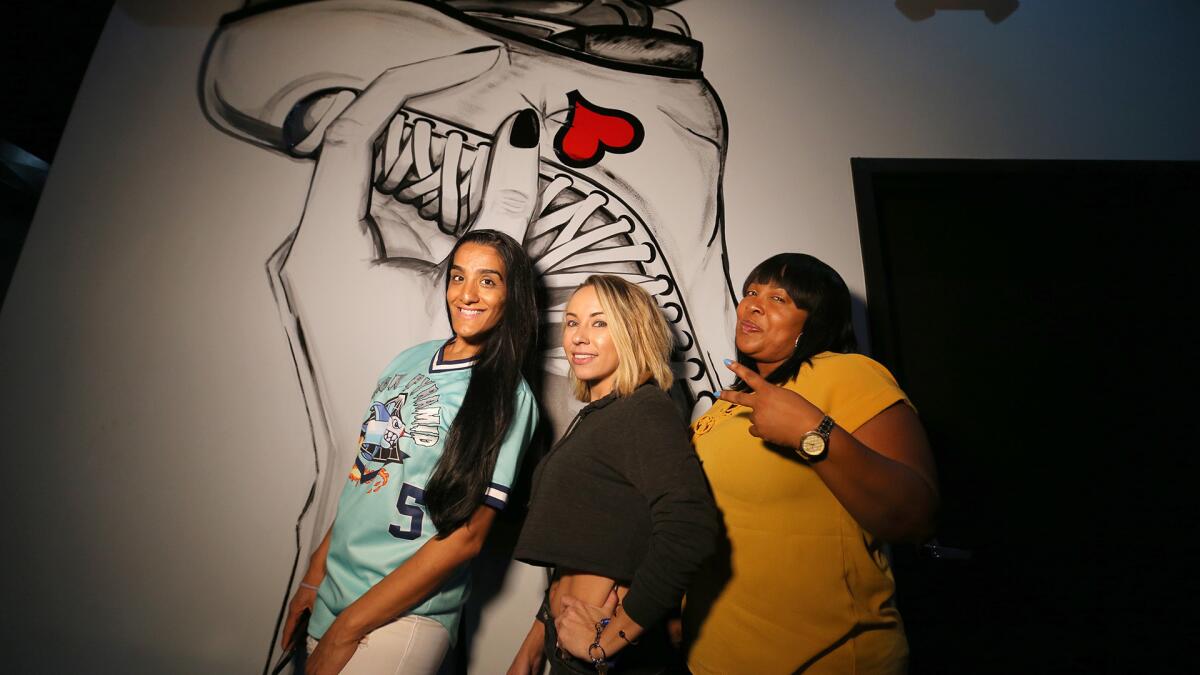 Decades on from the strife of the '90s, World on Wheels' return is both a nod to L.A. history and a big bet on the neighborhood's future. Hussle, in particular, knows what it's like to grow up in a de facto segregated neighborhood, where lighthearted fun for kids was harder to find. For him, World on Wheels' return is nothing less than a revolution for the area.
"L.A. is historically segregated, but now we're creating a new culture where we're not restricting ourselves," Hussle said. "We don't have a culture of being self-destructive. Now, we have power. "
Karas, gesturing over the vast expanse of darkened wood floor on the rink, wanted to make sure that today's middle schoolers felt that as well.
"There's a sense that this place belongs to them," he said. "We pushed so hard for this because we're doing it for the kids. I'm not going to let them down."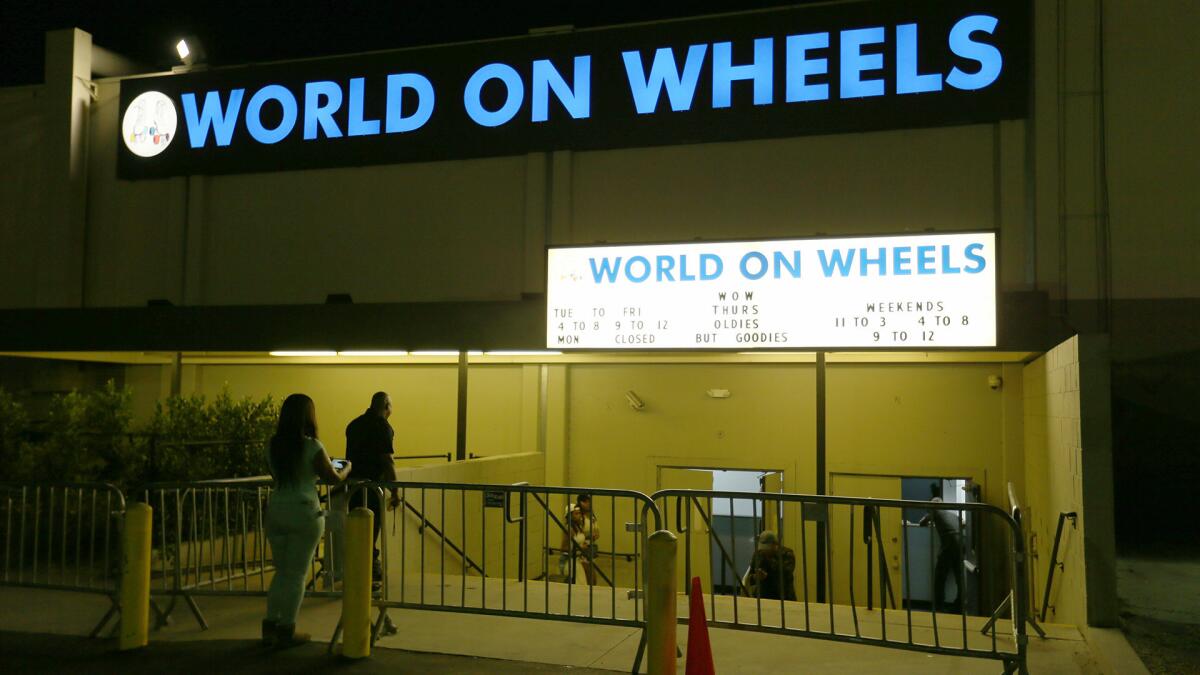 ♦ ♦ ♦ ♦ ♦ ♦ ♦ ♦ ♦ ♦
World on Wheels
4645 Venice Blvd., L.A.
Monday: 6:30-11:30 p.m. (All ages)
Tuesday: 4- 8 p.m. (All ages); 9 p.m.-midnight (18 and up)
Wednesday: 4-8 p.m. (All ages); 9 p.m.-midnight (21 and up)
Thursday: 4-8 p.m. (All ages); 9 p.m.-midnight (25 and up)
Friday: 4-8 p.m. (All ages); 9 p.m.-1 a.m. (18 and up)
Saturday: 4-8 p.m. (All ages) 9 p.m.-1 a.m. (18 and up)
Sunday: 4-8 p.m. (All ages); 9 p.m.-midnight (21 and up)
Admission: $7-$20
For breaking music news, follow @augustbrown on Twitter.
ALSO
Don't sleep on Benjamin Gibbard's song-by-song re-creation of Teenage Fanclub's 'Bandwagonesque'
El Septeto Santiaguero, Sintesis bring vibrant sounds of Cuba to L.A. in August
Elvis Presley's 'A Boy From Tupelo' set documents the big bang of rock 'n' roll
Get our L.A. Goes Out newsletter, with the week's best events, to help you explore and experience our city.
You may occasionally receive promotional content from the Los Angeles Times.