YG was ready to drop a new album. Then his friend Nipsey Hussle died
During the last week of March, Compton-born rapper YG was nodding along to a new track called "In the Dark" in front of a mixing board at Encore Studios in Burbank.
The 29-year-old listened as part of a split TV screen on the wall above him displayed security camera footage from the building's perimeter.
"Think twice before attacking me," he raps on the track, the most menacing on YG's new album, "4Real 4Real." "I'm-a pull a gun out, I ain't gonna run, I ain't no athlete."
Over the last decade, YG, born Keenon Jackson, has been shot on two different occasions — once while leaving a recording studio. "We gotta be behind gates now, private locations," he said at the studio.
Little did he know. Three days later, Nipsey Hussle, one of YG's best friends and self-described brother from another color, would be ambushed and killed outside his own shop.
Despite YG identifying as a red-wearing Blood and Hussle as a Crip outfitted in blue, the two had been through a lot together, most famously via a letter to his label from the Secret Service after the release of "F.D.T.," their expletive-driven 2016 collaborative indictment of then-candidate Donald Trump. When Hussle earned a rap album Grammy nomination in 2018, YG said he couldn't have been more "goddamned proud."
I felt like that was my time to really show them that I've got this West Coast on lock.
— YG on his Coachella performance
At Encore, YG was in promotion mode. He was supposed to announce the news of his fourth album in a few days, the beginning of a tightly planned rollout. A prominent spot at the Coachella Valley Music and Arts Festival in Indio was only weeks away, and the aim was for YG to drop the album after his set.
"I felt like that was my time to really show them that I've got this West Coast on lock," he said later. "I knew it was going to be crazy."
But then Hussle was killed the day before the scheduled album announcement, and as waves of grief and confusion washed across South L.A., YG was forced to adapt to life without his close friend, mentor and collaborator.
"4Real 4Real" would be pushed to May 24, but his back-to-back mid-April Coachella sets would still happen. Those performances — breathtaking, emotional Hussle tributes that honored a fallen icon while advancing the art of West Coast rap — confirmed YG as a singular force speaking to and for the L.A. streets.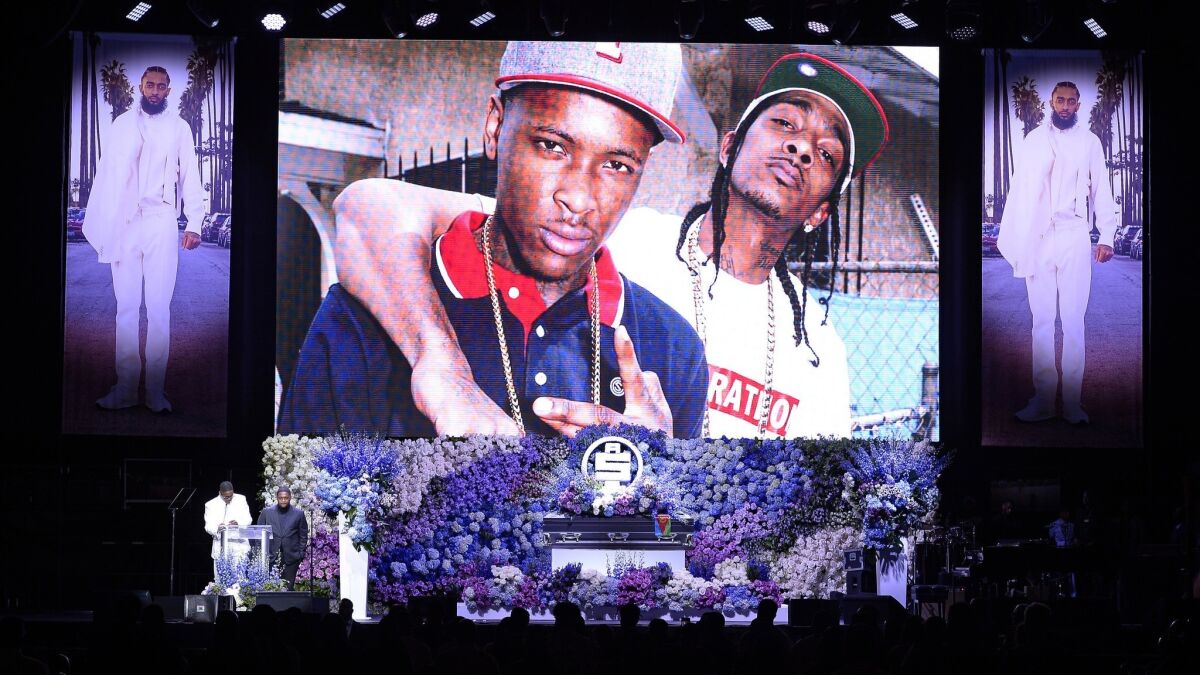 Speaking on the phone last week, YG paused when the topic of Hussle's death came up. "There ain't really much to say. He wasn't supposed to leave this soon," he said.
"We've been through stuff, trying to make it out of L.A. Being involved with the gang culture, you're going to go through a whole lot."
With a tone of frustration, he added, "and we made it out."
YG did so through a pound-the-pavement strategy that began when he was still a kid working the streets. Born in 1990 — two years after N.W.A released "Straight Outta Compton" and a year before LAPD officers were filmed beating Rodney King — the self-described bad, bad kid from Compton joined the Bloods while in his teens.
He told The Times in 2014 that before earning music money, he made rent by "breaking into houses — I got a strike for that. Picking locks, sliding doors — I went to jail for all that."
Upon release three months later, he started working to advance a less felonious future in music, one enabled at first through house parties in Compton, some in enemy Crip territory. "They'd come into the house and start shooting," he said.
"Press up a bunch of CDs, pack them in the trunk of the car and go to all these house parties up and down California," Steve "Steve-O" Carless said of YG's early strategy. As an A&R man for Def Jam, the executive started working with the rapper in 2010. Carless was also Hussle's manager.
From there, it was history, bro. We started playing Hollywood clubs, and it just went crazy.
— Ty Dolla Sign
At the time, New York-based Def Jam wasn't much focused on the West Coast, Carless added. "They knew he had a massive following, and they just couldn't understand how or why or where he was coming from."
YG released his first hit, "Toot It and Boot It," with a young producer and singer who performed as Ty Dolla Sign. Introduced through a mutual friend, the two made the song during their first night in the studio together.
"From there, it was history, bro," Ty Dolla Sign said during a recent conversation about YG. "We started playing Hollywood clubs, and it just went crazy."
Another soon-to-be platinum hitmaker, DJ Mustard, ran in the same circles. As their fortunes rose, Mustard and YG became roommates, and Ty Dolla Sign, who'd moved from production to singing, started teaching Mustard how to produce. They mastered what Mustard called ratchet music — party rap with tempos pushed up to drive dance floors.
Across the '10s, the trio helped redefine West Coast party rap. YG's debut album, "My Krazy Life," peaked at No. 2 on the Billboard album charts. Mustard produced half its songs. "Still Brazy" from 2016 and last year's "Stay Dangerous" both broke the top 10.
YG's manager, Brandon Moore, said their approach across the decade has been consistent: "Let's just grind. We were doing big clubs and nights for $500, and we did that for years, until now we're performing at Coachella."
They were basically saying we were sending death threats to a presidential candidate.
— YG on a letter sent by the Secret Service
As YG's star rose, he met Hussle, a Crip affiliate who had been preaching economic self-reliance while making his mark as a rapper. They first collaborated in 2011.
In conversation after Hussle's death, YG at first answered questions warily. He'd warned his team that he was liable to hang up if a journalist asked about Hussle. But at some point, he changed his mind.
When asked about the Trump-bashing Hussle collaboration "F.D.T." and its impact, YG recalled its creation. They were in the studio working on an unfinished YG-Hussle album called "2 of Amerikkkaz Most Wanted."
YG remembers suggesting the Trump title — "We weren't feeling him. The world wasn't feeling him" — and recording it the following day. The song blew up and, in a moment of South L.A. unity that became a symbol after Hussle's death, the Blood and the Crip took to the streets to film the video.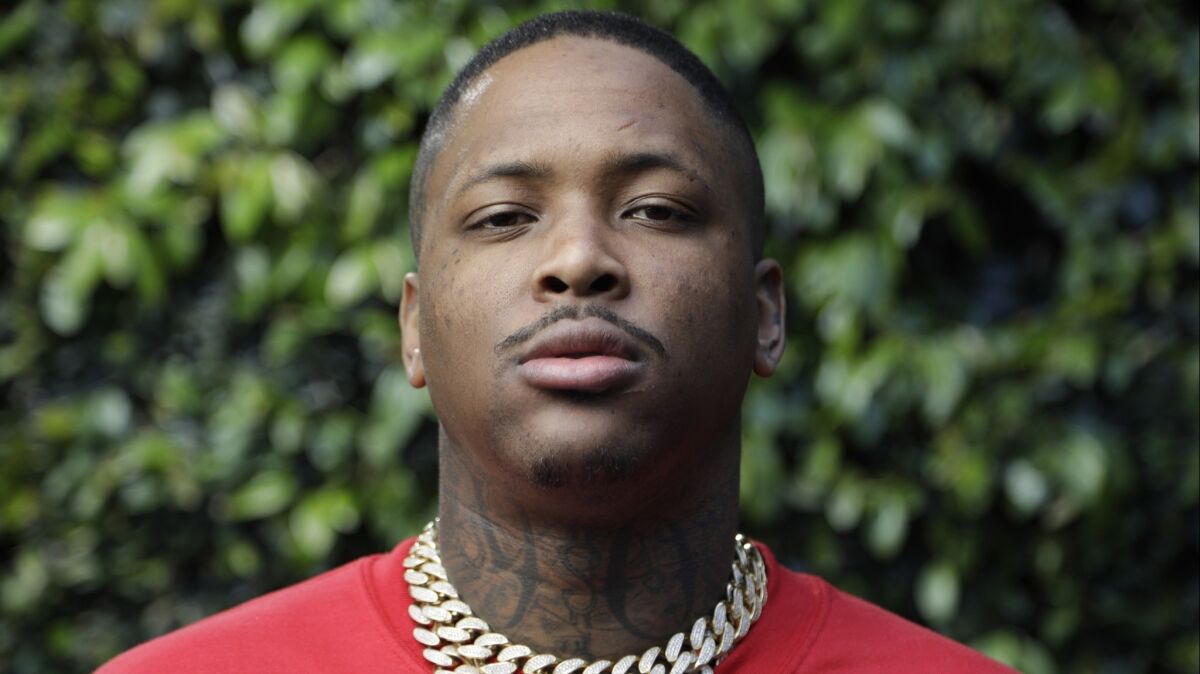 YG recalls that the entire day of the shoot, "helicopters were coming out on us, the police were on us, the SWAT team was on us." When Hussle filmed near his Crenshaw-district home, the news trucks were there. "We just turned the whole city up," YG said. Not long after, his label got a missivefrom the Secret Service.
"They were basically saying we were sending death threats to a presidential candidate," he recalled. Neither he nor Hussle heard anything more, and the two continued to collaborate with the hopes of finishing the tag-team album. Whether the record will ever come out remains an open question..
"He was like a big brother to me," YG said of Hussle. "He was my rap friend, but it turned into real brotherhood."
When YG was passed over for a Grammy nomination, Hussle gave him a pep talk. When Hussle issued his much-delayed Atlantic Records debut, "Victory Lap," in 2018, YG said "it took the homie a long time, but it was worth it because he got his Grammy nomination."
"I always thought they wouldn't let people like us get nominated for a Grammy, because of what we represent," YG said after Hussle died. Still referring to his friend in the present tense, he added, "But Nip, he talks and walks a certain way. You're going to respect where he's from because he's super-educated and smart. He knows how to communicate."
If he was here, he would have been on that stage with us.
— YG's manager Brandon Moore, on Nipsey Hussle
From the outset of his career, YG had his sights set on performing at Coachella. The problem? His reputation preceded him. Long a hipster's paradise, the festival has never been known for its connections to South L.A.
Still, YG treated a gig there as a rite of passage, and he was hell-bent on booking it to promote "4Real 4Real." "We from out here, bro. We're supposed to be on that stage," he said. "That was my time to show them that I've got this West Coast on lock."
The bookers concurred, and the rapper earned a Sunday sunset spot at the Sahara tent.
After Hussle's death, though, YG's team was forced to shift approaches, transforming the set into a tribute. "Nipsey was our brother — Nipsey is our brother," Moore said. "If he was here, he would have been on that stage with us. We had to share that moment with him in some way."
Onstage in front of thousands, YG dedicated his set to Hussle, before turning up the volume and gunning through hits from across his career, with guest appearances over the two weekends from Ty Dolla Sign, Mustard, Tyga, Big Sean and others.
YG dedicated "4Real 4Real" to Hussle as well, and he included a recording of YG and Mustard speaking at Hussle's Staples Center memorial service. Apart from the interlude, though, the album is focused on the here and now.
Half the record was produced by Mustard, and his tracks find the longtime collaborators stretching their craft. "Go Loko" mixes mariachi horns with hardened beats to create an only-in-L.A. convergence. "Do Yo Dance" features Ty Dolla Sign on the hook. And "Her Story " is the closest thing to a ballad YG's ever done.
After Coachella, YG committed to keeping up his breakneck pace in honor of his friend. "Nipsey is gone and it's... sad," said YG, "but at the end of the day, the homie would want me to keep the marathon going. He is going to be glorified like he's supposed to be, his brand is going to live on forever. We're rocking like that."
For tips, records, snapshots and stories on Los Angeles music culture, follow Randall Roberts on Twitter and Instagram: @liledit. Email: randall.roberts@latimes.com.
---
Get our L.A. Goes Out newsletter, with the week's best events, to help you explore and experience our city.
You may occasionally receive promotional content from the Los Angeles Times.