YG channels his friend Nipsey Hussle in a rowdy, heart-rending Coachella set
There was a shadow behind YG's back the entire time he played his Coachella debut on Sunday: that of his friend, collaborator and fellow South L.A. North Star, Nipsey Hussle.
The two MCs were great friends in life and attempted to show how gang life need not define artists or friendships as they worked to find success and build communities around them. Hussle's shocking killing and the subsequent outpouring of affection have defined L.A. hip-hop in recent weeks, and few were as affected as YG.
"We lost one of the greats. A legend. Black Jesus — yeah, I said it," YG told the crowd gathered at Coachella's Sahara tent for one of the day's most anticipated and beyond-packed sets. "Before it gets dark, it looks like heaven out here. I couldn't get out of bed. The only reason I'm here is because I've been drinking tequila."
And yet, here he was, before maybe the biggest crowd of his life. And thus: "We've got to count to six and have a moment for Nipsey."
FULL COVERAGE: Coachella 2019 »
With that, the Sahara tent went dead silent as fans held their breath for one of the greats.
Coachella has acknowledged South L.A.'s hip-hop legacy before. Snoop and Dr. Dre headlined; Kendrick Lamar ascended as a hometown hero. But never before has a set felt so in dialogue with recent events. With Hussle's funeral and memorials just hours old, YG had the weight of performing at one of the biggest shows of his life with one of his best friends in the ground.
There was no way around that, and YG turned his "Bochella" (in Blood gang slang) into both an ad hoc memorial and a fiery statement of purpose that L.A.'s hip-hop will survive this loss and build off it.
"I've been trying to do Coachella for years. Nipsey and I used to talk about doing Coachella," YG said. The pain of doing this alone was palpable to those in attendance, but YG took that turmoil and used it to play one of the fest's finest rap sets to date.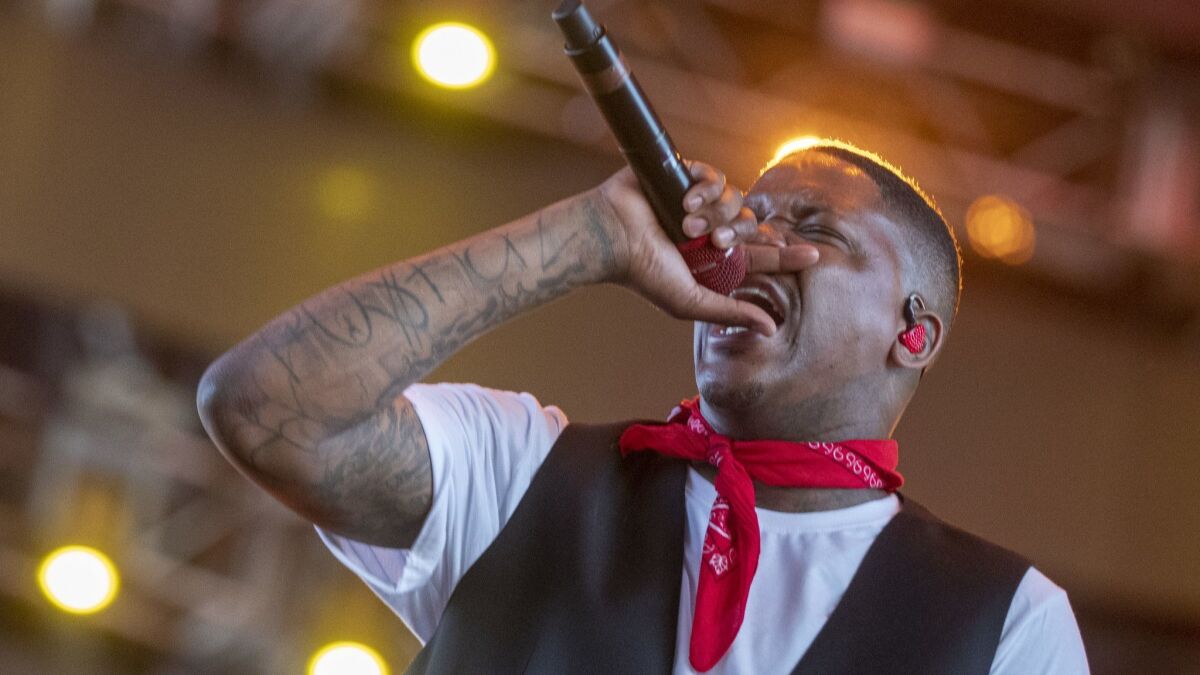 PHOTOS: Coachella - Day Three »
He was in good company over the weekend. Lizzo, the bawdy and ebullient MC and flutist, charmed anyone who saw her either on her own stage or in a twerk-off with Janelle Monae.
Juice WRLD, the emo-rap phenom who has torn up the charts over the last year, delivered an earnest and heartfelt set that still managed to keep a packed Sahara in party mode.
L.A.'s Jpegmafia brought noise and violence from the arty fringes; Rico Nasty and Playboi Carti from the wilds of SoundCloud and streaming. Childish Gambino and Bad Bunny, each major artists who often work in hip-hop's framework, played to some of the biggest audiences of their lives.
But all rap fans' eyes were on YG this weekend. Just being out there after all this was a testament to his resilience, and that he kept the mood uplifting was evidence of his composure onstage. And even with that weight of his loss around him, he never once dialed back on provocation.
For "FDT," one of his defining hits with Hussle, YG brought out a Donald Trump impersonator to needle the crowd then lambasted him with one of his definitive and anthemically defiant singles.
Local smashes like "Suu Whoop" turned the tent into a sweat-soaked, AC-off house party; new cuts like "Stop Snitching" showed the vigorous work he's put in and the hard realities he'll have to wrestle as he plots his life and music without Hussle.
YG's new music will be impossible to take without the veil of Hussle's death hanging over it. It's too soon to tell if this will show up in his lyrics, but so far, he's performing his singles with a fresh conviction to honor his late friend.
L.A. held the formal funeral for Hussle last week, but YG's set was a memorial as much as any other. It should have been a coronation for him as a generational rap talent, but maybe it was more meaningful.
On Sunday, it was a testament to a friend and a future he thought was secure. One that was taken away in an instant, and one whose weight will follow him for a long time.
L.A.'s lucky that he's up for carrying it.
For breaking music news, follow @augustbrown on Twitter.
---
Get our L.A. Goes Out newsletter, with the week's best events, to help you explore and experience our city.
You may occasionally receive promotional content from the Los Angeles Times.