Zane Lowe marches ahead to a new beat while bringing positive vibes to Apple Music's Beats 1
It's 9 a.m. on a Wednesday, and Zane Lowe, in a glass-encased studio in Culver City, has the energy of a firework. He has two desks, which he uses like turntables. His mic hangs over his head like an MC at a rap battle.
To his left are a pair of vinyl decks. He scratches on top of a record he's playing out live on the air. A DJ who became a household name in his native Britain, in America Zane Lowe works instead in the service of Apple Music, hosting a program on the streaming service's Beats 1 station.

For the record:
5:45 p.m. Aug. 20, 2018The story incorrectly refers to Zane Lowe as a native of Britain, where he rose to prominence via his BBC Radio 1 show. He is a native of New Zealand.
Lowe in 2015 was hired by the tech giant to bring some brand-name recognition — and a gregarious personality — to the world of streaming music, a bold shift at the time away from logarithm-based programming. In the new music retail landscape, Lowe was part of Apple's plan to take on market leader Spotify, and was hyped as a key differentiator in a competitive space in which each outlet offers nearly identical catalogs and pricing structures.
Yet talk to people outside Beats 1 and three years after Lowe joined the company, the question remains: Does anyone listen?
Beats 1 streams in "more than 100 countries." Lowe drops this fact in often. It's a tidbit, however, that illustrates reach rather than actual customers. But it's not without validity, as Beats 1 is reshaping broadcasting — it's radio defined by the music distributor in service of converting listeners to subscribers and ultimately selling artists.
He's not an instantly recognizable name in America, even if his reputation in the U.K eclipses him. But as a broadcaster and a DJ, he may quite possibly be the world's biggest music devotee — or at least one of music's loudest cheerleaders.
It's not enough to effuse on air, he talks up every song while off it. French sensation Christine And the Queens? "What a Jam & Lewis vibe, man!" Americana troubadour Kacey Musgraves? "A solid voice! Like water from a tap." British indie band Wolf Alice? "They're ready for arenas, right?" He turns to go back on air. "Just talking to my mate here and we're saying Wolf Alice should go into arenas next."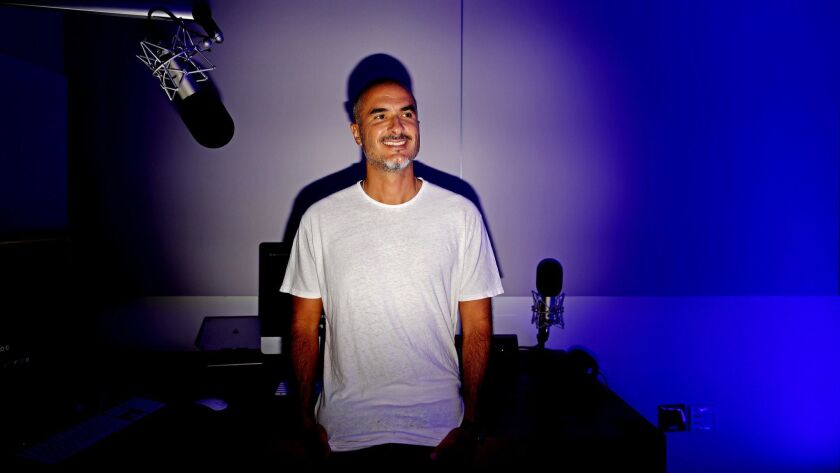 You won't believe how much time I've spent apologizing for enthusiasm.
— Zane Lowe
His views are positive, or extremely positive. "I piss people off when I say this, but Frank Ocean's the ... greatest, man," Lowe says with a gasp as he expresses a completely non-controversial opinion. He explains his role as one rooted in fandom. Don't make him apologize for enthusiasm. "You won't believe how much time I've spent apologizing for enthusiasm," he says.
This serves a purpose: it makes Lowe a relatively safe go-to stop on an artist's promotional campaign, a handy trait when your radio station is part of a modern music store. Nicki Minaj, then gearing up for the release of her album "Queen," unveiled her return on Lowe's show, where she appeared this spring to showcase two new songs. Thus, Lowe appears to view his role less as a cultural tastemaker like the disc jockeys of yore and more as a partner to labels and artists.
Lowe skipped around nervously before Minaj's entourage invaded. "Can I curse?" Minaj said to Lowe. "If you don't ask me that you can. Within reason." When Lowe pushed her on former flame Meek Mill, Minaj placed her headphones over her ears, refusing eye contact. "She did that?" he said later. "I didn't even notice."
The Twitter hashtag "#NickiDay" trended globally. The show allowed Minaj to reveal everything she intended. "I'm not thinking: 'I'm gonna insert myself into this and have a great experience,'" he said. "Which is a shame, to some degree."
Beats 1 is a streaming service inside Apple Music's store. It's not separate in the building, and the goal is to ensure that it's not separate in listener's minds.
Lowe theorizes about consumers. "People buy things or they buy into things," he says. "I'm working out what motivates the buy-in. We consume every day. But consumption is different from knowing way more than what a song sounds like."
What is 'buying in' for Beats 1? Lowe chuckles. "Right! Where do I fit in this chaos?" he says, relishing uncertainty.
On March 5, 2015, Lowe presented his last BBC Radio 1 show. At 41 years old, he left London — his home since 1997 — with his wife and two sons for L.A. He was BBC schooled for 12 years and became the face of new music in Britain. His departure was an enormous statement. The BBC was institutionalized, Beats 1 is ground zero.
Was the move motivated by a desire to figure out broadcasting's future?
"It's a good question," he says.
Lowe questioned whether his trajectory at the BBC was forward-facing. "To have that conversation is to face harsh realities," he says. Alarm bells rang as he watched artists having direct conversations with fans via social media. "They didn't need to go through me. The obvious question was: where are the artists going?"
Since his days reporting in his native New Zealand through to years as an MTV presenter, Lowe always followed the artists. "I'm just a fan," he says. "If my ego ever got me feeling like my career wasn't growing fast enough I'd go: 'Hang on. Are you breaking away from your relationship with the artist?'"
Being secondary to them has served him. At Radio 1 he promoted their upcoming releases. In the streaming age, pre-promoting makes less sense. If artists distribute records and fans listen instantly, there's no place for tastemakers with 'exclusive' plays. "That raised a lot of 'what if's. It raised a lot of 'what's."
The ego takes a battering when you no longer dictate to listeners. Beats 1 isn't a curator's environment. It's not really radio. At Radio 1 he was the guy with the record, so you had to listen to his show. Now there's no automatically obvious value assumed to him.
Right now people are making playlists, adding songs to the service. You're not waiting for someone to make a decision for you. You distribute music yourself.
— Zane Lowe
"When I got here I was trying to take a kickass radio show and put it into streaming." The pace at which music moves through Apple, however, floored him. Beats 1 had more in common with Twitter than radio. He grabs his iPhone. "This thing is alive! Right now people are making playlists, adding songs to the service. You're not waiting for someone to make a decision for you. You distribute music yourself."
Measuring Beats 1 is tricky.
Last year, head of content Larry Jackson said, "Beats 1 is the biggest radio station in the world." Is it? Lowe sidesteps because to him the question is premature. He recalls advice given to him by Jimmy Iovine, the co-founder of Interscope Records who in '00s and '10s with Dr. Dre leapt into the multibillion-dollar headphone and speaker business with Beats. They sold Beats to Apple for $3.2 billion in 2014, and Iovine has since shaped Apple Music.
"Jimmy said to me at the beginning: be the thing that moves the needle." For Lowe, that meant getting cozy with artists. Before when Lowe encouraged fans to buy artists' records, whether or not they did wouldn't affect his livelihood. "This directly affects my business. By that very nature we are in business together."
They've even become the broadcaster. Alongside three other DJs – Julie Adenuga, Ebro Darden and Matt Wilkinson – the remaining broadcast slots belong to the likes of Dr Dre, Elton John, Charli XCX, Pharrell, St Vincent and, more recently, Minaj.
This raises a question: Are broadcasters redundant? "My hope is that we're all the same. Everyone's a 'fan'. Asking where we fit in the conversation is healthy. I still ask myself."
Beats 1 isn't the only streaming service. Apple Music has about 50 million subscribers to Spotify's 75 million. Lowe insists he doesn't look at Spotify when considering Beats 1. "We're the only voice in streaming," he says. "That's not cockiness. It's fact."
Other services, however, are starting to mirror the Beats 1 mode of radio-style programming. In June, Spotify announced the hiring of Dawn Ostroff as its new chief content officer. Formerly of Conde Nast Entertainment and the CW network, she'll oversee production of shows, radio stations, podcasts and episodic programming. YouTube Music's Lyor Cohen has also indicated a desire to move into Beats 1-style programming.
"This is a controversial statement: I don't ever want us to be the only streaming service on the block," Lowe says. "There is no league with one team. Sometimes you win, sometimes you don't. But you're still in the game. Not to sound too holistic but I'm glad I'm in the game."
Earlier Lowe said that at Radio 1 he "kept the blinkers on."
His focus is to be a part of the future of radio, even if starts to look less and less like radio.
"This is my favorite era of broadcasting," he asserts. "I got into music because of what it looked like, what it made me feel, what it felt like when I met the people. It's that obsession for me. I wanna bring that obsession in."
---
Your essential guide to the arts in L.A.
Get Carolina A. Miranda's weekly newsletter for what's happening, plus openings, critics' picks and more.
You may occasionally receive promotional content from the Los Angeles Times.