Coachella festival: Start preparing now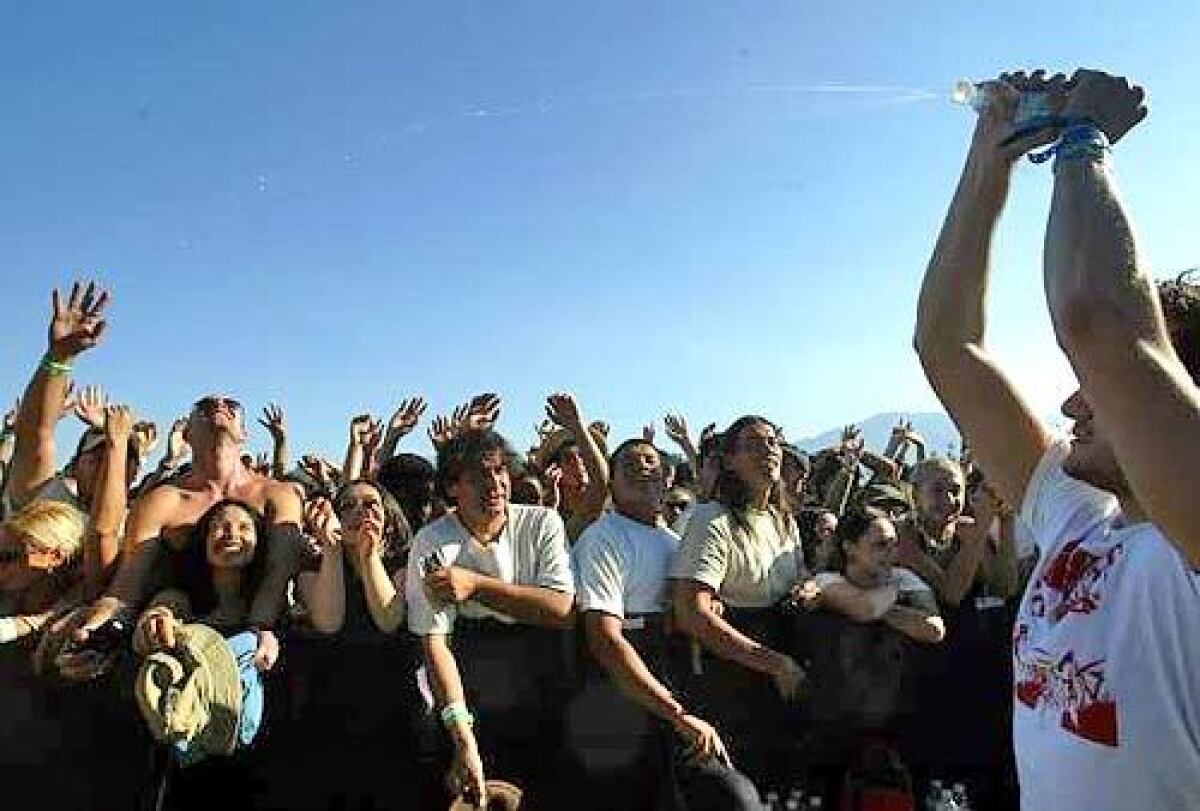 Times Staff Writer
THE Coachella Valley Music & Arts Festival is held on the lush grounds of the Empire Polo Field. In its eighth year, the largest music festival in California has expanded from two to three days and continues to improve on problems that plagued it in the past, such as major parking hassles, but a smart Coachellan still needs to come prepared, now more than ever. Some tips for the best experience:
The jam
With a population of about 60,000, modest Indio is taken over each year by scads of concertgoers, most of whom arrive in cars. Naturally, traffic jams ensue. A couple of years ago, the promoters and venue got the local officials to loosen up on the small roads linking the freeway to the polo fields and allow for one-way traffic, easing the flow of cars before and after shows. The same deal stands this year, plus Coachella has also introduced an incentive to carpoolers — drive with four or more people in your car and you and your passengers could win VIP tickets to Coachella for life. One car per day will be chosen at unannounced times; arrive between 9 a.m. and 5 p.m.
The lot
The parking lots can be terrible at Coachella. By the bright light of day, the lot seems reasonable; by nightfall, it has transformed into a dimly glittering sea of metal with every other vehicle looking exactly like yours. Hot-air balloons will mark the rows in the vast lots adjacent to the polo field. Event staffers will guide drivers into spaces that will point the cars toward the exits, so the end-of-the-night crawl won't be too bad. Parking is free, as always, and don't listen to anyone who tells you otherwise.
The price
Single-day passes for Friday, which were available early in the week, have sold out, officials said. The parking lot and box office open at 9 a.m. each day; gates at 11 a.m. Inside, there will be an assortment of food from about 100 vendors — in addition to hot dogs, burgers, pizza, barbecue, Chinese and Mexican, there will also be vegan and vegetarian options, plus Thai, Indian and lots of other international cuisine. Most meals are priced from $5 to $10. Water is $2 a bottle. Starting this year, if you collect 10 empty bottles from the polo field or campsite grounds, you can turn them in for one free bottle of water.
The lineup
So far, there have been no last-minute cancellations, not even from Lily Allen, who has scrapped the rest of her North American tour.
Bring it
A short list of things you can bring in to the show: backpacks (no bigger than 20 inches tall, 15 inches wide and 9 inches thick), hats, sunscreen, sunglasses, lighters, cigarettes, small beach towel, fanny packs, disposable cameras, digital and film cameras (nonprofessional).
Leave it
Items you will need to leave at home include musical instruments, knives, weapons, chains or chained wallets, blankets, food or drinks from outside (that includes water), chairs, tents, video cameras or audio-recording devices, flags, bota bags, camel packs, stuffed or real animals, and drugs or drug paraphernalia. As always, undercover police officers will be prowling the grounds.
The forecast
Coachella is at the mercy of the various sport seasons held at the Empire Polo Field, so each year the organizers take their weekend at the end of April and pray the sun won't roast us all alive. This year is looking like another hot one — as of Wednesday, highs were forecast at or near triple digits each day of the festival, with nighttime temperatures in the low 70s.
Dress appropriately. Considering the range, layering with breathable fabrics like cotton is key. Serena Flowers, who's been running the Rock-n-Shop tent at Coachella for six years, warns against high heels or anything too dressy.
"I think the best thing you can bring is flip-flops for the days and sneakers at night," she says. More advice: Hydrate and eat well, and take advantage of the drinking fountains and fans. Also, dry conditions and dust can do a number on the eyes, so consider bringing eyedrops.
Flush with cash
Nobody takes credit cards at Coachella. This year, they've doubled the number of ATMs available from 15 to 30, so long lines and cash shortages (on the machine's part, natch) should be alleviated. Bring money with you to save time. It also can't hurt to bring paper of a different sort of value: The toilet paper in the bathrooms can become scarce as the evening wears on.
Happy campers
On-site camping is on a lawn next to the main entrance and costs $45 per person for all four nights. Beware, late planners: It's already sold out. Last year, Coachella introduced some perks for the 20% or so of concertgoers who camp on site. The Cyber Café, open until 2 a.m. Thursday through Sunday nights, will provide wireless Internet for those equipped with laptops; Internet kiosks are available to surf the 'Net and check e-mail. No one's blog or MySpace.com account shall languish over the weekend. Also, 21-and-older campers can lounge in the Clubhouse, open for drinks and karaoke from 5 to 11:30 p.m. today. A Bloody Mary buffet (other cocktails available too) and breakfast will be offered from 8 a.m. to 1 p.m. Friday through Sunday.
If you stay home
Live performances from the likes of Björk, Arcade Fire, Arctic Monkeys and Ozomatli will again be webcast on the AT&T Blue Room (blueroom.att.com/events/coachella.php). Many users found the service erratic last year, but the Web portal is back, starting at 3 p.m. each day. Also offered: behind-the-scenes reports and blogs.
---
Your essential guide to the arts in L.A.
Get Carolina A. Miranda's weekly newsletter for what's happening, plus openings, critics' picks and more.
You may occasionally receive promotional content from the Los Angeles Times.