Andy Johns dies at 62; helped produce Stones, Led Zeppelin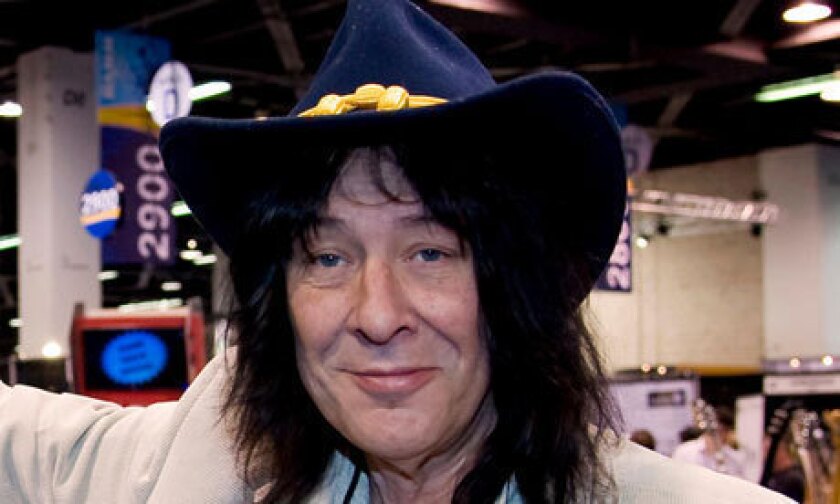 This post has been updated. See below for details.
British record producer and sound engineer Andy Johns, who like his older brother Glyn Johns worked with some of the biggest rock bands of the 1960s and '70s, including the Rolling Stones and Led Zeppelin, has died at age 62. British newspapers reported that Johns passed on after suffering from a liver ailment.
PHOTOS: Notable deaths of 2013
Andy Johns started his career as a tape operator at London's Olympic Studios during a period of exceptional musical ferment. He later recalled that "in those days, you could go into one studio and Joe Cocker was working, and then you're working with Jimi Hendrix in Studio One, or down the corridor Eric Clapton is doing something."
He worked as an assistant producer with the Stones during recording of their landmark 1972 album, "Exile On Main St." He also was involved with two of the band's follow-up albums, "Goat's Head Soup" and "It's Only Rock 'n Roll." During his career, Johns also helped capture the studio sound of Free, Jethro Tull and Humble Pie, among other groups.
Later in the 1970s, Johns relocated to Los Angeles and became a go-to producer for heavy metal stalwarts such as Van Halen and Cinderella.
[Updated at 11:23 a.m. April 9, 2013:] As one might hope from a man of his unique vantage point, Johns had many anecdotes about his studio sessions with various rock legends. He shared some of them in a 2009 interview with music historian and author Harvey Kubernik. Here's an edited sample of one of their exchanges, from a transcript that Kubernik provided to Pop & Hiss:
You had a recording history and personal history with the Rolling Stones before you engineered "Exile on Main St." You were a tape operator at Olympic Studios for "Their Satanic Majesties Request" sessions, and knew the band even earlier owing to your brother Glyn engineering their sessions from the beginning of their career.
Well, I was aware of them when Glyn did their first demos at IBC. They didn't even have a record deal. I remember him bringing that stuff back to the house. They soon started making records.... I remember Bill Wyman had this bass that he'd made himself. Hand-made bass that used to be under [Ian Stewart's] bed. And there was a copy of 'Satisfaction' in 1965, and it hadn't come out in England yet. So, here I am this teenager with a copy of the latest Stones single, which just happens to be 'Satisfaction.' And I started banging around on Bill's bass and that's when I really got interested in playing bass.
And then at Christmas time, Glyn said, 'What do you want for Christmas?" And I said, 'Well, there's that bass underneath Stu's bed, you know. I wouldn't mind that.' And he said, 'Oh, Bill is not gonna get rid of that 'cause he made it himself.' And I didn't think anymore about it. And then Christmas Day came and I didn't get very much for Christmas 'cause I'd already weasled my stuff before Christmas. Everyone else is opening gifts and they're getting watches, Christmas stuff. And I'm not getting anything. So, I was a bit downhearted, you know. And at the end, Glyn says, 'Guess what? I forgot I've got something for you.' And he went out and came back and I could see it was a bass guitar. And I opened it up and it's this gorgeous little bass that Bill used to use on the 'Top of the Pops' program. So that knocked me for six…And I couldn't believe it....So, obviously, I never looked back.
Tell me about Jimmy Miller as a producer and a mate. Spencer Davis once said, "Jimmy Miller was the first genius producer I ever worked with."
Well that's easy. Jimmy was an extremely talented man. His main gift I think was his ability to get grooves. Which for a band like the Stones is very important. Look at the difference between 'Beggar's Banquet' and 'Satanic Majesties.' He put them right back on the rail. So he was quote influential then and came up with all sorts of lovely ideas for them. In fact, that's him playing the cowbell at the beginning of 'Honky Tonk Woman.' He sets it up. He was somewhat of a frail individual and they got to him like they got to everybody. Sooner or later you lose your mind. By the time we got to 'Exile on Main St.' they weren't really listening to him anymore. So he felt a bit like a fifth wheel. He was being squeezed out a bit and I was watchin' that go down.
Jimmy was mad keen and sort of halfway in control of 'Sticky Fingers,' but his grip was slipping a bit. On 'Exile,' they sort of stopped listening to him and by the time we got to 'Goat's Head Soup,' it was like he wasn't there. That was a very tough record to make. I love 'Winter' from that.
You know, Mick and Keith back then could be pretty [expletive] ruthless. It's a defense mechanism, because people forget how big a deal they were. So everybody and their uncle is trying to grab the hem of their coat. They always want something, you know. 'Listen to this song. You should really do this song.' 'I've got this great idea for a hotel. Give me the money.' Constantly. And the dope dealers and the groupies. So I guess that hardens you to a certain extent. I know it has to me a little bit.
On 'Exile,' Keith would play after the fact. We'd have some time and Keith would say, 'I want to re-do the bass.' In front of Bill, you know. They were really cruel.
The guitar contributions of guitarist Mick Taylor were apparent to you over your working relationship with the Stones in the studio. And he received a co-write on the track 'Ventilator Blues.' You have said it got quite steamy in Keith's basement, 'cause there was one small window and an electric fan blowing in the summer. So you all had the "Ventilator Blues."
Mick Taylor in the studio in France or Sunset Sound was just a shinning light. As a person, somewhat taciturn. When he plays his guitar and we'd do 100 takes on something he would come up with something slightly different every time. Faultless. Every once in a while he'd drop a note. I mean, that's expected. His slide playing. He's put a bottle on his little finger and then he'd do chords with the rest of his hand. So he could do both at once. Usually, it's a separate deal, but that was part of his style. His sense of melody was unbelievable.
And pianist Nicky Hopkins is all over the "Exile" album.
Nicky is on everything. He was the best and the greatest. God bless Nicky Hopkins. He added so much to that band. Sometimes you wouldn't really notice it. But if you take the piano out then the house of cards collapses a bit. He was always coming up with gorgeous little melodies. Earlier, 'She's a Rainbow.' That's Nicky. Of course he was doing a lot of things like that. Plus he was extremely rhythmic. People don't remember him for being rhythmic. But he was.
What was the food like at Keith's villa [in the south of France, while "Exile on Main St." was being recorded]?
This French chef would put out these lavish spreads for lunch and you'd walk out to a big table of artichokes, stuffed tomatoes, sauteed asparagus, salads and lobsters. Wonderful stuff. Big luncheon on the terrace overlooking the Mediterranean and these big yachts. It's France. Keith would come down the steps and go, 'I wanna cheeseburger.' I used to kid Nicky, 'Guess what? We're having liver and onions, steak and pie.' He had a hole in his stomach. Very frail. After two or three months, the chef just [left]. He left and Keith got these cowboys who hung around town. A big guy who became the cook who then preceded to set fire to the basement kitchen. We then had a long weekend and Mick went off to Paris. And these cowboys stole and nicked most of the equipment, Keith's guitars, Bobby Key's saxophone. Another wise friendship that Keith had going.

ALSO:
Rolling Stones' L.A. show set for May 2 (maybe)
Album review: Jake Bugg's bracing self-titled debut
Album review: Brad Paisley ratchets up his Bard-like savvy on 'Wheelhouse'
Follow me on Twitter: @RJohnsonLAT
PHOTOS AND MORE
COACHELLA 2013: Full coverage
THE ENVELOPE: Awards Insider
PHOTOS: Grammy top winners
---
The complete guide to home viewing
Get Screen Gab for weekly recommendations, analysis, interviews and irreverent discussion of the TV and streaming movies everyone's talking about.
You may occasionally receive promotional content from the Los Angeles Times.