A few belated thoughts on KCON 2015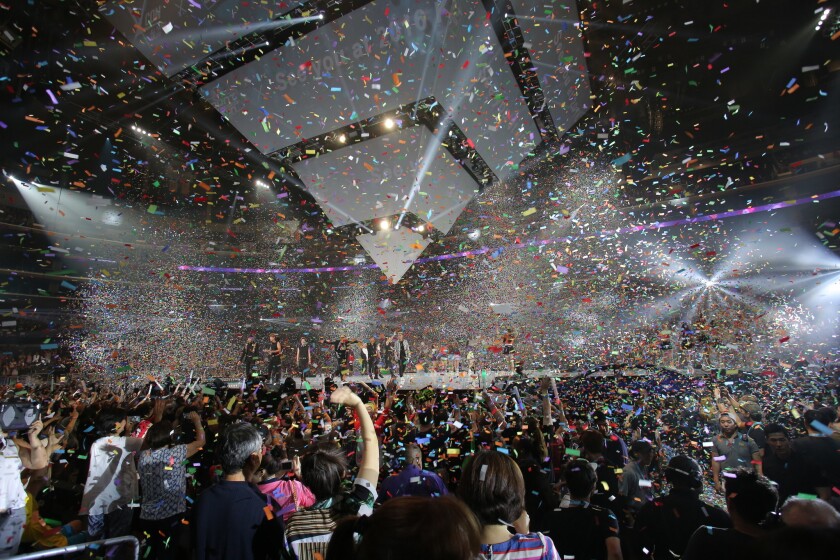 Over the weekend, while Hard Summer was hit with unexpected tragedy, a different kind of pop-escapist concert was happening at Staples Center.
KCON is America's largest annual festival for South Korean music and pop culture and shows zero sign of abating now that the U.S. is several years deep into the "hallyu" phenomenon.
In its early years, many wondered whether a South Korean act (other than Psy) could impact mainstream top-40 pop. But after watching the Sunday night installment of KCON 2015, it's clear that's the wrong question. K-pop's young and wide-ranging audience is the new mainstream in America.
SIGN UP for the free Indie Focus movies newsletter >>
The festival wrapped up Sunday, and recent events at Hard kept me from writing about it sooner. But it was the year's most significant concert for one of the world's most fascinating music and cultural scenes, and a few performances seemed especially notable.
The group Block B had one of the most successful melds of Korean hip-hop with boy-band dynamics to come of the scene. South Korea has its own universe of rap stars — Tiger JK, Dynamic Duo — that often twist West Coast hip-hop tropes into something new and distinctly Korean. Block B is definitely a boy band, with all the sheen and polish and harmonic sweetness that implies. But the mic dexterity, dancing and fashions were more than credible, and the group has riled up a few controversiesback home. Block B suggests that, within the world of K-Pop, hip-hop is again finding its own authentic lane.
On a similar note, the girl group AOA sported dance moves taken from the genuinely racier corners of R&B. Singles like "Like a Cat" are loads of fun — fans of the U.S. mix of electronics, pure pop and R&B will find a lot to get into — but the band's live performance stood out for its unapologetic allure in a still-conservative (or at least more reserved) pop scene. It never reached Rihanna levels (though checking outthe original lyricsfor AOA member Jimin's single "Puss," maybe someday they will), but AOA's set reflected the evolving norms of K-Pop as it absorbs the world's pop music and plays by its own shifting rules.
Zion.T and Crush are an exceptionally modern R&B combo in K-Pop. There are lots of boy bands doing Pristine Soul-influenced harmonies, but the two have a particular dynamic that's equally indebted to reggae, rap and '90s New Jack Swing that feels really of the moment. Their chemistry is palpable, and their song "Yanghwa BRDG" had a tangible, emotional sincerity and the crackling energy of a major hit. It's ruling Korea's pop charts now, and the fan response suggests this team has the potential for a long run up there.
By K-Pop's fast-moving standards, the group Shinhwa is its New Edition (or maybe even its Rolling Stones). The group has been active for 17 years, and now that K-Pop has ascended globally,Shinhwa is a rare act that can credibly claim "legend" status in the scene. Tracks like "This Love" reflected modern pop's turn to EDM and sounded whole, but can you imagine One Direction making a solemn vow to be together "20 years, 30 years, we'll be together until the day we die?" Now that's devotion to your fan base.
Follow @AugustBrown for breaking music news.
---
Inside the business of entertainment
The Wide Shot brings you news, analysis and insights on everything from streaming wars to production — and what it all means for the future.
You may occasionally receive promotional content from the Los Angeles Times.