After deaths at Hard Summer, experts push for new approaches to festival drug use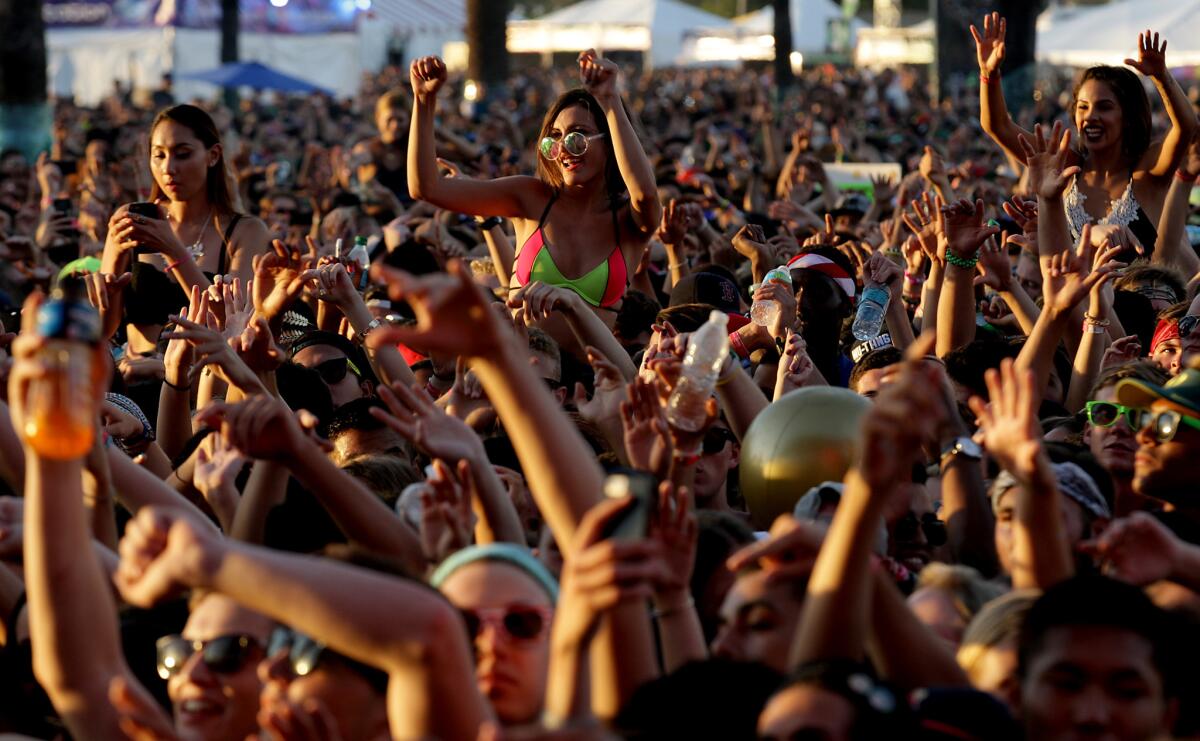 After two drug-related deaths on the opening night of Hard Summer music festival at the Fairplex in Pomona this weekend, festival organizers, city officials and dance music fans continue to debate the best ways to prevent such tragedies.
As major festivals like Hard Summer grow — this year, the two-day event expanded from 40,000 to 65,000 fans for each night — County Supervisor Hilda Solis has called for a temporary ban of raves on county property, a move that echoes the ban on raves at the L.A. Memorial Coliseum after a teenage girl's drug death in 2010.
Solis said that clearly the board action back then was insufficient and that further stronger action is needed.
"We will be doing our due diligence," she said. "Obviously this is of great concern and very tragic, and I cannot underscore how distraught it is to know two young women are going out to a concert and have to lose their lives thinking they are going to be enjoying themselves."
"What passed on the board in 2010 may have been OK then. Things have changed now. Now we need to take a very serious look. … I will venture to say I will be doing that."
Cynthia Harding, the county's interim public health director, said that recommendations made by a task force created by the supervisors after the 2010 death included making sure there are adequate pathways for medical personnel, ample water stations, screening upon entry for drug paraphernalia and illicit drugs, and sufficient security.
Interested in the stories shaping California? Sign up for the free Essential California newsletter >>
"We don't have regulatory authority," Harding said. "So we have no idea if they were done this week. We are still investigating what happened in this case."
Mary Wickham, L.A. County interim counsel, said, "One would assume we would contractually be able to hold them to follow our policies, but we are gathering the facts on exactly what was done." She said "a vendor operates the Fairplex," she said.
"We are looking at all the venues to see what events are coming up," she added.
Wickham said the county is looking closely at the next Hard event scheduled Sept. 10 at the Fairplex. "We will be operating on a timetable to address these issues prior to that date," she added.
After years of combating drug use as a law enforcement problem or as a unique issue within dance music, others public health activists want a change of perspective. They see drugs at music festivals as an inevitable risk that is best countered with education and an environment where fans can openly seek help and ask questions.
The effects and risks of MDMA, a popular club drug widely known as ecstasy or molly, are often compounded by the environment of a big dance music festival — increased energy, feelings of affection and connectedness, and raised body temperature. As peak-summer outdoor festivals like Hard Summer grow substantially, it becomes more difficult to spot and treat potential problems in a crowd, where fans may not be entirely sure when to seek help themselves.
"Imagine how hard it would be to walk up and down the aisles at a baseball game and spot who is having a problem," said Sean Nordt, a toxicology expert at USC's Keck School of Medicine. "And these festivals are much bigger than that, and the risks are multi-fold — cash-strapped college students who can't pay $5 for water, lots of people in tight spaces and events designed for dancing for many hours. A lot of times, by the time someone gets to the ER, they're so far beyond the curve because there's been a delay in care. A lot of the problem is identifying who is at risk."
But the correct response, said Nordt, is not to focus on heavier policing or to ban dance music events. Rather, it's to provide resources like abundant free water and calm open spaces, and an environment where music fans know the warning signs of hyperthermia or heatstroke, and feel comfortable seeking help for themselves or friends without fear of punishment.
"What I want is for people to be safe, and we should be treating this as a public health issue," he said. "There needs to be a public health movement about this with education on campuses."
Ultimately, treating drug use at music festivals as a law-enforcement problem rather than a public health issue may be preventing some of the necessary conversations about how fans can stay safe, Nordt said. As much as they need access to EMT services, Nordt said, fans often come to festivals with little or no knowledge about the composition of their specific drugs or ways to reduce risks connected with taking them.
"Having peer-driven harm reduction changes a person's whole perspective and confidence about staying safe," said Missi Wooldridge, the executive director of the advocacy group DanceSafe, which provides on-site testing of narcotics and drug information counseling at various dance music events in the U.S. and Europe.
"We're often the first point of contact for that, and more than triage, we need to focus on education and prevention," Wooldridge said. "Drug use can't be pushed under the rug any longer."
Anita Rivas is a Los Angeles lawyer who has represented musicians, promoters and venues in cases stemming from accidents or other mishaps at entertainment events, though she is not representing anyone related to the recent deaths at Hard.
"The government should take a bigger role in supporting our young people," Rivas said Monday. "We need to teach kids about the long term effects of cigarettes, alcohol, drugs (legal and illegal); how you can OD from mixing substances; the dangers of buying street drugs; what to do if someone ODs... and how easy it is to become an addict.
"People will continue to do what they want —they can smuggle drugs in or take the drugs before they enter the premises. It happens at frat houses, nightclubs and in the homes of their parents, it's not just concerts and festivals. People are going to party—it's their age and our culture," she said. "Young people are far too interested in doing drugs and being wasted. They do not realize the long term consequences. Regrettably, casualties go with the territory of substance abuse, whether its smoking cigarettes or an addiction to prescription drugs."
Hard organizers released this statement on Sunday evening: "At this weekend's HARD Summer festival at Fairplex in Pomona, CA, two patrons were transported from the site to nearby hospitals in two separate incidents. One patron was suffering from cardiac arrest and the other from possible seizure symptoms. Event EMT, security, Pomona Police Department and L.A. County Fire Department responded immediately and took appropriate action to provide care as soon as possible. Unfortunately, both patrons have passed away. The cause of death is still under investigation. We extend our deepest sympathies to their families and friends."
Follow @AugustBrown for breaking music news.
Times staff writers Richard Winton and Randy Lewis contributed to this report.

Hoy: Léa esta historia en español

ALSO:
The Weeknd, Chemical Brothers deliver big first night at Hard Summer 2015
San Francisco man, 24, dies at Electric Daisy Carnival in Las Vegas
Review: Jamie xx bridges dance music's past and future at Echoplex
Get our L.A. Goes Out newsletter, with the week's best events, to help you explore and experience our city.
You may occasionally receive promotional content from the Los Angeles Times.