Album review: Disclosure's endearingly exuberant 'Settle'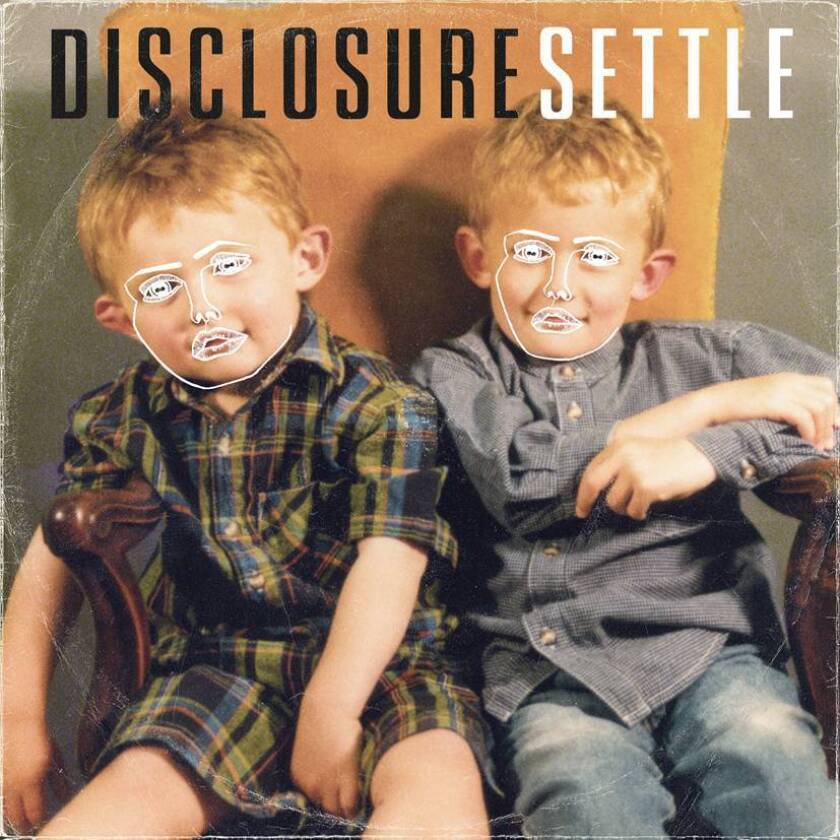 There's a moment near the end of the 'N Sync song "Up Against the Wall" -- it's from the boy band's 2001 swan song, "Celebrity," if you don't recall -- where one of the group's members, suddenly overcome with his enthusiasm for the track's sleekly propulsive groove, cries out, "Whoo! 2-step!"
It's not clear who utters the words, though my bet is JC Chasez, 'N Sync's most committed club-music fan. (His adventurous 2004 solo set, "Schizophrenic," includes a cut produced by Basement Jaxx.)
Whoever it is, he's referring to the English dance variant known more fully as 2-step garage: a lush but nimble sound that after dominating London in the late 1990s briefly crossed over to American pop records such as "Celebrity," which features several 2-step songs.
PHOTOS: Best albums of 2012 | Randall Roberts
In retrospect, the moment feels a little embarrassing -- it's basically saying, "This bandwagon drives really well!" But the exuberance on display is also deeply endearing, and well founded too: More than a decade after it came out, "Up Against the Wall" still kicks.
At 21 and 18 years old, respectively, Guy and Howard Lawrence of the English duo Disclosure are probably too young to have cared much about 'N Sync or its savvy trend-jumping. But on their excellent debut album, the brothers channel the unbridled enthusiasm -- and many of the same 2-step beats and textures -- that Chasez and his mates were tapping into. It's hard to imagine a more inviting dance record being released in 2013.
Or a more pop-minded one. Though the Lawrences have described the transformative influence of relatively arty music by the likes of Burial and Joy Orbison, they're song guys, through and through, with a knack for sticky hooks and memorable phrases that 'N Sync might've admired. "Settle" follows a string of top-notch singles -- including "Latch" and "White Noise," which went to No. 2 on the U.K. chart -- as well as remixes of hits by soul singers such as Jessie Ware.
Futuristic in their bass-heavy sonics but old-fashioned in their love-sick sentiment, "Latch" and "White Noise" are both here, as is "You & Me," another Disclosure single that's done brisk commercial business in Britain. (Together with "Hey Love," from the new album by L.A.'s Quadron, "You & Me" is also one of two songs driving a welcome Deee-Lite revival that, granted, may exist only in my mind.)
Ware turns up again in "Confess to Me," a surprisingly bawdy house tune. Other vocalists on the album include Jamie Woon in the sensual "January" and Ed Macfarlane of the English dance-rock band Friendly Fires, who brings a breathy intensity to "Defeated No More." Howard Lawrence himself sings "F for You," and while he's not giving Justin Timberlake reason to worry, he definitely summons more character than you'd expect from a brainy knob-twirling type.
But even when it's not building a track explicitly around a singer -- the easiest way to connect dance music to pop -- the duo exercises an economy and an emotional legibility on "Settle" that suggest it's as interested in the radio as it is in the dance floor. In "Second Chance," for instance, it shatters a small sample from Kelis' song "Get Along With You" into countless digital slivers, manipulating them into pure sound. Yet the track oozes a lovely melancholy almost in spite of itself.
Still, there's a reason most of these 14 tracks feature a vocalist, including "When a Fire Starts to Burn," which mesmerizingly chops up a line from a speech by the motivational speaker Eric Thomas. Like all club kids, the Lawrence brothers know that a great party requires people having a good time. And if no one ever says, "Whoo! 2-step!" here, you can almost hear it between the lines.
--
'Settle'
Disclosure
(Cherrytree/Interscope)
Three stars
ALSO:
The curious -- and totally appealing -- case of Little Mix
Los Angeles duo Quadron preps for 'Avalanche' and beyond
Listen to the new Nine Inch Nails single, 'Came Back Haunted'
Twitter: @mikaelwood

---
From the Emmys to the Oscars.
Get our revamped Envelope newsletter, sent twice a week, for exclusive awards season coverage, behind-the-scenes insights and columnist Glenn Whipp's commentary.
You may occasionally receive promotional content from the Los Angeles Times.