An appreciation: Phil Everly, voice of desperate teenage love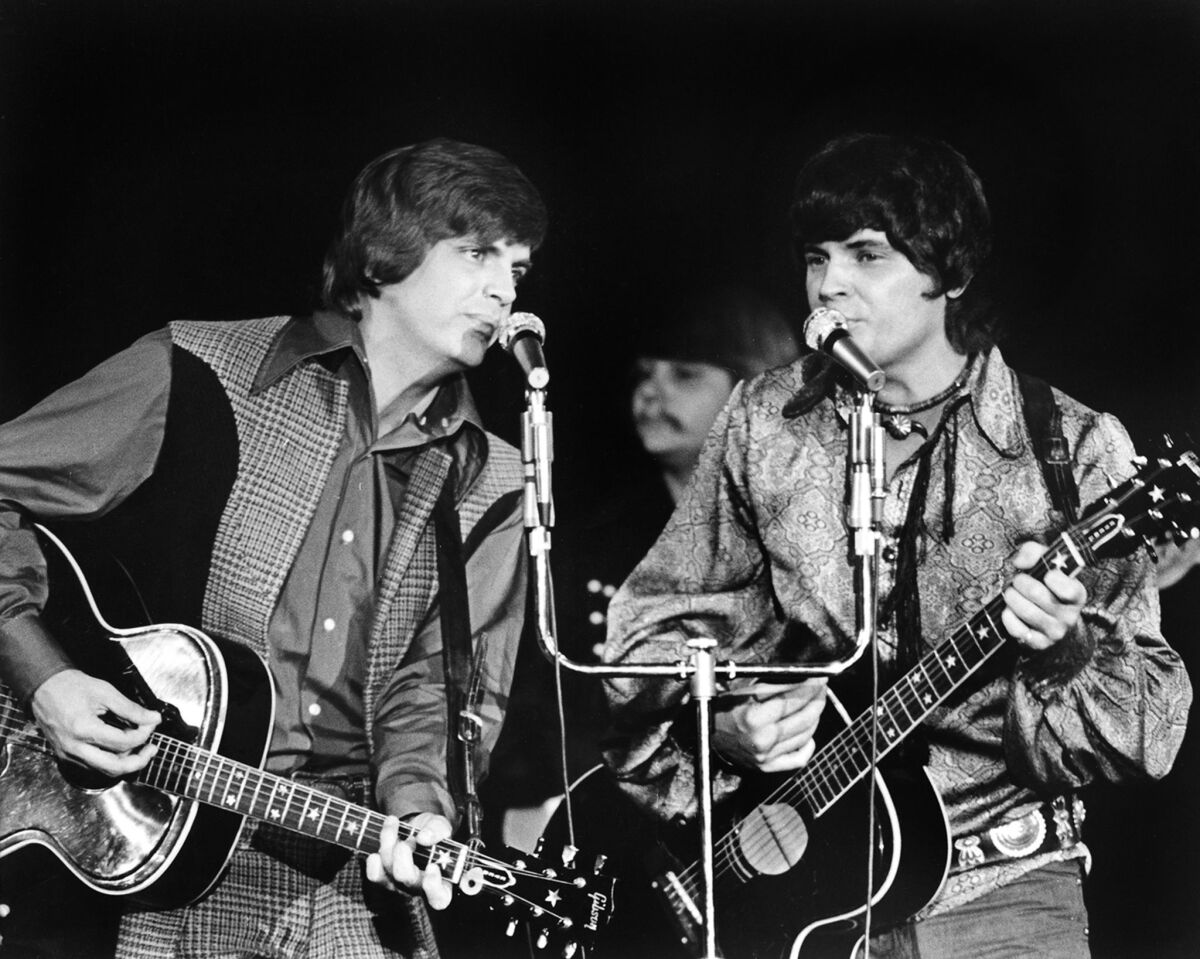 Los Angeles Times Pop Music Critic
Love hurts, and few American pop singers have conveyed the teenage depths of that despair as well as Phil Everly, who died Friday at age 74.
Teamed with his older sibling Don as the Everly Brothers, Phil's tenor injected the pair's repertoire -- among the best known are "Bye Bye Love," "Wake Up Little Susie" and "All I Have to Do Is Dream" -- with quivering harmony, embodying the roller-coaster confusion of young desire.
The pair, in communion on many of their classic hits with husband-wife songwriting team Boudleaux and Felice Bryant, examined the fear, the danger and the worst-case scenario stories of a young American middle-class generation so insulated from real world problems that accidentally falling asleep during a drive-in movie as in "Wake Up, Little Susie" could offer ample drama to drive a hit.
They did so with a mellifluous directness that would make Raymond Carver blush: "The movie wasn't so hot. It didn't have much of a plot. We fell asleep. Our goose is cooked. Our reputation is shot."
PHOTOS: The Everly Brothers through the years
Through an essential half decade the Everlys ruled the charts. Along with Elvis Presley, Chuck Berry, the Coasters, Buddy Holly and others, their three-minute wonders during that pre-Beatles period helped to both define the era and codify a musical form. And though Presley's hips are often cited as the rock 'n' roll culture-shocker of the time, and Chuck Berry's raucous way with narrative drive added R&B fuel, Don and Phil's sense of countrified melody and harmony sent heads spinning in another direction.
Elvis expressed of love making him "all shook up" with feeling. The Everlys seemed to forever live with a looming panic, singing of nights alone, sleepless, obsessed and "wondering who is kissing you" in their classic version of "Sleepless Nights." (Later perfected by Gram Parsons and Emmylou Harris.)
Their version of rock used oft-spritely melodies to accompany lyrical journeys into darkness. "Cathy's Clown" explores the cuckold's humiliation: "I die each time I hear this sound. Here he comes -- that's Cathy's clown."
In offering voice to the also-rans, the Everlys were musical Charlie Browns to Presley's Lucy, documenting souls whose anonymous lives and loves carried equal intensity. The message of "Bye Bye Love," is pretty simple: Love is gone, life is terrible but the world can still be thrilling when driven by a few major chords and a backbeat.
These songs weren't delivered by two bumpkins with a backwoods band. The early hits, many chosen with the help of Wesley Rose of country publishing powerhouse Acuff-Rose, featured Nashville guitarist and production master Chet Atkins and the brilliant session man Floyd Cramer on piano. Deep listening reveals so many amazing musical textures and micro-moments that you realize that the Everlys were a perfectly honed meeting of hit making and song craft -- and the embodiment of a notion that Nashville had been driving toward through much of the 1950s.
Listening to those songs now, you can't help but imagine teenaged Liverpudlians Paul McCartney and John Lennon absorbing the Everly way around a phrase, or George Harrison practicing Atkins' and Sonny Curtis' subtle runs.
Their recordings offer a portal to avowed super-fans Simon & Garfunkel rehearsing the close harmonies of "Susie" in Queens. Robert Zimmerman of northern Minnesota has acknowledged that before changing his name to Dylan and moving east, he was Everly-educated in how a line pared to the bone and delivered with tenor-high longing could upend hearts and minds.
Phil's voice in particular delivered words with a desire just this side of innocence. Love was an exciting, mysterious emotion, but dangerous. Like Phil's magnificently coiffed pompadour, the Everlys thrived within this precisely contained structure, impressively built but likely to collapse with a single misguided beat.
Perhaps most important, the Everlys suggested that softening the rhetoric didn't automatically result in treacle. Though Phil wasn't immune to emotional oversaturation during his career, he and Don helped prove that rock 'n' roll could be a big enough tent to contain both Little Richard and the Everlys' renditions of "Rip It Up," and could express soul without being sapped of spirit a la Pat Boone.
INTERACTIVE: Discover songs of L.A.
Though Phil was a better stylist than he was a songwriter, he penned one of the brothers' most enduring hits, "When Will I Be Loved?" A simple song that asks an overwhelming, universal question, it presents a man ruined by cheaters and mistreaters, but still harboring hope. Linda Ronstadt also turned it into a hit in the 1970s, serving as reminder of the Everlys' timelessness.
The popular narrative of the Everly Brothers often ends when the British Invasion remade the pop landscape, but the pair continued to record, and within that period are enough gems to awe even the most snobby musical know-it-all.
In particular, the Everlys' post-Beatles double-whammy of "Beat & Soul" and "Rock & Soul" injected a more driving and amplified sound to accompany their harmonies -- and some twisted electric guitar runs. Their updated, more rocking version of "Love Hurts" is particularly thrilling.
The Brothers' unsung country-rock 1968 gem "Roots" found Phil and Don returning to their thematic home to record an album that stands as pure an examination of country rock (and wah-wah pedals) as similarly timed efforts by the Byrds, the Flying Burrito Brothers and the Rolling Stones.
Volumes could be spent honoring Phil and Don's harmonies. Digging through their collected works isn't just a journey into a thick discography. It's revisiting an America on the verge of a grand shift, embodied, and emboldened, by two brothers genetically designed to deliver music together with a reassuring beauty.
ALSO:
Best albums of 2013 | Randall Roberts

Phil Everly of the Everly Brothers dies at 74
It's the music that moves 'Inside Llewyn Davis'
Twitter: @liledit
---
Your essential guide to the arts in L.A.
Get Carolina A. Miranda's weekly newsletter for what's happening, plus openings, critics' picks and more.
You may occasionally receive promotional content from the Los Angeles Times.