Baz Luhrmann's 'Gatsby' hears hip-hop where Fitzgerald heard jazz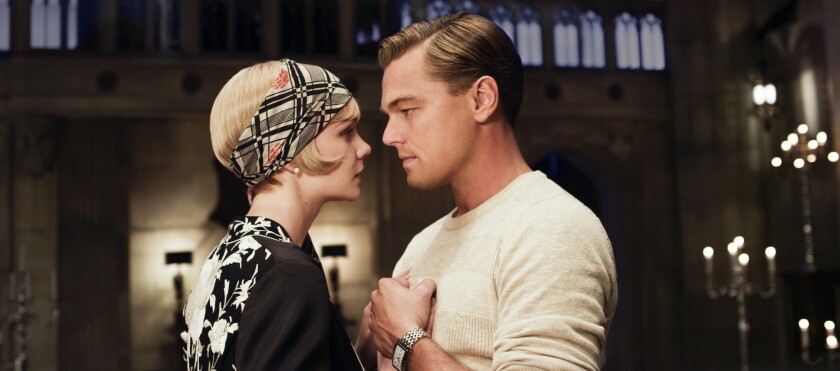 "The Great Gatsby" stars Leonardo DiCaprio as the young Jay Gatsby, whose wealth provides the backdrop for opulent parties thrown in New York City during the 1920s. Tobey MaGuire plays the reserved bond salesman Nick Carroway, who befriends Gatsby after moving next to him and discovering that Gatsby is in love with his cousin Daisy. The film explores the light and dark sides of wealth in the early 20th century.
(Warner Bros.)
Julian Fellowes' story of the Crawleys, an aristocratic family living in the womb-like castle of Downton Abbey with their servants, captured the hearts of many. The story unfolds in 1912 England, just after the Titanic has sunk with the Earl of Grantham's only male heir. Lord Grantham (Hugh Bonneville) seeks to secure a new heir for his fortunes, which his American wife's dowry helped salvage for him once before. The upstairs-downstairs drama plays out among his family and servants. His three daughters bicker among themselves, and servants sabotage one another as they all work to reconcile the modernizing times with the aging Downton, a reminder embodied by the Dowager Countess of Grantham (Maggie Smith).
(Nick Briggs / Carnival Films / PBS)
The HBO crime drama, set in Atlantic City during the Prohibition era, is based on the real-life politician (and bootlegger) Enoch L. Johnson. The show premiered 2010 and was met with critical acclaim, particularly for Steve Buscemi as criminal kingpin "Nucky" Thompson, and has gone on to win a dozen Emmys and a Golden Globe for best drama.
(Macall B. Polay / HBO)
The historical drama stars Colin Firth as King George VI and Geoffrey Rush as the speech therapist who helped give the king a voice. The film opens with the reluctant monarch stammering through a 1925 speech at an exhibition and closes in 1939 with the king's famed radio broadcast declaring war against Nazi Germany.
The film was the star of the 2011 Academy Awards, winning four of its 12 Oscar nominations: best picture, director, actor (Firth) and original screenplay.
(Weinstein Co.)
Clint Eastwood directs this based-on-actual-events story, set in 1928, about a single mother who takes on Los Angeles authorities who try to pass off an impostor as her missing child.
"Changeling," which premiered at Cannes to critical acclaim, was met with more mixed reviews after its U.S. release. Still, Angelina Jolie earned a lead actress Oscar nom for her role as Christine Collins.
(Universal Pictures)
David Fincher directs this fantasy drama, based on F. Scott Fitzgerald's 1922 short story, that stars Brad Pitt as a man who ages in reverse and Cate Blanchett as his timeless love. The film garnered 13 Oscar nominations and won three, including for makeup and visual effects for turning Pitt into an 80-year-old boy.
(Merrick Morton / Paramount Pictures)
"The Aviator" stars Leonardo DiCaprio as famed aviation innovator and film producer Howard Hughes. Directed by Martin Scorsese, the film takes place in California between the 1920s and 1947, following Hughes as he rises to fame and battles severe obsessive-compulsive disorder.
The film was nominated for 11 Oscars and won five, including cinematography.
(Andrew Cooper / Miramax)
Meryl Streep, Nicole Kidman and Julianne Moore star in the generation-spanning film "The Hours." The film revolves around three women whose lives are connected by 1920s English author Virginia Woolf's book "Mrs. Dalloway." Kidman plays depressed author Virginia Woolf, Moore portrays an unhappy 1950s housewife and Streep plays a New Yorker in 2001.
The film was critically acclaimed and went on to receive nine Oscar nominations, including best picture. Kidman won lead actress for her portrayal of Virginia Woolf.
(Clive Coote / Paramount Pictures)
This 2002 movie musical was based on the stage version, which centers on fame-obsessed Roxie Hart (Renee Zellweger) and Velma Kelly (Catherine Zeta-Jones), who are on death row for the deaths of their significant others in 1920s Chicago. The song-and-dance numbers draw from the seminal music and productions of the Jazz Age, with "All That Jazz" being a primary theme throughout the film.
"Chicago" received a leading 13 Oscar nominations with actress nods for Queen Latifah, Zellweger and Zeta-Jones. The film won six Academy Awards, including best picture, and Zeta-Jones took home the supporting actress honor.
(David James / Miramax)
Some 14 years before his role in "The Great Gatsby," Tobey Maguire played Homer Wells in "The Cider House Rules." "Cider House Rules," based on the 1985 novel by John Irving, followed Homer's life from his boyhood in an orphanage, where he is raised by the resident physician Dr. Wilbur Larch (Michael Caine), to his unwilling training under Dr. Larch as an obstetrician and abortion provider, to his love affair with a war veteran's wife.
The film tackled some weighty issues, including abortion and incest, portraying Homer's inner struggle as he witnessed the horrors of botched abortions in an era in which the practice was still illegal. "He learns that the real world is not all so black and white -- it's very gray," producer
Richard Gladstein told the L.A. Times in 2000
.
The film won an Academy Award for best adapted screenplay and another for Caine's performance.
(Miramax Films)
"Legends of the Fall" follows the lives and losses of a Montana family from pre-WWI to the Prohibition era and beyond. Anthony Hopkins stars as the patriarch to three rival siblings played by Aidan Quinn, Henry Thomas and Brad Pitt. Julia Ormond complicates family matters by playing as a love interest to all three brothers.
The film earned an Oscar for cinematography and was nominated for four Golden Globes, including best picture, best director and best actor for Pitt for his turn as long-maned wild-child Tristan.
(Kerry Hayes / TriStar Pictures)
Charlie Chaplin (Robert Downey Jr.) tells his life story to a biographer (Anthony Hopkins), recalling moments from his life. It includes a childhood filled with poverty, escaping through the filter of the London music halls and making his way to the United States. His tales span decades and include many romantic interludes and close friendships with celebrities like Douglas Fairbanks.
(TriStar Pictures)
The Coen brothers chose Prohibition-era America as the setting for their 1990 gangster film "Miller's Crossing." The film centers on Tom Reagan, played by Gabriel Byrne, and his alliance to two rival gangs in a major city.
Though the film wasn't a huge box-office success when it came out, it was lauded critically and made Time's list of 100 greatest movies.
(20th Century Fox)
Kevin Costner is government agent Eliot Ness, charged with taking down Chicago crime boss Al Capone (Robert De Niro), who has the whole city seemingly under control, freely selling alcohol despite Prohibition. Ness must enlist a group of agents not already corrupted by Capone's influence, including Irish American officer Jimmy Malone (Sean Connery) and Italian American trainee George Stone (Andy Garcia). They try to strong-arm Capone, and make a bit of progress, but when Capone strikes back, some of Ness' crew are killed. They do finally get him, though it would appear that he might make it out of the trial unscathed since he bribed and threatened the jury. Ness finds out and takes steps to make sure there's a new jury. A conviction is all but inevitable.
(Zade Rosenthal / Paramount Pictures)
Considered one of the best baseball movies ever made, "The Natural" stars Robert Redford as a gifted baseball player who in 1923 is about to embark on a career when he is derailed by seduction and an almost-fatal gunshot. Cut to 1939, Redord gets back into baseball and is still a wunderkind. Despite bribes, a roller-coaster love life and even poisoning, he comes back to help his team win the pennant in a dramatic last-inning, last at-bat home run.
(File Photo)
This "Downton Abbey" precursor British TV series, which ran from 1971 to '75, covered nearly three decades of history, from 1903 to 1930, chronicling the lives of a wealthy politician's family upstairs and their servants downstairs.
During the show's fifth season, Georgina (played by Lesley-Anne Down) joins the "Bright Young Things," a group of young people dazzled by the merriment of the Roaring '20s. Georgina changes her frivolous ways after a friend kills himself during a party and after she accidentally runs over and kills a cowherder while racing to complete a scavenger hunt. The show won several Emmys and was revived in 2010, picking up in 1936.
(Acorn Media)
Baz Luhrmann didn't want to answer the question.
"I can't really say it about myself," he said. "But yes, I do."
The Australian director behind this month's hip-hop-inspired adaptation of "The Great Gatsby" had been asked if he thinks his movies — which in addition to "Gatsby" include 1996's "Romeo + Juliet" and 2001's "Moulin Rouge!" — use music differently than do most Hollywood pictures.
PHOTOS: 'The Great Gatsby' premiere
"Everything I say already sounds pretentious," he replied with a note of hesitation unusual for the voluble filmmaker. "But I do think — and other people will tell you — that my way is unique."
A former theater director who returned to the stage for a 2002 Broadway mounting of "La Bohème," Luhrmann, 50, uses music not simply as atmosphere or emotional punctuation but as a primary storytelling device, a means of putting the viewer in the world of his characters.
That's true even (or especially) when the music doesn't actually come from the world of his characters — think of what he tells us about fin de siècle sexuality by dropping the mid-'70s disco-funk classic "Lady Marmalade" into "Moulin Rouge!," which takes place in 1899.
He's even bolder in "The Great Gatsby," setting F. Scott Fitzgerald's Jazz Age account of American ambition to the sleekly seductive sound of 21st century pop. The film, opening May 10, features new songs by A-list artists including Andre 3000, Jack White, Florence + the Machine and Jay-Z, the last of whom served as an executive producer on both the movie and its soundtrack album, due out Tuesday.
Some of the music works to close the nearly 100-year gap separating the eras, as in a hot jazz-style version of Beyoncé's "Crazy in Love" and will.i.am's "Bang Bang," which juices a familiar bit of Jimmy Johnson stride piano with thumping club beats. Other tunes, such as Jay-Z's hard-edged "100$ Bill," draw thematic lines between the Great Depression and the Great Recession. "History don't repeat itself," the rapper observes, "It rhymes."
"Jay was one of the first people to identify the aspirational aspect of the film," said Luhrmann, who met Jay-Z through their mutual friend (and future "Gatsby" star) Leonardo DiCaprio. "He saw what the movie is about and understood how we could go from hearing traditional jazz in one moment to hip-hop in the next." Added Anton Monsted, Luhrmann's longtime music supervisor: "He's like a decoder of culture."
Though the director said Jay-Z was instrumental in honing the movie's intricate blend of sounds — and, presumably, in attracting talent like Q-Tip and Lana Del Rey — Luhrmann knew what kind of music "Gatsby" would require at the outset.
"Very early on, working on the first draft of the screenplay with Craig Pearce, I made a decision to address this movie as though F. Scott Fitzgerald were making it," he said. "And when he was creating the novel, he wasn't nostalgic. He was a modernist — he was mad about cinema and other modern things, and he embraced them. And they influenced his writing."
PHOTOS: The Roaring '20s on-screen
Luhrmann is deeply familiar with the early jazz that Fitzgerald describes in "The Great Gatsby" (and which director Jack Clayton used in his 1974 film adaptation starring Robert Redford). "My stepfather had 14,000 78 [RPM records] from the period," he explained with a laugh. "I know my Bix Beiderbecke. But no matter how much I like that music, it's classical music now." And classical music, he added, would fail to capture the "exploding" nature of the Roaring '20s for today's audience.
"Gatsby was intoxicating everyone in New York with Champagne and music, drawing them into his Venus' flytrap," he said. "Now there's another form of African American street music — hip-hop — that speaks in exactly the same way to our lives."
The resulting marriage of sight and sound is especially powerful in the film's early scenes, before we know much about Jay Gatsby beyond the orgiastic parties he throws at his Long Island mansion. Setting scenes of epic debauchery to songs like the Bryan Ferry Orchestra's "Love Is the Drug" and Jay-Z and Kanye West's "No Church in the Wild" (a previously released cut from their "Watch the Throne"), Luhrmann injects a note of menace into the festivities and restores some mystery to the character of Gatsby, who later in the movie describes his working life in language Jay-Z might appreciate: "I've been in several things — I was in the drug business and I was in the oil business," he says. "But I'm not in either one now, you understand?"
As the film winds toward its tragic conclusion, the music goes softer and blearier, with ballads by Del Rey and the xx. Luhrmann said the former was particularly keen to take part, which should come as no surprise to anyone familiar with the woozy glamour of her records. (Del Rey's contribution is called "Young and Beautiful," perhaps in a nod to Fitzgerald's "The Beautiful and Damned.") "The moment Lana heard I was doing 'Gatsby,' she was sending me songs she'd recorded on her phone," Luhrmann said.
At a time when many soundtracks are assembled from established material — call it the Quentin Tarantino model — the director and his partners have sprung for a lavish collection of mostly new music, one they're promoting with nearly as much energy as the film. A 17-track vinyl edition is even due out this summer from White's Third Man Records.
Yet albums no longer sell what they did in the days of "Romeo + Juliet" and "Moulin Rouge!," both of whose companion discs became multiplatinum commercial hits. And with many of the "Gatsby" songs already floating around online, it's unclear if the set will entice younger listeners to buy what they can stream (or download) for free. Luhrmann said he doesn't care.
"It wasn't made to sell soundtracks," he insisted. "It comes out of the movie. When I'm collaborating with Anton, it's the same as when I'm working with Craig on the text or my wife [Catherine Martin] on the production design. The music runs parallel with telling the story; it's not something layered on top." Then Luhrmann laughed. "That said, you know 'Moulin Rouge!' is back on the chart, yeah?"
---
From the Emmys to the Oscars.
Get our revamped Envelope newsletter, sent twice a week, for exclusive awards season coverage, behind-the-scenes insights and columnist Glenn Whipp's commentary.
You may occasionally receive promotional content from the Los Angeles Times.