Beyoncé has long found strength in secrecy and silence
Years before "Lemonade" arrived and upended pop culture, Beyoncé was planning her departure from traditional pop star conventions.
"At some point in my career, I felt like I was doing way too much. I felt like I had been so commercially successful, it wasn't enough," a sweaty and makeup-free Beyoncé mused in her self-directed 2013 HBO documentary, "Life Is But a Dream."
"You can't express yourself. You can't grow," she continued. "I want to be able to sing about how much I hate myself that day — if that's how I feel. … I don't care if I sell one record."
It was a rare admission from an artist who had spent more than half of her life navigating pop stardom with the drive of an Olympian — and the overflowing mantel of trophies to show for it.
What Beyoncé needed was a challenge, but what was left for a pop star who boasted about being "the number one diva in this game … the one that they call a queen"?
The answer, it appeared, was to finally reveal herself.
Beyoncé's lore can be boiled down easily: child prodigy managed by her father and styled by her mother leads chart-topping girl group, breaks out solo, marries rap king (Jay Z) and becomes international pop royalty.
But ever since her emergence in the late '90s as the leader of Destiny's Child, Beyoncé has allowed few glimpses of what lay outside of the well-documented narrative she presented.
"I always battle with how much do I reveal about myself. How do I keep my humility?" she later said in the HBO documentary, which also explored her strained relationship with her father and the birth of her daughter, Blue Ivy.
"How do I keep my spirit … and how do I continue to be generous to my fans and my craft?"
She offered a partial answer later that year with a self-titled "visual album," a collection of songs and corresponding videos. Beyoncé sang about her body, her insecurities, her sexuality — including in the context of her husband — and feminism on songs that blurred genre lines.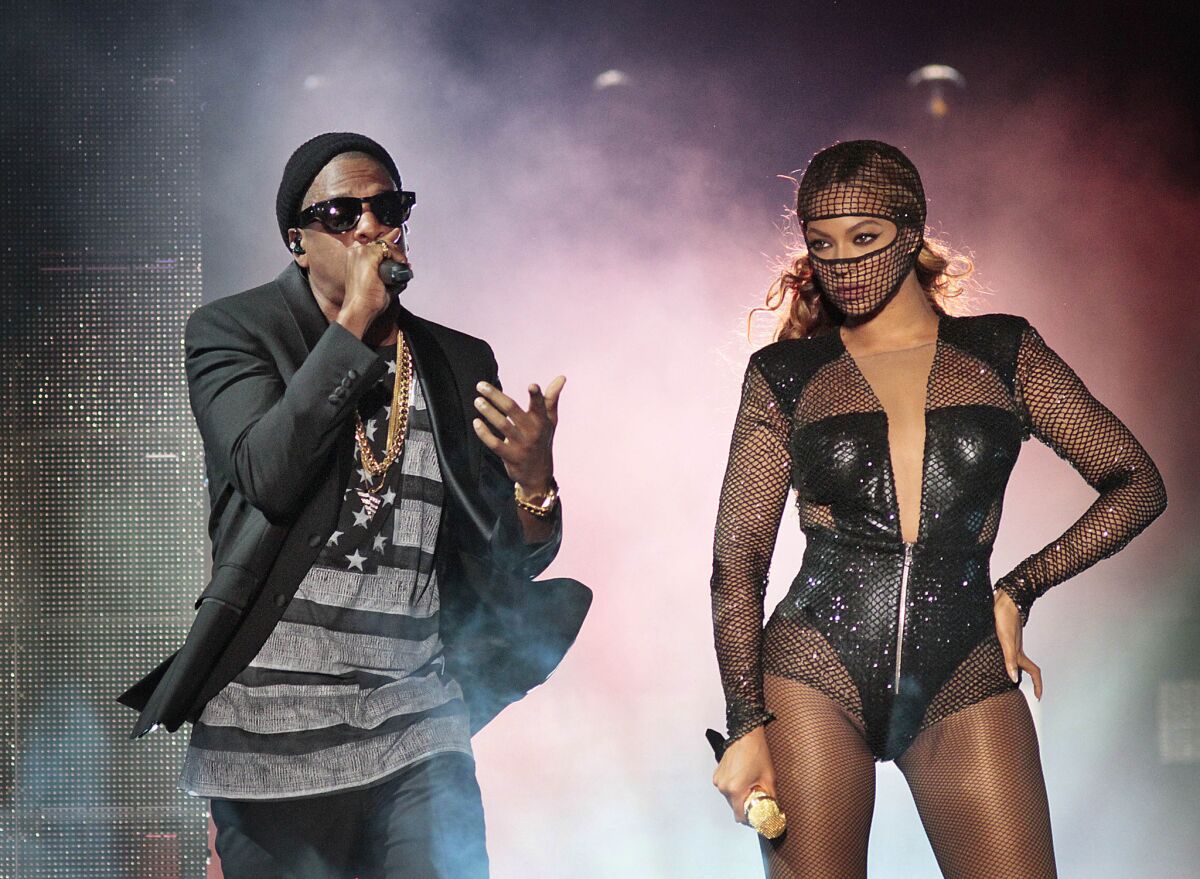 And she did so on an album released on a major label but wholly on her terms — without warning and directly to iTunes. It was a disruptive move that played to Beyoncé's greatest strengths: Her knack for secrecy and her desire to be the master of her narrative.
"Beyoncé" also launched a new chapter in the singer's career, one in which she would allow her work to speak for itself. As her pop cultural profile grew, so did her silence.
"Seen but not heard," read one headline as interviews with the singer had all but ceased.
Whatever message Beyoncé wanted to deliver came though mediums entirely in her control, be it her curated Instagram account, that aforementioned HBO documentary or, finally, her music.
However, that silence would help fuel speculation that her personal life, particularly her marriage to rap mogul Jay Z, wasn't as idyllic as she portrayed.
I always battle with how much do I reveal about myself. How do I keep my humility? How do I keep my spirit … and how do I continue to be generous to my fans and my craft?
— Beyoncé in her 2013 documentary, "Life Is But a Dream"
The notoriously private couple — both their 2008 marriage and birth of their child in 2012 were shrouded in secrecy — saw their fairytale narrative disrupted in 2014 after a silent black-and-white clip was leaked to TMZ that showed the singer's sister Solange screaming at Jay inside an elevator as Beyoncé looked on in silence.
That footage ignited months of rumors that the couple's marriage was on the brink. Stories of infidelity, separate living quarters and marriage counselors hit the tabloids at an almost obsessive pace. The couple largely remained mum, and no one knows what really happened in that elevator.
Instead, Beyoncé and Jay focused on their joint stadium tour that summer, which found the duo presenting themselves as a modern day "Bonnie and Clyde" (the inspiration of their first collaboration, a dozen years prior).
At the concert, which played at the Rose Bowl for multiple sold-out nights, they toyed with all the speculation by presenting themselves as a ride-or-die couple, replete with highly stylized footage of them robbing a bank. The show ended with the words "This is real life" as the couple serenaded one another amid home footage of their family vacations.
When Beyoncé did reference the brouhaha, naturally, it came through song: "Of course sometimes ... go down / When it's a billion dollars on an elevator," she rapped in a remix of the track "Flawless."
So it shouldn't have come as a surprise when her follow-up album, "Lemonade," found its inspiration in the period when her marriage became a tabloid obsession.
"Lemonade" was first released directly to Tidal — the streaming service she co-owns with her husband and a host of other A-list artists — after she recorded the album and made its accompanying hourlong HBO film in secret. (The record later was made available on iTunes and as a physical release.)
The album, and its video, is a deeply experimental — and personal — statement that explores a relationship severely tested and strained. The work brims with bitterness, revenge, heartbreak, reconciliation and triumph through the lens of black womanhood, celebrating the female body in all its forms and while also connecting to a larger frustration that extends to society as a whole, with onscreen cameos in the film from the mothers of black shooting victims Trayvon Martin and Michael Brown.
"You can taste the dishonesty / It's all over your breath as you pass it off so cavalier," she sings in the piano-driven ballad that opens the album, "Pray You Catch Me." Elsewhere, she's more biting, admitting she "regret[s] the night I put that ring on" during the electro-pop number "Sorry," admonishing her spouse about the "wicked way" he's treating her on "Hold Up," and fiercely warning of her departure on the garage rocker "Don't Hurt Yourself."
"The most disrespected person in America is the black woman," says the sampled voice of Malcolm X during "Don't Hurt Yourself." "The most unprotected person in America is the black woman. The most neglected person in America is the black woman."
The film also includes poetry by the young Somali British writer Warsan Shire, which at one point finds the singer reciting the obituary of a woman who had been killed by a man who didn't recognize her worth.
It's the boldest, most nuanced work of her solo career — and it's a project that's still revealing itself nearly a month after its release as critics and academics unpack its themes of sexual and racial politics, religion, family and feminism.
But still, a lot of the focus is on the suspected marital strife.
Is she talking about Jay, or her father? Who is "Becky with the good hair"? What does it all mean? Of course, she isn't saying, not directly.
There's power in Beyoncé's letting the music speak for itself, which it will once more at the Rose Bowl this Saturday, with more than 90,000 fans hanging on her every word as she takes the stage.
Beyoncé knows this — she's been doing it for years.
-----------------------------------
Hey, L.A., what does "black girl magic" mean to you? Beyoncé's "Lemonade" got us talking about black girl magic. There's been a lot of social chatter on the subject, but what do the women of L.A. have to say about slaying all day? #SlayLA
Lemonade has got everyone talking about #blackgirlmagic. There have been a lot of cultural critiques and essays. But what do the women of LA have to say about it?  We want to hear from you!
MORE:
Beyoncé's superpower: Keeping us guessing as she takes charge of her narrative
Hey L.A., what does 'black girl magic' mean to you?
Beyoncé already reigns supreme as 2016's master of the fashion moment
Follow me on Twitter @gerrickkennedy
---
Your essential guide to the arts in L.A.
Get Carolina A. Miranda's weekly newsletter for what's happening, plus openings, critics' picks and more.
You may occasionally receive promotional content from the Los Angeles Times.