'Breakfast With the Beatles' turns 30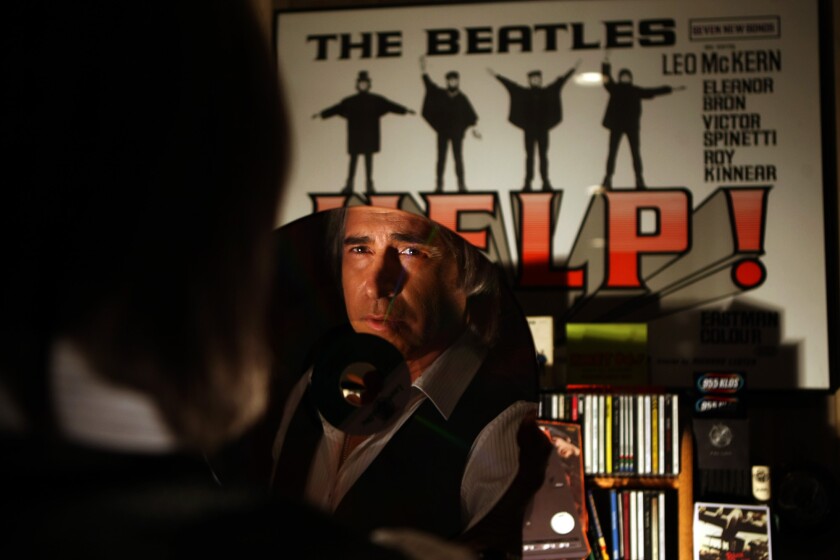 This post has been updated. See note below for details.
As much as he's a fan of, and professionally connected to, the music of the Beatles, there are times when "Breakfast With the Beatles" radio show host Chris Carter wonders how long that music can continue to enthrall listeners.
Then he stops wondering when he gets a call like one he took on last weekend's show marking the 33rd anniversary of John Lennon's death.
"Some kid called in and asked, 'Could you play "Out the Blue" from "Mind Games," ' " Carter said in reference to the track from Lennon's 1973 solo album. "I said, 'How old are you?' " and he said, " 'I'm 12, and I've been listening to that song for about two years.' "
Carter was floored, since the request wasn't for one of the cornerstone titles from Lennon's solo career, much less a Beatles classic.
PHOTOS: Daughters of rock stars
"That proves to me that this show is where it's at for a reason," said Carter.
On Dec. 15, he'll commemorate the 30th anniversary of the program touted as "America's longest-running Beatles show," now airing Sunday mornings from 9 a.m. to noon on KLOS-FM (95.5).
"That shows me that the Beatles' music has got something that maybe you can't put your finger on," he said. "You can say it's melodic and it's timeless -- but why? Why does this kid who's calling up know that song so well? I do answer the phones myself a lot and I realize that a good portion of the audience is under 30 years old."
Many of today's listeners weren't born when DJ Deirdre O'Donoghue thought it would be fun to spin Beatles records for a couple of hours on a weekend morning. The idea turned into a reality once she persuaded her bosses at the old KMET-FM (94.7) rock station to indulge her.
The irony is, KMET is long gone, but "Breakfast With the Beatles" has survived -- a near-miracle in the tumltuous world of Los Angeles pop radio. It's moved across at least half a dozen stations over the course of those three decades.
PHOTOS: Iconic rock guitars and their owners
O'Donoghue also is gone -- she died in 2001 after hosting the Fab Four-centric radio show for 18 years -- and Carter says Sunday's special edition will pay tribute to her.
Carter has lined up return appearances by several of his guests on the show during his 13 years in the driver's seat, including the Monkees' Micky Dolenz and musician-producer Peter Asher.
The list also includes singer-songwriter Jackie DeShannon -- who toured with the Beatles in 1964 and has been emceeing the "This Week in Beatles News" segment in recent years; rocker Edgar Winter, who toured with Ringo Starr's All-Starr Band; members of Paul McCartney's Wings and his current touring band; and "there might even be a surprise," he said.
During Carter's tenure, he has expanded beyond the official studio releases that filled up the playlist when O'Donoghue was hosting, and the show now runs three hours rather than the original two.
"It's great when you can get a Donovan or a Peter Asher in to tell you first-hand about a lot of the rumors you've been reading about for years," Carter said of his philosophy on in-studio guests. "It gives the listeners something other than just my perspective every week."
PHOTOS: Rolling Stones through the decades
His guests have run from various Beatles friends and associates to Beatles themselves -- McCartney and Starr have been on the show, as have Pete Best, the drummer whom Starr replaced in 1962 to finalize the lineup, Lennon's widow, Yoko Ono, and George Harrison's widow, Olivia, and their son, Dhani. Recently, McCartney enlisted Carter to host a preview listening party in the Southland for his latest album, "New."
"The key thing is that the show has always been about the music," Carter added. "I never want to take away listening time in favor of talking time unless I thought it was really adding something to the picture. I'd never want this to become a talk show."
"Breakfast With the Beatles" moved beyond Los Angeles broadcast radio audience in 2008 when Sirius XM Radio added it to the lineup on Little Steven's Underground Garage channel. The Sirius XM show evolved into Chris Carter's British Invasion.
"BWTB's" influence has also spread over the years with similar shows in dozens of cities across the country, all with other hosts.
"As we like to say, 'Often imitated never duplicated,' " Carter said. "But it's a testament not only to what Deirdre started 30 years ago, but to the fact that people just really love to hear Beatles music.
"A lot of those shows -- 'Breakfast With the Beatles' or 'Lunch With John, Paul, George and Ringo' -- these other hosts and shows all have the same intention we do, which is to try to put together something cohesive that fans are going to like," he said. "And they do it, so God bless them all -- it's great. I can't think of any other group that really happens for."
Update at 10:51 a.m.: An earelier version of this post identitied John Lennon's "Mind Games" as a 1974 album. It was released in 1973. It also referred to the Sirius XM edition of "Breakfast With the Beatles" as the only EMI/Apple-sanctioned Beatles show. It has since expanded in musical scope and has been retitled "Chris Carter's British Invasion."
ALSO:
Beatles NYC 50 Festival set for February
Before his new tour, Ringo Starr recalls the Beatles' U.S. arrival
Beatles radio show host Chris Carter hits 10-year mark on Sept. 4
Follow Randy Lewis on Twitter: @RandyLewis2
---
From the Emmys to the Oscars.
Get our revamped Envelope newsletter, sent twice a week, for exclusive awards season coverage, behind-the-scenes insights and columnist Glenn Whipp's commentary.
You may occasionally receive promotional content from the Los Angeles Times.