Review: Ciara, a fiery performer desperately in need of better material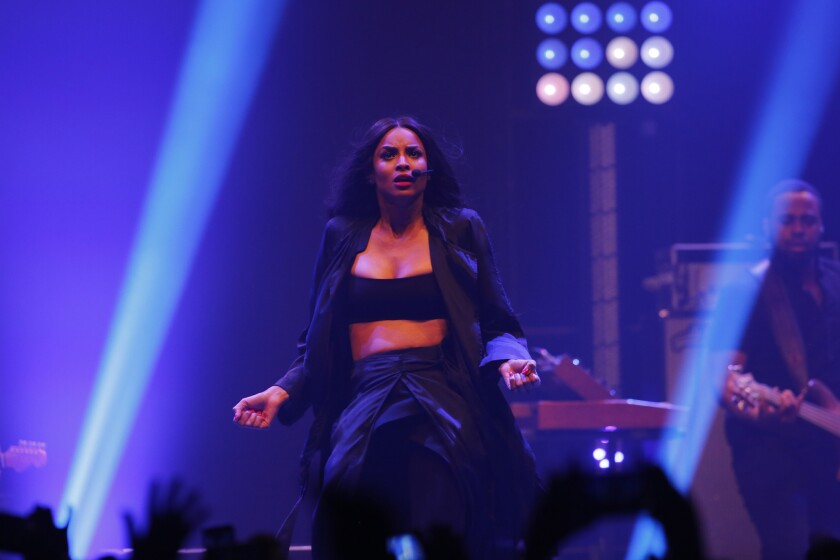 Ciara appears to be at an impasse.
An R&B siren whose first introduction to listeners came through the stereo-rattling thumpers of 2004's "Goodies," Ciara has pushed out enough sweat-inducing grooves to score the perfect club or gym playlist. But she's never quite managed to become a standout in the pop conversation.
Perhaps she has remained on the edges because she doesn't indulge in provocative behavior that courts the gossip sites, or maybe it's that her voice isn't nearly as elastic as her slinky, high octane dancing, which has made her a singular performer in her own right. Although that breathy, sensual voice paired with intense choreography positioned her as the closest thing to the next Janet Jackson as we'll ever get.
But what has continually held back her success is the material she's been handed, and her performance at Club Nokia on Saturday was proof.
The tour, her first headlining outing in six years, is in support of her latest offering "Jackie" — an album that despite its promise as her most personal offering does little to serve her strengths or offer insight into who she really is.
Ciara has always been a master of style and flair over depth.
Saturday's concert was exactly how you should experience a Ciara show: In a club, where you can sweat along with her as she powers through one acrobatic routine after another. Armed with a full band, including three backing singers, and two dancers she ran through a furious 90-minute set that cut across most of her catalog.
Frothy, feel-good party music and supple bedroom knockers are a specialty — "1, 2, Step," "Ride" and "Body Party" among her greatest — and when she dials up R&B and hip-hop grooves she rides the beats as if they are mechanical bulls powered by drum machines. It's what makes her live showings a literal workout as she rolls, splits and slides across the stage with precision.
She popped along to Kanye West's roaring "All Day," which was mashed into her early rattler "Oh" and bended to her smoking hot hit "Ride." She gave an R-rated lapdance to one disbelieving fan to "Body Party" and did more with three chairs in one routine than most of her peers could pull off with million-dollar arena pizazz.
But where Ciara continued to go wrong is pushing into syrupy pop terrain.
Recent albums have seen her experiment with more electronic textures, to varied results. Like the many R&B-pop singers immersing themselves in pulsating synths, the move feels more like a bid to stay afloat as the genre has evolved than anything else.
And that's the problem with her latest record, especially. Generic party starter "That's How I'm Feeling" really could have been done by anyone — in fact, a version from an equally capable female singer has languished on the Internet for years — and even seeing the song realized with dancers and a band didn't make it more interesting.
The same can be said for sassy, vogue anthem "Stuck On You" and EDM romper "Give Me Love," two decent but skippable tracks from "Jackie" that are less appealing than distant cousins from her back catalog, "Work" and "Overdose."
Not that marrying R&B grooves with synth-driven spark can't work for her. On the new album, two of the strongest songs are Dr. Luke productions — "Lullaby" and "Dance Like We're Making Love," with the latter feeling like an undeniable hit in waiting — and were among the highlights during Saturday's concert.
Her performance of her album's first single, "I Bet," on Saturday could have been the show's apex, especially its contemporary update of the classic anthem of resilience, "I Will Survive." But the song's emotional wallop was watered down by Joe Jonas, who emerged for the song's remix, an odd pairing that doesn't make sense beyond unnecessary synergy for their upcoming NBC competition series (which was plugged right after).
Ciara operates best, both onstage and on record, when she's making us dance. She doesn't need to try so hard.
For more music news follow me on Twitter: @gerrickkennedy
---
Inside the business of entertainment
The Wide Shot brings you news, analysis and insights on everything from streaming wars to production — and what it all means for the future.
You may occasionally receive promotional content from the Los Angeles Times.