Coachella 2014: Haim makes itself at home; Bastille brandishes a hit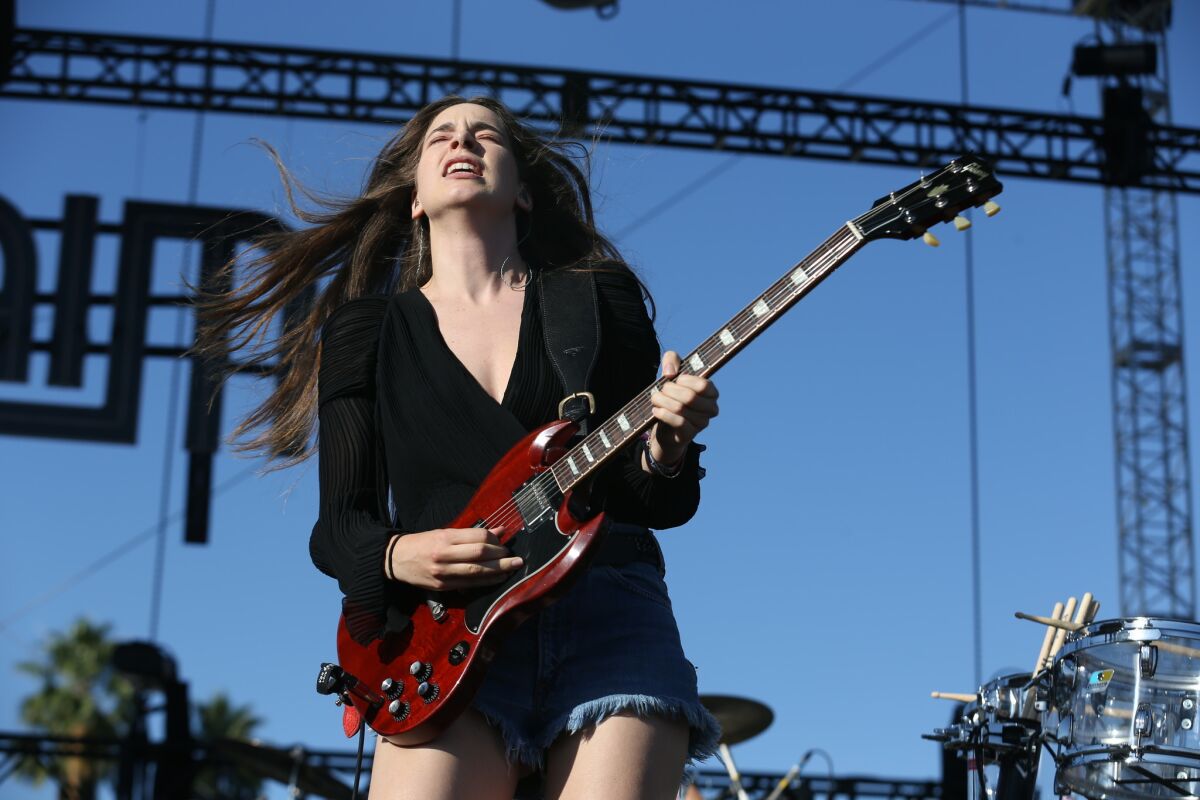 Haim's performance Friday afternoon in the Outdoor Theatre was its first at the Coachella Valley Music and Arts Festival.
But with their long center-part hair and their short denim cut-offs, the three sisters who make up this L.A. pop-rock trio look like they invented Coachella: Two out of every three women walking around Friday could easily have passed for Danielle, Este or Alana Haim. Consider them the festival's hipster-hippie spirit animals, finally returned to the den.
In fact, Este said midway through the group's set, she's a Coachella veteran, having come as a fan every year since 2004. But this was the first time she didn't jump a fence or otherwise sneak in, she added. Then she offered an apology to the show's promoter: "Sorry, Goldenvoice."
PHOTOS: Day 1 of Coachella 2014
Haim doesn't just look like it belongs here; its music -- a clever refashioning of '70s-era rock with the slick textures of '80s-era soul -- fits right in at Coachella, where nothing from the past is safe from rescue.
The band's profile, too, is in keeping with the Coachella brand: cool but inviting; big but not too big; beloved by tastemakers yet recognizable to the mainstream. A hit act, in other words, that doesn't feel like a hit act.
Or at least that used to be the festival's brand.
Though Haim was received well enough as it ran through songs from last year's "Days Are Gone," the crowd's response wasn't much compared to the roar Bastille inspired later Friday from an overflow audience at the Mojave tent.
PHOTOS: Faces of Coachella 2014
Bastille is the English band behind the top-10 single "Pompeii"; it's also one of a sizable number of acts at Coachella this year -- along with Lorde, Pharrell Williams and Capital Cities, all due to perform Saturday -- whose success is happening squarely in the mainstream. Tastemakers may have launched them, but now their hits feel like hits.
Which doesn't mean they're much to behold.
Bastille was exceedingly dull Friday in its afternoon set, a faceless alt-rock machine pumping out jock-jammy variations on the kind of lightly bionic guitar music we're also getting these days from Imagine Dragons and Awolnation. A surprise appearance by the rapper Angel Haze briefly enlivened the proceedings, and "Pompeii," as irritating as it is, triggered a reaction among the band's fans that was its own thrill.
But that reaction was remarkably short-lived. Five seconds after "Pompeii" ended -- maybe less -- much of Bastille's audience had vacated the Mojave, hit-seekers in search of another hit.
ALSO:
Coachella 2014: 10 rising acts you should know now
Coachella festival's luxuries eclipsing its music and arts
twitter: @mikaelwood
---
Your essential guide to the arts in L.A.
Get Carolina A. Miranda's weekly newsletter for what's happening, plus openings, critics' picks and more.
You may occasionally receive promotional content from the Los Angeles Times.