Coachella 2014: Outkast roll through with Polaroid-shaking return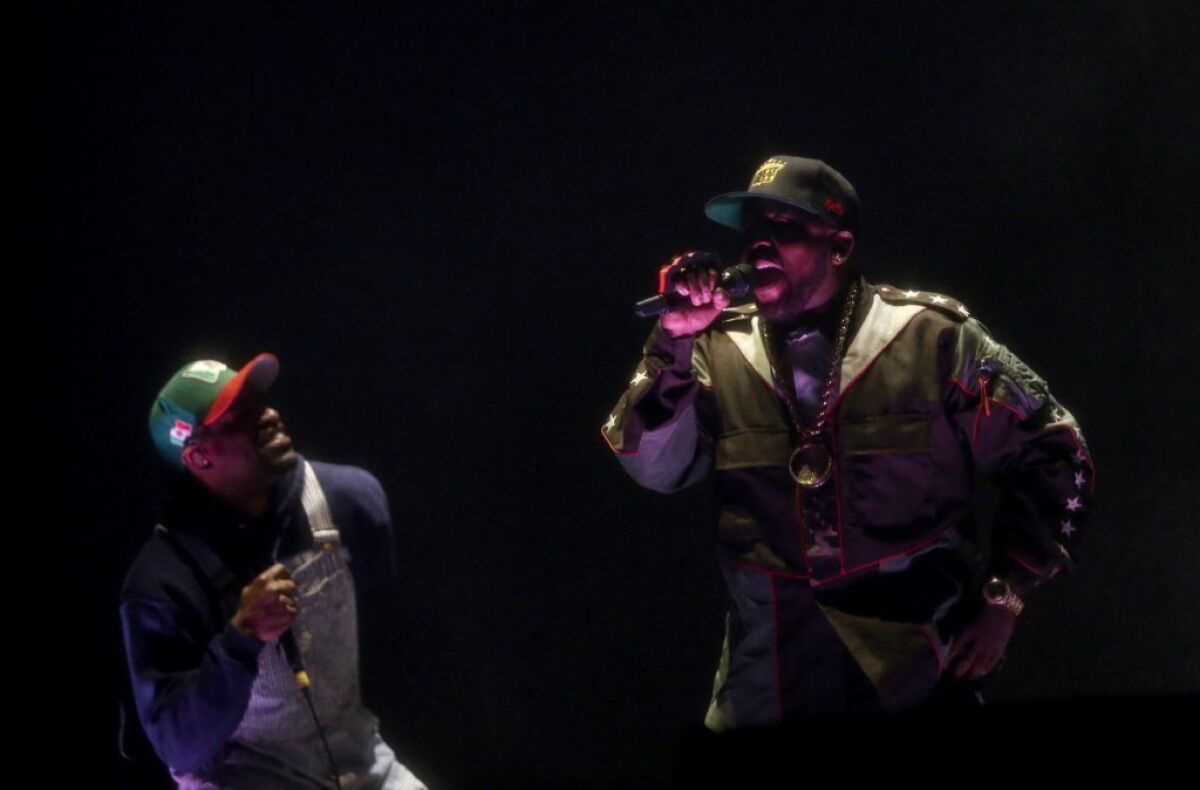 The buildup lasted much of Outkast's oft-riveting Coachella performance on Friday night, rolling toward those set-ending classics and album tracks that defined the early '00s: "So Fresh, So Clean," "Ms. Jackson" and "Hey Ya!"
Triumphantly returning to celebrate 20 years as a team, Antwan "Big Boi" Patton and Andre "3000" Benjamin presented repeated arguments as to why they'd earned such a huge Southern California welcome for their first shows since the Atlanta duo went on hiatus in 2007.
Visually imaginative, well paced (with a few lulls) and filled with the adrenaline of rebirth, Outkast offered 90 minutes of bouncy hip hop glory, proving that, indeed, absence begets fondness. By the time Big Boi opened his pearl of a song, "The Way You Move," as the clock was headed toward a hard 1 a.m. curfew, the pair, a band and a busy brass section had already proved its point.
PHOTOS: Day 1 of Coachella 2014
"We never relaxin', Outkast is everlastin'," rapped Big Boi with a typical fluidity. Much of the massive crowd backed him up.
So did a run of surprise guests, including Janelle Monae, the young Georgia rapper Future and longtime Outkast affiliate Sleepy Brown. Watching in the wings were music executive L.A. Reid, who signed Outkast when they were just starting out, and Prince, who knows a little something about funk and groove.
They'd travelled for a reason. One of the hottest tickets of the festival season, Outkast pushed through more than two dozen greatest hits that included early jams "Da Art of Storytellin', Pt. 1," "Rosa Parks" and "SpottieOttieDopalicious." They vibrated through the curios that proved the group not only exquisite rappers but witty raconteurs and driven musical explorers -- "She Lives in My Lap," "Roses," "Behold a Lady," "Ghetto Musick."
As they did so, the group's visual show offered counterpoint. Featuring a cube wrapped in a sheer, see-through screen the size of a bungalow set in the middle of the stage, the show presented the pair first within the enclosure, which also housed a kitchen table and chairs. Opening with their pummeling breakout hit "B.O.B.," Outkast rapped in a setting, Big Boi later said, similar to that where he and Andre first started working out raps -- his grandmother's kitchen.
PHOTOS: Faces of Coachella 2014
Throughout the show images both abstract and photo-realistic were projected onto the cube. Though fun to watch, it took up a lot of room on the stage, and unfortunately that meant pushing Outkast's tight band to the side. The placement felt like a bit of a shame, and made it tough to get a good sense of the group's work.
But as Outkast drove toward a gigantic finale, one that featured the band's biggest hits, such concerns didn't matter. "So Fresh, So Clean," though shortened, got the thousands grooving. "Ms. Jackson" prompted a group singalong of the quirky mid-song break of "Forever? Forever ever?"
The last song had to be "Hey Ya!" -- and it was. Playing to many thousands, the Andre 3000-sung hit features that huge epiphany at the end, when he screams to the men and then the ladies.
LIVE UPDATES: The Coachella scene
With our full attention, he first addressed the men: "Now fellas," he said, and the guys hollered "Yeah?" in reply. "Now what's cooler than being cool?" "Ice cold!" came the response. The groove pushed the bodies in rhythm.
Then he called out to the women, teasing the song's big break and asking them to be on their baddest behavior. Don't waste this break, he implored. We all understood that wouldn't happen. "Lend me some sugar! I am your neighbor!"
Then, boom! "Shake it! Sh-sh-sh shake it! Shake it like a Polaroid picture!" Mere words can't describe how ecstatically the masses followed Andre 3000's lead.
Then it was done. Despite the group's best attempts at concluding with "The Whole World," the 1 a.m. closing time had arrived. Microphones were cut, silent farewells bid.
Despite the speedbump, the gig was a success. In addition to the peformance's thrills, history may have been made: Coachella surely set a world record for pantomimed instant-photo development, given how many tailfeathers shook and hands waved. Residents of nearby Palm Springs who felt a brush of wind at about 12:55 a.m. probably didn't realize the cause.
Set list (according to Setlist.fm)
B.O.B.
Gasoline Dreams
ATLiens
Skew It on the Bar-B
Rosa Parks
Da Art of Storytellin', Part 1
Aquemini
SpottieOttieDopaliscious (with Sleepy Brown)
Bowtie (with Sleepy Brown)
Shutterbugg
GhettoMusick
Tightrope (feat. Janelle Monae)
Kryptonite
(I'm on It) (Purple Ribbon All-Stars cover)
Vibrate
She Lives in My Lap
Prototype
Behold a Lady
Roses
Same Damn Time (Future cover) (with Future)
Ain't No Way Around It (Future cover) (with Future)
Benz Friendz (Whatchutola) (Future cover) (with Future)
Hootie Hoo
Elevators (Me & You)
Ms. Jackson
So Fresh, So Clean (with Sleepy Brown)
The Way You Move (with Sleepy Brown)
Hey Ya!
ALSO:
Coachella 2014: 10 rising acts you should know now
Coachella festival's luxuries eclipsing its music and arts
---
Your essential guide to the arts in L.A.
Get Carolina A. Miranda's weekly newsletter for what's happening, plus openings, critics' picks and more.
You may occasionally receive promotional content from the Los Angeles Times.