Darius Rucker: 'I wanted to get down to the realness of it'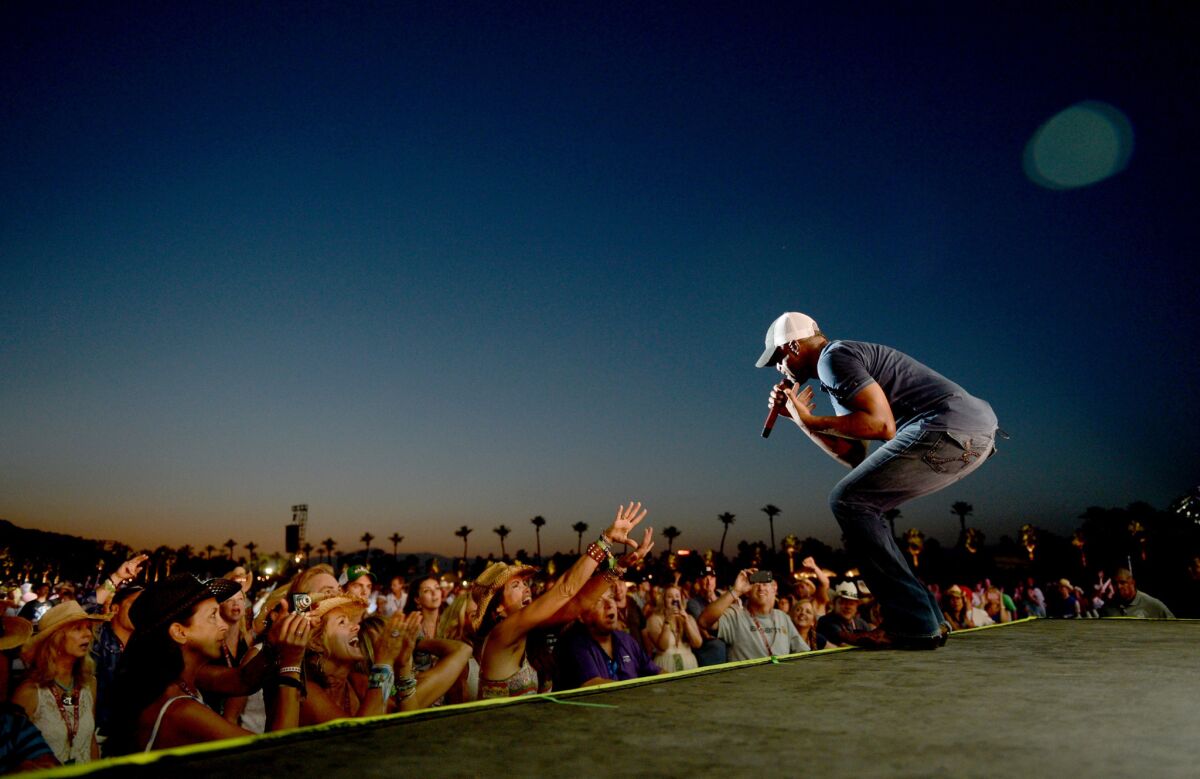 It may come as a surprise to listeners familiar with the band's staunchly middle-of-the-road pop-rock, but Hootie & the Blowfish -- the South Carolina outfit responsible for such mid-'90s radio hits as "Hold My Hand" and "Only Wanna Be With You" -- was evidently known to walk on the wild side.
"Doing drugs and drinking every night -- I've done that," Darius Rucker, the band's big-voiced frontman, said with a laugh. "Trust me, I've done enough for everybody. And it's just not how I want to live anymore."
How Rucker lives these days is as a family-oriented country star, one whose strong new solo album, "True Believers," opened Wednesday at No. 2 on the Billboard 200 and at No. 1 on the magazine's country chart, his third straight effort to top that tally. In songs he co-wrote -- along with a hit cover of Old Crow Medicine Show's "Wagon Wheel" -- Rucker examines his roles as a father and a husband, exercising a decency and a believability that is all the more impressive given his late arrival to the genre.
PHOTOS: Iconic rock guitars and their owners
Sitting last week in the Andaz Hotel in West Hollywood, Rucker (who's scheduled to perform Wednesday night on NBC's "Healing in the Heartland" telethon) said his success hadn't come a minute too soon. "It's such a perfect time in my life to be here," he said.
Plenty of country artists write about home and family, but your songs describe everyday situations with an uncommon specificity. In "Miss You," from your new record, the narrator is taking stock of a marriage that's fallen into neglect: "Lay down in this big old bed, and you turned on the TV / Fell asleep without a goodnight kiss or even an 'I love you.' " That's brutal!
That for me is what songwriting is about. When I'm writing a song like 'Miss You,' that's something where [producer] Frank [Rogers] and I wanted to get down to the realness of it -- the detail -- not just some flippant song about missing your wife. Let's talk about what really happens, you know? To me, that's so important -- to write a song where people listen and go, "I know exactly what he's talking about."
"Shine" is another one -- it's about a guy giving his fiancee a ring that once belonged to his grandmother.
When we started writing that one, we were like, "November of '19," and I was like, "We can't write a song about someone who was born in 1919. Let's talk about World War II -- November of 1943." The little details, they're so minute, if you're not really listening you're gonna miss them.
What songwriters taught you about the importance of those details?
Radney Foster. R.E.M. All of R.E.M.'s songs, it was hard to understand the words, but a song like "Driver 8" -- once you knew, you were like, "Wow." And U2. I heard "Two Hearts Beat as One" the other day.
U2 is complicated for me. Sometimes Bono seems to be reaching so wide that he just vagues out -- it's totally detail-less.
That was later U2. U2 stopped for me at "Rattle and Hum" and "The Joshua Tree," which was like a movie for me. I remember hearing "For the Good Times" by Al Green, then finding out that Kris Kristofferson wrote that. That song is so vivid. Those were the guys for me. And later on, when I started writing songs, Lyle Lovett, the songs on "Joshua Judges Ruth." He was writing little movies, man, and I was so drawn to that.
Who let you know that family is a good topic to write songs about?
Nobody, really. That just happened as I was writing the first record because that was my life. I'd been on the road with Hootie for so long -- every summer, out for three or four months -- and then my life was my family and my kids. Trying to switch over from being the rock star to just being Dad, that was a huge undertaking for me. My life changed abruptly. It was also the realization that I could write about this in country music. In rock and roll and pop, you don't really sit down and write a song like "It Won't Be Like This for Long." But in country music you can -- and then you can go have a No. 1 with it.
Why is country more open?
Because it's so family-oriented. When I first started in Nashville, Brad Paisley said to me, "We only tour on the weekends." I was like, "Really?" I thought he was lying. I'd come from Hootie & the Blowfish, where we'd get in the bus in April and I'd see my kids for a day every two weeks if I was lucky. I was like, "Why?" And he said, "Well, no one wants to take their family out on Monday or Tuesday night to see a show. And for us it's cool to be home with our families for a few days a week." Everybody takes their kids on the road too. In rock and roll, I never thought about my kids going on the road.
PHOTOS: Concert photos by The Times
Now you take them?
Once school's out, that's summer camp. They're on my bus every weekend. We come to L.A., we go to some children's museum during the day, then the show at night.
In "Nashville," the ABC series, we always see Connie Britton's character making her daughters' lunches or something before they go to school and she goes to the studio. Rock and pop don't offer many depictions like that.
And it's not that they don't do it -- you're just not getting it from them. People ask me why the vocals sound a little different on this record than on the others, and the main reason is because we recorded the vocals in Charleston. So instead of feeling like I was going to work, I'd get up, take my kids to school, maybe go play a round of golf, then go to the studio until I picked the kids up from school. I think that helped a lot with feeling relaxed in the studio.
Are you always taking notes for songs while you take care of your kids?
Oh, never.
Really?
I never think about it until we start writing. And when I'm home I never think about being on the road. It's wild, because when I was touring with Hootie, that's all I thought about: writing, making records. Now at 47, my kids are getting older, so when I'm not working, I rarely think about work.
Is it better this way?
Oh, better this way, for sure. Before I left to come here, I was home for a couple of days. And all of a sudden the night before I left, I realized, "Oh, honey, I'm leaving in the morning." She's like, "Yeah, I know." I didn't even realize. I said, "I guess I gotta get out of bed and pack."
ALSO:
New Keith Urban album 'Fuse' due Sept. 10
Influential jazz pianist Mulgrew Miller dies at 57
Adam Levine's 'I hate this country' remark goes live on 'The Voice'
Twitter: @mikaelwood
---
Get our L.A. Goes Out newsletter, with the week's best events, to help you explore and experience our city.
You may occasionally receive promotional content from the Los Angeles Times.