Fall Out Boy and Paramore: Coming back on top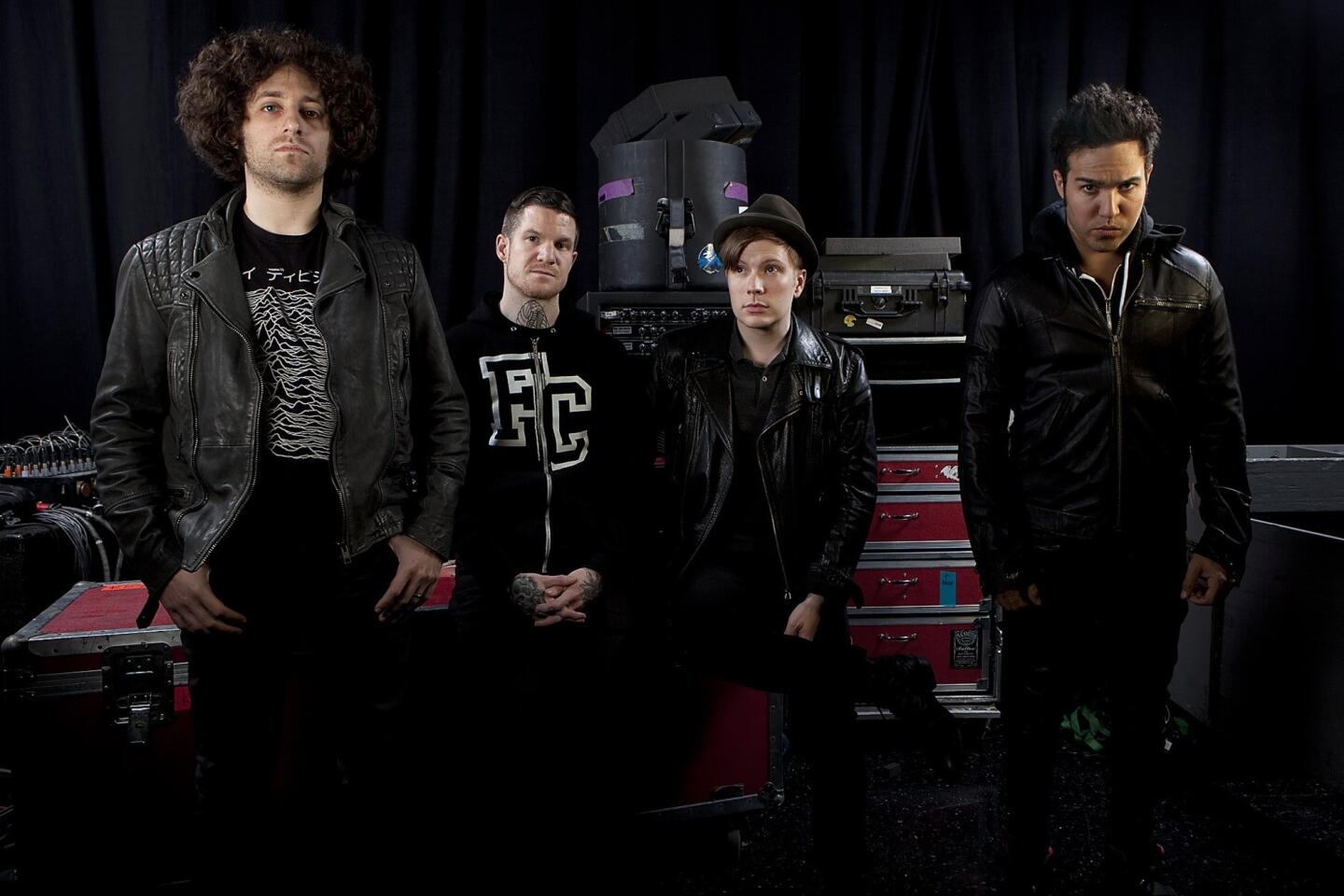 Fall Out Boy members Joe Trohman, left, Andy Hurley, Patrick Stump and Pete Wentz at Third Encore Studios in North Hollywood.
(Brian van der Brug / Los Angeles Times)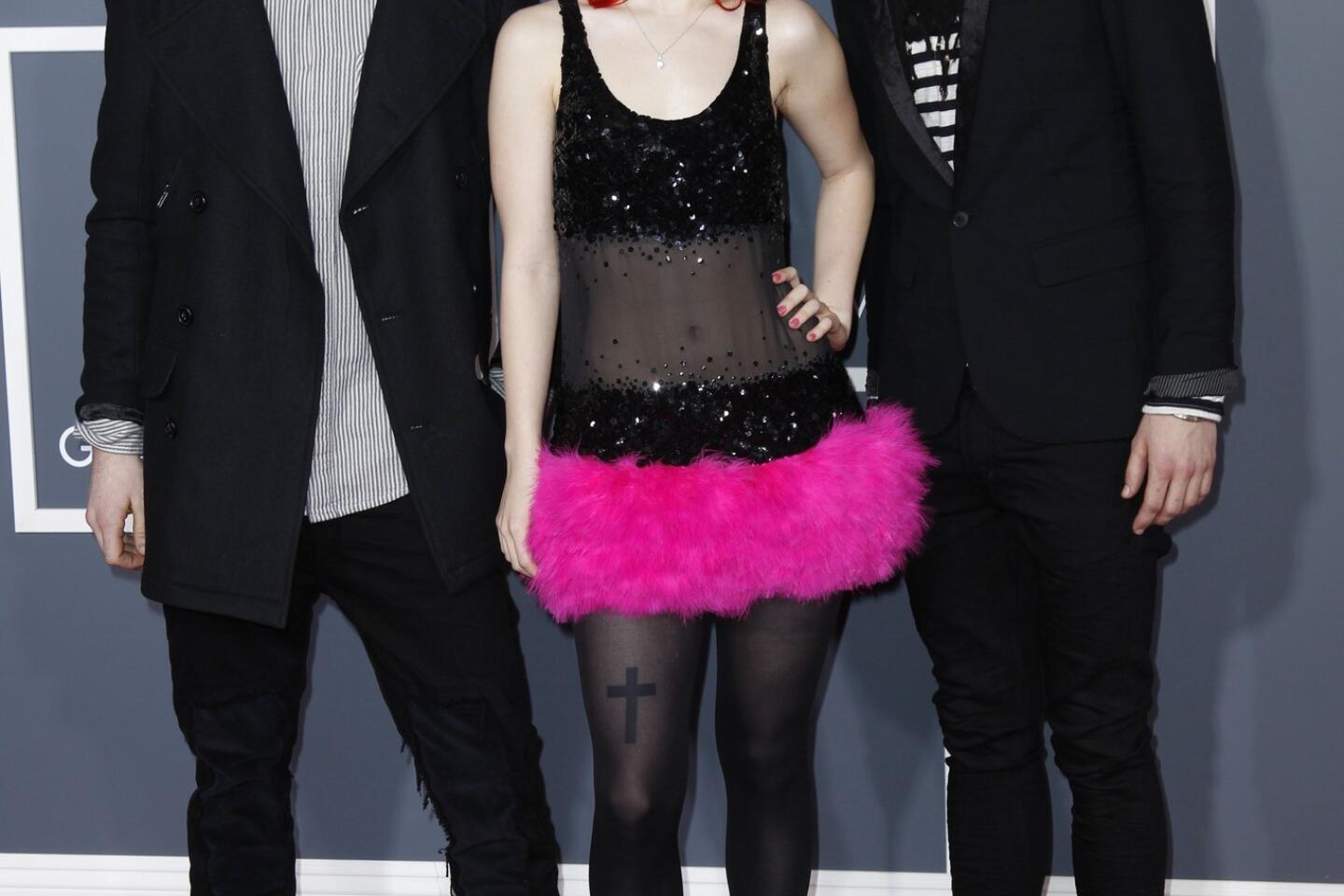 Paramore members attend the 53rd Grammy Awards in Los Angeles in 2011.
(Kirk McKoy / Los Angeles Times)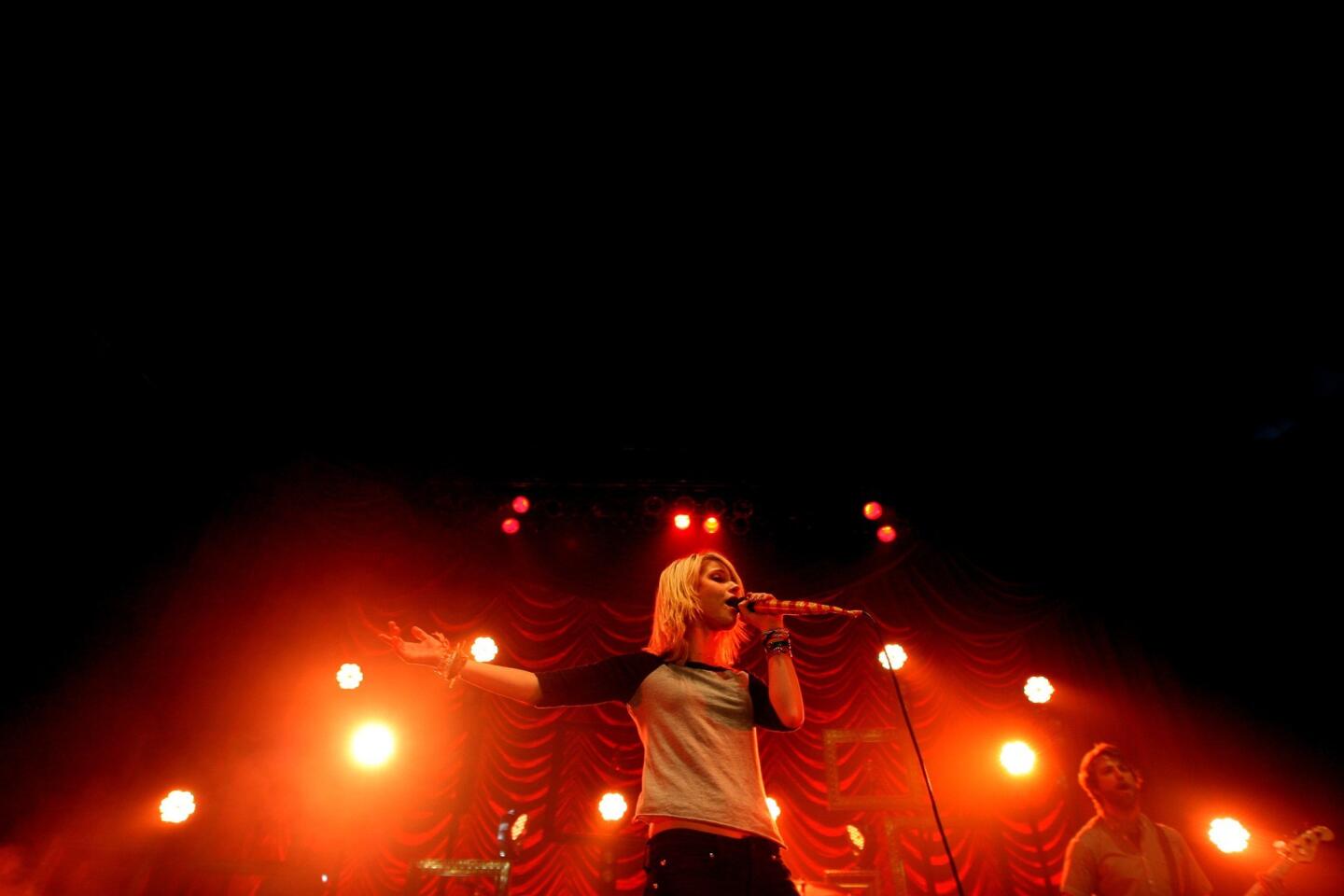 Paramore, led by singer Hayley Williams, performs at the Hollywood Palladium in 2009.
(Liz O. Baylen / Los Angeles Times)
Paramore band members Jeremy Davis, left, Josh Farro, Zac Farro, Taylor York and Hayley Williams are photographed in 2009.
(Lawrence K. Ho / Los Angeles Times)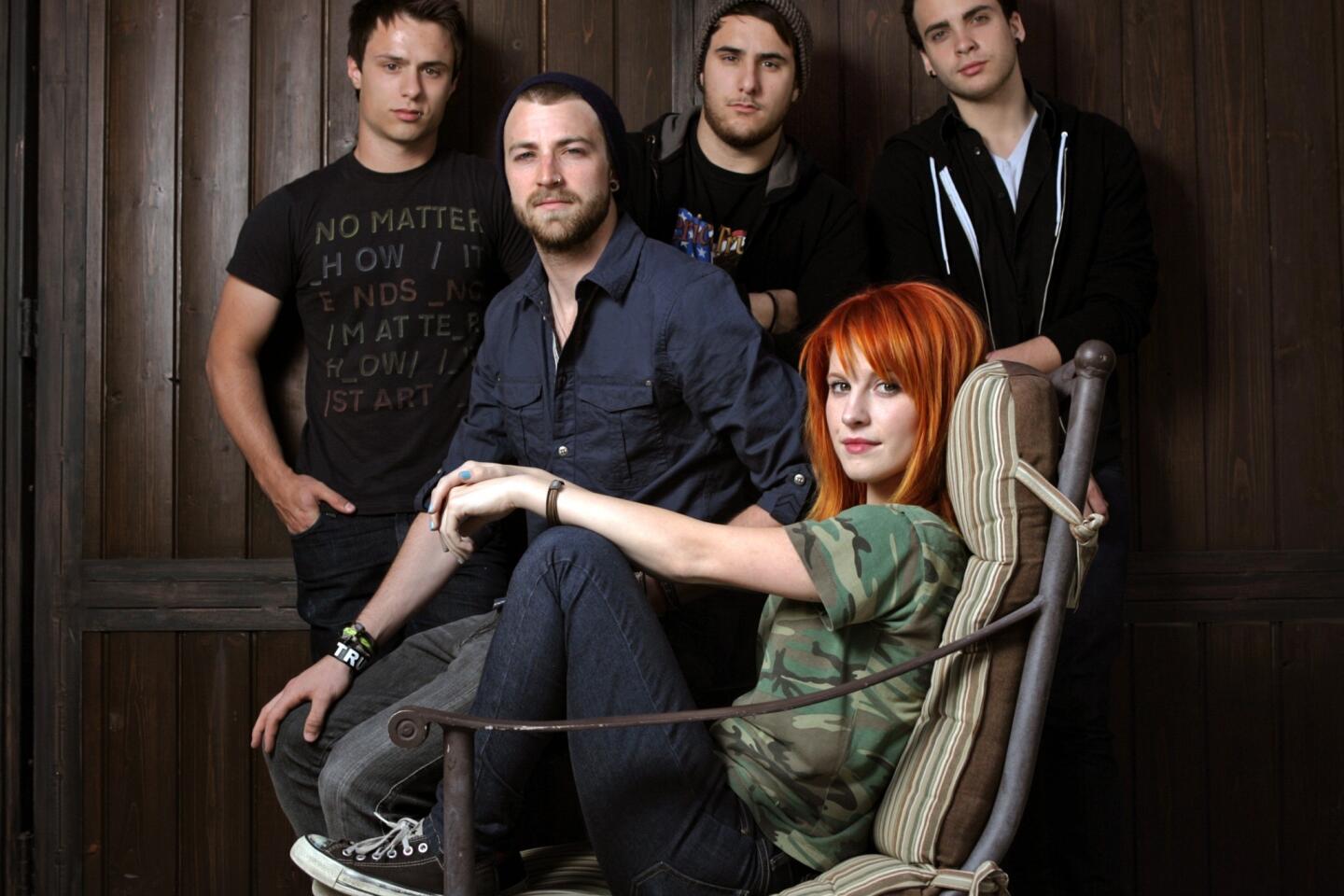 Paramore band members Josh Farro, Jeremy Davis, Zac Farro, Hayley Williams and Taylor York in 2009.
(Lawrence K. Ho / Los Angeles Times)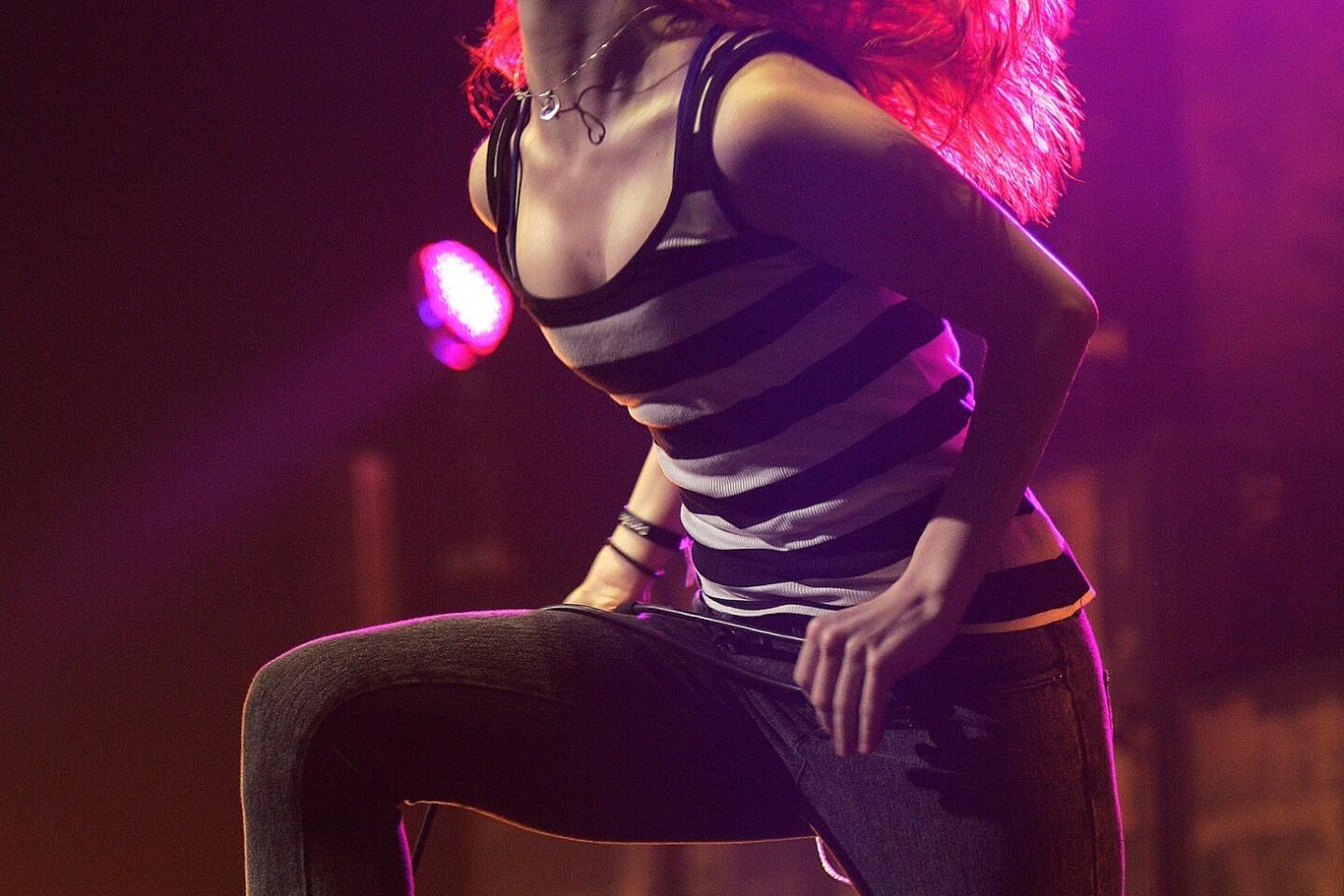 Paramore singer Hayley Williams performs at the Gibson Amphitheatre in Universal City, Calif., in 2009.
(Ken Hively / Los Angeles Times)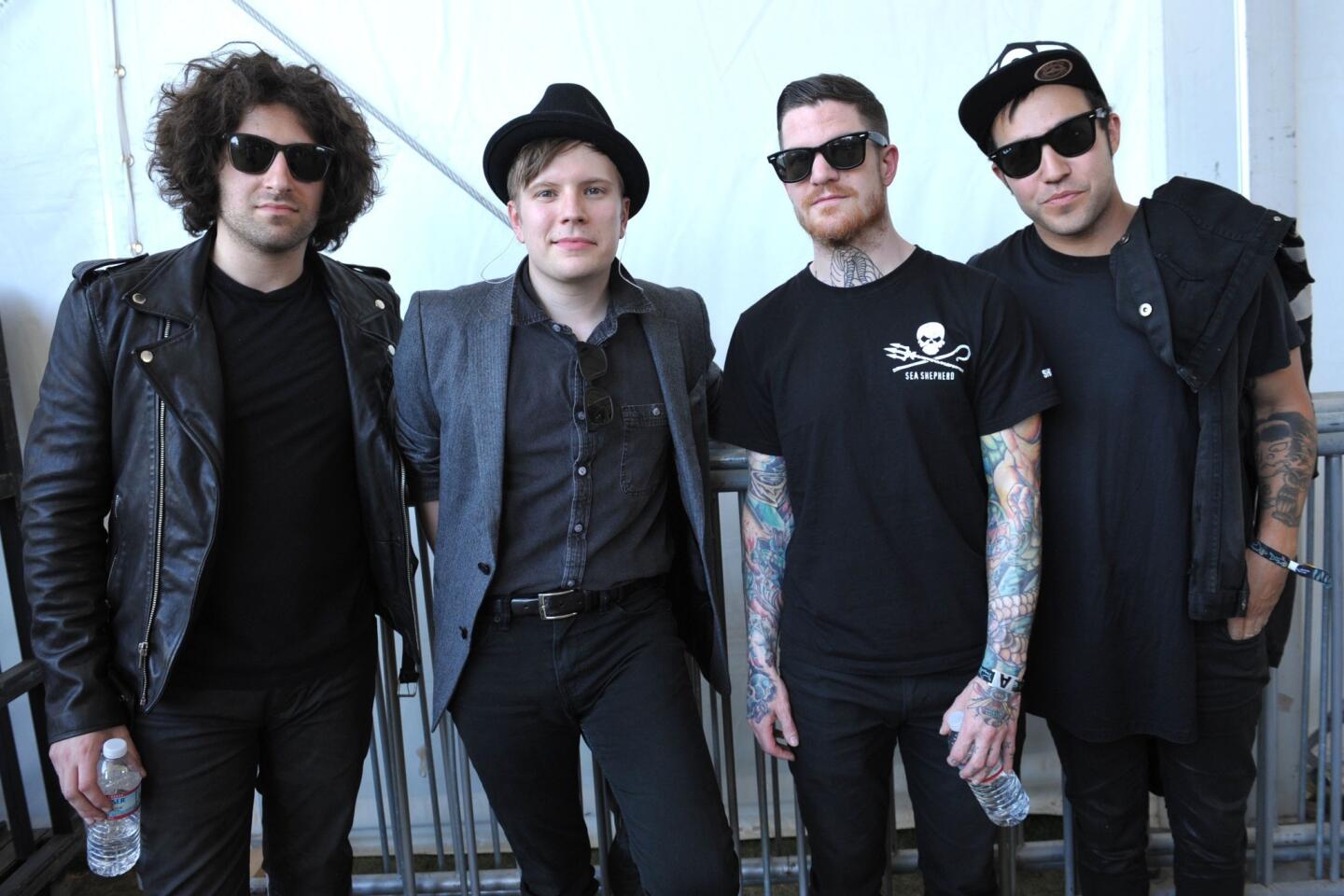 Fall Out Boy members Joe Trohman, Patrick Stump, Andy Hurley and Pete Wentz pose backstage during the 2013 Coachella Valley Music and Arts Festival in Indio, Calif.
(John Shearer / Associated Press)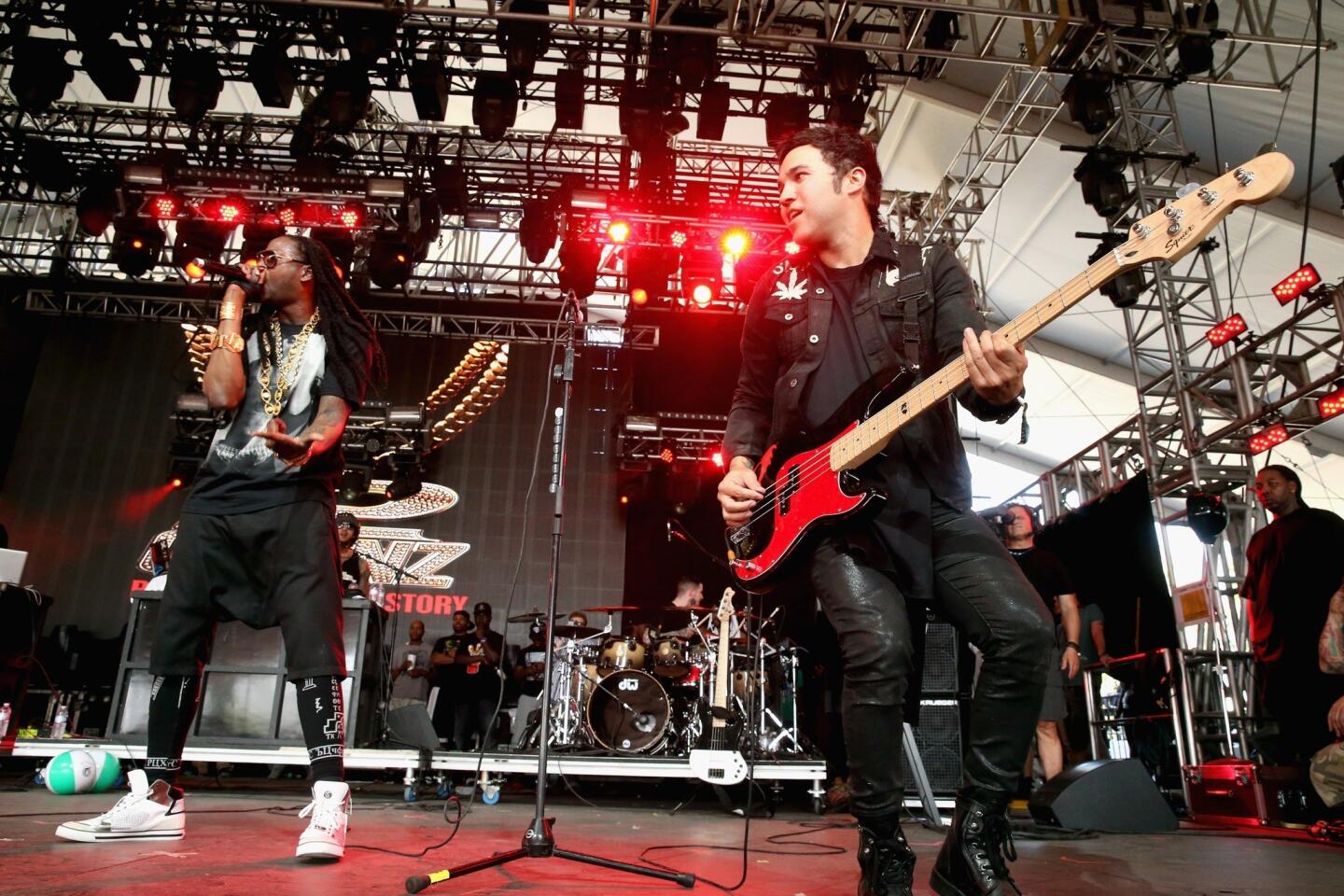 Fall Out Boy's Pete Wentz, right, performs with Rapper 2 Chainz during the 2013 Coachella Valley Music and Arts Festival in Indo, Calif.
(Karl Walter / Getty Images for Coachella)
Pete Wentz performs with Fall Out Boy at the Rock the Vote Ballot Bash in Denver, on Aug. 26, 2008.
(Matt Sayles / Associated Press)
Fall Out Boy, led by Pete Wentz, performs at the House of Blues in Chicago, Ill., in 2007.
(Scott Gries / Getty Images)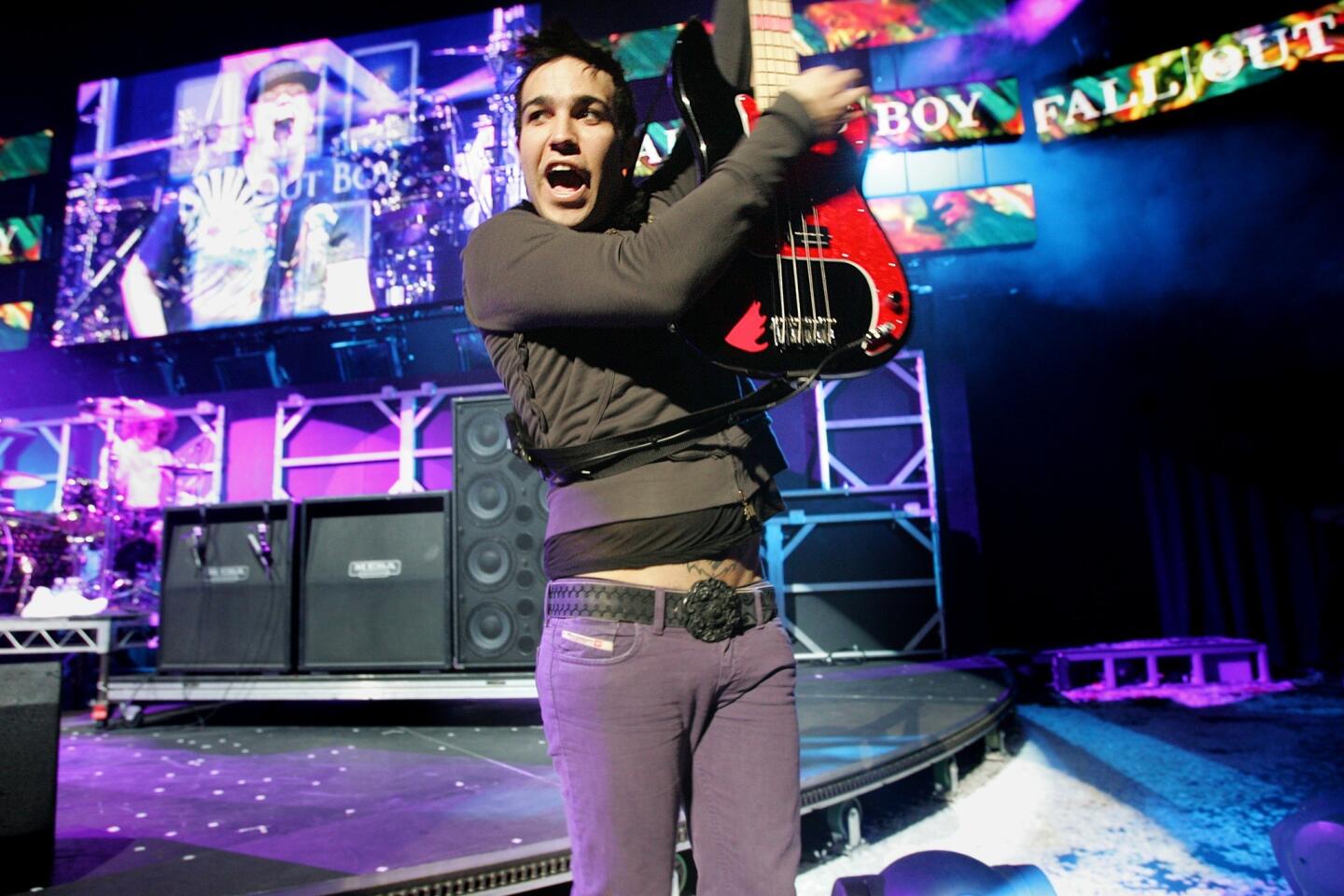 Fall Out Boy's Peter Wentz performs during KROQ's annual Christmas show in Los Angeles in 2006.
(Spencer Weiner / Los Angeles Times)
Patrick Stump can't recall which friend of his said it, or where exactly it happened. But when the frontman of Fall Out Boy was told nearly a decade ago — "probably in somebody's basement somewhere" — that his then-scrappy rock band sounded like it was aiming for the MTV request show "TRL," "I distinctly remember laughing and being, like, 'You have no idea how insanely unlikely that is,'" the singer said recently. "And then a year later …."
A year later Fall Out Boy played "TRL," an early stop on the group's journey from the suburban-Chicago punk scene to the major-league pop mainstream. Soon after came platinum albums, a Grammy nomination for best new artist and Top 40 radio hits like "Sugar, We're Goin Down" and "Dance, Dance."
"I look at pictures from those days, and there's an expression on all our faces," said bassist Pete Wentz, whose fame metastasized to tabloid-fixture proportions after he married (and subsequently divorced) Ashlee Simpson. "We're, like, 'I can't believe we're hanging out with rappers! This is awesome!'"
The awesomeness ended in 2009 when Stump, Wentz, guitarist Joe Trohman and drummer Andy Hurley — all burnt out from nonstop touring — began a hiatus that many fans took to mean Fall Out Boy had broken up. In February, though, the band revealed that it was back, and its success now might be even more unlikely than it was the first time.
Last month Fall Out Boy's album "Save Rock and Roll," recorded in secrecy as the band's so-called emo sound gave way among listeners to electronic dance music, debuted at No. 1. And next week the band is to begin a sold-out tour scheduled to stop at L.A.'s Wiltern on June 13.
"I don't think any of us expected this to be the victory-lap return," Stump said, sitting with Wentz in a dressing room Monday at "The Tonight Show." On Saturday Fall Out Boy is set to follow up that late-night TV appearance with a gig at KIIS-FM's all-star Wango Tango concert at Home Depot Center. It'll be something of an outlier on a bill otherwise loaded with slick pop acts like Bruno Mars and will.i.am.
"I think we're the only ones that need to sound check," Wentz said with a laugh.
Yet in another remarkable twist, Fall Out Boy isn't alone at the top of the chart. The week before "Save Rock and Roll" made its impressive bow, the pop-punk band Paramore — another once-scrappy veteran of the Warped Tour — entered at No. 1 with a self-titled comeback effort of its own. It was enough to make you wonder, at least for a spell, if the idea of mainstream rock is not as endangered as it usually appears.
Unlike Fall Out Boy, Paramore never officially went dormant. But the group's future seemed uncertain after the departure in 2010 of guitarist Josh Farro and drummer Zac Farro, who wrote online about their creative and philosophical differences with Paramore's singer, Hayley Williams.
In an interview with her remaining bandmates — guitarist Taylor York and bassist Jeremy Davis — at the South by Southwest music conference in March, Williams described the dysfunction as the stuff of "soap opera" (a phrase she repeated onstage this month during a show at the Wiltern), and said that "communication, relationships — everything — is so much better now. We're just excited to be in Paramore."
The music makes that clear. Though it's still rooted in heavy guitars and galloping beats, "Paramore" greatly expands the band's sound with lush strings, buzzing keyboards and, in the appealingly headstrong "Ain't It Fun," gospel-style backing vocals that suggest Kelly Clarkson covering "Like a Prayer." (Less happily, the album also contains several irritating numbers in which Williams, who's never sung more powerfully, is accompanied by a ukulele.)
Fall Out Boy goes similarly widescreen on its record, which has pulsating disco grooves, stacked-harmony hair-metal singing and left-field guest spots by Elton John, Courtney Love and the rapper Big Sean — probably the first (and last) time those three artists will appear in such close proximity to one another.
At "The Tonight Show" Wentz said the album's scope simply reflects the band's ambition, which he admitted ran "super high" even when Stump was deflecting accusations of "TRL" dreams. But "Save Rock and Roll" and "Paramore" seem also like indications that each group's time out of the spotlight only increased its desire to be part of the conversation.
"I want what we're doing to be big on the level where it means something to people — where it means something culturally," Wentz said. "Not necessarily big in the sense that we have to have pyro in every song." He considered that for a moment. "Although that would be rad."
KISS FM's Wango Tango
Where: Home Depot Center, 18400 Avalon Blvd., Carson
When: Saturday, 2:30 p.m.
Tickets: $39.50 to $225
Info: https://www.homedepotcenter.com
Get our L.A. Goes Out newsletter, with the week's best events, to help you explore and experience our city.
You may occasionally receive promotional content from the Los Angeles Times.