Five things about day one of FYF Fest 2013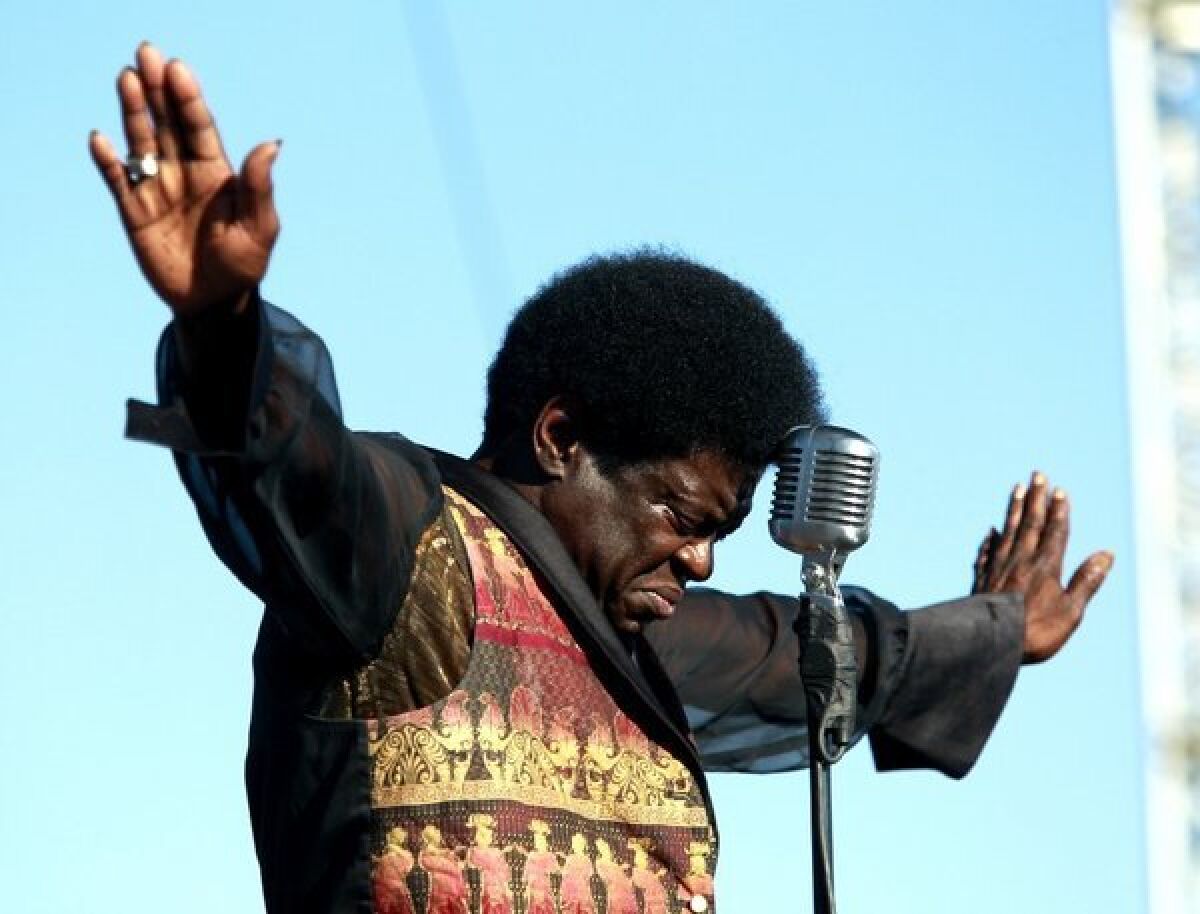 Los Angeles Times Pop Music Critic
On Saturday at Los Angeles State Historic Park in Chinatown, the 10th annual FYF Fest drew more than 20,000 fans of underground rock, soul, folk, punk, house, hip hop and techno to bake in the downtown sun, then chill under the stars.
Mikal Cronin delivered catchy, acid-drenched rock, the Underachievers sampled the Rolling Stones' "Gimme Shelter," Flag tore through Black Flag's "Gimme Gimme Gimme," TV on the Radio offered hard new material, Los Angeles beat producer Nosaj Thing delivered thick, scatterbrained synthetic rhythms and sampled Kendrick Lamar's L.A. anthem "Bitch Don't Kill My Vibe," and Deerhunter's magnetic Bradford Cox sang with his head wrapped in a creepy-looking scarf.
We'll have a full review later of the FYF, which continues Sunday with performances by, among others, MGMT, the Melvins, and Omar Souleyman. But for now, here are five highlights from a remarkable first day of action.
FYF Fest: The Sunday artists to see, hour by hour
1. The magnificent soul singer Charles Bradley and his band poured every ounce of sweat into their late-afternoon performance. Wearing maroon pants, vest and a sheer black shirt, the 60-something-year-old Floridian roared through the sunshine, his Screamin' Jay Hawkins' suggestive yowls and Otis Redding-esque pleadings echoing across the park. A commanding performer, Bradley should offer lessons to many of the young singers around the FYF. He foot-shuffled, he thrusted his pelvis, he gesticulated with his arms while offering big-boned soul and blues. He was impossible to ignore.
2. Those looking for evidence that the annual FYF Fest had hit an afternoon peak found it during songwriter Ty Segall's set. As he and his band, all seated on stools, pushed a hard-strummed acoustic guitar-driven song, the crowd up front was dancing frantically. Suddenly, a pair of pants flew up from the pit, floated in the air, legs akimbo, then drifted back into the crowd. Up they flew again, and you had to wonder about the potentially trouser-less dancer below. Was he or she so lost in the moment that the pants just had to go? I'd wager yes.
3. As washes of smoke and vapor drifted over the crowd, Brooklyn rap duo the Underachievers roamed the stage offering rhymes from their breakout mixtape "Indigoism." The most surprising turn was when, during "Gold Soul Theory," the two started rapping to a creeping, slowed sample from the Rolling Stones' "Gimme Shelter." Hard-core fans echoed every line, the most reassuring of which was in the final hook, which highlighted divine creativity, or, as they rapped in unison, "the golden gift that's trapped up in your mind."
INTERACTIVE: A festival for every fan – SoCal's yearly sonic lineup
4. During a break in Torrance hard-core punk band Joyce Manor's tough set, unfortunately shortened by technical difficulties, a moshing fan screamed up from the pit that he'd lost his phone. While technicians worked on a powerless amp, singer/guitarist Barry Johnson asked to crowd to keep an eye out. Ha. Yeah right. A few minutes later, though, as the band tore through scream-along punk and the fans slammed and crowd-surfed, a single-arm shot up from the mess, holding a Samsung. Crisis over -- though whether the phone survived the stomping feet is another issue.
5. TV on the Radio has been dormant for the past few years as members worked on other projects. The band, though, returned to the main stage with a typically confident, and notably hard-edged, performance. Doing old and new songs -- the band is teasing new work, though hasn't announced a new album -- the best New York band of the decade offered a triumphant return.
ALSO:
L.A.'s FYF Fest moves from punk to pro
FYF Fest: The Sunday artists to see, hour by hour
Follow Randall Roberts on Twitter: @liledit
Get our L.A. Goes Out newsletter, with the week's best events, to help you explore and experience our city.
You may occasionally receive promotional content from the Los Angeles Times.