Foo Fighters and friends at the Forum: 5 thoughts on Monday's show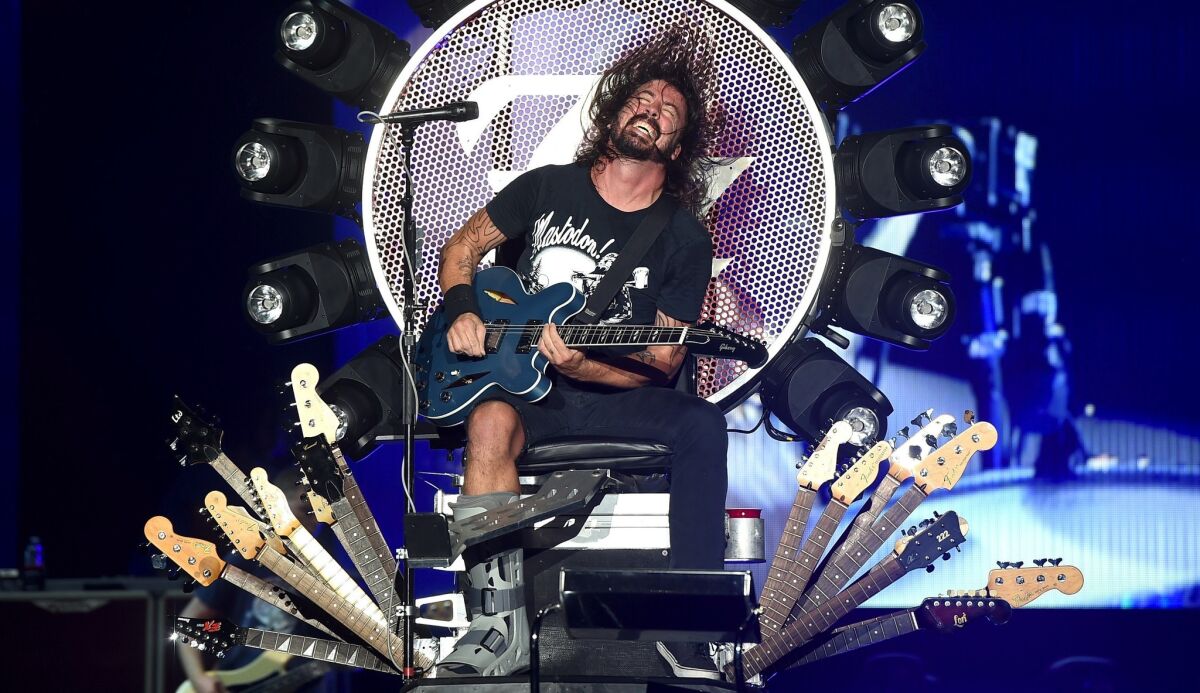 There's a reason Dave Grohl seems so cheerful in a well circulated TMZ video that finds the Foo Fighters frontman claiming his band was booked, then unceremoniously booted from, Sunday's Emmy Awards: Turns out, Grohl had his own star-studded affair planned for the very next night -- and this one didn't require him to wear a tuxedo.
Stevie Nicks, Jack Black and the women of Haim all turned up Monday at the Forum, where Foo Fighters played the first of two hometown concerts for an audience that contained "a whole bunch of Grohls," as the singer put it, as well as Fergie and her husband, Josh Duhamel, who posted the selfie to prove it. (Love Fergie.) Here are five thoughts on the show.
1. Grohl, who broke his leg during a gig in Sweden in June, is still performing while seated on what he calls "the throne": basically a cushioned chair positioned atop a moving platform decorated with lights, the band's logo and the necks of more than a dozen electric guitars. (Think of the sword-festooned number from "Game of Thrones.")
SIGN UP for the free Essential Arts & Culture newsletter >>
His leg in a cast, the frontman spent the first 30 minutes or so pumping his arms and shaking his hair as if to assure us that we weren't in for any less of his trademark energy than usual. And I suppose the ploy worked: When Foo Fighters played "Walk" later in the show -- it's the one where Grohl says he's learning to walk again -- the lyric made me realize that I'd kind of stopped seeing the throne.
2. The band's first guest arrived with little fanfare and didn't stick around for long. But Black's appearance to sing a bit of Rush's "Tom Sawyer," which the actor did while leaping off the end of a long runway that ran to the middle of the venue's floor, provided a quick reminder of how great a rock 'n' roll mimic Black could be.
Grohl took more time to prepare the crowd for his next arrivals, saying that because he'd married a Valley girl he'd more or less become a Valley girl himself, and that he hoped his three young daughters grew up to be Valley girls as cool as the women he was about to bring onstage. These, of course, were the Haim sisters, who almost certainly grew up hoping to be as cool as Monday's final guest.
Sauntering out from backstage in sunglasses and a flowing black blouse, Nicks set the room off as she led the expanded group through muscular renditions of "Stop Draggin' My Heart Around" and "Gold Dust Woman."
3. Nicks goes way back at the Forum with Fleetwood Mac. Yet she wasn't the only one with history at the venerable Inglewood arena. Drummer Taylor Hawkins said he remembered seeing Boston there in 1986, while Grohl announced that guitarist Pat Smear's first concert had been a Forum show: the Rolling Stones with Stevie Wonder as an opening act in 1972.
4. "Sonic Highways," the album Grohl and his band are ostensibly on the road behind, left me pretty cold when it came out last year, especially as compared to the group's previous record, 2011's crunchy "Wasting Light." (A companion HBO travelogue, which won two Emmys, is somewhat more valuable.) On Monday, though, "Sonic Highways" cuts like "Something From Nothing" and "Congregation" sounded sharper and more tuneful than I remembered.
5. Foo Fighters are due back at the Forum on Tuesday night (for which Grohl promised different guests), and they'll circle back through Southern California next month for an Oct. 17 show at Anaheim's Honda Center before they head to Europe. But that might be your last chance to see the band for a while.
As he said his goodbyes Monday, Grohl told the crowd that Foo Fighters would likely "disappear" following the end of their tour, adding that fans needed a break as much as he did. When that announcement triggered the expected boos, he relented, if only a little.
"Once I can walk to the bathroom again," he said, "we'll talk about it."
Twitter: @mikaelwood
ALSO:
Album review: Keith Richards keeps Stones fans happy with 'Crosseyed Heart'
Live review: Hum and the unlikely second act of an alt-rock band at the Regent
Album review: Ryan Adams turns to Taylor Swift for help on his version of '1989'
Get our L.A. Goes Out newsletter, with the week's best events, to help you explore and experience our city.
You may occasionally receive promotional content from the Los Angeles Times.