Foo Fighters record across the country for HBO series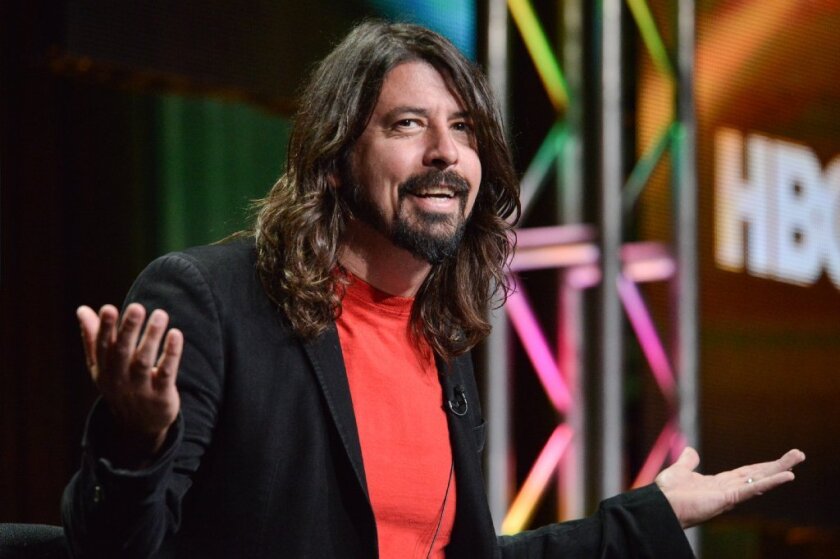 From the dawn of grunge's commercial success in the early '90s to playing in a rock super-group alongside Led Zeppelin's John Paul Jones, Dave Grohl has performed with some of rock's most influential figures. It was perhaps only a matter of time, then, before the Foo Fighter founder would start to think about preservation and documentation.
In the upcoming HBO series "Foo Fighters: Sonic Highways," Grohl and his band recorded eight tracks for an upcoming album at studios in eight cities with rich musical heritages. At each stop, the band teamed with native artists and produced a new track informed by local conversations. The stops are in the series are Austin, Texas; Chicago; Los Angeles; Nashville, Tenn.; New Orleans; New York; Seattle, and Washington, D.C.
Grohl took part in a discussion about the series on Thursday at the Television Critics Assn. press tour at the Beverly Hilton.
"Part of the focus of this project was the regional relevance of all of these places," he told reporters. "In today's world of inter-connectivity, there's kind of no isolation. And a lot of the reasons why these specific types of music happened in these places was because of the isolation. ... [Seattle] sort of lived in its own little bio-dome and created this beautiful music scene, a community of musicians that supported each other."
Grohl said an early inspiration for the series was his 2013 documentary, "Sound City."
"I started to realize the power of music and documentary together, because a lot of the times, music can seem really one dimensional," he said.
"Sound City" profiled Sound City Studios in Van Nuys, where Nirvana recorded its breakout album "Nevermind."
Grohl had the luxury of interviewing and working with notable figures from each particular area. These included Dolly Parton in Nashville and even President Obama in Washington.
Grohl would then go through a transcript of their extensive conversations, notching vital themes and phrases. These threads would inform the songwriting process, as he would then work the transcripts into songs.
Although exploring each city's musical roots was rewarding, he acknowledged that pinning down cities to feature was an unfortunate limitation.
"You could give a history of music from every city in America, from Green Bay to Richmond to San Diego," Grohl said. "We chose these cities for the connection to the band and for their theme, because each episode has a theme, which becomes the theme of the song. So it was a complicated process because not only are we sequencing a series, but we're sequencing an album."
"Foo Fighters: Sonic Highways" is set for an October release. The album, whose name has yet to be released, is due in November.
---
Your essential guide to the arts in L.A.
Get Carolina A. Miranda's weekly newsletter for what's happening, plus openings, critics' picks and more.
You may occasionally receive promotional content from the Los Angeles Times.