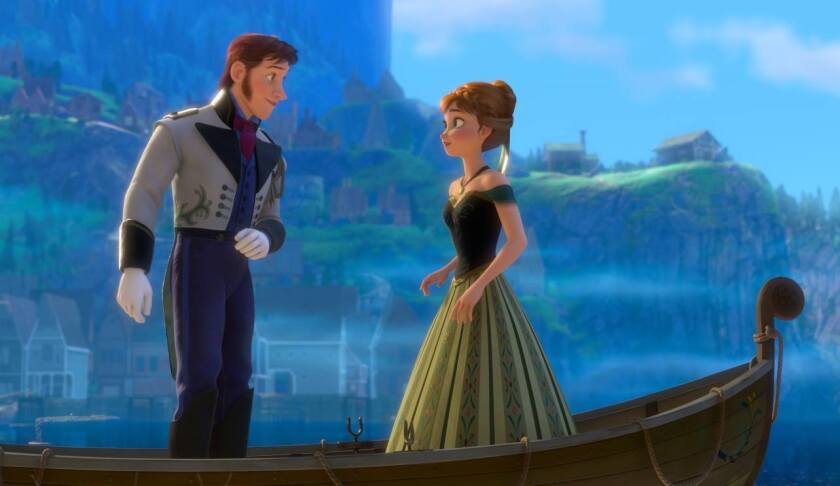 Score another one for Old Man Winter.
A day after the so-called polar vortex plunged much of the country into an ice-encrusted deep freeze, Billboard announced that the soundtrack to Disney's "Frozen" is at No. 1 on its new album chart.
The disc, featuring songs written by the husband-wife team of Robert Lopez and Kristen Anderson-Lopez, sold 165,000 copies between Dec. 30 and Jan. 5, a 55% increase over the week before. That was enough to bump the previous chart-topper, Beyonce's self-titled album, to No. 2 after it spent three straight weeks atop the list.
As Billboard's Keith Caulfield writes in a detailed post, "Frozen" is the second soundtrack album to reach No. 1 in the last year, following "Les Miserables," which got there in January 2013. And it's only the fourth soundtrack for an animated film to top the Billboard 200 since the tally "became a regularly published weekly chart in 1956," Caulfield notes.
GRAPHIC: Times music staff best of 2013 list
The others were "The Lion King" in 1994, "Pocahontas" in 1995 and "Curious George" in 2006.
The Billboard analyst credited "Frozen's" strong showing to the album's sale pricing last week on iTunes, as well as to the film's continued performance at the box office. "Frozen" earned nearly $20 million in theaters over the weekend, according to Box Office Mojo, beating out competition such as "Paranormal Activity: Marked Ones," "The Hobbit: The Desolation of Smaug" and "The Wolf of Wall Street."
The soundtrack stands to get another boost this weekend if "Let It Go," sung by both Idina Menzel and Demi Lovato, wins the Golden Globe for best original song in a motion picture.
Other nominees for the award, to be handed out Sunday evening in Beverly Hills, include Coldplay's "Atlas" (from "The Hunger Games: Catching Fire") and Taylor Swift's "Sweeter Than Fiction" (from "One Chance").
ALSO:
2013: The year pop stars got raunchy (again)
Listen: Five would-be pop hits that never quite were in 2013
Review: Britney Spears offers just a 'Piece of Me' in Las Vegas
Twitter: @mikaelwood

---