5 not to miss at the FYF Fest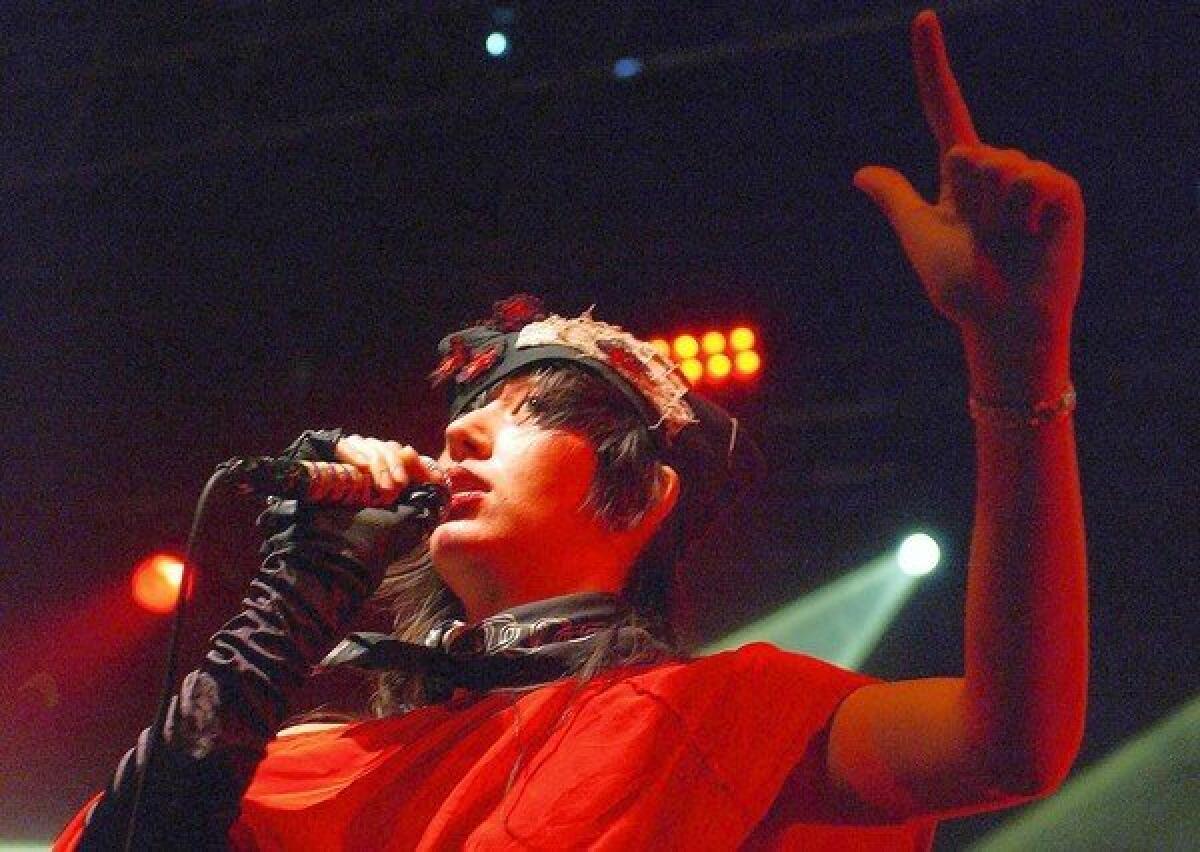 The 10th FYF Fest occurs this weekend at downtown's L.A. State Historic Park, and over the last decade, the annual indie- and punk-heavy gathering has evolved from a duct-taped DIY celebration to a certified, well-produced, Goldenvoice-endowed cultural force. Want to know what's hot among the Converse set? Look no further.
Headliners over the two days include My Bloody Valentine, the Breeders, the Yeah Yeah Yeahs, TV on the Radio, Beach House and Deerhunter. The equally stacked under card features rising bands and producers, including How to Dress Well, Poolside, Nosaj Thing, Waxahatchee, Metz — and, perhaps most awesome, the not-so-rising Jonathan Richman.
---
FOR THE RECORD:
FYF Fest: In the Aug. 20 Calendar section, an article about bands performing at last weekend's FYF Fest in downtown L.A. said that Steven McDonald of Redd Cross and Off! would be playing with the band Flag. It was Stephen Egerton, of the bands The Descendents and All, who was playing. The article also said that Bill Stevenson, also of The Descendents and All, would be playing with Flag. It should have noted that he previously had played with Black Flag. —

---
TIMELINE: Summer's must see concerts
Musically, FYF promoters Sean Carlson and Phil Hoelting have very good taste. This is the cream of the rock and electronic underground. Here are five not to miss.
MGMT. The pair who make up MGMT, Benjamin Goldwasser and Andrew VanWyngarden, are starting to make a habit of bucking expectations. After setting the underground afire with early gems such as "Time to Pretend" and "Electric Feel," they followed with a fantastically tripped-out psychedelic rock record, "Congratulations," that baffled many. Their forthcoming self-titled album splits the difference, catchy but tripped-out, psychedelic without being cheesy or retro. MGMT's been out of the public eye for the last few years, so its return to L.A. is one of FYF's most buzzed gigs, and deservedly so.
Flag. This is not Black Flag, because founding guitarist Greg Ginn isn't involved. But who cares? This is foundational members Keith Morris, Dez Cadena and Chuck Dukowski, along with Steven McDonald (Redd Cross, Off!) and Bill Stevenson (Descendents, All), playing Black Flag classics. School the kids, gentlemen.
Solange. The singer with the famous sister is on a less pop-oriented, world-dominating trip, preferring funked up house and dance music to accompany her smoky, emotionally heavy tones. It's the perfect 4 a.m. dance music, tailor-made for coming down slowly.
Baroness. Last summer while touring England, the Georgia metal band was in a bus crash and all nine aboard were injured, two severely. A year later, the band is still healing; two founding members left citing the trauma, but remaining members John Baizley and Pete Adams forge on with two new members. Still supporting its dark, expansive record "Yellow & Green," Baroness will no doubt arrive to a heroes' welcome.
Omar Souleyman. With Syria currently in turmoil, one of its most magnetic musical ambassadors forges on, delivering Middle Eastern guitar rock with feet planted in both tradition and experimentation. The guitarist, best known to many for his work with Björk, is supporting his new album, "Wenu Wenu," which was produced by British electronic musician Kieran Hebden, a.k.a. Four Tet.
Get our L.A. Goes Out newsletter, with the week's best events, to help you explore and experience our city.
You may occasionally receive promotional content from the Los Angeles Times.