Grammys 2015: Jhené Aiko keeps her music in motion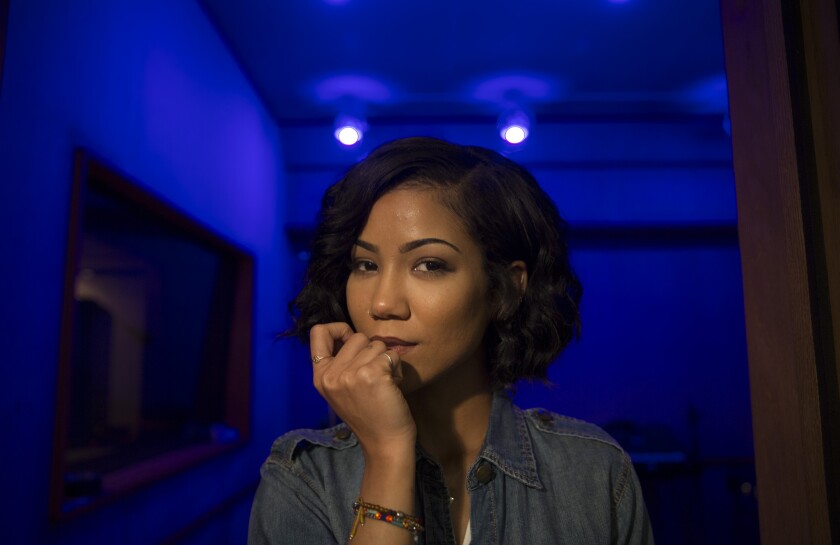 Jhene Aiko, her agent and her manager are huddled together on a recent afternoon going over upcoming gigs for the buzzing alternative-R&B star.
The Los Angeles native is in the middle of a victory lap for a breakout year that included her first hit single, a well-received debut album and three Grammy nominations, including one for urban contemporary album for her debut EP, 2013's "Sail Out." And this year is shaping up to be even busier.
Aiko just landed a slot at a major European festival and she's preparing to bring a second leg of her Enter the Void tour, her first as a headliner.
The women discuss potential opening acts, production logistics, collaboration requests, whether or not she can make time for Coachella -- her set last year was a highlight and she may pop up as a surprise guest this year -- and fitting in a vacation to the Himalayas around rehearsals and South by Southwest ("If it's not possible I'll do Hawaii," she tells her agent after a potential conflict is mentioned).
"I'm taking it a day at a time. There's been so much going on and the ball is still rolling with the album, I haven't been focused on if I'm going to win or not," Aiko said. "For me it's all about keeping the ball rolling."
Although she's only 26, Aiko's moment is happening more than a decade into her music career.
The child of a Japanese, Spanish and Dominican mother and black, Native American, German Jewish father, Jhené Aiko Efuru Chilombo grew up surrounded by music. Her dad, who writes his own music, converted part of the family home into a studio; and her sister, emerging R&B singer Mila J, was a member in '90s R&B group Gyrl, along with another of Aiko's older sisters. By the time Jhené was 13, she had a deal with Epic Records.
With Aiko marketed as the spunky cousin of a member of short-lived boy band B2K (her labelmates), her sassy pop-R&B tracks were packaged with the group, and she often toured with them. But the release of her debut album was plagued by label troubles, and she asked to be released. After finishing high school, Aiko had a daughter and began working with producers from her teenage years while moonlighting as a waitress.
In 2010 she began collaborating with Top Dawg Entertainment's roster of rappers and appeared on early mixtapes from L.A. rappers Kendrick Lamar, Schoolboy Q and Ab-Soul, before each had their own breakout moment. Her 2011 mixtape, "Sailing Soul(s)" led to a deal with hip-hop producer No I.D. (Kanye West, Nas, Common).
The self-released project, which also featured collaborations with West, Drake and Miguel, arrived at the time when the sounds of R&B had evolved past conventional boundaries.
As Miguel, Frank Ocean and the Weeknd were helping define a growing movement of forward-looking R&B, Aiko began to build a cult following as one of the few women who were part of the conversation. (In 2013, the Grammys established the urban contemporary album category in view of this musical shift.)
Aiko built a cult following with deeply confessional yarns that include ethereal melodies and tightly wound raps. And while her peers make club hits, Aiko looks inward.
She sings about heartbreak, loss and loneliness, but also existential experiences and her love of cannabis. She wears her philosophies on her skin, with a number of tattoos including a Japanese rising sun, a sprawling lotus blossom, Buddha, a favorite Bible verse, the wheel of Dharma and the phrase "Why Aren't You Smiling?" -- the last words her brother Miyagi tweeted before he died of cancer in 2012 (it inspired a track on her LP).
"Knowing that more people are listening, I only want to be progressive. I only want to grow," she said. "The extra attention validates my reason to want to do more with the music. I want to be consistent and remain myself -- being myself got me nominated, so I guess I'm going to stick with that."
Being able to float between R&B and rap allowed her to become a hip-hop "it girl," offering sultry, expressive hooks on singles from J. Cole, Wale, Big Sean, Drake and Common (their collaboration "Black Majik" was nominated in the Grammys' rap category), adding to her growing buzz.
Her EP was a Top 10 debut on the Billboard 200 and featured Aiko's first big hit, "The Worst," a mainstay on urban radio (and a nominee for R&B song). That preceded her years-in-the-making full-length "Souled Out," which debuted at No. 3 when it was released in September. And she's already at work on new music.
"The album that I put out last year, all those songs I had been working on for so long, it's old to me now," Aiko said. "I'm in a different place now with my writing and my singing. Everything has progressed and that's what I always want to do. Everything should trump the last thing."
Later, Aiko retreated to a studio room. Her engineer played part of a track she may lend a vocal to for a remix (the collaboration could introduce her to a wider audience). She pulled out a pad of paper and began humming a melody and writing lyrics.
"Even though I've been doing this since I was 13, I feel like this is the first time that I'm in it and 100% focused," she admitted. "It's all working for me, so I need to work for it."
Read more:
Sam Smith, Rihanna and Ed Sheeran among those to watch
Quiz: How much music history do you know?
Transcript of Bob Dylan's MusiCares Person of the Year speech
Twitter: @GerrickKennedy
---
Inside the business of entertainment
The Wide Shot brings you news, analysis and insights on everything from streaming wars to production — and what it all means for the future.
You may occasionally receive promotional content from the Los Angeles Times.