Hate holiday music? A strategy for surviving a month of incidental-music torture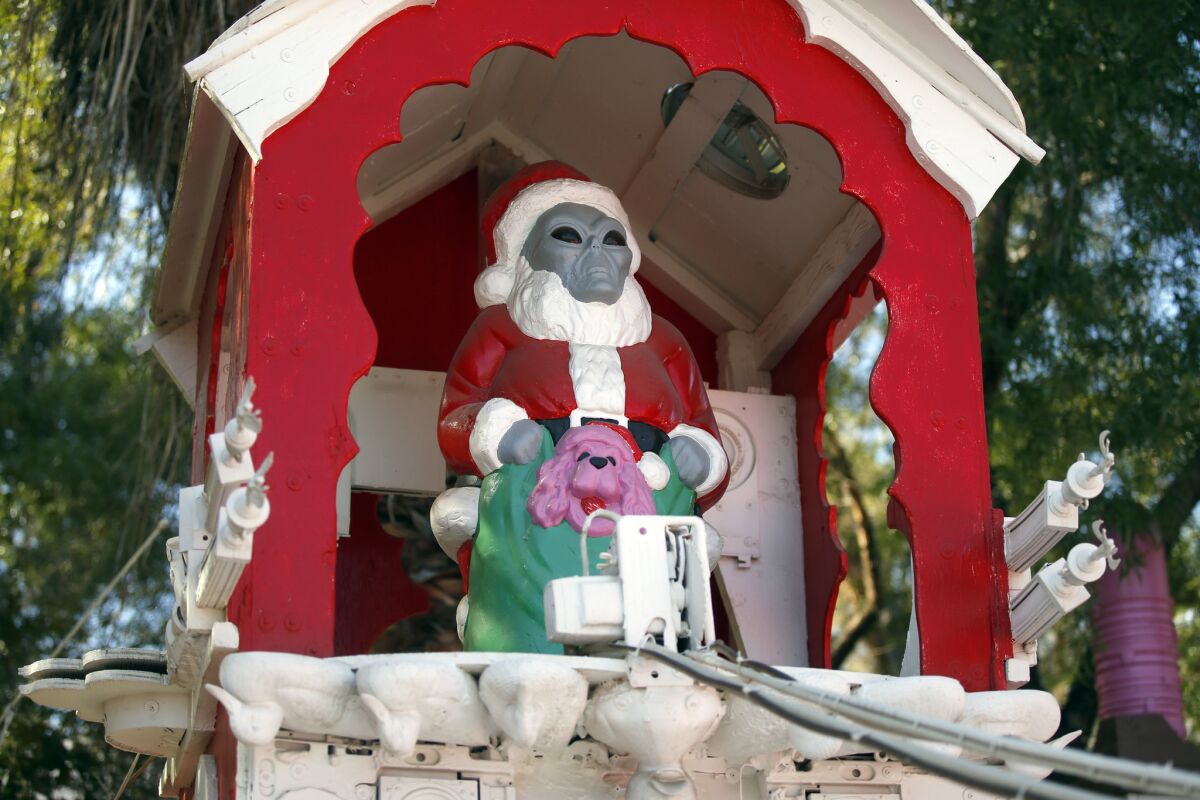 Whether you like it or not, your December playlist will be filled with holiday songs.
In malls, grocery stores, gas stations, big-box retailers, insidious commercials, Grandma's house and looping in your brain, Christmas songs lie in wait to infect the head with holly jolly standards. Whether you hate or love "Little Drummer Boy," your sonic December playlist will feature it at least a dozen times.
Unless you're a shut-in, you're doomed. But with practice and ninja-like focus, it's possible to train the brain to deflect the most despised carols by replacing them with better or weirder versions of the same songs. Which is to say, listening to Dengue Fever's version of "Little Drummer Boy" is way better than Pentatonix's. The trick: Find a good, bad or ridiculous version of your most hated carols and listen to that one until it eclipses all would-be challengers.
See the most-read stories in Entertainment this hour >>
Below: Renditions certain to warm your cockles -- while helping to banish insidious standards.
Twelve Girls Band, "White Christmas"

We all know Bing Crosby's version, but the rendition by the Chinese group 12 Girls Band harnesses another weapon, numerology, in its quest for perfection. The group was gathered by its founder on the principle that his female ensemble would need a dozen members per beliefs conveyed in Chinese mythology. (Which is to say, it's a coincidence that there are also 12 days of Christmas.)



Dengue Fever, "Little Drummer Boy"

The Los Angeles band Dengue Fever has long mesmerized fans with its shimmering take on Cambodian pop music. Its cover of "Little Drummer Boy" offers prime evidence of the band's skills. Featuring the beguiling voice of lead singer Chhom Nimol, Dengue's take carries that sing-song melody into strange terrain. This year Dengue Fever is offering its rendition as a free download on its website; it's .



Jacob Miller, "Silver Bells"

Given the volume of non-Christmas "trees" that marijuana smokers will no doubt be decorating this season, a Rasta-style take on "Silver Bells" can likely banish Burl Ives' earworm version after a single take (or toke). Miller earned his name during early sessions at Jamaica's landmark Studio One, appears on some ace King Tubby dubs and earned success as vocalist for Inner Circle. Tragically, he died in a car crash at age 27, but his voice lives on.



Ying Yang Twins, "Deck Da Club"

"Deck the Halls" is a bad carol/Fa la la la la, la la la la/The sing-song tune will kill your so-oul/Fa la la la la, la la la la." Ying Yang Twins are Atlanta's best crunk duo, and they tackled the song in the early '00s when they turned it into "Deck Da Club." It's horrible, but so is "Deck the Halls." In this case, though, two wrongs make a right.



Universal Robot Band, "Disco Christmas"

An unsung groover of the disco era, Universal Robot Band's Christmas jam has become a dance-floor favorite. Formed in the mid-1970s, the group is best known as a vehicle for Harlem producer Patrick Adams and singer Leon Burgess. No, "Disco Christmas" isn't a standard -- yet. But who could have predicted "Silent Night" would endure?



The Moog Cookbook, "Jingle Bells"

Under the pseudonyms Uli Nomi and Meco Eno, the Los Angeles musicians Brian Kehew and Roger Joseph Manning Jr. created music as the Moog Cookbook. The team issued a few records in the mid-1990s around the same time that Manning was making music as Jellyfish. (He's a longtime member of Beck's band.) Like all Cookbook covers, this take on the most overplayed song in the Christmas canon is crafted using Moog synthesizers, and honors the series of Moog-related records issued in the late 1960s.



R2D2 with Jon Bon Jovi, "We Wish You a Merry Christmas"

One of the great moments in first-generation "Star Wars" fan mythology was the late-1970s network television holiday special. Broadcast on CBS, the two-hour production is an instructive look at the birth of a national obsession. Less celebrated, but equally strange, is the 1980 album "Christmas in the Stars: Star Wars Christmas Album." In addition to the Chewbacca-crooned gem ""What Can You Get a Wookiee for Christmas (When He Already Owns a Comb?)," the record stars R2D2 singing with a young Jon Bon Jovi. His appearance, credited under his birth name, Jon Bongiove, marked the beginning of a remarkable career. That it was with a fictional robot makes the success even more wondrous.



No Doubt, "Oi to the World"

Want to crucify a perfectly pleasant song about peace, joy and universal love? There's a simple way to do it: by adding some ska-style skanking -- and a dumb pun. No Doubt's take on the Vandals' "Oi to the World" is hardly better than the cheesy version your Aunt Mildred loves. But maybe it'll erase the version you picked up while grabbing chestnuts and eggnog at Ralph's.



Booker T & the MGs, "Merry Christmas, Baby"

Granted, there are few bad versions of the soul gem, "Merry Christmas, Baby," so it's not necessarily a song you'd want to banish from your psyche. But Booker T and the MGs' take, which they issued in 1966 after the breakout success of "Green Onions," is a gorgeous, mournful instrumental version in which Steve Cropper's guitar takes center stage.



Dolly Parton, "Joy to the World"

When in doubt, consult Dolly. The queen of country music has produced her share of Christmas music, and among the best is featured on her 1990 "Home for Christmas" special. Available in four parts on YouTube, the embedded clip opens with Parton doing "Joy to the World." It's as glorious as you'd expect. If nothing else, her version will rid you of the No Doubt monstrosity currently stuck in your head (sorry).


Follow me on Twitter: @liledit
Get our L.A. Goes Out newsletter, with the week's best events, to help you explore and experience our city.
You may occasionally receive promotional content from the Los Angeles Times.