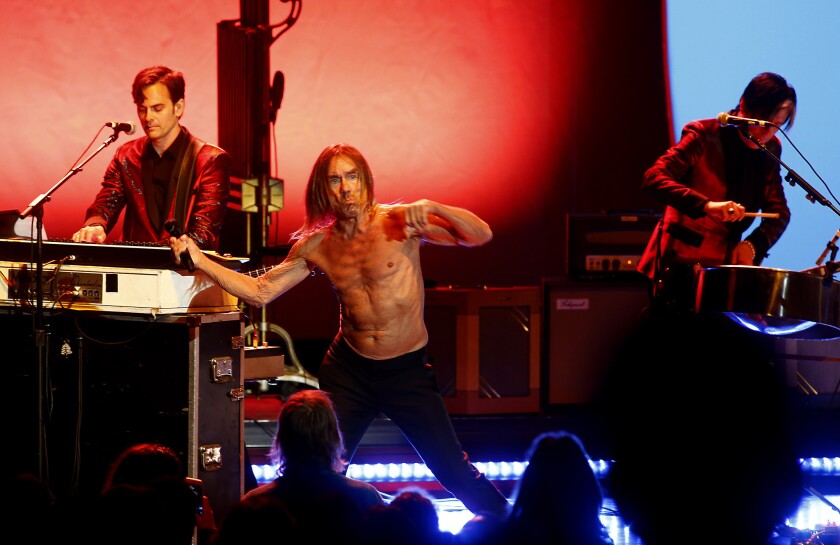 People didn't want to just see or hear Iggy Pop when he played the Greek Theatre on Thursday night. They wanted to touch him too — to put their hands on this proto-punk icon as though they could borrow some of the life force that continues to make him, at age 69, one of music's most thrilling performers.
And Pop seemed happy to accommodate them. Strolling through the crowd without a shirt as he sang his song "Fall in Love with Me," the singer made no attempt to bat away the fans grasping at his ropy torso. Eventually he found his way back to the stage, shimmied up next to a large speaker cabinet and rubbed the length of his body against it, crotch first.
Why deprive an inanimate object of what so many humans were clearly after?
Thursday's sold-out concert was the final U.S. date of a brief tour behind "Post Pop Depression," an impressive new album that Pop has hinted may be his last. To make it, the singer teamed with Josh Homme of Queens of the Stone Age, who set Pop's mordant lyrics about time, work and technology against the kind of tough but luscious hard rock for which he's known; in the studio they were joined by Dean Fertita (of Queens of the Stone Age and the Dead Weather) on guitars and keyboards and Matt Helders (of Arctic Monkeys) on drums.
We've seen versions of this setup before, in which an admiring acolyte is charged with revitalizing a fading elder. Think Jack White with Loretta Lynn, or Questlove with Al Green. Yet throughout "Post Pop Depression," Pop is the one spewing intensity in songs like "Gardenia," about a woman with a shapely posterior and a "powerful back," and "Paraguay," in which the singer rails against the fear-mongering of the Information Age. Homme and his mates, meanwhile, provide a sturdy foundation for Pop's antics — not unlike the above speaker cabinet, in other words.
At the Greek, where the singer's formally attired band included his studio accomplices along with bassist Matt Sweeney and guitarist Troy Van Leeuwen, Pop mixed vivid renditions of songs from the new album with material that sprang from an earlier collaboration: his work in the late 1970s with David Bowie.
Together the two made Pop's solo albums "The Idiot" and "Lust for Life" after the Stooges broke up (for the second time), and Thursday it was easy to identify the impact that tunes like "Sister Midnight" and "The Passenger," with their slashing guitars and heavy-bottomed grooves, had made on Homme.
Whatever song they were performing, though, Pop kept himself the center of attention: a whirling, thrusting, chest-beating rock star whose enactment of aggression was never anything but totally cheerful.
"I'll show you my undies," he said at one point when his pants slipped down far enough to reveal a pair of bright-red briefs. Then he unzipped all the way, making good on the offer.
Twitter: @mikaelwood
---