Review: Janet Jackson's new 'Unbreakable' includes a tender tribute to Michael
Janet Jackson is well aware of the job at hand on her first album in seven years, and she doesn't waste any time facing up to it.
"Hello," she coos in the opening track of "Unbreakable." "It's been a while. Lots to talk about."
No kidding. In 2009 Jackson's brother Michael died. In 2012 she married a Qatari tycoon, Wissam Al Mana. And more recently she's seen her signature sound – lush and whispery but never forsaking a good beat – come back into vogue in the work of younger singers like Tinashe and FKA Twigs.
"The world keeps calling me," Jackson sings in "Well Traveled." With "Unbreakable" she's finally offering her reply.
SIGN UP for the free Essential Arts & Culture newsletter >>
For help (and perhaps a needed sense of security) she enlisted Jimmy Jam and Terry Lewis, the inventive producers with whom she recorded her most important music, including the militaristic pop-funk of "Rhythm Nation 1814," the slithering neo-soul of "The Velvet Rope" and the giddy disco revivalism of "All for You."
Together on "Unbreakable" they create grand-scaled but meticulously detailed songs that almost sound as though they've been under construction since 2008. In the title track, a sampled soul vocal loops over a busy bass groove before giving way to Jackson's lush overdubbed harmonies, while "Night" keeps layering new textures – including a tart guitar solo seemingly inspired by Jam and Lewis' early days in Prince's orbit -- atop a sturdy four-on-the-floor stomp.
See the most-read stories in Entertainment this hour >>
For "After You Fall," a ballad of steadfast devotion, Jam and Lewis go more intimate, clearing away everything but Jackson's voice and a tolling piano figure. Yet Jackson does so much with her singing – bending notes, applying vibrato, turning her breath into a percussive element just like her brother used to do – that the result is no less stimulating. Ditto the album's first single "No Sleeep," a plush slow jam in which she murmurs as seductively as she did on her 1993 album "Janet," a high-water mark of steamy bedroom R&B.
Pop singers and siblings Janet Jackson and Michael Jackson take a break during a portrait session on July 7, 1978, in Los Angeles. Janet's first album would be released in 1982.
(Michael Ochs Archives/Getty Images)
After the release of her fourth studio album, "Janet Jackson's Rhythm Nation 1814," Jackson performs in New York as part of her first headlining concert tour.
(KMazur / WireImage)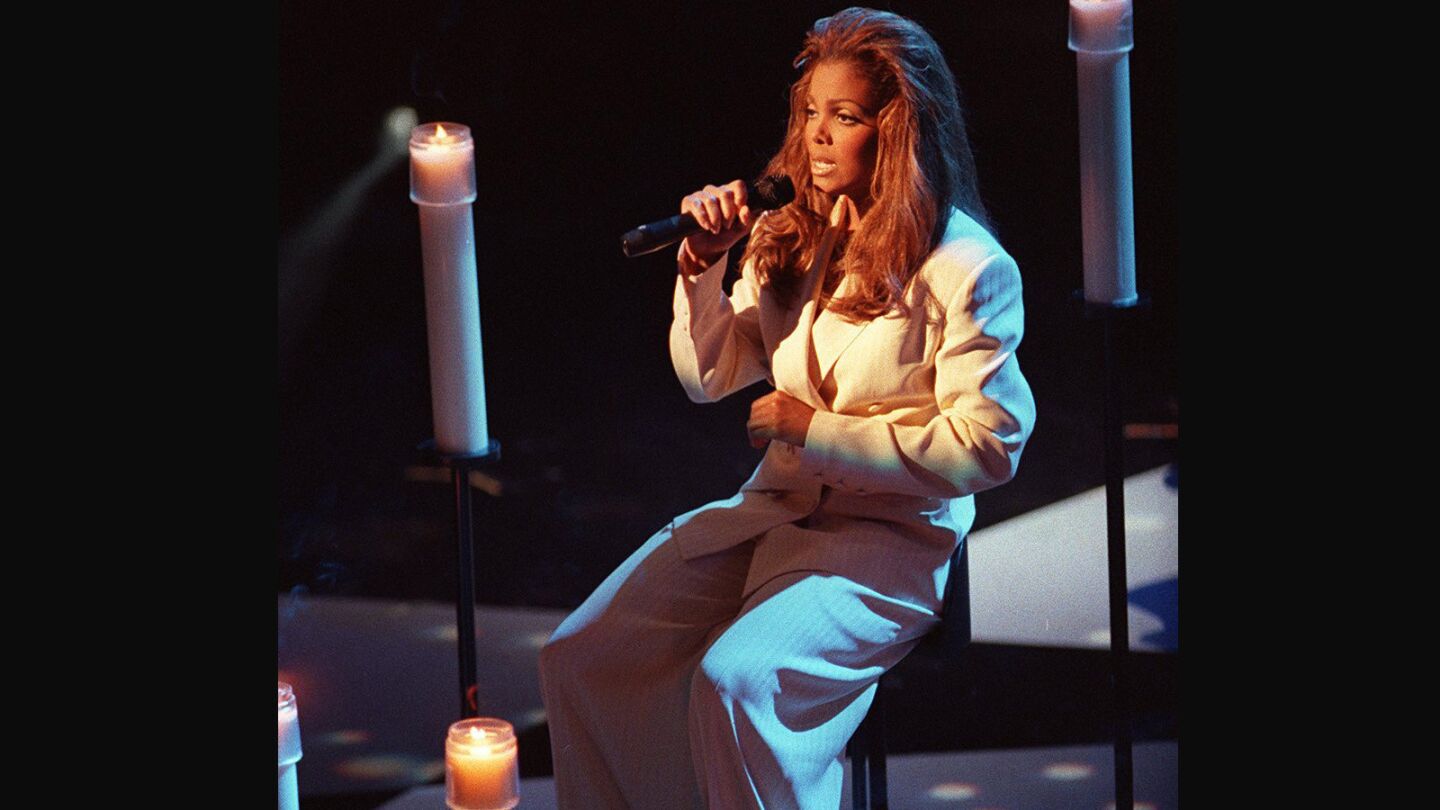 Jackson sings best original song nominee "Again," from John Singleton's film "Poetic Justice," in which she also starred.
(Meyer, Rick / Los Angeles Times)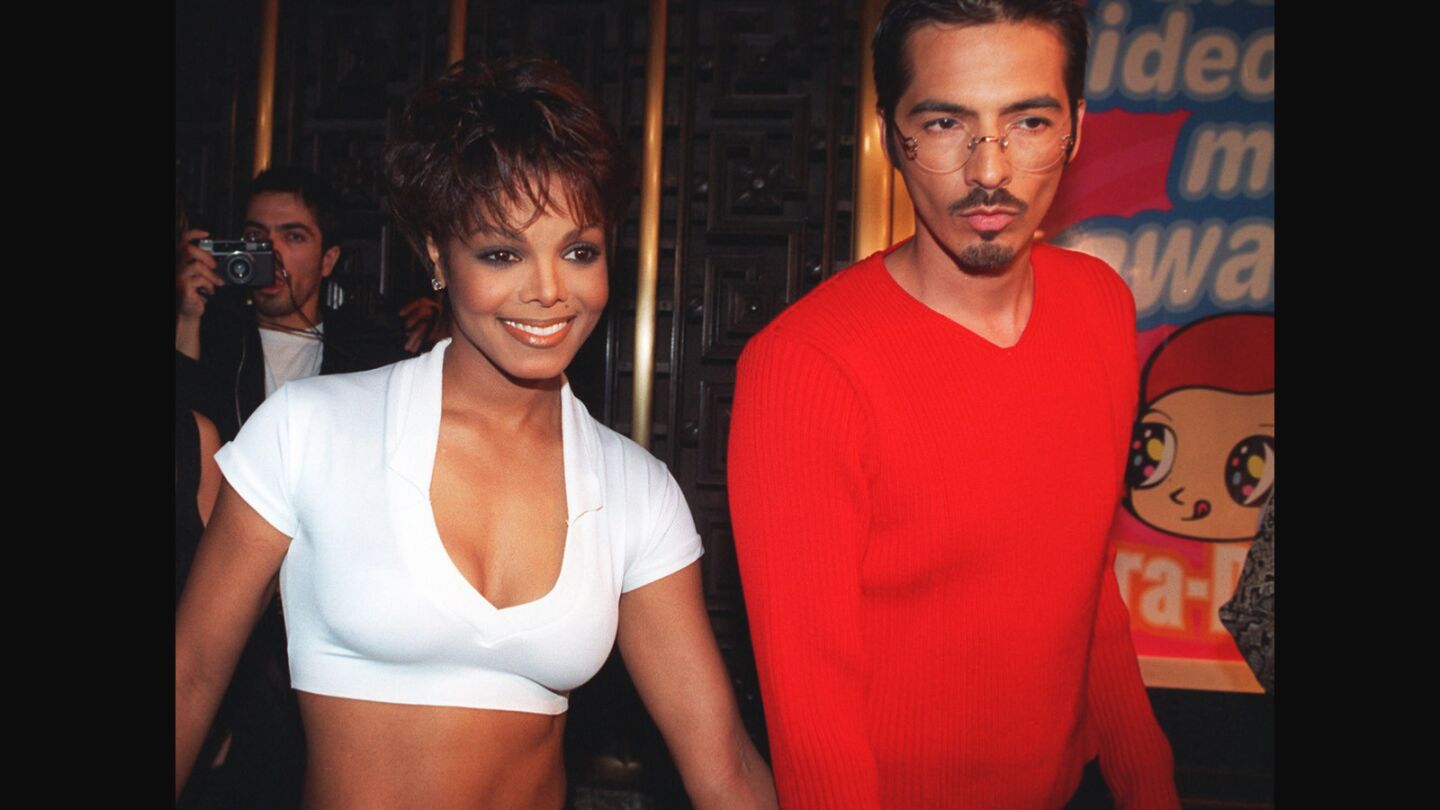 Janet Jackson and Rene Elizando arrive at Radio City Music Hall for the MTV Video Music Awards on Sept. 7, 1995. Jackson, along with brother Michael, was nominated for best video of the year for "Scream."
(Adam Nadel / AP)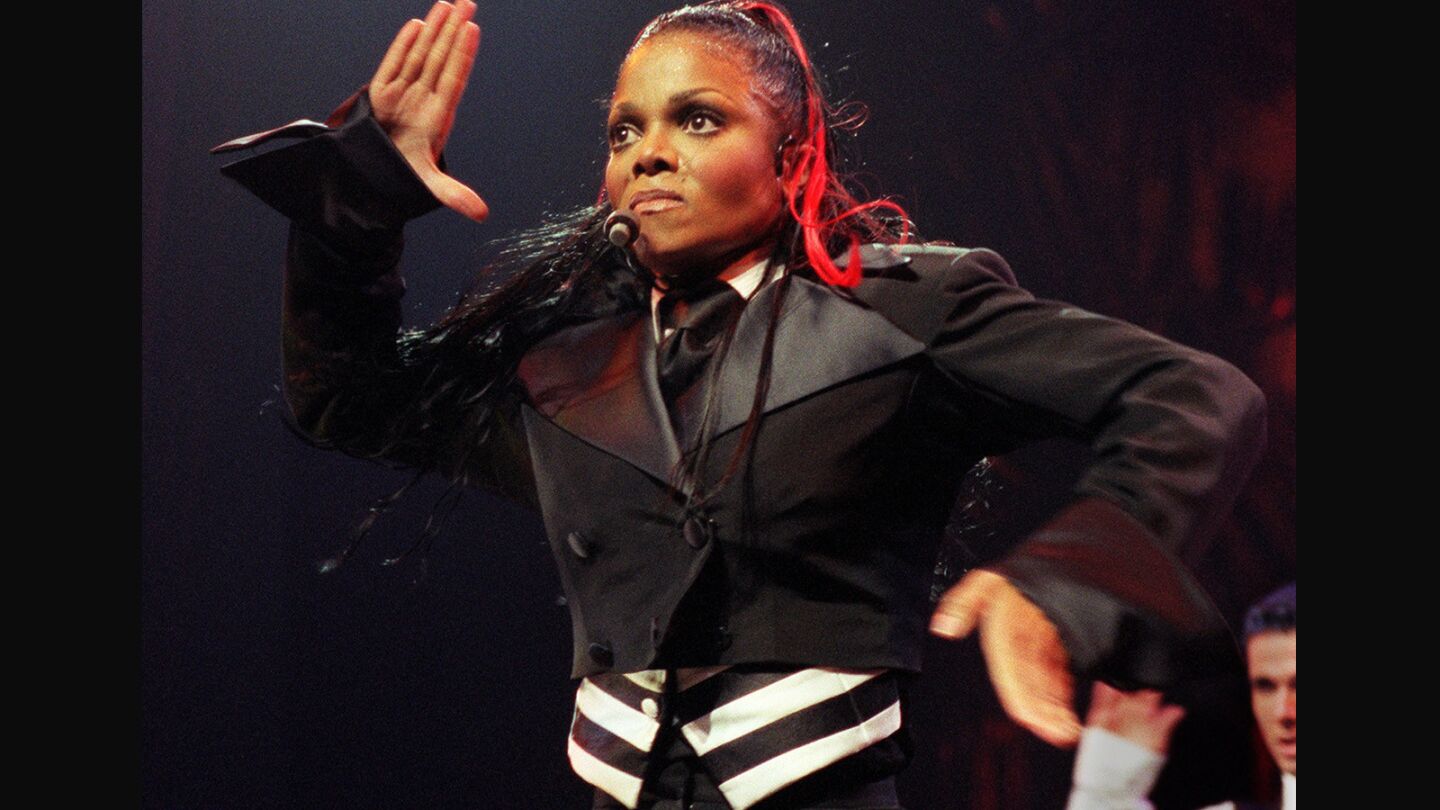 Janet Jackson in concert at the Forum on Aug 20. 1998, as part of her Velvet Rope World Tour.
(LS¥Lori Shepler / Los Angeles Times)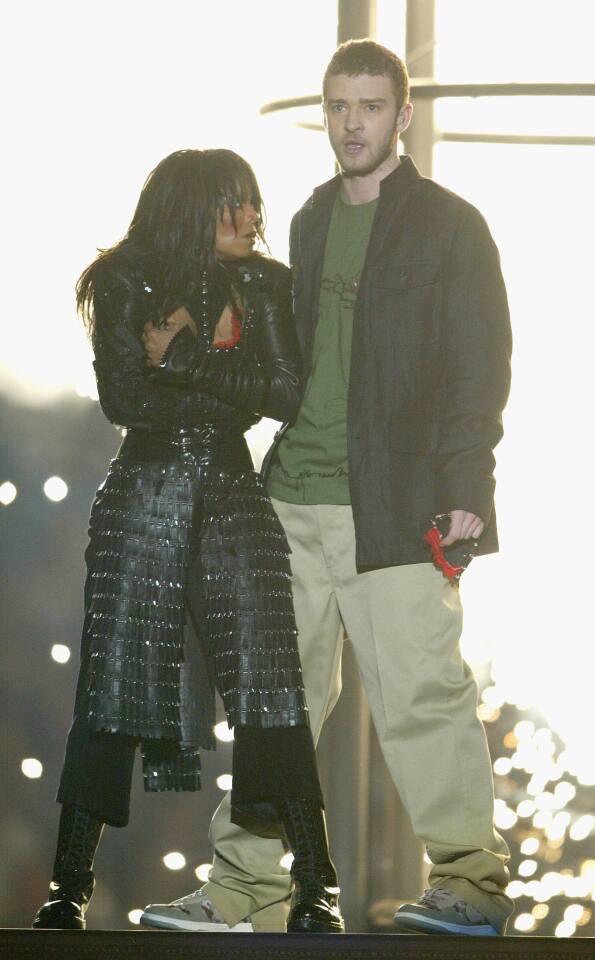 Jackson covers her breast after Justin Timberlake tore off part of her costume during the Super Bowl halftime show. Despite public apologies, her career suffered after the incident.
(Andy Lyons / Getty Images)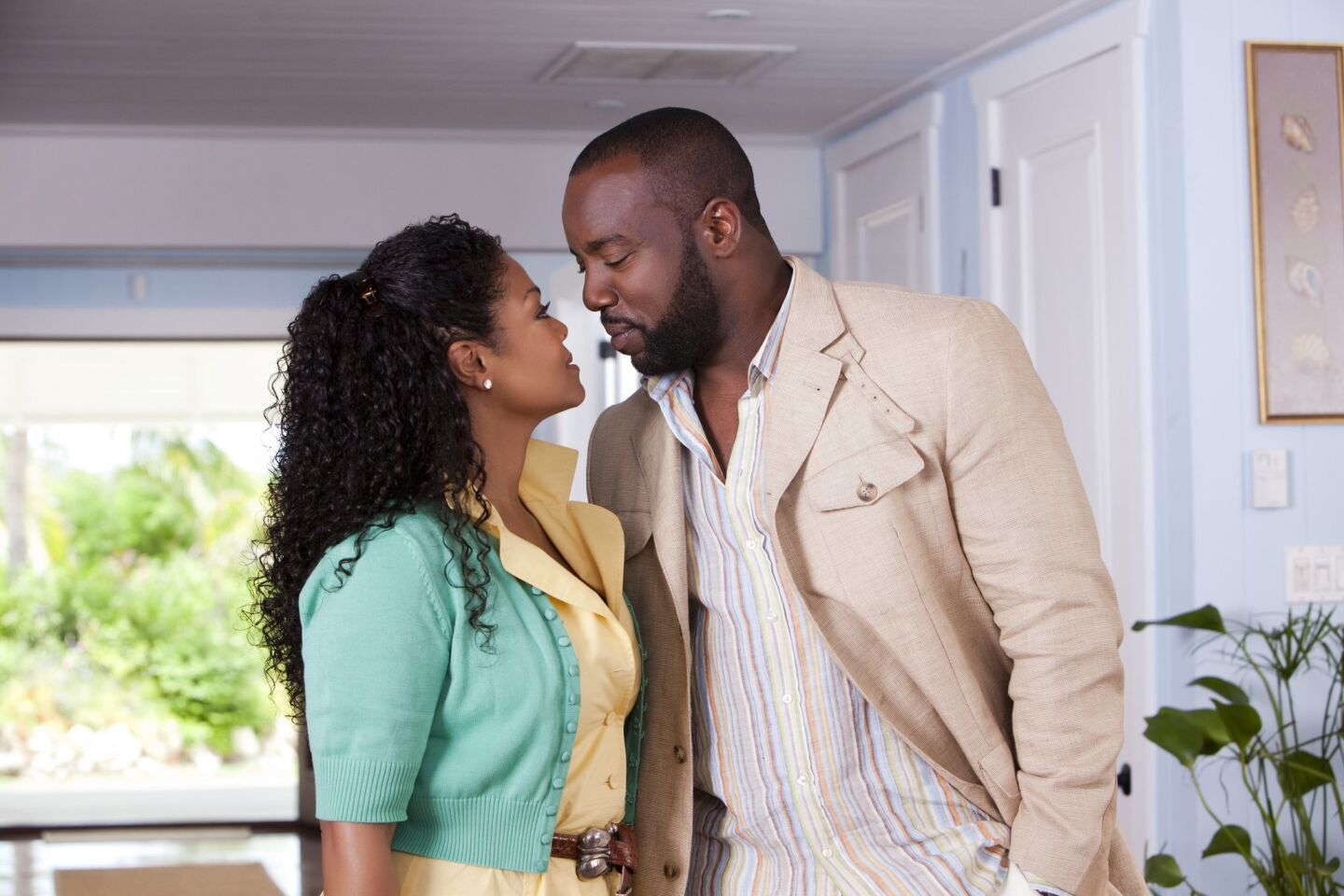 Janet returned to her theatrical roots in 2007, starring in Tyler Perry''s ""Why Did I Get Married?"" The film exceeded expectations, becoming No. 1 at the box office opening weekend and earning $21.5 million.
(Quantrell Colbert / AP)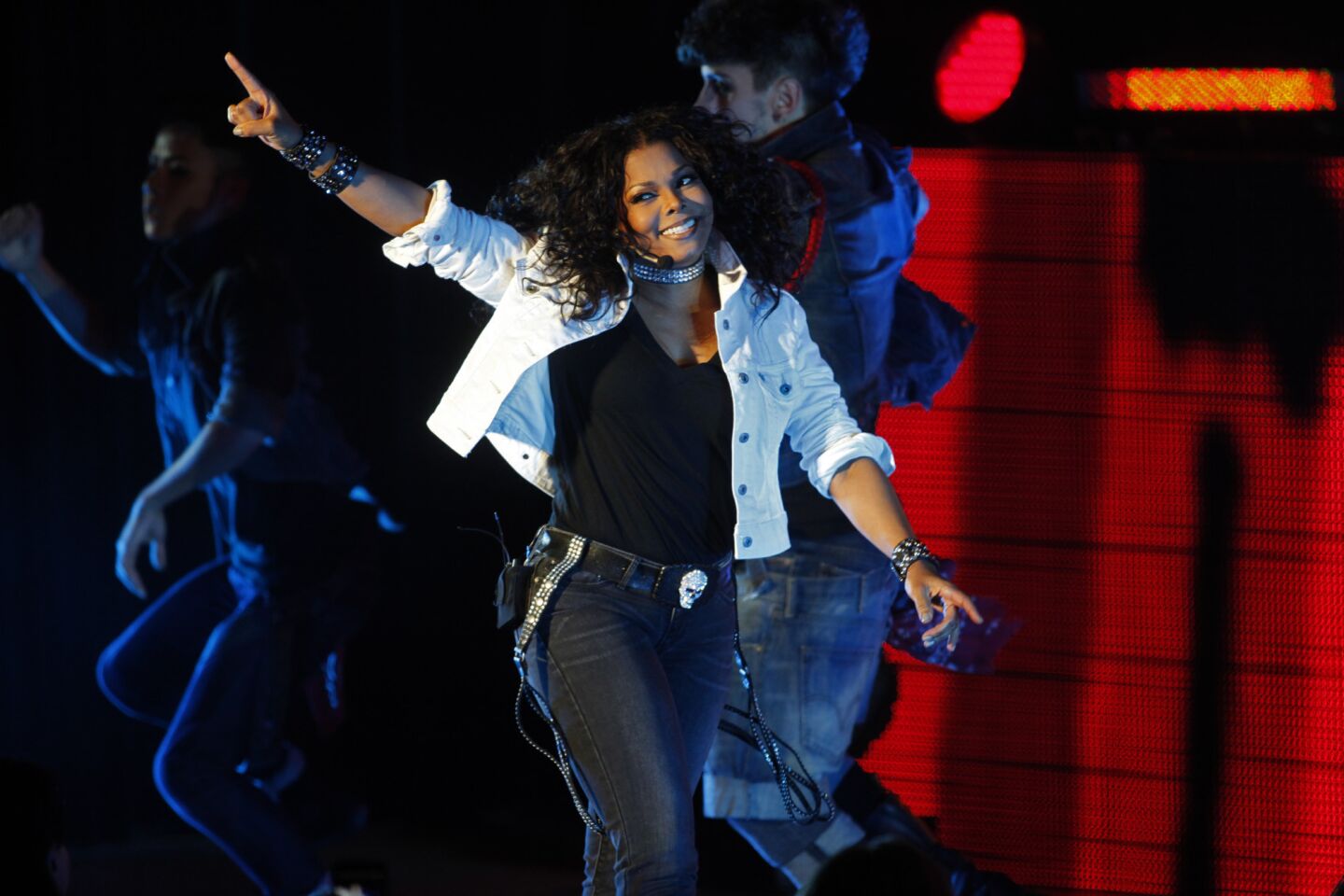 Jackson performs at the Greek Theater on Sept. 1, 2011.
(Genaro Molina / Los Angeles Times)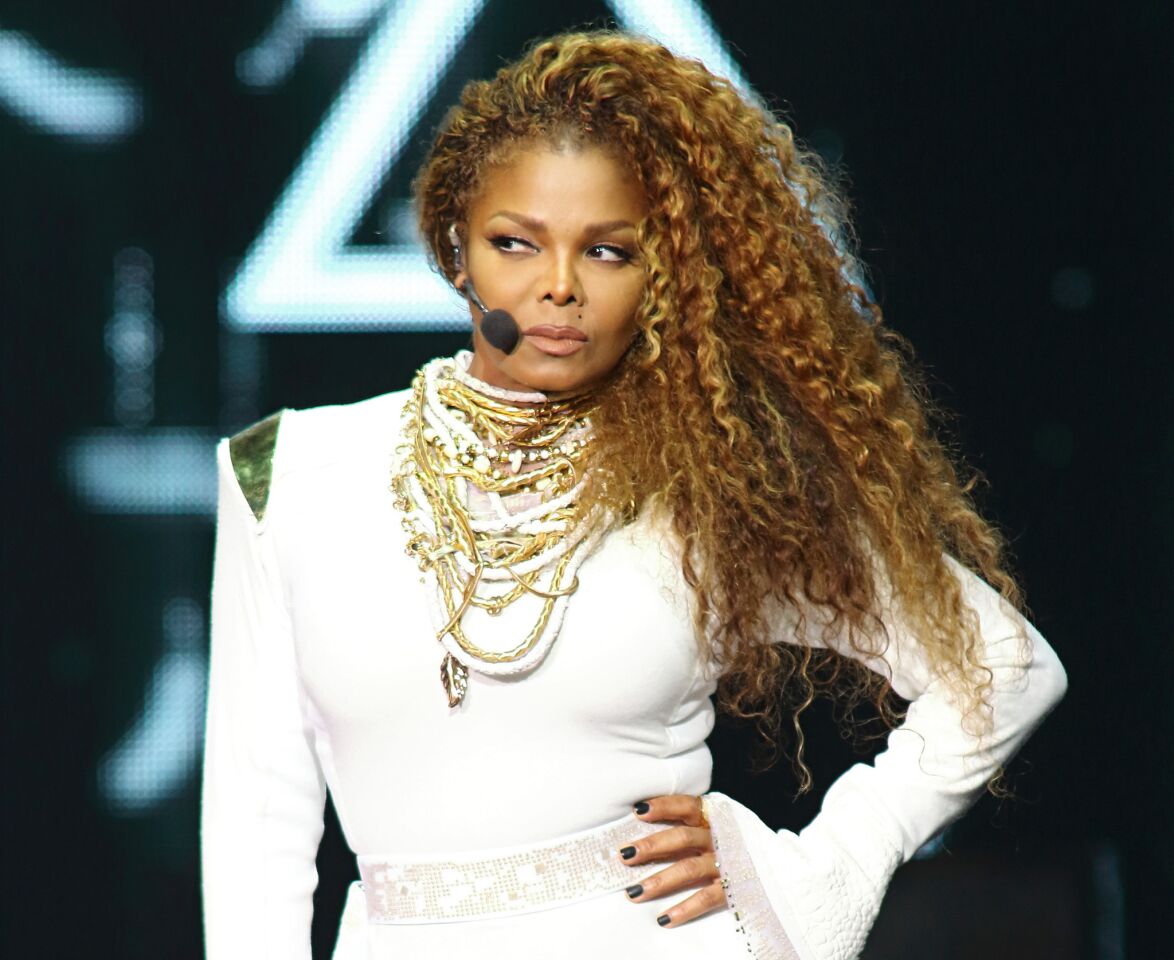 Jackson performs Sept. 20 on her "Unbreakable" World Tour in Miami. Her latest album, "Unbreakable," is due out any minute now.
(Alexander Tamargo / Getty Images)
But if the music makes for delicious ear candy, Jackson isn't content to leave it at that. She also has messages to deliver, as in "The Great Forever," where she addresses the widespread curiosity about her romantic life. "I don't see why loving someone or what I do seem so radical to you," she sings before turning more combative: "What you think doesn't mean nothing at all / Doesn't change who I am."
"Burnitup!", a boisterous duet with Missy Elliott, advises Jackson's many admirers to watch the throne, lest they assume her spot is free for the taking. And "Broken Hearts Heal" is a tender tribute to her brother, albeit the young, carefree version of the superstar we later came to know as a victim of his fame.
"Amazing times while we were growing," she sings, describing a childhood in which she and her siblings "made up songs to do our chores to." Later in the song, which channels the exuberance of Michael's classic work, she hints at her devastation over his death – "It was in summer that you left me / The fall and winter never felt so cold" – but finds resolve in the idea that they'll meet again "in the next life."
Elsewhere on "Unbreakable," Jackson can get a little blurry. "Take Me Away" has a vivid electro-rock arrangement but vague words about looking for escape with a lover.
And the album isn't without some residual trend-chasing left over from her previous record, "Discipline." It's hard to hear "Shoulda Known Better," an EDM-style banger full of do-gooder platitudes, as anything other than a wannabe version of Katy Perry's "Firework." (Jackson is better off cribbing from herself in "2 B Loved," which replicates the luscious digital soul of her great 2000 hit "Doesn't Really Matter.")
For the most part, though, "Unbreakable" shows off a quality even more valuable in a pop diva than the durability its title claims. It suggests Jackson is unsatisfied.
Twitter: @mikaelwood
---
Get our L.A. Goes Out newsletter, with the week's best events, to help you explore and experience our city.
You may occasionally receive promotional content from the Los Angeles Times.