Three takeaways from Jay Z's NYU Tidal talk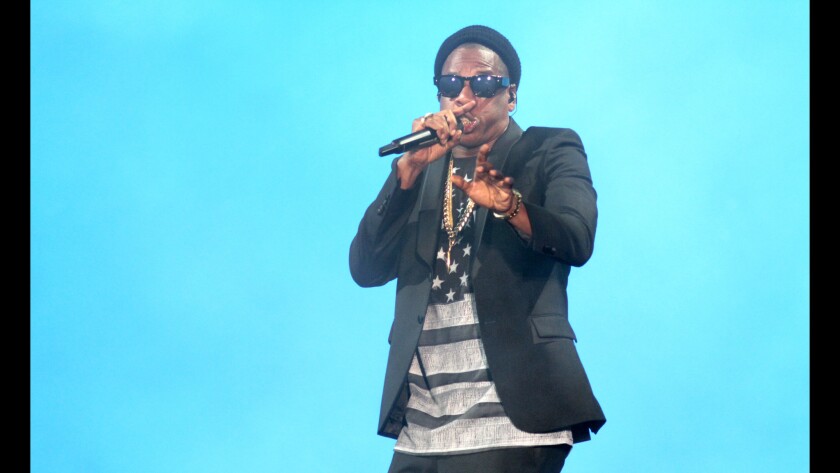 Following their bombastic announcement earlier this week, Jay Z and his Tidal partner Vania Schlogel sat down with NYU professor Errol Kolosine at the Clive Davis Institute of Recorded Music on Wednesday to discuss their new, already controversial streaming service.
The pair intended to shed some light on how the service plans to add value to a sphere that has been blamed for both the demise of sonic fidelity and artists' livelihoods, as well as defend and explain their well-meaning intentions and clarify the vagueness that still surrounds the actual business plan behind the splashy, big-name press conference Monday.
Here are the three main takeaways from the chat.
1. We still don't what "higher royalties" means.
One of Tidal's major selling points as an artist-friendly streaming service was a promise to pay out more in royalties per stream. Even though Spotify says it pays out 70% of its income in royalty rates, Spotify's per-stream average can mean comically low paychecks for all but the largest artists; rates are between $0.006 and $0.0084 per stream.
Jay Z repeatedly promised that "currently we pay the highest royalty percentage." (The company says 75% of revenue, which technically is higher than Spotify's, goes back to artists.) "If just the presence of Tidal causes other companies to have better pay structure, or to pay more attention to it moving forward, then we've been successful in one way," he said. But he did not specify how, exactly, those rates were better, beyond that percentage. Even if they doubled Spotify's instead of upping it by 5%, that still doesn't add up to much of a paycheck for artists whose record and single sales have been replaced by fans' streaming habits.
2. Jay's aware that it's about more than just the performers.
One encouraging anecdote came as Jay discussed the contents of the master document (or "declaration") his Tidal co-owners made such such a big deal of signing. For all the tumult over low artist payouts on streaming services, songwriters and producers get even less of that pie. He specifically cited the case of Bobby Shmurda's "Hot ...," a YouTube hit that earned its artist a major-label deal. Its producer, Jahlil Beats, got little recognition.
"If you provide a service, you should be compensated for it. And not just artists -- just think about the writers and the producers," Jay said. "What about the writers who do that for a living? The producers? That's it for them... (T)here are thousands and thousands of those sorts of stories of someone who worked at their craft, worked really hard at the studio, they did their job and people loved it and consumed it, and they just went home. I think we'll lose a lot of great writers in the future because [without royalties] you have to do something else."
3. Sound quality matters for a variety of reasons, but only for some.
Tidal's two tiers -- a standard definition version at $9.99/month and a lossless version at $19.99 -- have been one of the distinguishing elements of Tidal's launch. As a musician, Jay obviously cares about music being received with the quality its artists intended.
"There was a time when I walked into a mastering session and we'd finally gotten Kanye to get on a plane, because he was at the end of his album, and there were 70 mixes of 'Stronger' and 'Good Life.' Seventy. So imagine a person goes through 70 mixes just to get something right, the way they believe is right, in their mind, and you just put into a compressed file and you just send it out," he said.
But perhaps even more compelling is how they're pitching Tidal's lossless tier as part of a turn toward luxury audio as a lifestyle product.
For many fans, "if you have a $10 pair of headphones, you should probably buy the $9.99 plan," Jay said.
But Schlogel said that "what's also interesting is the people who, maybe not all music students, but they'll pay $10,000 to kit out their house with speakers ... and then put compressed files through those speakers. Which blows my mind, because I'm like, 'Hmm.'"
If they can reach the same people who spend top dollar on Beats and Sonos because they perceive it as an expressive part of their cultural personality, they might have a point. But it's not like fans who are invested in audio quality have any lack of options for high-quality musical source material. The allure of streaming is its convenience and reach, and you can't put Tidal on your living room mantlepiece to advertise your discerning tastes.
Artists may love Tidal's fidelity as a square-the-circle approach to quality streaming, but it's far from clear that most fans care nearly as much.
Follow @AugustBrown for breaking music news.
---
The complete guide to home viewing
Get Screen Gab for weekly recommendations, analysis, interviews and irreverent discussion of the TV and streaming movies everyone's talking about.
You may occasionally receive promotional content from the Los Angeles Times.