Opinion: What Jay Z's Tidal can and cannot do for musicians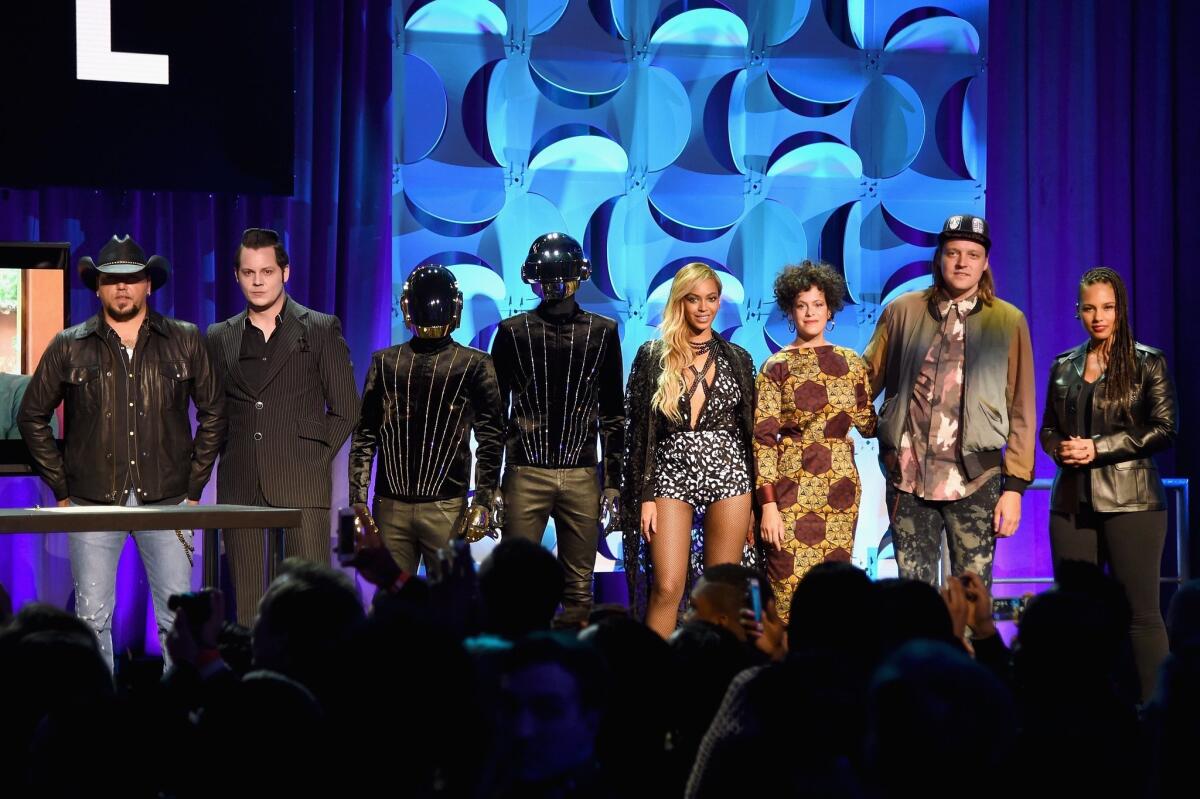 The platinum-selling recording artists behind the splashy relaunch of Tidal, a high-fidelity online music service, emphasized that it would be better for musicians than other streaming services have been -- a thinly veiled reference to Spotify and Pandora, which offer unlimited amounts of ad-supported listening for free.
It may very well be better for Tidal's A-list owners, whose ranks include Jay Z, Kanye West, Rihanna, Beyonce and Madonna. But Tidal will have a considerably harder time improving the lot of rank-and-file performers and songwriters who don't have shares in the company.
The main problem for recording artists isn't that streaming services share too little of their subscription and advertising revenue. Subscription services such as Spotify pay roughly 70% of their gross revenue to copyright owners; Spotify says it alone has paid more than $2 billion in royalties since its launch in 2008. Online radio service Pandora, meanwhile, has paid about 50%, including more than $1 billion over the past three years.
Instead, one of the biggest challenges for artists is how little they get from the labels that hold the copyrights to their recordings. Typically, labels treat streams the same way they do sales, which means artists receive 10% to 20% of their label's take. But those payments don't start until after the label has recovered the advances paid and expenses covered, which for some artists happens around the 12th of Never.
Worse, a portion of the money the labels extract from subscription services as an annual advance never gets shared with artists because it's over and above the royalties earned. This "digital breakage" can amount to a sizable percentage of the money labels collect.
That's why Tidal's promise to pay higher royalties than other services do (based on higher per-month subscription fees) may not move the income needle for the vast majority of artists.
"What's stopping artists from getting paid on Spotify is not that Spotify is corporate owned, it's that the artists have bad contracts with the labels," said Aram Sinnreich, an author and music-industry analyst. He added that the major labels aren't evil, they're just "massively inefficient" in their approach to finding and marketing potential stars.
It almost goes without saying that Tidal can't rewrite artists' contracts. And while big-name acts such as Jay Z (born Shawn Carter) may be able to win better deals from the labels, their less famous colleagues don't have that kind of leverage.
(Songwriters typically get much better splits from music publishers than recording artists get from the major labels. But the lion's share of the royalties paid by online music services goes to the labels, leaving music publishers and songwriters with a much smaller percentage. Publishers that aggregate a large number of songwriters' copyrights can still collect a fair amount of money, but individual songwriters aren't so fortunate.)
A second hurdle is that subscription services need to make more money so they can pay more royalties. There are two ways to do this: They can charge their customers more, and they can sign up more paying customers. Those two goals aren't necessarily mutually exclusive, but they don't play well together.
Tidal is focusing on the former, limiting free use to a one-month trial and adding an especially high-fidelity ("lossless audio") tier that costs $20 a month. That's twice as expensive as Tidal's standard plan and $5 more per month than a similar service being rolled out by Deezer.
Doubling the take per customer to $240 a year would represent a huge increase over the amount the average consumer spends on music. But it won't make a noticeable difference in industry revenues unless and until Tidal catches on with millions of consumers. The former owner of Tidal reported that it had all of 17,000 paying customers at the end of January. If Spotify and its 15 million paid subscribers generate small royalty checks, the ones Tidal writes today must be microscopic.
Tidal's decision to forgo a free tier -- something Apple reportedly plans to do as well with its forthcoming subscription plan -- could help the major labels persuade other online services to end their extended free offerings. But that's potentially a double-edged sword. One industry insider, speaking on condition of anonymity because of the sensitivity of the information, said his service significantly increased the number of paid subscribers when it started offering a lengthy free tier. That's because vastly more people tried out the service.
One reason for lengthy free trials is to get people used to the idea of having unlimited access to an enormous online jukebox. But it's not clear that the average consumer sees the value in paying money for music they can't keep, particularly when it costs more than they've been spending annually on CDs and downloads.
In lieu of a free tier, Tidal is counting on its exclusive content to attract consumers, a tactic that's been tried by every service that came before it. (Anyone remember the "Napster Sessions?") Beyond that, the service offers a list of features painfully familiar to anyone who's played around with Spotify, Rdio, Beats, Rhapsody, Slacker, Deezer or any of the other entrants in this field, such as curated playlists, a recommendation engine and portable downloads.
"The industry as a whole has been challenged to get consumers to say, 'I'll spend … $9.99 a month for music,'" said Russ Crupnick, an industry analyst at MusicWatch. There's no telling whether eliminating the free tier or offering exclusive content will prompt consumers to make that leap faster than they've been making it, he said, adding that the answer might be in making it significantly easier for people to pay.
Tidal's owners haven't revealed who holds how many shares in the company, but the artists in the ownership group certainly have more say over the platform's policies than they do over any other music service's. Their stakes may prove to be worth a significant sum too if Tidal reaches critical mass, even if the service finds it as hard to get out of the red as every other streaming music company has. That's because the companies are valued prodigiously; Pandora, for example, has a market capitalization of almost $3.4 billion despite having lost more than $100 million over the last three years.
That's great for Jay Z, who bought the company behind Tidal this year for $56 million, and other artists who wind up with equity stakes. For other artists to benefit, though, the owners will need to help them find a way to capture more of the economic activity generated by their music.
Peter Csathy, a former executive at MusicMatch who now runs Manatt Digital Media in Los Angeles, noted that new services spring up all the time that enable artists to engage directly with their fans. Such services could be integrated into Tidal to give artists new ways to connect with their audience, and for the audience to compensate them, Csathy said.
"Subscription streaming services are really opening the door to more and more music consumption," but it's up to artists to take advantage of the opportunities that this presents, Csathy said. "Can a streaming service like this do things for an artist that haven't been done before? I absolutely think the answer is yes."
------------
FOR THE RECORD
April 1, 10:33 a.m.: An earlier version of this article misspelled Jay Z's given name, Shawn Carter. HT to Journo1 for spotting the error.
------------
Follow Healey's intermittent Twitter feed: @jcahealey
A cure for the common opinion
Get thought-provoking perspectives with our weekly newsletter.
You may occasionally receive promotional content from the Los Angeles Times.