Live: Kygo takes the Greek Theatre to the tropics of EDM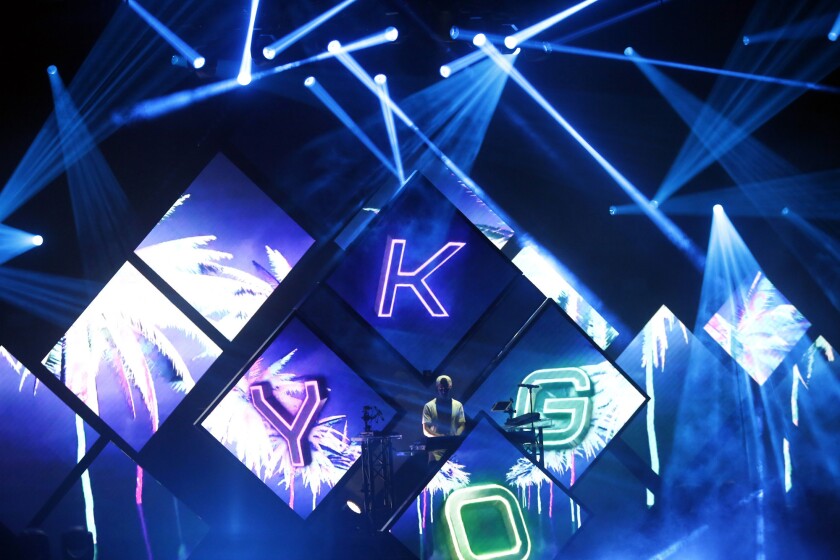 Stage graphics let the audience know who's onstage as Kygo performs.
(Genaro Molina / Los Angeles Times)
Norwegian producer Kygo performs on a smoky stage.
(Genaro Molina / Los Angeles Times)
Kygo acknowledges concertgoers at the Greek.
(Genaro Molina / Los Angeles Times)
Closeup views of Kygo's keyboard skills.
(Genaro Molina / Los Angeles Times)
Kygo takes it to the piano at the Greek Theatre.
(Genaro Molina / Los Angeles Times)
Happy with his performance, Kygo acknowledges the crowd at the Greek Theatre.
(Genaro Molina / Los Angeles Times)
On the crowded walk up the paths to the Greek Theatre on Saturday night, two young women in clingy metallic dresses scrambled up the hill to see Norwegian dance music star Kygo. Their heels clacked on the rough sidewalk, and as they clambered a few feet at a time, they tripped, dropped their purses and sat down on the curb to take a breather.
"I think…we pre-gamed a little too hard for this," one said, her head slipping forward as if to pass out.
"No we didn't," her friend replied. She picked up her pal's head and looked in her eyes. "We're gonna MAKE IT."
FOLLOW CLASSIC ROCK ON FACEBOOK
Their optimism was inspiring, and illustrative. Right now in late 2015, the 24-year-old producer from Norway has created a whole new dance-music world, and all the kids want very badly to live in it.
Kygo's world is a genre called "Tropical House," and it's a fiendish twist on dance music's inherent escapism. His songs hover around 100 beats per minute (much slower than EDM's typical 130), and get their sounds from synthesized pan flutes and steel drums — instruments rarely heard outside of package-tour singles cruises to Cozumel.
Perhaps a drink recipe would be more descriptive: Take the late-career Beach Boys hit "Kokomo," dunk it in a piña colada machine with a '90s Ibiza deep-house compilation, and set to "gently blend." Serve a pineapple wedge and the despondent wails of club-music purists.
Kygo's far from the first act to use those humid tones (Jamie XX and The Knife have sipped from that same sonic daiquiri machine, to darker ends). The tropical house sound has already trickled up to pop music — Justin Bieber's "What Do You Mean?" and Felix Jaehn's remix of OMI's "Cheerleader" are global hits. But since Kygo's single "Firestone" took off online this spring (now hovering around 113 million views on YouTube), he's become the face of a movement.
That's an achievement, but one with obvious risks. Can he transcend our tropical house moment to become his own artist?
After Saturday's show, Kygo probably can. For starters, he looks like a Norse Channing Tatum with twice the hair, and plays a very capable live piano along with a range of digital instruments. At the Greek, he proved that he can run original tunes and a big variety of pop tropes through his digital Mai Tai machine.
His set was heavy on remixes and covers — Seinabo Sey's "Younger," The Weeknd's "Often," Ed Sheeran's "I See Fire" and M83's "Wait" all popped up. Kygo's fully imagined sound made them all feel like his own. But that wide range of source material didn't suggest omnivorous taste so much as Kygo's total lack of any taste at all. Only a sadist could truly think Biggie's verse from "Juicy" and Macklemore's hook from "Thrift Shop" belonged in the same EDM edit. But when Kygo played his revamp of Blackstreet's '90's R&B hit "No Diggity," even salty old clubbers had to respect a guy hitting so many young-millennial buttons at once.
Proving that tropical house is no longer niche, John Legend came out on the Greek stage early to sing his Kygo collaboration "Sexual Healing," which is about as grown-and-sexy a vouch as a young producer can get. But for all the reasons kids have turned to the Kygo sound — a fresh take on house music that goes down easy with pop hooks and beachy moods — they may someday turn against him.
If he's going to stay relevant, it's going to be because Kygo has strong melodic and songwriting sensibilities that might outlast the pan flutes. He played "Firestone" twice to close the show Saturday, once on his piano with a chamber orchestra, and again behind the decks with the song's vocalist Conrad Sewell in tow.
The lyrics were inspirational hokum, but Kygo's keyboard melody was one of those riffs that, like it or not, follows you the whole ride home from the show. On the walk back down from the Greek, a tipsy crew of young women were already playing the song again on an iPhone, and dancing down Vermont Avenue like it was spring break in Cabo.
Follow @AugustBrown for breaking music news.
---
From the Emmys to the Oscars.
Get our revamped Envelope newsletter, sent twice a week, for exclusive awards season coverage, behind-the-scenes insights and columnist Glenn Whipp's commentary.
You may occasionally receive promotional content from the Los Angeles Times.