Made in America won't be returning to Los Angeles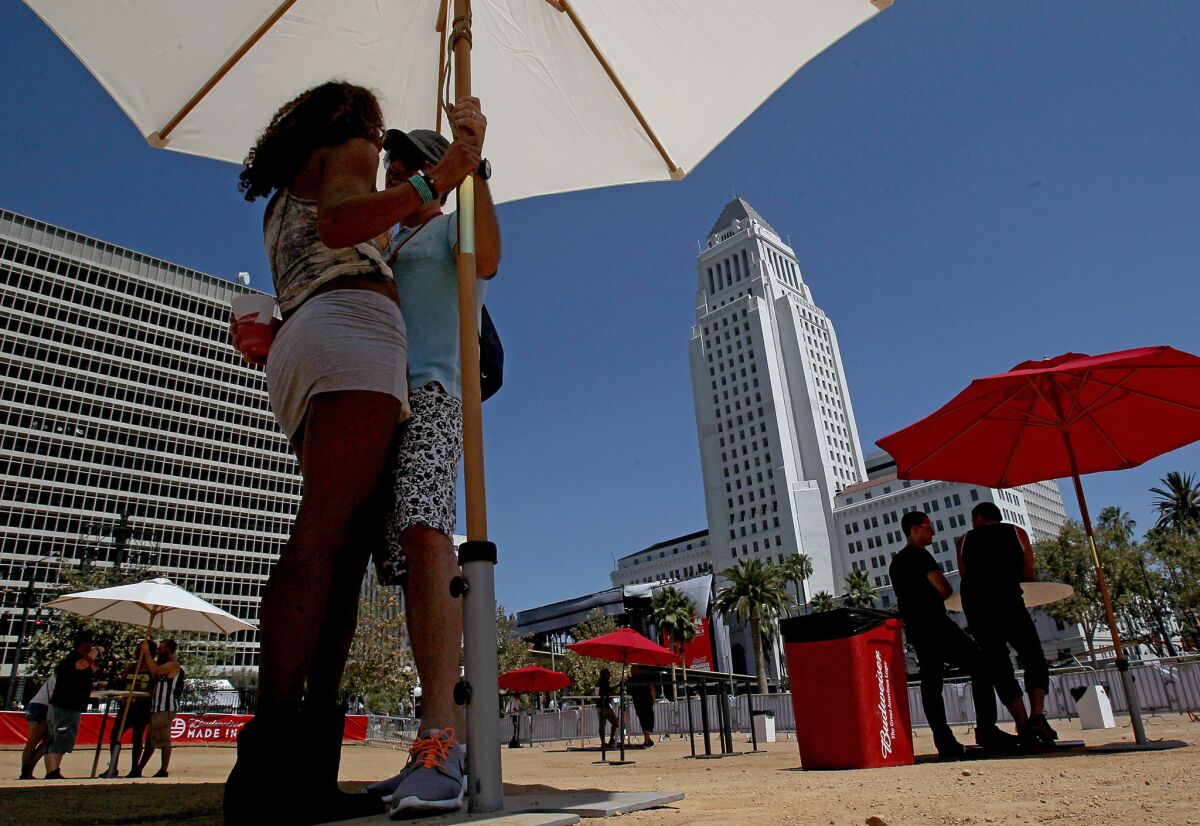 In April 2014, Jay Z stood on the steps of City Hall — flanked by Mayor Eric Garcetti and other officials — and announced he would bring the Budweiser Made In America to Los Angeles.
It was an ambitious, controversial plan. The Labor Day weekend event tested downtown's then-2-year-old Grand Park ability to handle a massive paid event and festival organizers' ability to simultaneously stage two multi-day festivals on opposite ends of the country.
But despite a bill that included Kanye West, Imagine Dragons, Steve Aoki and John Mayer its inaugural year didn't go over smoothly. And it won't be back this year.
The festival, now in its fourth year, will again return to its birthplace of Philadelphia (Jay Z's fledgling streaming service Tidal has been offering all kinds of ticket specials). But instead of staging a simultaneous L.A. edition, Made in America will host a free concert on New York's Liberty Island, Billboard reported Thursday morning. (Billboard has since taken the story down from its website. The Times confirmed with representatives from Live Nation that the festival is not returning to Los Angeles.)
Mary J. Blige will reportedly headline the free show, and there are plans for a second concert at a to-be-announced national park, according to Billboard. The beer company launched a site for ticket registration on Thursday, but as of this writing the site appeared down.
"This is not at all a stepping back — this is a reevaluation of the model of going from one location to two to three," Budweiser VP of marketing Brian Perkins told Billboard. "We're a very ambitious brand, and we have a very ambitious partner in Jay Z, who also dreams big. And we always want to do big, bold things with music under the moniker of Budweiser Made In America."
Made In America's inaugural L.A. event had to overcome a number of hurdles before gates even opened to 71,000 fans over two days.
First, there was the location. Bookended by the Los Angeles Music Center and City Hall, Grand Park — with its lush grounds, interactive fountain plaza and eye-popping, bright pink seating — had yet to welcome an event of this size. And with just a dozen acres, it wasn't even half the size of the Los Angeles State Historic Park, where major draws like the Hard festivals, FYF Fest and H20 Fest have set up.
Garcetti also faced strong criticism from both City Council officials and area residents for getting the festival approved so quickly without much public debate.
There was concern about noise and crowd control. Residents griped, loudly, about security in and around their apartment buildings and how the many street closures would impact roads already overburdened by traffic and a construction boom.
The economic impact of the event was also a point of contention. The event netted an estimated $31,000 for city coffers, according to an economic analysis of the event released in January, and was estimated to have generated nearly $15 million in economic activity in the city.
Made in America didn't fare much better from a fan experience either.
The lineup, though diverse, didn't quite feel curated or that it carried a narrative. L.A. alt-rockers Weezer, Latin music superstar Juanes, South L.A. rapper Kendrick Lamar and of-the-moment pop-rapper Iggy Azalea played alongside Sublime with Rome, Rita Ora, YG, Capital Cities and Cypress Hill.
And with three stages, a skate park, 40 food trucks, a carnival ride, an area dedicated to nonprofits, a high-end bistro, merch booths and multiple beer gardens crammed into a multitiered park and its surrounding streets, navigation wasn't easy. The layout was seemingly haphazard, and the park appeared unfinished. Worse, day one was especially a disaster given the lack of maps, poorly situated facilities, snarled food lines, water shortage and Budweiser signs outnumbering logistical information.
Wrote our pop music critic Randall Roberts: "Just as the Belgian-owned Anheuser-Busch InBev "king of beers" is combating an insurgent craft brewing movement gulping market share, Made in America is competing with other festivals born much more organically. Through perseverance, trial and error and a focused musical mission, these other events have become destination festivals. In comparison, Made in America felt like a branding opportunity — that also happened to feature some of today's biggest bands."
Requests for comment from the mayor's office or Jay Z were not returned.
For more music news follow me on Twitter: @gerrickkennedy
Get our L.A. Goes Out newsletter, with the week's best events, to help you explore and experience our city.
You may occasionally receive promotional content from the Los Angeles Times.