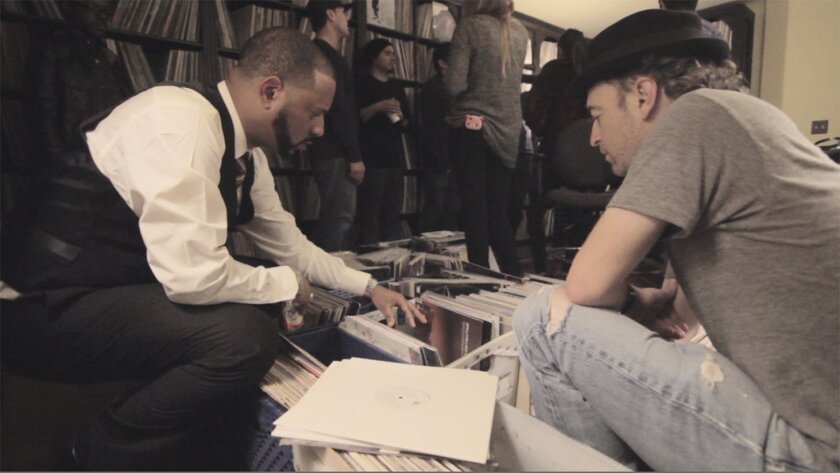 Sometimes it can take a Greek to remind Angelenos — and the rest of the world — of talent living in our own vicinity. Specifically, producer Larry Gus, whose recent work for DFA has been on repeat for nearly the entire year, has collected into one essential mix the fantastic creative output of beat producer Madlib.
For those unfamiliar, the artist born Otis Jackson Jr. (but also known as Quasimoto, Beat Konducta and Joe McDuphrey, among dozens of other names) has over nearly 20 years produced countless deep, abstract jazz and soul-inspired grooves.
Artists including Mos Def, Erykah Badu, MF Doom, Ghostface Killa, Joey Bada$$ and dozens more have harnessed Madlib's beats for their rhymes, and Gus examines some of the best in a selection that blends foundational sample material with Madlib's repurposing to craft what amounts to a sonic docudrama of a master musician.
TIMELINE: Summer's must see concerts
Called "The Blue Flowers: Between Blue and Blue — 54 Madlib Beats," the mix, which is mostly instrumental, presents a valid argument to the depths of his skills, and will appeal to fans both of instrumental hip-hop and '60s and '70s soul, funk and jazz. As Gus explains over at Passion of the Weiss, which premiered the mix, Madlib's music is as sticky as it powerful. He goes so far as to compare the producer's work to early 20th century French and Agentinian writers.
"All those years, there is nothing that I find more enjoyable to listen to than endless playlists of Madlib beats," writes Gus. "I spent too much time online (and offline) trying to find all those rare beat tapes that somehow evoke the same feeling when reading [Raymond] Queneau. Everything is referenced vertically, simultaneously, as if all parallel universes make themselves known in the run of those tracks, in a way that would even make [Jorges Luis] Borges feel weird."
The mix is available for download and streaming below, but Gus's entire post on Madlib's influence is worth a read. And for another glimpse into the world that bore Madlib, keep an eye out for the new documentary "Our Vinyl Weighs a Ton: This Is Stones Throw Records."
ALSO:
Review: Pet Shop Boys remain fresh and vital with 'Electric'
Hear now: Remixers destroy Miley Cyrus' hit 'We Can't Stop'
Hear now: Mazzy Star unveils new song, 'California,' teases album
Follow Randall Roberts on Twitter: @liledit
---