Record Store Day co-founder calls advance EBay listings 'fraudulent'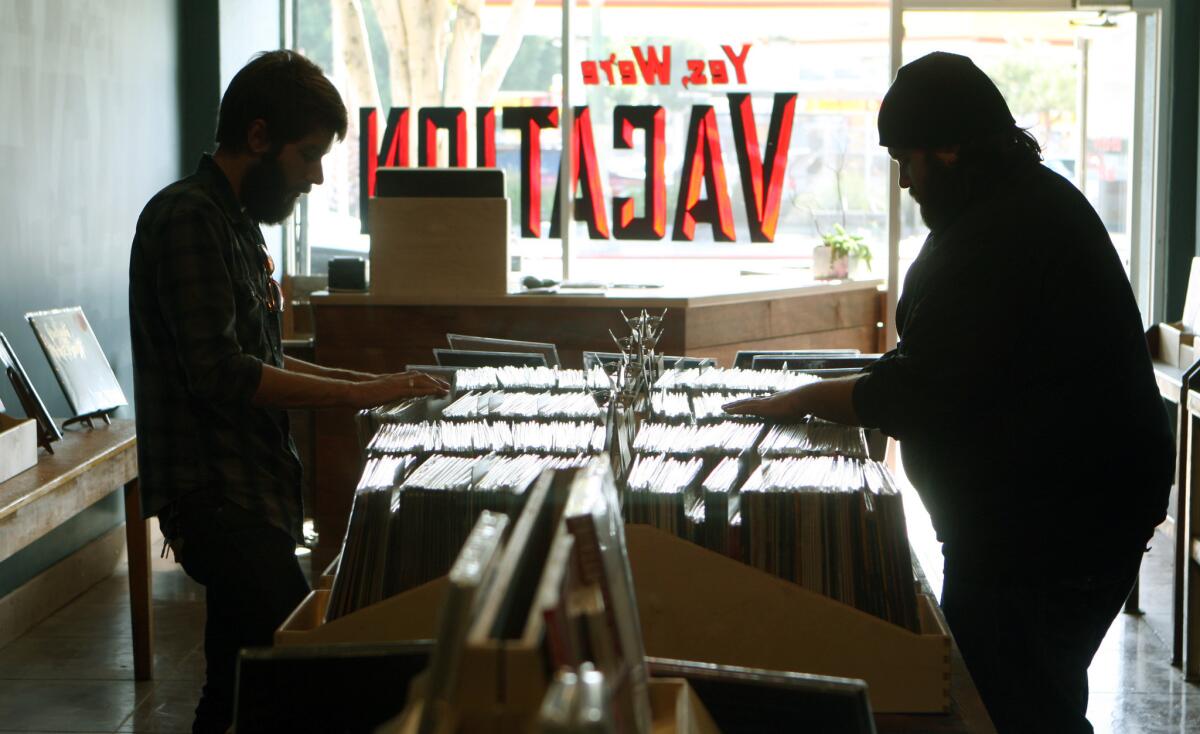 Record Store Day, the well-liked annual small-business event that gives a cash boost to indie stores with exclusive items, is at a crossroads.
On one hand, it's never been more popular: Stores across the country report new spikes in RSD sales every year, and artists who include Bruce Springsteen and Bob Dylan use the occasion to release one-of-a-kind records. The demand is so great that it's reportedly impacting the ability of vinyl plants to meet orders.
But as with anything with huge fan interest and limited availability, it's only a matter of time before someone's going to try to get it early. This morning, fans on Reddit and other sites noted hundreds of listings on EBay that claim to be selling Record Store Day exclusives like the vinyl reissue of the White Stripes' "Get Behind Me Satan" and Foo Fighters' "Laundry Room" EP.
Fans reselling the exclusives on EBay is probably inevitable: except for the fact that this year's Record Store Day isn't until April 18.
Hawking Record Store Day releases early would seem to defeat the entire point of the event, and would be a real problem if the releases were in fact going out ahead of schedule.
Except, according to Carrie Colliton, co-founder of Record Store Day, most of these listings are probably fake.
"The majority of [RSD] listings on EBay in advance are people who DO NOT have the releases, but are listing titles (some that aren't actually even coming out on Record Store Day, another [sign] they don't have them in hand) in hopes of getting people to pay for them in advance," she told The Times. "Then they go out and try to fill the orders on Record Store Day. We think selling something you don't have in your possession and can't guarantee you will have is fraudulent."
Indeed, many of the BBay listings claim that the items will be "available on Record Store Day," implying that the seller is hoping to get in line early at one store or another to acquire the items fans already paid for.
Colliton stressed that, "If we do find a store behind it, there are serious consequences for the store," she said. "The advance listings are especially maddening to me because most people on social media assume it's a store behind it, but it's really just someone who feels entitled to make money off the backs of independently owned record stores and their customers.
"It sucks, but that doesn't mean we should stop working to grab the world's attention and direct it to independent record stores," she added. "The vast majority end up in the hands of customers, who are happy to have a souvenir of the day they spent celebrating their local record store."
Follow @AugustBrown and @PopHiss for more breaking music news.
Get our L.A. Goes Out newsletter, with the week's best events, to help you explore and experience our city.
You may occasionally receive promotional content from the Los Angeles Times.