Drake reportedly drops Future from tour
It was guest rapper Kendrick Lamar who garnered all the attention on Big Sean's track "Control." Lamar
proclaimed himself "king of New York,"
knocking down hip-hop titans, like Jay-Z, Eminem and Andre 3000, not to mention his counterparts Drake, J. Cole and A$AP Rocky. But according to Lamar, his hip-hop brethren just didn't get his verse and spun his lines out of context. "I'm saying I'm the most hungry. I respect the legends in the game .... Because of what they laid down, I'm going to try to go harder, breathe it and live it - that's the point of the whole verse," Lamar responded.
(Theo Wargo / Getty Images)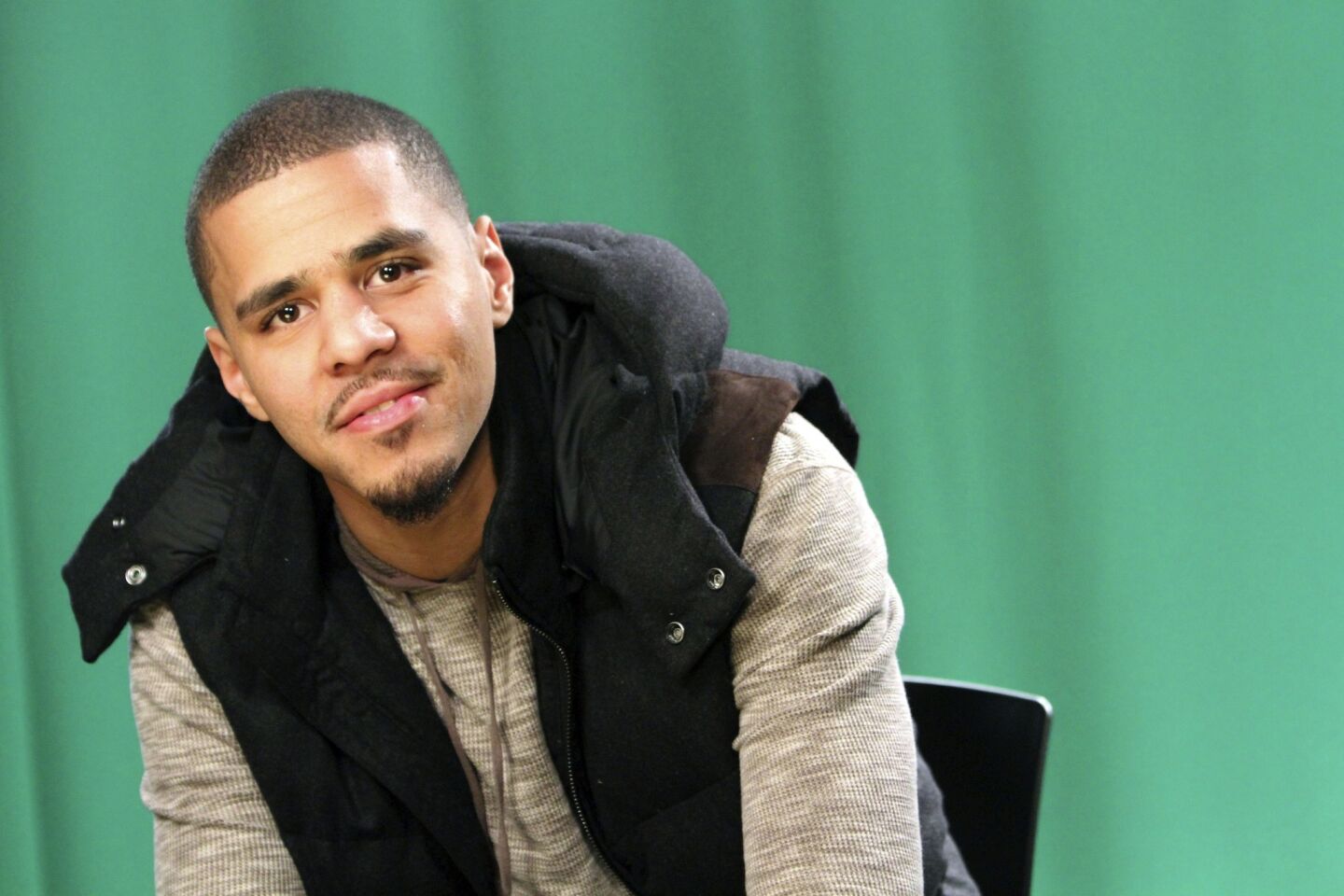 Looks like this is a two-fer. In J.Cole's track "Jodeci Freestyle" featuring rapper and actor Drake, J.Cole raps he's artistic, while describing his competition as autistic. The line outraged the autism community and then some. It didn't take long before the pair
issued their mea culpas
. J.Cole went first, and said, "To anyone suffering from Autism, either mildly or severely, I am sorry. I'm bound to make mistakes in my life, but in my heart I just want to spread love." Drake followed with, "I share responsibility and offer my sincerest apologies for the pain this has caused. Individuals with autism have brilliant and creative minds, and their gifts should not be disparaged or discounted."
(Mary Altaffer / Associated Press)
In
an interview
with the Hollywood Reporter, actor/singer/activist Harry Belafonte said that when it comes to the image of minorities in Hollywood, people like Jay-Z and Beyonce have turned their backs on social responsibility. Naturally, Jay-Z had a problem with Belafonte's statement. So on his latest album in the track "Nickels and Dimes," Jay-Z slams Belafonte for not giving him the respect he deserves and says the actor isn't aware of things Jay-Z does for the people in his community. The rapper also calls Belafonte's famous song "Day O," a "fail."
(Jim Ross / Associated Press)
Where to begin with Kanye West's "Yeezus" album? First, West distastefully raps about sexual acts with Asian women in the track "I'm In It." The indignation, obvious. He goes on to rap about Parkinson's disease in another track titled "On Sight," picking on the tremor that is a symptom of the illness. No apologies here. Just Kanye being Kanye.
(Matt Sayles / Invision)
Lil Wayne is no stranger to controversy. (Rapping about "sizzurp" and stomping on the American flag, anyone?) This time, the debate ensued over his crude sexual reference to civil rights figure Emmett Till. As Times reporter Gerrick Kennedy
wrote
, in the track "Karate Chop," the tatted entertainer compared "his sexual prowess to the 1955 assault of Till -- a 14-year-old African American who was tortured and killed after reportedly whistling at a white woman during a family visit in Mississippi." The verse
cost Lil Wayne
his endorsement deal with PepsiCo's Mountain Dew.
(David Goldman / Associated Press)
A song that never popularly hit the airwaves gained traction when one specific verse spread to the masses. On the track titled "U.O.E.N.O," Rick Ross delivers a line describing date rape as entertainment. Because of that verse,
Reebok dropped the rapper-mogul
as a spokesman. He later apologized on a New Orleans radio station, saying, "As far as my camp, hip-hop don't condone that, the streets don't condone that, nobody condones that."
(Isaac Brekken / Getty Images )
Music industry rule No. 101: Never tick off the headliner inviting you on the road.
According to reports, Drake has dropped Future from his upcoming arena trek, a move that could turn into a $1.5-million feud between the two artists. The reason? Disparaging remarks the singsongy Atlanta rapper made about Drake's latest album during an interview with Billboard, according to the New York Post.
In a conversation earlier this month to preview his forthcoming album, "Honest," Future shared his thoughts on Drake's latest chart-topper, "Nothing Was the Same," with Billboard associate editor Erika Ramierz.
"Not only is future's #honest album interesting, so are his thoughts on Drake's #NWTS album," Ramirez tweeted before quoting Future: " 'Drake made an album that is full of hits but it doesn't grab you. They're not possessive; they don't make you feel the way I do.' "
CRITICS' PICKS: What to watch, where to go, what to eat
Future didn't just limit his strong opinions to his touring partner, however, and according to Ramirez, boasted that "I've been on the songs of all these rappers that put out an album, and my music is still better."
Future tweeted his disappointment in being "misquoted" and said he had love for Drake, and in fact the two have collaborated a number of times in the past, including the radio hit "Tony Montana." Although Billboard's story has since been edited to remove the specific remarks toward Drake, the tweets remain.
Nonetheless, the criticism didn't sit too well with Drake, who had invited Future to share the bill on his 39-city trek (alluringly dubbed Would You Like a Tour?) along with alternative R&B crooner Miguel. The tour is scheduled to kick off Friday in Pittsburgh.
According to the Post, the multi-platinum rapper-singer demanded that Future be booted from the bill following the comments, and he was. However, negotiations soon began to bring him back late last week, but Future pulled out after Drake's camp demanded he take a pay cut, according to the Post.
Future has reportedly prepped a lawsuit against Drake for lost wages of about $1.5 million.
Representatives for Drake declined to comment. A source close to the rapper's camp told Pop & Hiss that he had added OVO artist PartyNextDoor and buzzy L.A.-based alt-R&B singer Jhene Aiko (although Aiko's addition came before the reported dust-up with Future), and that Drake was working on resolving the beef with Future before the start of the tour.
A spokesperson for Future said a statement would be issued shortly. Pop & Hiss will update the story as details are made available.
ALSO:
Listen to Lady Gaga's new song 'Aura'
Pet Shop Boys synthesize time and style
Get our L.A. Goes Out newsletter, with the week's best events, to help you explore and experience our city.
You may occasionally receive promotional content from the Los Angeles Times.