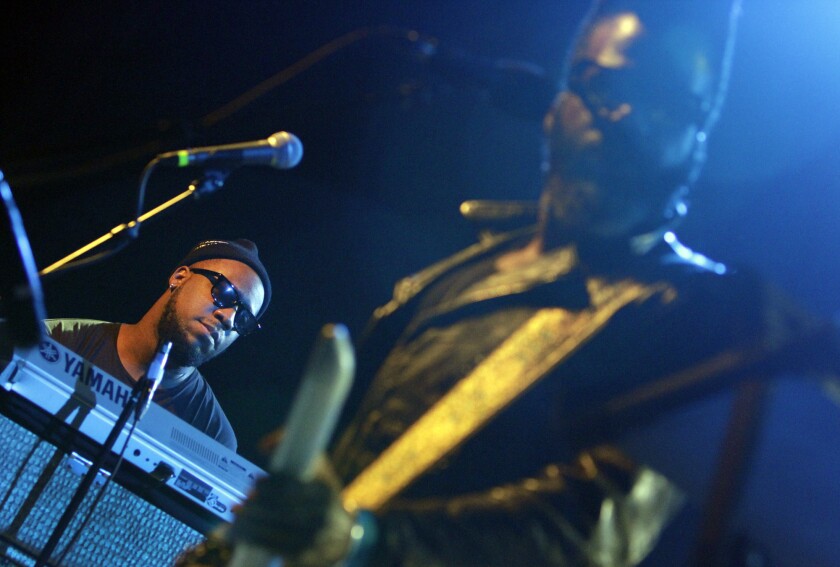 Robert Glasper has plenty of people he can call on for guest appearances at his gigs.
The jazz pianist's acclaimed 2012 album, "Black Radio," contains cameos by Erykah Badu, Meshell Ndegeocello and Lupe Fiasco, among others, while a just-released sequel adds Snoop Dogg, Norah Jones and Jill Scott to the mix.
Yet Thursday night at the El Rey, where Glasper played the final date of a brief tour in support of "Black Radio 2," he brought to the stage an artist not featured on one of his records -- or anyone else's lately, for that matter. It was Bill Withers, the great folk-soul singer-songwriter who after crafting a string of indelible hits in the '70s more or less retired from music in 1985.
Withers had been sitting in the El Rey's balcony with Charles Lloyd and Lenny White, he told Glasper on stage, until the two jazz veterans suggested he "come down here and have you play one of my songs."
The pianist selected "Lovely Day," then led his three-piece band, called the Experiment, through a pillowy rendition of the gentle late-'70s classic.
Withers didn't sing, but his presence alone signified what Glasper, 35, seemed to be after: a ratification of his place in R&B.
There have been other indications that R&B is happy to have the musician, who's described the jazz scene he came up in as being too concerned with rules.
In 2009, the soul singer Maxwell hired Glasper to play in his touring band, and at the Grammy Awards this year "Black Radio" was named best R&B album, beating out records by more conventional nominees such as R. Kelly and Anthony Hamilton.
RELATED: The 10 Commandments of smartphone use during concerts
With its pronounced emphasis on songs (as opposed to instrumental solos) and its inclusion of vocalists with no acknowledged connection to jazz – Brandy, for instance, and Faith Evans -- "Black Radio 2" feels like Glasper's response to that warm welcome. It closes the gap between his older music and stuff by Musiq Soulchild or Dwele, the latter of whom appeared at the El Rey to sing the new album's "Worries," as well as his own 2003 single "Find a Way." (Common and Marsha Ambrosius were slated to perform as they had at other tour stops, but canceled Thursday due to a scheduling conflict.)
Yet as gratified as he seemed by a capacity crowd full of young listeners – a rarity today for jazz artists of any age -- Glasper was still channeling some of the oppositional energy for which he's known.
Quickly recapping his career for audience members familiar with only the "Black Radio" discs, he pointed out that he'd been nominated for a Grammy before he won one, in the urban/alternative category, which was retired after 2011.
"'Creative black people? We can't have that,'" Glasper said, impersonating the kind of traditionalist he delights in antagonizing.
PHOTOS: Unexpected musical collaborations
And though he and the Experiment -- bassist Derrick Hodge, drummer Mark Colenburg and Casey Benjamin on saxophone and vocoder -- offered relatively straightforward renditions of crisp, tuneful originals such as "I Stand Alone" and "Let It Ride," they also stretched out, as in a deep-groove "Baby Tonight (Black Radio 2 Theme)," which drew in bits of Daft Punk's "Get Lucky" and "No Church in the Wild" by Jay Z and Kanye West.
Near the end of the two-hour show, Glasper brought Dwele back to the stage for a cover of "Think Twice" by the late hip-hop producer J Dilla, whose idiosyncratic sense of funk lives on in the Experiment. Like the moment earlier with Withers, it was Glasper's way of honoring his forebears, be they beloved by millions or merely a devoted cult.
ALSO:
Charles Lloyd's tangents are pure jazz
Arcade Fire to launch North American arena tour in 2014
Review: M.I.A. shakes the faithful (and the walls) at Belasco Theater
Twitter: @mikaelwood

---