Review: U2's 'Invisible' presents band at its aspirational best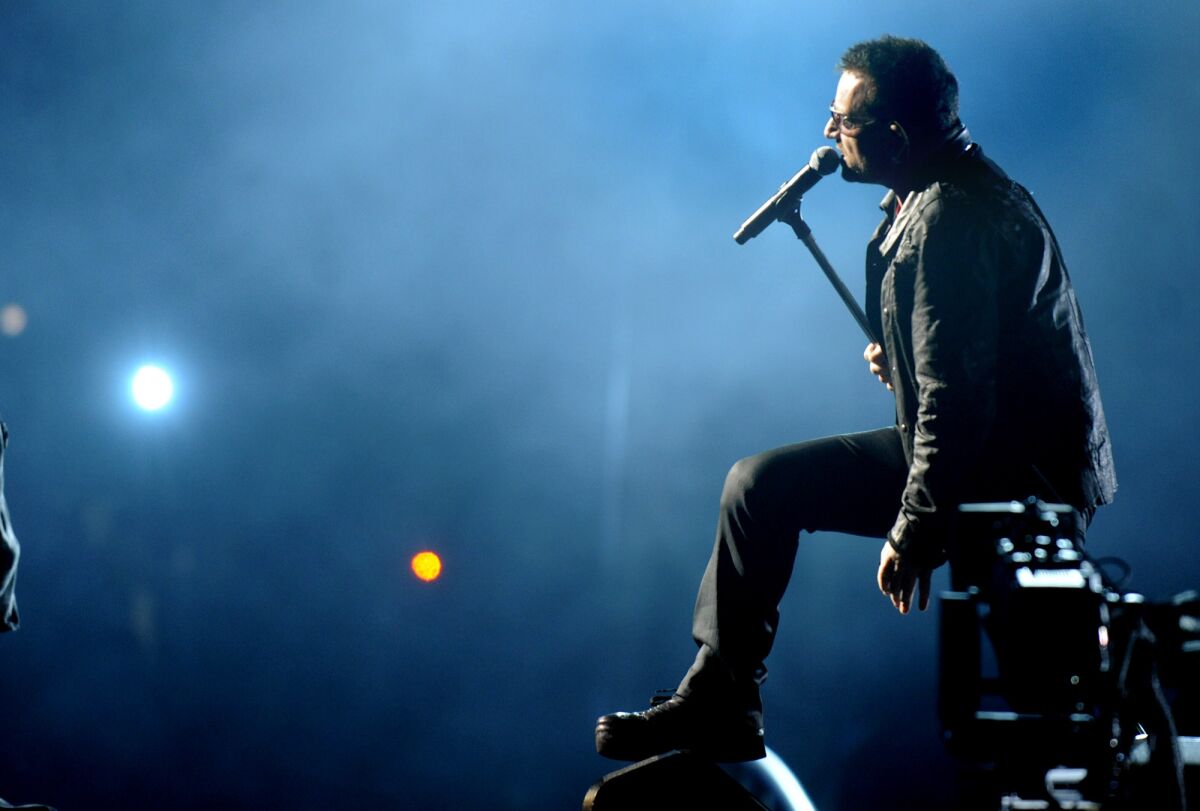 Los Angeles Times Pop Music Critic
The new single from U2 is called "Invisible," and it was released for free on iTunes on Super Bowl Sunday. Produced by Danger Mouse and taken from the band's forthcoming album, it's both a pleasant surprise and a fairly typical track by the world's biggest rock band. Relying on the Teutonic "motorik" beat as the propellant, it features the kind of grand, aspirational chorus that Bono and buds were born to birth and flies on the wings of a typically sticky guitar melody courtesy of the Edge.
Which is another way of saying, if you're not down with U2's vibe, don't consider "Beautiful Day" to be among the band's best, have made your mind up about Bono or consider them incapable of cruising down roads no other major rock band dare travel, get off the bus at the next stop.
Me, I think it's a prime U2 jam, a snagged-from-the-ether track so logical as to feel somehow fated to exist. But, then, I'm a male who's a sucker for that beat, cry during movies and tend to look for the best in people, so of course I'm a Bono target.
PHOTOS: Iconic rock guitars and their owners
The track hooks from the first tone, commencing like a lost Kraftwerk outtake from "Autobahn," introducing a mechanical rhythm that moves independent of drummer Larry Mullen Jr. This beat is the song's backbone and coasts through "Invisible" effortlessly, with Mullen adding his archetypal snare and bass-kick combo and the Edge layering guitar tracks atop one another.
Heard as an instrumental minus Bono's vocals, "Invisible" is the kind of monolith of musical logic one hopes to hear from U2: two verses, chorus, two verses, chorus, bridge, fade.
To accept U2 at this point, of course, is to expect that lyrically the band will work to inspire, will convey some sort of grandly unified message that speaks truth to power without being too political about it. "Invisible" is exactly that: an uplifting message song with little nuance but much Truth.
"I'm more than you know/I'm more than you see here/More than you let me be," sings Bono, harnessing notions of self-respect, both the personal kind and the universal-struggle kind. He's already given a departing lover his heart in the song's first verse and declared independence in the second. "I'm more than you know/A body in a soul/You don't see me but you will/I am not invisible/I am here."
He shifts from micro to macro as the song proceeds, suggesting that self-confidence and tolerance can combine to bring peace.
"There is no them, there's only us," he repeats as the band, as crisp and electric as ever, drops from distortion to clarity and back again. "There's only you, and there's only me," concludes Bono, and the song fades.
The band has yet to confirm a release date for its still untitled new album, but don't be surprised if U2 pulls a Beyoncé and unveils it suddenly.
ALSO:
Black Flag apologizes for a dysfunctional 2013

Hear now: Tips on new Eleni Mandell, Lo-Fang, Lambchop, more
Super Bowl 2014: Bruno Mars stands — and delivers — in halftime show
Twitter: @liledit
---
Get our L.A. Goes Out newsletter, with the week's best events, to help you explore and experience our city.
You may occasionally receive promotional content from the Los Angeles Times.