Sam Smith: 'Everything has been 100 mph' since 'Latch'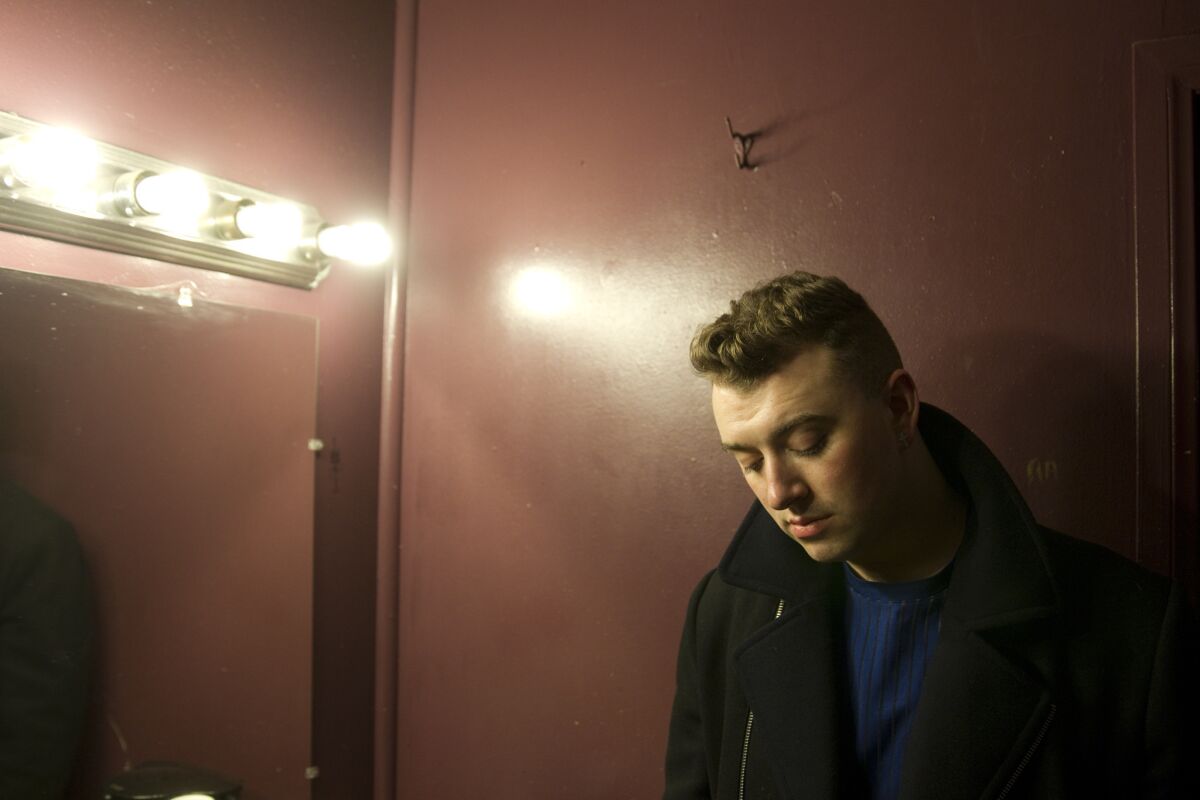 The highlight of Sam Smith's recent two-night stint at Troubadour didn't happen during, "Latch," his exuberant dance jam with UK electronic duo Disclosure which exploded onto British radio late last year. It came during the aching ballad, "Lay Me Down," his first offering as a solo artist.
Couples embraced, the glow of smartphones lit up the room and a few concertgoers even had to wipe tears. Without prompt, the crowd began to compete with Smith's effortless, R&B-inflected melisma during the song's chorus.
To borrow a cliché, a star was born. "It's unbelievable," Smith said of his L.A. debut the following afternoon. "I'm always so shocked when I'm abroad and people know who I am. It's very strange."
GRAPHIC: Faces to watch 2014 | Entertainment
Last October, the 21-year-old from Cambridgeshire was as a bartender and now his picture hangs alongside Katy Perry's at the iconic Capitol Records building, where he's signed.
Singing since he was eight – Smith trained with a jazz vocalist for years before studying musical theater – he went through six managers before he was 18.
After meeting frequent collaborator Jimmy Napes, the two crafted "Lay Me Down." It caught the attention of Disclosure and spawned "Latch," a sticky, pop soaked garage jam anchored by Smith's scorching vocals. The single peaked at No. 11 on the UK singles chart.
"The minute 'Latch' happened, everything has been 100 mph," Smith said. "Everyone who sees me thinks this has happened very quickly. But, it's been quite a long slog,"
British producer Naughty Boy recruited Smith for the infectious, "La La La," which shot to No. 1 on the UK charts and became the fastest selling single of the year there. Eventually listeners flocked to discover the voice behind the mega smashes.
RELATED: Faces to watch 2014 | Classical music

An acoustic version of "Lay Me Down" garnered more than 1.5 million views on YouTube and a stripped down take of "Latch" almost matched that number. A stateside edition of his EP, "Nirvana," isn't out until February, but the EP's tracks have already logged hundreds of thousands of listens on Soundcloud.
Smith's collaborations are primed for the dance floor, but his solo work leans toward stunning ballads filled with yearning and heartache and minimalist grooves.
"It's soul music, but I give it to you in different ways. Sometimes it's an electronic sound, sometimes it's completely stripped back," he said. "But its honest. I do sing the truth to the point where it's hard to listen to certain songs because they are brutally honest."
At the Troubadour he previewed the stark missive, "Leave Your Lover," and he recently posted a heartwrenching ode to unrequited love called "Not In that Way," before taking it down and saving it for later.
RELATED: Faces to watch 2014 | Opera
"These songs are so personal. There's only a few people who actually know who they are about. It's such a shame," Smith said, his cheery smile turning inward. "If I could tell everyone [who] each song is about, they would be really heartbroken and would get it 100 percent. But, I'm not in a position to tell them."
Asked if he finds pleasure in the anonymity, he breaks into a hearty laugh. "I do, but I like telling people who the music's about. [They would] get how brave I've been to say the things I've said in songs."
Smith spent the past year working with producers Eg White (Adele), Two Inch Punch and Napes to craft his debut album, "In the Lonely Hour," which is set to arrive next summer.
He'll be plenty busy till then. "Latch" is set to be introduced to U.S. radio in January, and his debut single, "Money On My Mind," is out in February. Smith also joined the presteigious club that includes Adele, Florence & the Machine and Emeli Sandé as the winner of the BRITs Critics' Choice Award. He's hoping his streak continues.
"Coming from two features, obviously it's nerve wracking going into your own stuff," he said. "But there's a massive support … You've just gotta hope."
---
Get our L.A. Goes Out newsletter, with the week's best events, to help you explore and experience our city.
You may occasionally receive promotional content from the Los Angeles Times.