Stagecoach 2014: Country festival is young fans' kinda party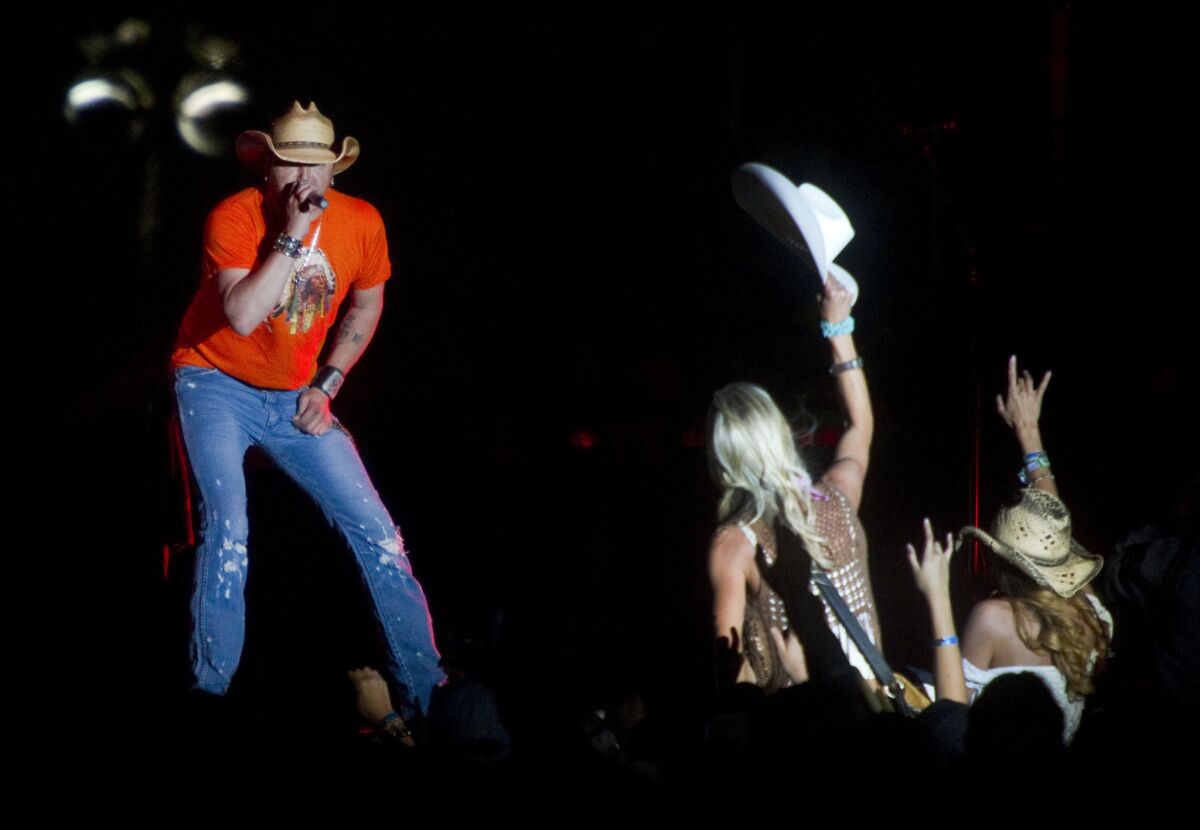 This post has been updated. See note below for details.
Country music's recent transformation from a form that spoke to a cross-generational audience about life's broader themes into a party-minded soundtrack for young adults was starkly apparent over the weekend at the 2014 edition of the Stagecoach Country Music Festival in Indio.
The daily turnout of some 63,000 was awash in concert-goers in their late teens and early 20s, with women outnumbering men on the order of 3- or 4-1 and, other than a healthy sprinkling of cowboy hats and boots, appearing little different than the toned and tanned crowd you'd expect at a Miami spring-break blowout.
---
FOR THE RECORD:
Willie Watson: An April 28 Calendar section article on the 2014 Stagecoach country music festival misidentified banjo player Willie Watson as a former member of the Old 97's. He is a former member of the Old Crow Medicine Show.

---
That has a lot to do with the three-day festival's headliners this year, a troika of male country stars — Luke Bryan, Jason Aldean and Eric Church — who have built careers singing party-minded songs to party-minded listeners.
Bryan in particular established and robustly expanded his audience with half a dozen small-scale recordings titled "Spring Break" and emphasizing songs inspired by or inspiring the all-stops-out celebration of good times.
Aldean also made his breakthrough to the masses with his 2010 album, "My Kinda Party," while Church formally trumpets his position as a new generation country outlaw in his latest album, "The Outsiders."
Support acts on Stagecoach's Mane Stage — one of four performance spaces this year and the one attended by the vast majority of festival-goers — included a raft of relatively recently minted young stars: Hunter Hayes, Florida Georgia Line, Sugarland's Jennifer Nettles, Brantley Gilbert, Easton Corbin, Jon Pardi, Tyler Farr, Dustin Lynch and Chris Cagle.
Such a heavily freshman- and sophomore-oriented slant added to the sense that the torch of country has been passed to a new generation, many of whom spent considerable portions of their time in the spotlight exhorting fans to get crazy, crazier and really crazy.
It's not that Stagecoach has turned its back on veterans — they were solidly represented on the secondary Palomino Stage with seasoned performers such as Lynyrd Skynyrd, the Nitty Gritty Dirt Band, Crystal Gayle, roots rock singer Wanda Jackson and guitar hero Duane Eddy, critically lauded folk-rock singer-songwriter John Prine, seminal country-rocker Michael Nesmith and classic-rock singer-songwriter Don McLean.
McLean delivered what was arguably the most culturally connective moment of the weekend when he closed his performance with his 1972 hit "American Pie," the epic single that mythologized the birth and (in his view at the time) death of rock 'n' roll music through the tumultuous '60s.
A close second was Lynyrd Skynyrd's set-closing pairing of the band's signature songs that helped popularize the driving Southern rock sound still felt in much of country music today: "Sweet Home Alabama" and "Free Bird."
Other well-established musicians such as Texas swing band Asleep at the Wheel and influential East Coast bluegrass band the Seldom Scene shared the smaller Mustang Stage with invigorating newcomers including New Orleans roots band Hurray for the Riff Raff, New York City-based roots folk-country group Spirit Family Reunion and former Old 97's banjo crooner Willie Watson.
That created a yin-yang split between the main performance area that highlighted the most commercially successful contemporary country acts and the boundary-pushing performers who more genuinely express the spirit of social and cultural outsiders.
A fourth performance area was added to Stagecoach this year with the cavernous Honky Tonk Dance Hall tent far removed from the other three stages. As part of new facilities built on property purchased recently by Stagecoach and Coachella festivals promoter Goldenvoice, the Honky Tonk Dance Hall added an area where a smattering of attendees got instructions on new line dances to music spun by DJ Stagecoach Staci.
A handful of nascent bands also gave quick half-hour sets in the dark, air-conditioned space. In any other year that air conditioning would have constituted a valuable oasis from the desert heat.
But after a moderately warm 90-degree opening day on Friday, the weather turned unseasonably and invitingly cool, with high temperatures only in the mid-70s on Saturday and low 80s on Sunday. Only a few brief potent wind gusts on Friday and Saturday kept the conditions from being thoroughly spring-in-the-desert idyllic.
The expansion of the property pushed some food vendors out farther from the stage areas, lending a more spacious atmosphere, and additional permanent restrooms helped alleviate some of the crush on those facilities.
Little from the Mane Stage looked or sounded like traditional country music, most acts relying on thumping rock beats, shredding electric guitar riffs and hip-hop-influenced rhythms and instrumental loops.
Singer-songwriter Holly Williams brought one of the few historically connective performances Saturday on the Mane Stage when she ended her set — mostly of her own material — by singing the country-gospel standard "I Saw the Light" written by her granddaddy Hank Williams Sr.
The same evening, the long-running Southern California-bred Nitty Gritty Dirt Band served up the title track on its groundbreaking 1972 album, "Will the Circle Be Unbroken," which helped bridge the then-seemingly unbreachable gap between country and rock as the long-haired young band members collaborated happily with veterans such as Mother Maybelle Carter, Earl Scruggs, Roy Acuff and Doc Watson.
Emerging acts such as Charleston, S.C., duo Shovels & Rope and Austin, Texas, actor-musician Alejandro Rose-Garcia, who uses the stage name Shakey Graves, made strong impressions on many of those seeing them perform for the first time.
Where entire families once were a common sight at Stagecoach when headliners included the likes of Alan Jackson, Toby Keith, Kenny Chesney, Brad Paisley, the Eagles and Keith Urban, they were few and far between this year.
Instead, the crowd was dominated by young women in bikini tops and ultra-short Daisy Duke cutoffs and shirted or shirtless young men. Baseball cap-wearing performers such as Bryan and Church (who appeared Friday without his usual head adornment) have helped shift the balance of headwear away from the cowboy hats that once were the de rigueur choice of the country crowd.
Many T-shirts bore slogans that encapsulated the single-minded goal of many attendees: "Let's Get Red, White and Boozed," "Party Harder," "Whiskey River Never Runs Dry" and "Luke and Whiskey Make Me Frisky."
They went hand-in-glove with hits from the headliners that have become anthems for those fans such as Bryan's "Drunk on You" and "She Get Me High," Church's "Jack Daniels" and "Drink in My Hand" and Aldean's "Crazy Town" and "Night Train."
Indio police spokesman Ben Guitron said that as of Sunday evening, there'd been no major incidents and that officers had made a total of 123 arrests on Friday and Saturday, the vast majority of which were alcohol-related, including many for public drunkenness and a number for people under 21 in possession of alcohol or attempting to buy it.
Update April 30 at 4:26 p.m.: This story misidentified Willie Watson as a former member of the Old 97's. He formerly was with the Old Crow Medicine Show.
Get our L.A. Goes Out newsletter, with the week's best events, to help you explore and experience our city.
You may occasionally receive promotional content from the Los Angeles Times.