Dr. Dre's assault on Dee Barnes was once included in 'Straight Outta Compton'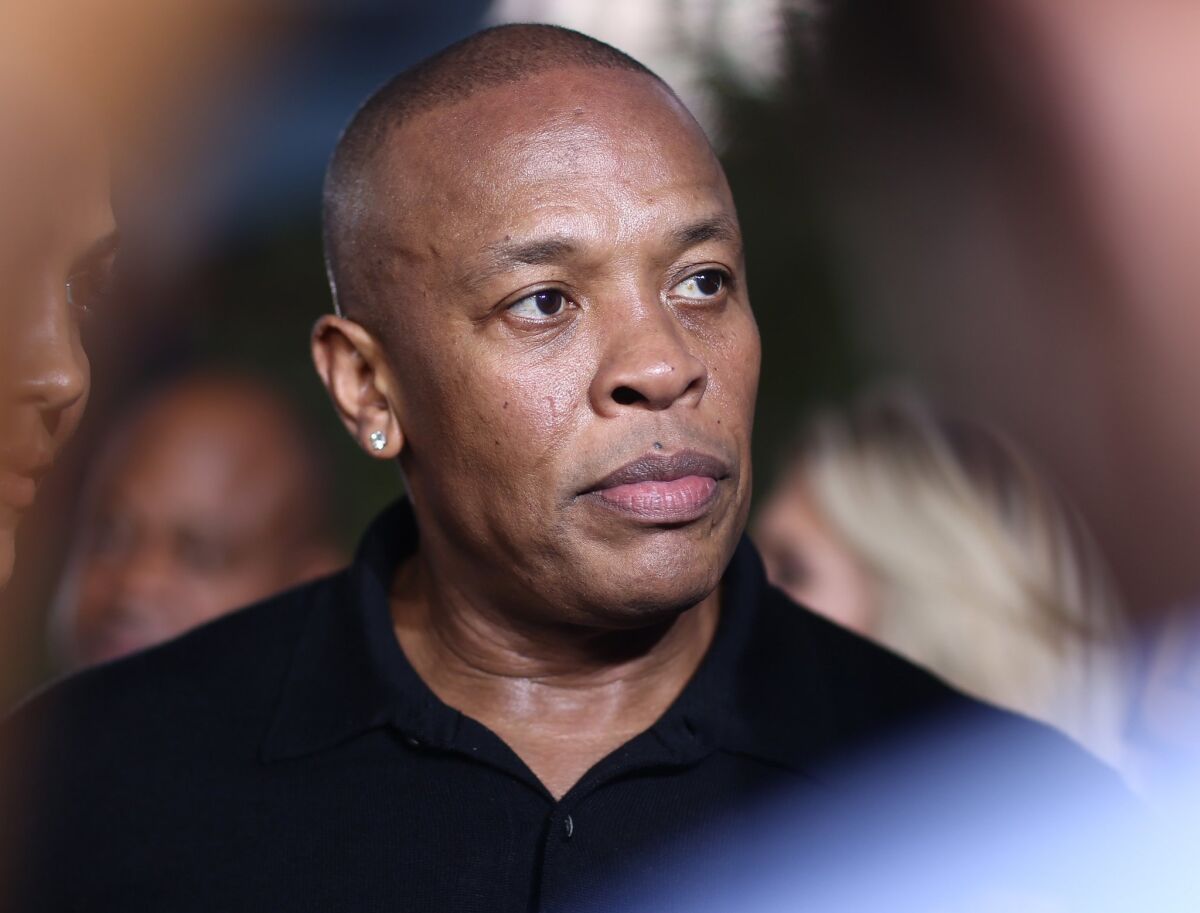 Long before "Straight Outta Compton" hit theaters last Friday, hip-hop purists wondered how the N.W.A biopic would handle some of the less heroic moments in the West Coast rap group's history.
How would founder Eazy-E's death from AIDS be depicted? Will controversial former Death Row co-founder Suge Knight have a large role? How much of the pioneer group's music -- which ushered in the gangsta rap genre -- would be included considering its rampant misogyny and homophobia?
SIGN UP for the free Indie Focus movies newsletter >>
The biggest question, however, was how the film would address a well-known incident in the history of N.W.A -- Dr. Dre's physical assault of female hip-hop journalist Denise "Dee" Barnes.
The answer was easy: the altercation with Barnes was completely omitted from the film.
While "Straight Outta Compton" opened last Friday to critical acclaim and hit No. 1 at the box office over the weekend by pulling in $56.1 million, the positive debut has given way to criticism about why the film ignored the assault of Barnes and failed to acknowledge other storied instances of Dre's alleged violence against women.
Barnes' run-in with Dre, however, was included in an earlier version of Jonathan Herman's screenplay for the film.
In the scene, the fictional Dre, "eyes glazed, drunk, with an edge of nastiness, contempt" (per noted from the script) spots Barnes at the party and approaches her.
"Saw that [expletive] you did with Cube. Really had you under his spell, huh? Ate up everything he said. Let him diss us. Sell us out."
"I just let him tell his story," Barnes' character retorts, "That's what I do. It's my job."
"I thought we were cool, you and me," Dre fires back. "But you don't give a [expletive]. You just wanna laugh at N.W.A, make us all look like fools."
The conversation escalates, Barnes throws her drink in Dre's face before he attacks her "flinging her around like a rag-doll, while she screams, cries, begs for him to stop."
It's one of a handful of scenes that doesn't make it into the film. Director F. Gary Gray has said the original script was a lengthy 150 pages and the film's original cut was three and a half hours long.
When asked about the "glaring omission" by a viewer at a pre-release screening, Gray said they discussed it at the beginning and confirmed a number of narratives were left out because they wanted to focus tightly on the group.
"There are so many things that you can add or subtract. Cube always said, 'You can make five different N.W.A movies.' We made the one we wanted to make."
Other scenes that were left out from earlier versions of the story: Dre being shot four times in the leg, his house catching fire during a wild pool party, a jail scene and a graphic flashback of his younger brother in the fight that claimed his life.
On Tuesday, Gawker published a gripping essay from Barnes regarding the 1991 attack that Dr. Dre eventually pleaded no contest to and was given probation.
In the piece, Barnes looked back on her attack and shared her reaction to watching the film, which she criticized for its "revisionist history."
"I didn't want to see a depiction of me getting beat up," Barnes wrote. "But what should have been addressed is that it occurred."
FULL COVERAGE: 'Straight Outta Compton' and N.W.A's legacy
Universal had no comment, while Dre was unavailable for comment, and a representative for Gray didn't return the L.A. Times' request for comment.
Barnes also writes about Dre's other instances of alleged abuse in the Gawker story, accuses Gary of being complicit in blacklisting her from the entertainment history (she points out he was a cameraman for the interview with Cube and denied her a leading role in his 1996 hit "Set It Off" because Dre was in the film).
Barnes settled out of court for an undisclosed amount, with reports that she originally offered to drop the charges if Dre would help her own rap group with its music.
"People think I was paid millions, when in reality, I didn't even get a million, and it wasn't until September of 1993," she wrote, noting she's held a series of 9-to-5 jobs over the years to make ends meet instead of doing journalism and that she couldn't land a job at hip-hop mogul Sean Combs' Revolt network.
The incident happened in 1991 during a record release party in Los Angeles. Barnes was the host of Fox's popular hip-hop show "Pump It Up!" The year prior she had featured Ice Cube, who departed the group over financial disputes, in a segment where he dissed his former group members.
"He picked me up by my hair and my ear and smashed my face and body into the wall," Barnes said in a July 1991 report in The Times. "Next thing I know, I'm down on the ground and he's kicking me in the ribs and stamping on my fingers. I ran into the women's bathroom to hide, but he burst through the door and started bashing me in the back of the head."
Dre later pleaded no contest and was given probation. N.W.A didn't deny the attack.
Eazy-E told a rap publication, "Yeah, bitch had it coming" with other members saying in an interview that she deserved for trying to "play" them on national television by allowing Cube to make his comment on her show.
Dre told Rolling Stone in a feature months after the attack: "I just did it, you know. Ain't nothing you can do now by talking about it. Besides, it ain't no big thing — I just threw her through a door."
Dre's ex-girlfriend, R&B singer Michel'le has been vocal about her tumultuous relationship with both Dre and Suge Knight (she has children with both) in interviews and as a cast member on TVOne's hit docu-series "R&B Divas L.A."
In a recent interview with DJ Vlad the singer, who despite being one of the platinum acts on Eazy's Ruthless Records and romantically tied to Dre for years was only briefly mentioned in the film, was quizzed on why she thought the film overlooked those moments.
"Why would Dre put me in it? I was just a quiet girlfriend who got beat up and told to sit down and shut up," she said bluntly. "My part has no value to, probably, what they really want to talk about … unless they want to talk."
Although the film doesn't include these moments in Dre's history — like Cube and Eazy's widow, he served as one of the film's producers — it traced other sordid offenses.
While promoting the film, Dre hasn't completely run away from his checkered past.
In a recent interview with Rolling Stone he admitted he made some "[expletive] horrible mistakes" in his life, directly addressing his history of domestic abuse.
"I was young, … stupid. I would say all the allegations aren't true — some of them are. Those are some of the things that I would like to take back," he said. "It was really [messed] up.
But I paid for those mistakes, and there's no way in hell that I will ever make another mistake like that again."
For more music news follow me on Twitter: @gerrickkennedy
MORE:
Dee Barnes says she and women are the 'casualties' in 'Straight Outta Compton'
'Straight Outta Compton' expected to continue box-office reign
'Straight Outta Compton' boosts sales of Dr. Dre's new album
Get our L.A. Goes Out newsletter, with the week's best events, to help you explore and experience our city.
You may occasionally receive promotional content from the Los Angeles Times.