Throwback tunes: Reissues from Frenchmen, Argentines, Brits, lumberjacks and Vaudevillians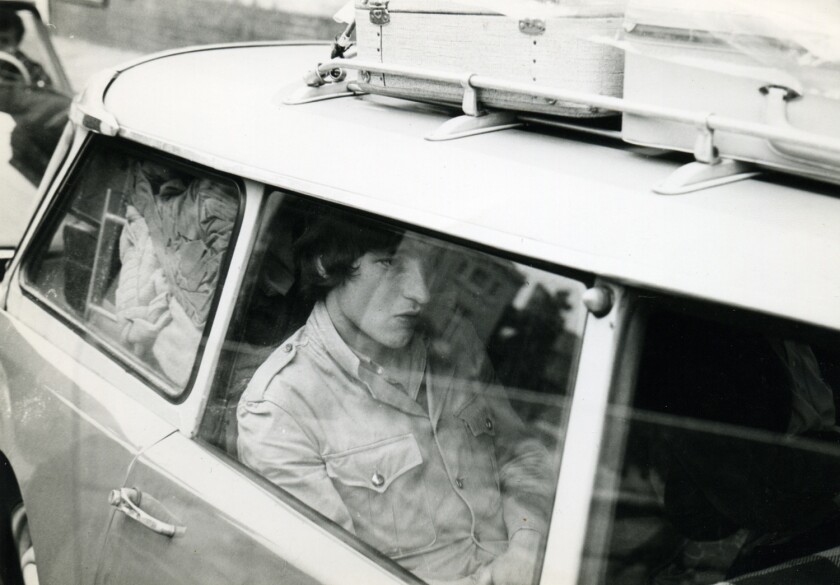 These days, box sets, special editions and packaged reissues — you know, product — serve not only items to be purchased, but advertisements.
In the streaming age, the releases filling record store shelves not only whet the appetite of object fetishists, but offer tips on sounds to check out later through online music portals.
Unless you're a billionaire, who in 2015 needs a 23-CD Isley Brothers set cluttering up shelves or a double-disc Grateful Dead best-of set when it's easier accessed via computer server farm? Those who like the tactile feel of a plastic disc? If it comes in the proper package or includes bonus stuff, liner notes, download cards and photos, sure, exceptions can be made.
Below, check out these old sounds resurrected as objects, digitized downloads or cloud-computed streaming files.
Bernard Fevre, "Cosmos 2043" (Anthology Recordings). When French synth composer Fevre's work from the 1970s first resurfaced in the early 2000s, many thought the reissue a ruse. So strange and futuristic was the self-titled "Black Rebel Disco Club" record that some deduced the music had to have been created by a contemporary artist pulling a prank. Nope.
Fevre's music throughout the '70s, recently reissued on "Cosmos 2043," "Suspense" and "Black Devil Disco Club," was built when he says it was and features strange beat-based synthesizer instrumentals that suggest the sounds of Kraftwerk, Tangerine Dream and Giorgio Moroder. The best is "Cosmos 2043," which imagines a futuristic cosmic journey through songs like "Space Team," "Satellite 33" and "Stars Away." So retro you can almost hear the circuitry calculating, Fevre's music nonetheless has the vibe of now.
Robin Gibb. "Saved by the Bell: The Collected Works of Robin Gibb, 1967-1970" (Warner/Reprise). Robin Gibb wasn't born alongside Bee Gees brothers Barry and Maurice wearing that white polyester suit. Before the three soundtracked the disco revolution, Robin issued a series of mournful British psychedelic pop albums that not only have withstood the test of time, but as presented on "Saved by the Bell," flow out of the speakers with newly lush velveteen texture.
With a voice so harrowing and lost that you want to call 911, Gibb in his youth explored heartbroken balladry through airy arrangements swirling with strings, faraway trumpet lines and percussionists who echo in the distance as if from the opposite shore of the Thames.
Like then-peer balladeer Scott Walker, Gibb revels in minor-chord bombast. Walker, though, went on to become a seminal avant-garde composer after leaving the Walker Brothers (who weren't actually brothers). Gibb explored the solo life during his long creative union with his actual brothers. "Saved by the Bell" was compiled by expert curator-historian Andrew Sandoval and features two albums and dozens of never-released demos, outtakes and rarities.
Yes, some of it is laughably melodramatic; Gibb sounds like he's about to collapse with grief. But more often he nails it, and the disc of rarities delivers surprise after surprise. Some is backed by a rudimentary synth beat, which adds a whole other layer of weirdness.
Dan W. Quinn, "The King of the Comic Singers, 1894-1917" (Archeophone Records). Looking for a screenplay idea? Ready to get real, real gone? The virtually unknown singer Dan W. Quinn was one of the record industry's first stars, a Vaudeville comic vocalist who in the late 1800s possessed a booming voice that translated well onto wax cylinders. Quinn happened to be at the right place at the right time — a phonograph exposition showcasing the amazing new sound technology — when he realized his talent. As quoted in Richard Martin's fascinating liner notes in this anthology, the artist possessed a certain something. "There must have been some latent penetrating power," Quinn said. "Anyway, the operator urged me to go to one of the laboratories and make a real test."
He did, and caught the ears of talent scouts trying to figure out the budding business. He eventually landed with young labels, including Universal Phonograph Company, Columbia, Excelsior and Gramophone, went on to record an estimated 2,500 songs and, according to the notes in this anthology, became "the world's foremost maker of phonograph records."
His secrets? Volume and speed. Quinn could sight-read and had an arrangement with a recording engineer that allowed him to record popular songs published as sheet music, which his labels quickly pressed to wax. Which is to say, he was an early adopter who understood the future. Through sheer repetition, he soon became a household name.
Musically, this stuff sounds as old as it is, and probably won't work well on your hottest new mixtape. Thematically, too, Quinn is antiquated. In addition to singing Irish drinking songs and funny ballads, he, like many early stars, recorded minstrel songs. One represented here (with an unprintable title) imagines a future when a black man becomes president. It's a hard listen, but nonetheless a necessary document of the time.
Various artists, "Folksongs of Another America: Field Recordings from the Upper Midwest, 1937-1946" (Dust to Digital/University of Wisconsin Press). This fascinating, important book, four-CD and DVD collection doesn't arrive until early August, so let this tip serve as an early warning for future exploration. Released by Atlanta-based label Dust to Digital, in conjunction with the University of Wisconsin Press, "Folksongs" compiles field recordings of the region made in Wisconsin, Minnesota, Chicago and Washington, D.C.
Who knew that the songs of Wisconsin lumberjacks were as odd and singular as the stuff being made in Appalachia or the Mississippi delta? And of course lumberjacks working with wood all day would use some of it to build handmade musical instruments.
This collection offers many such recordings and more. Compiled by historian James P. Leary, it features rural music from first-generation immigrants and communities — African American, German, Finnish, Icelandic, Scots Gaelic, Serbian and Swedish and more — exploring their new homes while refusing to abandon their musical roots.
Carlos Gardel, "The Rough Guide to Tango Legends: Carlos Gardel" (Rough Guides). Before Astor Piazzolla helped carry the Argentine tango across the world, singer Carlos Gardel helped capture onto record the sound of early 20th century Buenos Aries. "The Rough Guide to Tango Legends: Carlos Gardel" offers 27 recordings compiled by tango scholar Chris Moss, and they not only present a sampling of the hundreds Gardel recorded in his short life, but offer a blueprint for the music's future.
At times as refined as a European opera singer, at others raw with back-alley bombast, Gardel was one of Argentina's first tango superstars. This collection features remastered tracks from 1917 to 1935, some heavy on strings, others by flamenco-style acoustic guitar, others driven by a bandoneon, the Argentine squeeze box that Piazzolla later mastered.
Next week: Why you might consider preordering a 23-CD set by the Isley Brothers.
Follow Randall Roberts on Twitter: @liledit
---
From the Emmys to the Oscars.
Get our revamped Envelope newsletter, sent twice a week, for exclusive awards season coverage, behind-the-scenes insights and columnist Glenn Whipp's commentary.
You may occasionally receive promotional content from the Los Angeles Times.