Tommy Ramone, last surviving original member of the Ramones, dies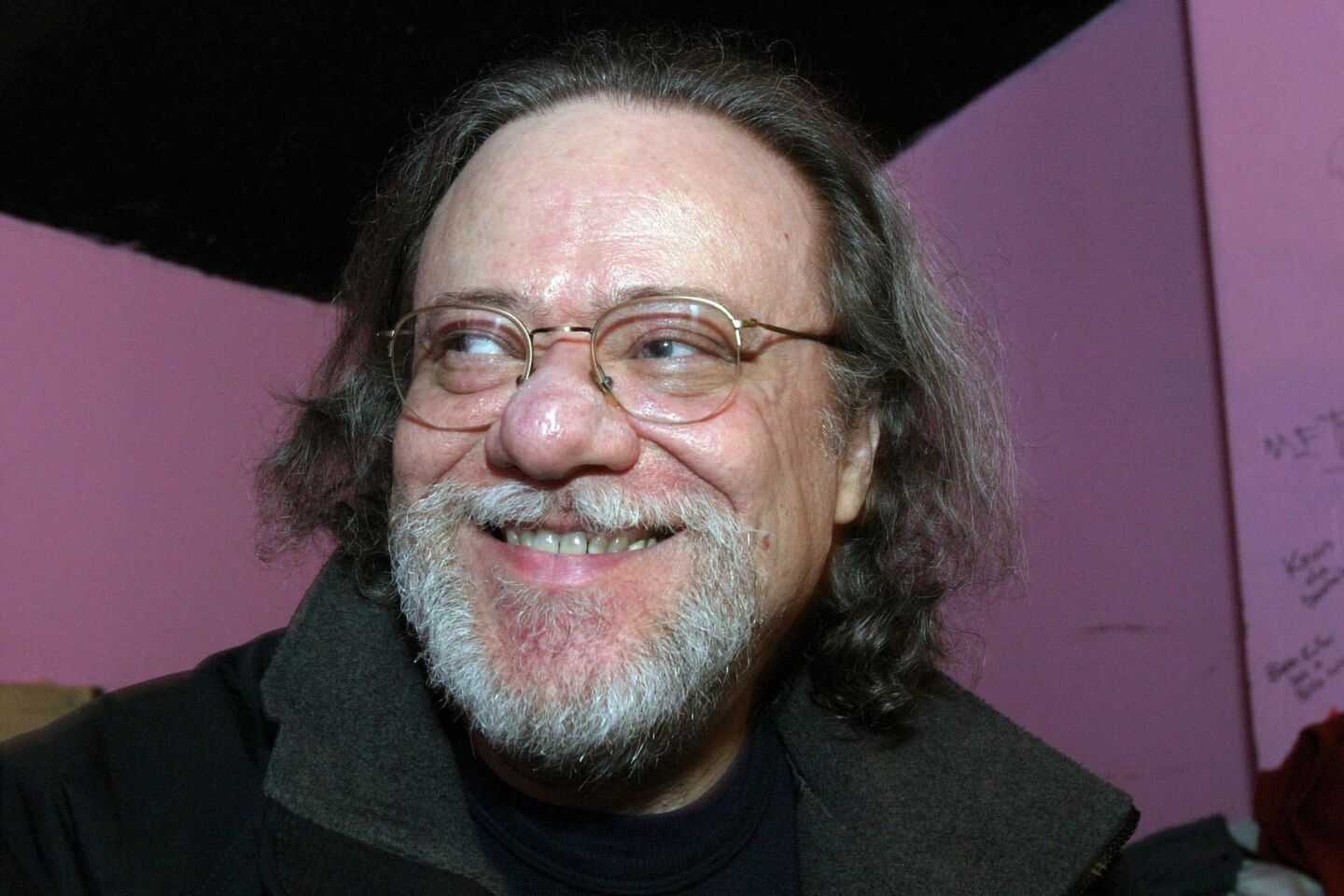 Tommy Ramone, former drummer for the Ramones, smiles during a backstage interview at the Knitting Factory in New York in January 2005.
(Tina Fineberg / Associated Press)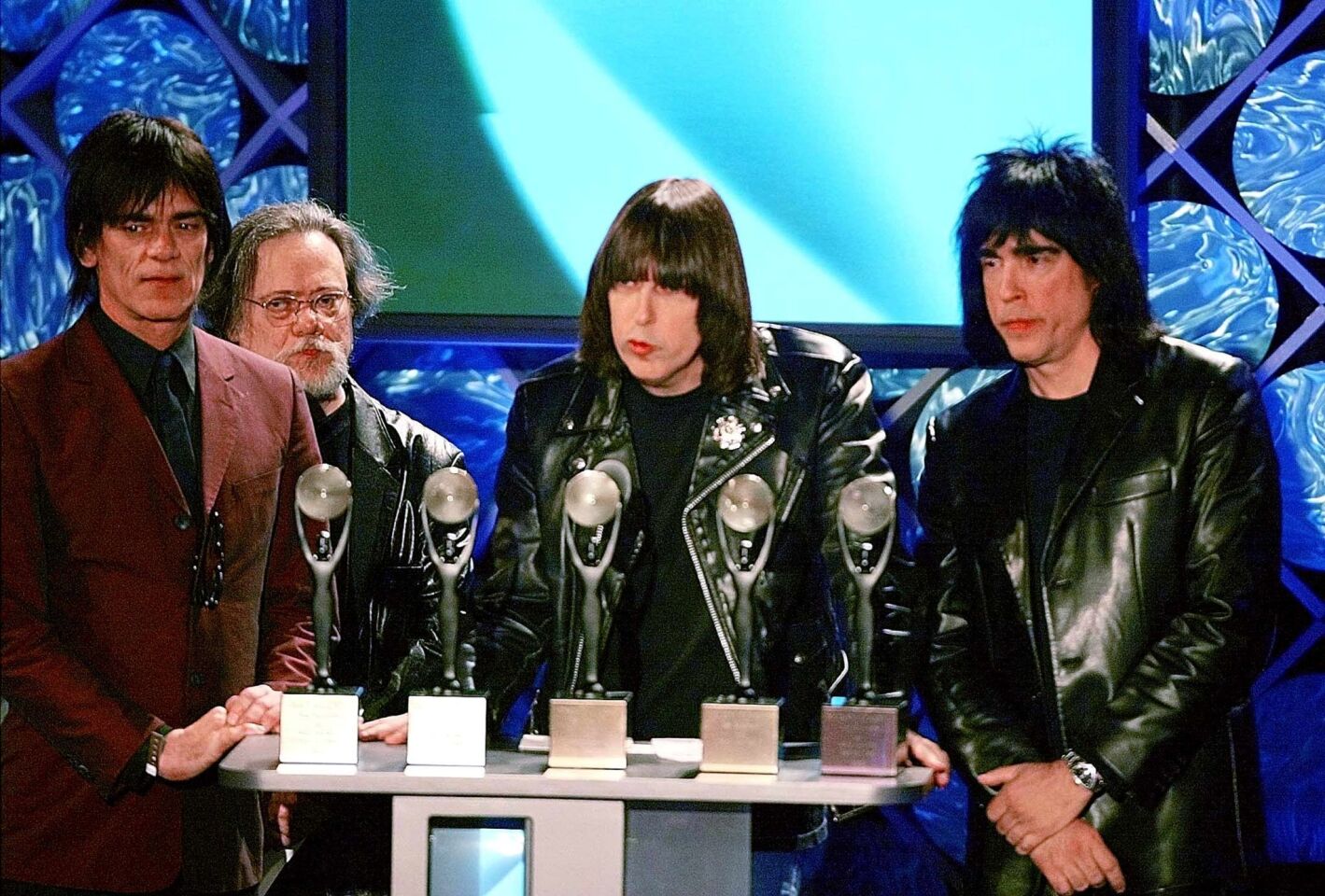 From left, Dee Dee, Tommy, Johnny and Marky Ramone are inducted into the Rock and Roll Hall of Fame in March 2002.
(Timothy A. Clary / AFP)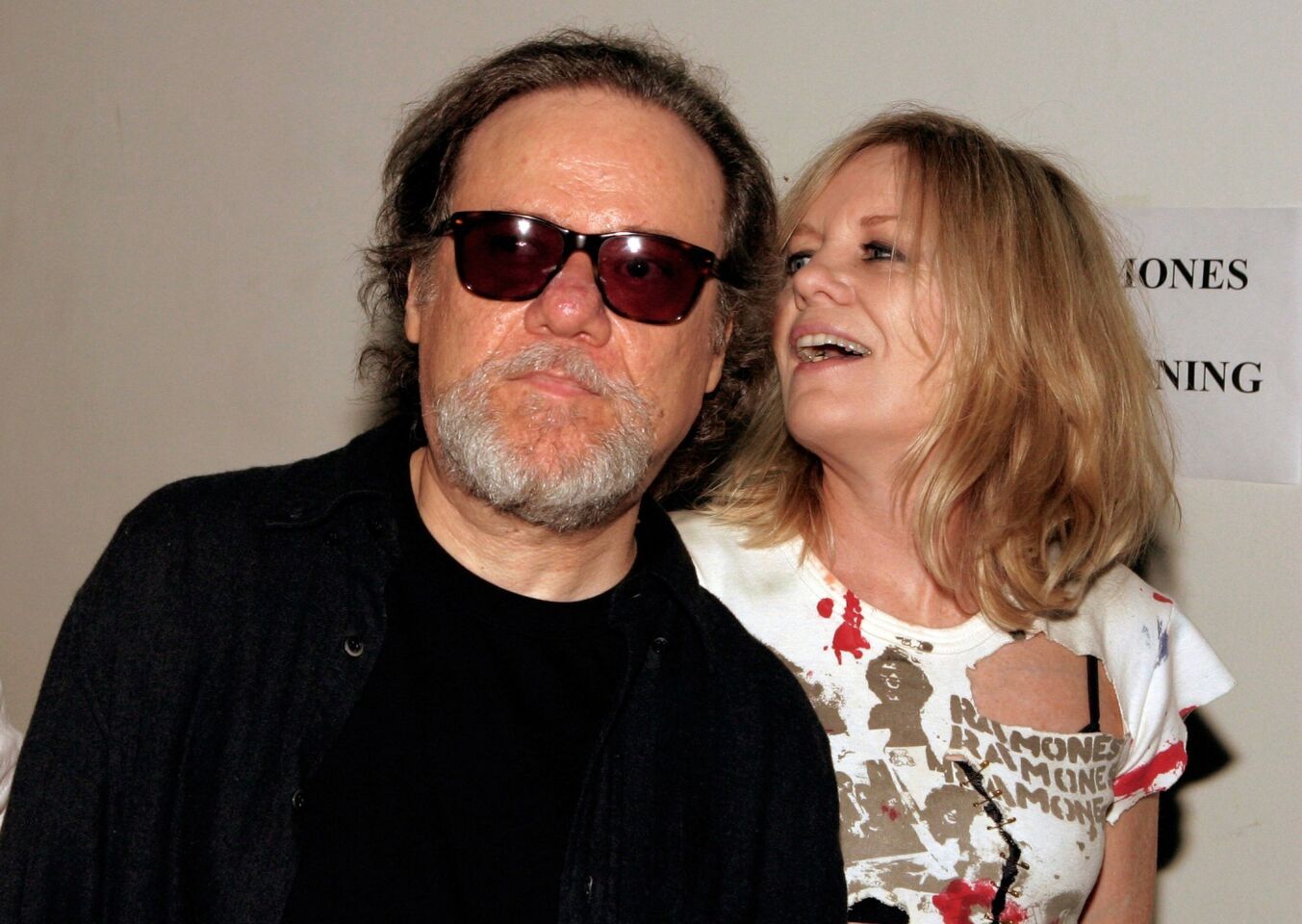 Original Ramones drummer Tommy Ramone and Tina Weymouth of the Talking Heads attend the premiere of "End of the Century: The Story of the Ramones" in New York in August 2004.
(Katy Winn / Getty Images)
Tommy Ramone, right, is shown with guitarist Steven Van Zandt and rock club owner Hilly Kristal in New York in August 2005.
(Kathy Willens / Associated Press)
Tommy Ramone was the Ramones' original drummer.
(Scott Gries / Getty Images)
Tommy Ramone, drummer and last surviving original member of the punk rock band the Ramones, died Friday, the band's manager with Silent Partner Management confirmed to the Los Angeles Times.
He was 65, the manager confirmed.
Born Thomas Erdelyi in Budapest, Hungary, on Jan. 29, 1949, Ramone was the drummer for the band from 1974 to 1978, as well as co-producer for the band's first three albums.
The Ramones, inducted into the Rock and Roll Hall of Fame in 2002 -- had to wait until most of their membership had died to be hailed by mainstream pop culture as a pioneering force.
The band, whose members adopted a last name used by Paul McCartney to reserve hotel rooms in the Beatles years, were known for their bowl haircuts, ripped jeans and less-than-polished musical style.
The four-member Ramones came out of Queens, New York, with limited musical skills, but by 1976, their staccato riffs and full-frontal garage rock assaults began to make their mark on British punk musicians. The band has been acknowledged by many as the inventors of punk rock.
Among the Ramones best-known songs were "I Wanna Be Sedated," "Teenage Lobotomy," "Sheena Is a Punk Rocker," "Blitzkrieg Bop" and "Beat on the Brat."
Known less for trenchant observations than for winsome invitations to "Hey, ho, let's go!" the Ramones demonstrated a quirky humor in catchy, straightforward songs. "Urban surf music" is how Rolling Stone magazine described the Ramones' style in 1992.
Spin magazine named them one of the seven greatest rock bands of all time. Pete Townshend joined them on a version of The Who's "Substitute." Two members of Green Day named their children Joey and Ramona. Kurt Cobain, the late singer of Nirvana, once told an interviewer that his loftiest ambition was to play in a band like the Ramones.
The Ramones self-titled 1976 album, recorded for less than $7,000, was a definitive work. The album drew on 1950s rock and 1960s garage bands, and featured band members who had famously started as a group of glue-sniffing delinquents who saw in music their only chance to escape a dead-end life.
A full obituary will appear at latimes.com/obituaries.
Follow @theryanparker for breaking news.
---
Get our L.A. Goes Out newsletter, with the week's best events, to help you explore and experience our city.
You may occasionally receive promotional content from the Los Angeles Times.