Review: Usher brings hits, but not much new to Staples Center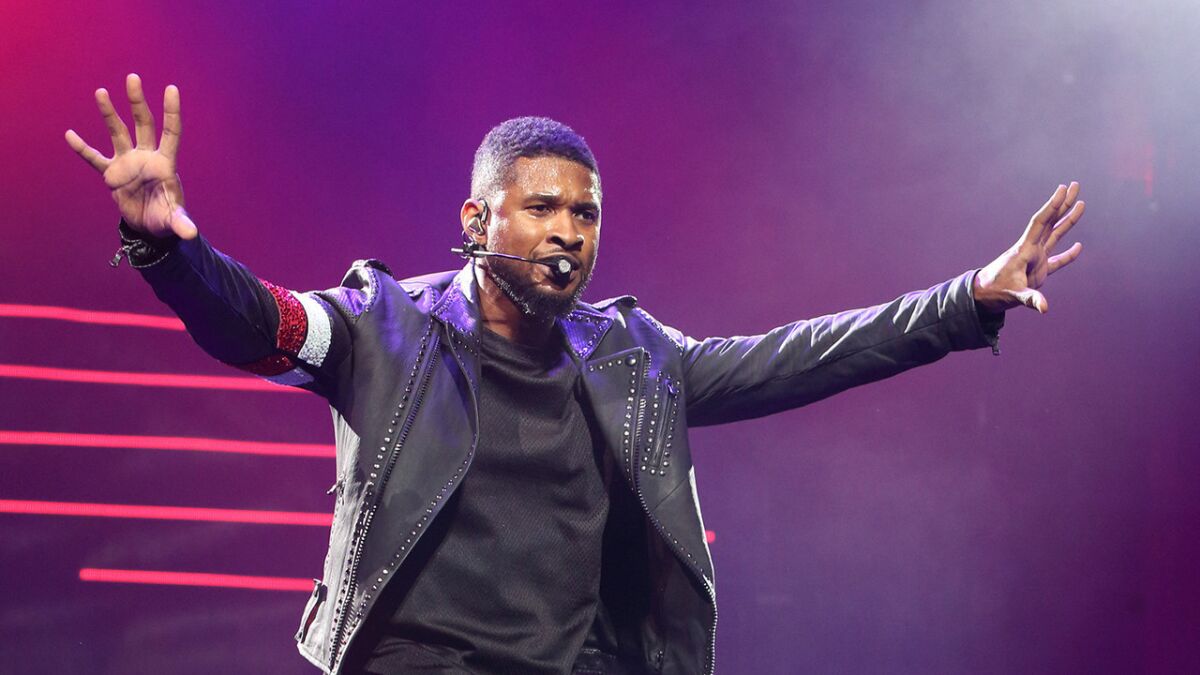 Despite having a career that spans two decades and boasts more hits than most of his competitors combined, Usher seems to be at a crossroads.
None of his latest singles have gotten the type of attention his releases typically garner, and his forthcoming album, "UR" -- which he's spent the better part of the year teasing -- still lacks a release date.
He even aligned with soft drink and breakfast brands to give away tracks. The moves didn't generate much buzz and offering a tune through specially-marked boxes of cereal led to some serious online ribbing.
This hasn't stopped the R&B superstar from going out on the road with an arena show to tease the new record. Dubbed the UR Experience, the flashy production is both a victory lap and a possible glimpse at where he's headed.
The show, which played to a sold-out crowd at Staples Center on Friday, also further illustrated the curious position in which the 36-year-old has currently found himself.
An Usher show has long been an exhilarating affair packed with high-octane choreography held together by sleek, masterful showmanship. And Friday's show was no different.
Dancers popped in and out of the triangular stage. Pyrotechnic and visual effects were in abundance. His nine-piece backing band, which included a muscular string section and backing vocalists, was equally part of the action, often balancing on an assortment of small rising platforms in the center of the stage.
The arrangements, however, weren't as exhilarating.
Attempting to straddle both the traditional R&B and hip-hop bounce that made him a superstar and the four-on-the-floor Europop rhythms that have dotted his last few efforts (to polarizing results), the bulk of the setlist felt like it was handed over to a DJ for a radio megamix.
Show opener "My Way," from his breakout 1997 sophomore effort, quickly morphed into poppy dance hit "OMG." Usher's woozy urban jam "Love in the Club" -- its influence can be traced to recent singles from Beyonce and his closest successor Chris Brown, who had a stage-stealing cameo on Friday -- became a glitchy house mix.
Usher has made no secret of his ambitions to explore other terrain, especially EDM textures. Songs like "OMG," "DJ Got Us Fallin' in Love" and the David Guetta collaboration, "Without You," became smashes, and a lot of that credit goes to his skill as a vocalist.
Even his sexy teenage anthem "U Make Me Wanna," got its own dance makeover.
Reworking decades-old hits and signature tunes is always a welcome approach for a veteran act, especially if the show serves as a career retrospective. But stripping away many of the identifiers of his biggest hits often made the show feel unfocused.
Plenty of moments did work. A slinky version of "Lil Freak," stripped-down acoustic takes of "There Goes My Baby" and "Superstarm" and an extended breakdown of "Twisted" all went over well. As did the revisits to old catalog entries that Usher largely left untouched ("Caught Up," "Confessions," "U Don't Have to Call").
But for a show meant to tease where he's headed, it was incredibly light on any real insight.
New tunes were limited to the funky "She Came to Give it to You," "Good Kisser" and "I Don't Mind," a silly Dr. Luke-produced ballad about strippers that's better suited for his younger imitators.
While Usher still seems steps ahead of some of today's pop heartthrobs, he still left the crowd wanting more.
---
Your essential guide to the arts in L.A.
Get Carolina A. Miranda's weekly newsletter for what's happening, plus openings, critics' picks and more.
You may occasionally receive promotional content from the Los Angeles Times.