X and The Blasters rekindle those '80s punk rock memories in O.C.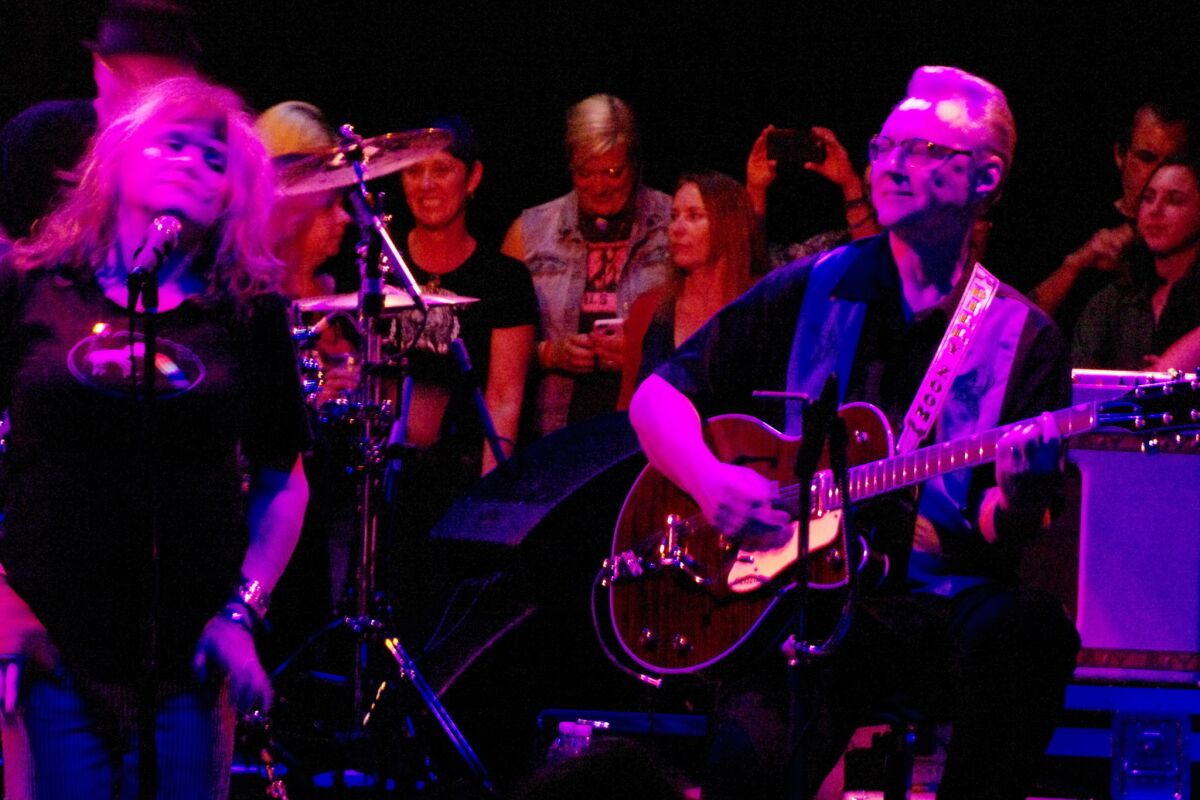 Punk rock was never supposed to be about growing old gracefully.
It was all about burning hot, and brightly, for a moment, with little thought toward the future. Or as one of its earliest proponents put it so unequivocally, in punk rock, there was "No Future."
If there was an attitude toward living out life, it might have been Dylan Thomas' admonition: "Do not go gentle into that good night. ... Rage, rage against the dying of the light."
Remarkably, long-running L.A. punk band X had it both ways on Friday at the Observatory in Santa Ana, the second night of a four-night run of shows during which the venerable quartet is playing each of its first four studio albums in its entirety over successive nights.
It could be awhile before the group performs again with its original lineup. Guitarist Billy Zoom recently disclosed he's been diagnosed with bladder cancer and will step away from the group for the remainder of its summer tour while he undergoes chemotherapy.
You'd hardly have known anything was not inspired-business-as-usual with X, as Zoom's condition wasn't mentioned during the course of the 90-minute performance, built Friday night around the band's 1981 sophomore album "Wild Gift."
The one difference, however, was that Zoom, known for his spread-legged stance while playing, remained seated on a stool during most of the show. There also was the vociferous fan who shouted repeatedly throughout the night, "Thank you, Billy!"
Zoom already triumphed over cancer once, surviving prostate cancer in 2010. Lead singer Exene Cervenka has weathered serious health issues in recent years, announcing in 2009 that she'd been diagnosed with multiple sclerosis, only to discover her condition may have been misdiagnosed.
The theme carried through with the appearance of the Blasters at the show, still fronted by lead singer Phil Alvin, who suffered a brush with death while hospitalized in 2012 while on tour in Europe.
"Phil knows a bit about being bit," X's bassist-singer John Doe quipped at one point, virtually the only reference to any of the health issues these musicians have come up against.
But as a backdrop to the music all concerned have remained intensely passionate about for more than three decades, the image of aging rock musicians fiercely pounding, slapping, strumming and thrashing instruments and venting their emotions into microphones felt all the more cathartic.
Tearing through "Wild Gift" during the first half of X's set, with periodic assistance from second guitarist Michael Kilpatrick and keyboardist Greg Kuehn, the group reaffirmed why both "Wild Gift" and its debut, "Los Angeles," made Rolling Stone's 2003 list of the 500 greatest albums of all time.
It reflected the alienation, sense of longing for connection, the railing against societal expectations as well as the bold hunger for new experiences that were all at the heart of the birth of punk rock.
It showed the band starting to push out the boundaries that even then were starting to envelope punk in a certain sound and style. The opening tracks, "The Once Over Twice" and "We're Desperate" had the runaway train tempo typical of punk in the early-'80s, but "Adult Books" introduced a gentler, reggae-tinged beat.
"Universal Corner" was more meat-and-potatoes rock, and there's the disjunctive call-and-response between Doe and Cervenka on "White Girl" that was a stretch for punk fans at the time, though all take on X's skewed perspective through Doe and Cervenka's signature off-kilter vocal harmonies.
Through it all, Zoom remained unflappable on his stool, effortlessly spinning off quick riffs and concise fills, gazing off toward the back of the packed room, occasionally licking his lips and now and then flashing a smile. If anyone has the temperament to head into a second round of cancer treatment with grace, it's Zoom.
Alvin and the Blasters likewise largely stayed with the '80s material that established the band as one of the most vibrant of the roots-rock purveyors of the time, thanks in large part to the original songs from then-lead guitarist Dave Alvin. Latter-day guitarist Keith Wyatt put a powerful stamp on his place in the band with fiery solos on such Blasters standards as "American Music," "Marie, Marie," "Border Radio" and the always-eerie "Dark Night."
Former Minutemen bassist Mike Watt opened with perhaps the most musically wide-ranging set of all with help from organist-singer Pete Mazich and drummer Jerry Trebotic, his collaborators in the Secondmen. The organ-bass-drums trio showed impressive flexibility moving from intense punk thrash to jazz- and blues-tinged instrumental excursions that exemplified punk's original defining attitude: anything goes.
The run of shows continues Saturday night, with X performing "Under the Big Black Sun," and concludes Sunday with "More Fun in the New World."
Follow @RandyLewis2 on Twitter. For more on Classic Rock, join us on Facebook.
Get our L.A. Goes Out newsletter, with the week's best events, to help you explore and experience our city.
You may occasionally receive promotional content from the Los Angeles Times.