California Sounds: Cate Le Bon, the Molochs and Barclay Crenshaw greet the year with open ears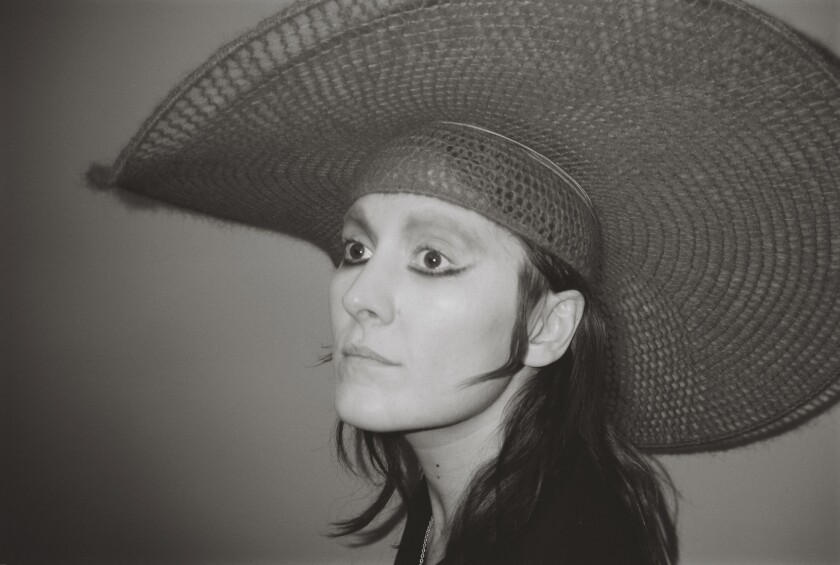 Cate Le Bon, "Rock Pool" video (Drag City). In the new video for "Rock Pool," singer and songwriter Le Bon mixes filters and effects that recall 1980s public access cable with jump-cuts and repetitive edits of the artist maneuvering her body, and the result suggests a kind of Kodachrome mysticism.
Scoring the sequences is a song that moves with a punky clunkiness that makes each measure wobble. Music pros might call it an amateurishness, but across "Rock Pool" and the three other tracks on her new EP, the Welsh expat living in L.A. delivers durable songs that touch on Brill Building majesty and ring as true as anything you'll see on the charts.
Stylistically, Le Bon has moved beyond her first work, which the Welsh musician Gruff Rhys of Super Furry Animals once accurately described as "Bobbie Gentry and Nico fight over a Casio keyboard; melody wins!"
On this EP Le Bon delivers those sticky melodies via fuzzy guitars and Farfisa-ish keyboard tones, and couples them with vividly rendered lyrics.
As a vocalist, she's hardly a belter. Rather, she sings with a delicacy that values expression over pitch-perfect delivery. When, during the final moments of the last song on this new EP, Le Bon vocalizes to her lover that "I just want to be good to you," she does so with a heart-wrenching openness. This week Le Bon kicked off her national tour (with her regular collaborator Tim Presley of White Fence) with two sold out shows at the Highland Park Ebell Club.
The Molochs, "America's Velvet Glory" (Innovative Leisure). This Los Angeles rock 'n' roll band makes songs as if synthesized beat music hadn't changed the landscape in the mid-1970s. Mixing tones and textures of post-Brit-Invasion guitar rock, Byrds-ian psychedelia and the earnest musings of Modern Lovers-era Jonathan Richman, the songs on the Molochs' first album for the crucial L.A. imprint Innovative Leisure seem time-traveled.
The video for "Charlie's Lips," which The Times is premiering above, suggests the label found an old 16 mm reel at Goodwill. Singer Lucas Fitzsimons offers his wry song about Charles Manson, written from the perspective of a follower, while sitting atop an old Vox amplifier, with a manual typewriter and an old analog alarm clock at his side. He and bandmate Ryan Foster are wearing turtlenecks.
Revolutionary? Hardly. Los Angeles bands have been exhuming and celebrating hardened jangle rock and Velvet Underground-style menace since the Dream Syndicate, the Three O'Clock and the Rain Parade helped birth the so-called Paisley Underground movement in the early 1980s. But the Molochs, who continue their January residency at the Echo on Monday (and each Monday in January), are on their own trip, one that spins old ideas with new energy.
Barclay Crenshaw, "The Gene Sequence" (Dirtybird). It's tempting to describe Barclay Crenshaw as an alias of the beat producer Claude VonStroke, since most fans of his labyrinthine house and techno tracks know him as such. But the artist's real name is Barclay Macbride Crenshaw, and his effervescent new music minus the VonStroke alter-ego presents a whole other sound.
"The Gene Sequence" is one of a few new tracks that Crenshaw has issued over the past year, each taken from his forthcoming self-titled studio album, due out Jan. 28 on his hot record label Dirtybird.
In contrast to the Molochs and Le Bon, Crenshaw makes synthetic music with rhythms that few, if any, human could replicate. Melodies get entangled with counter-melodies to create a selection of tones as intricately placed as digits in a Sunday crossword puzzle. Cosmic bleeps and dots dance, adding accents that twinkle like bells.
The album also features contributions from Brooklyn rap team the Underachievers and the recently reunited Cool Kids. On Jan. 25, Crenshaw will be playing tracks from the album at the weekly Low End Theory club in Lincoln Heights.
For tips, records, snapshots and stories on Los Angeles music culture, follow Randall Roberts on Twitter and Instagram: @liledit. Email: randall.roberts@latimes.com.
Fleetwood Mac's Christine McVie and Lindsey Buckingham talk about making their first duet album
A day at the Village — how L.A.'s legendary record studio cleaned up its act and survived the YouTube age
Run the Jewels talk about writing their latest album with the 'world crumbling around us'
---
Inside the business of entertainment
The Wide Shot brings you news, analysis and insights on everything from streaming wars to production — and what it all means for the future.
You may occasionally receive promotional content from the Los Angeles Times.